No doubt there's an extra layer of joy when a long-anticipated winter returns. Not only are all the ski resorts open, but everything transforms to welcome the season.
Start your winter trip at a ski resort, and plan extra time to fit in a whole lot more.
Heavenly Mountain Resort—Something for Everyone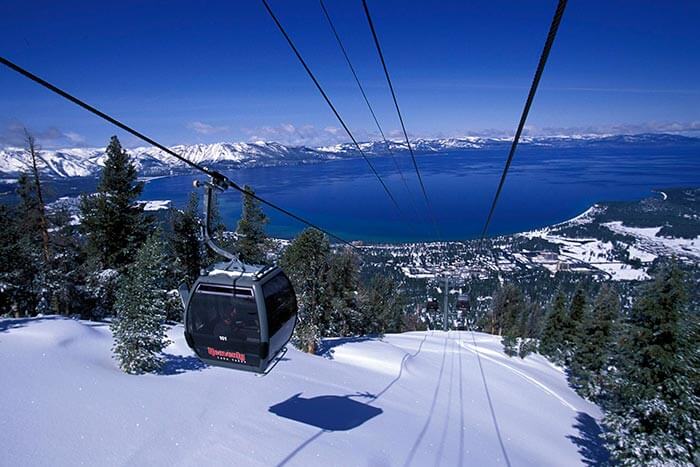 The aptly-named Heavenly Mountain Resort is one of the superlatives. Boasting the highest altitude and largest number of skiable acres in California, it would take weeks to ski or snowboard it all. Stay in South Lake Tahoe and ride the in-town gondola to 9,150 feet, where you have instant access to the miles of trails.
In a ski resort that's so large, it spans two states, you're bound to find your downhill bliss. Heavenly has always welcomed newcomers with lessons for both adults and children. Take half a day with a professional at the Tamarack Lodge or California Main Lodge, and you'll be hitting Heavenly's famously long and flowy routes in no time.
For the experienced, the Mott and Killebrew canyons will give you bragging rights. Steep, tight chutes and trees create a roller-coaster ride down this experts-only area. Or take on Gunbarrel (locally known as "The Face") for some of the steepest runs in the park on the California side.
Kirkwood—As Backcountry as it Gets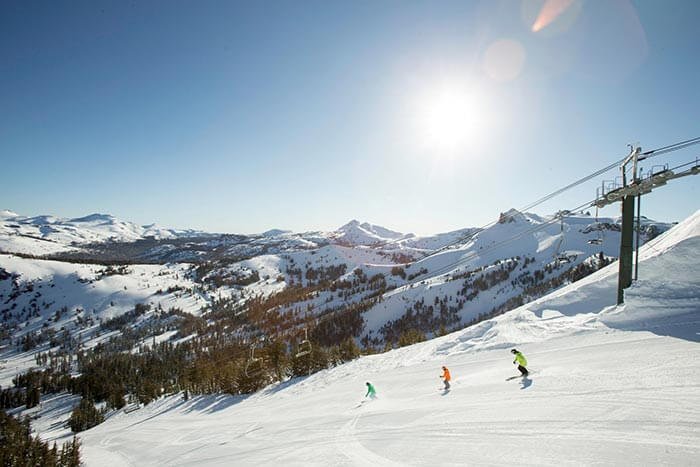 Kirkwood Mountain Resort is the epicenter of snow in the South Lake Tahoe region. Consistently ranked as the California resort with the greatest snowfall, it's not a surprise that people make the trip from far-flung locales for Kirkwood's legendary runs. This is a hot spot for powder purists.
What makes Kirkwood different? The mountain's ideal location and geography squeeze every ounce of snow from winter storms, creating incredible consistency across the resort. They call it the K-factor; get a taste for it on the Solitude lift or the backside, where intermediate runs introduce you to deep-powder skiing and riding.
Over half of the terrain at Kirkwood is rated for experts. Access some of the most challenging routes in the region on The Wall and Sunrise lifts. A helicopter wouldn't find you a greater backcountry experience. Beginners and intermediates fear not! There's plenty of pristine terrain for you, too.
Sierra-at-Tahoe—Freestyle at its Finest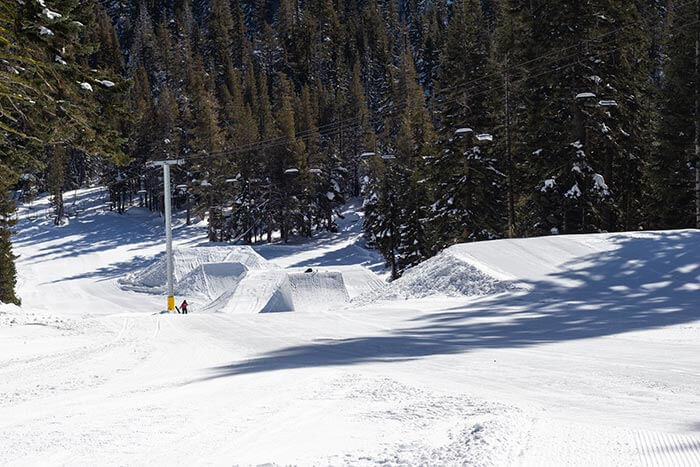 Sierra at Tahoe will have a delayed start to the season, early 2022.
Sierra-at-Tahoe Resort combines an Olympic-sized mountain with a friendly hometown vibe. Take the complimentary South Shore Shuttle from downtown and start plunging down some epic downhill. This ski resort also prides itself on its massive selection of terrain parks. You don't need to be a professional to start riding great features, either. Start with the Burton Progression Park, where gentle jumps and small boxes open up the world of freestyle riding. You can also schedule a private lesson with a focus on terrain park skiing and riding.
After that, the sky's the limit! Take on dozens of other features, including an epic half-pipe and some of the longest freestyle runs in Tahoe.
On the snow, your way
Lake Tahoe's ski resorts undoubtedly put the region on the map as a winter sports destination, but that's just the tip of the iceberg.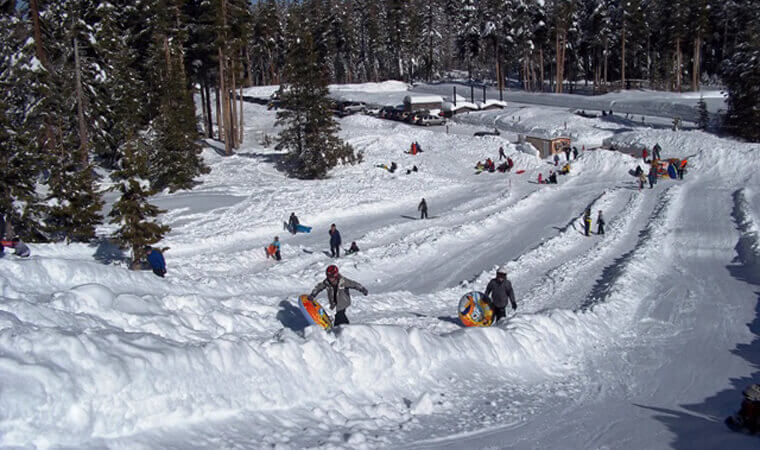 At nearby Echo Summit, Adventure Mountain Lake Tahoe is the Mount Everest of sledding and tubing. Sporting 15 groomed runs at more than 7,000 feet, the place looks like something out of your childhood imagination and proves you don't need skis or a snowboard to catch an adrenaline rush at Tahoe. For a fun and adventurous way to get your family on the slopes, try Tahoe Snowmobiles' tubing hills. They groom hills in both Stateline, Nevada—a short distance from downtown lodging—and the Tahoe Paradise area of South Lake Tahoe.
When you want a thrilling escape deep into the wilderness, try a snowmobile ride. Zephyr Cove Resort, on Tahoe's east side, runs backcountry romps ranging from two hours to private all-day tours. Stunning mountain views amid the High Sierra wilderness await drivers on the snowmobile tour options from Lake Tahoe Adventures. Linger through the forests, or take on a challenging powder run in the most exhilarating way.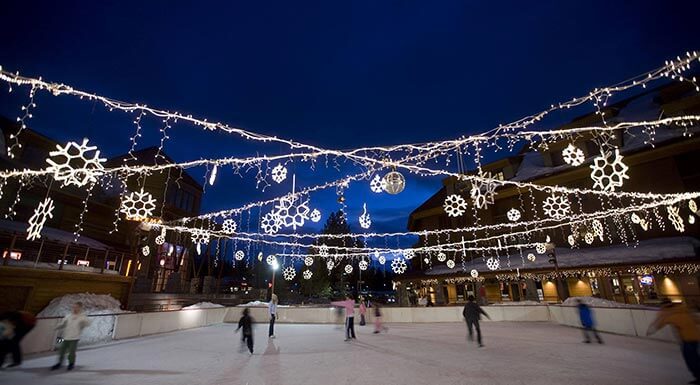 Finally, spend your evenings in Heavenly Village, where the spirit is always friendly and lively. In the center of this mountain hamlet, skate on a classic outdoor ice rink.
Warm Drinks, Cozy Vibes
Warm drinks are the way to start a winter day. Grab a specialty drink and a bite at one of Tahoe's independent coffee shops.
Black Cabin Coffee is your local stalwart for in-house roasted coffee and espresso. Get a cup to go, and pick up some single-origin beans for brewing at home.
Enjoy lovingly prepared coffee the sustainable way at Clyde's Coffee Roasting Company. This family-run coffeehouse serves farm-to-cup coffee packed with all the flavor and goodness of handpicked, directly sourced beans.
Keeping Tahoe caffeinated since 1968, Ernie's Coffee Shop has served classic American breakfast and hot drinks to generations of Tahoans in a lodge-like atmosphere. Come for a meal, and discover why it's one of the most awarded restaurants in the region.
Tea lovers should head to Free Bird Cafe, where baristas make chai in the most stubbornly traditional way from ancient Indian herbs and spices. Don't let cold weather deter you from trying one of their healthy smoothies.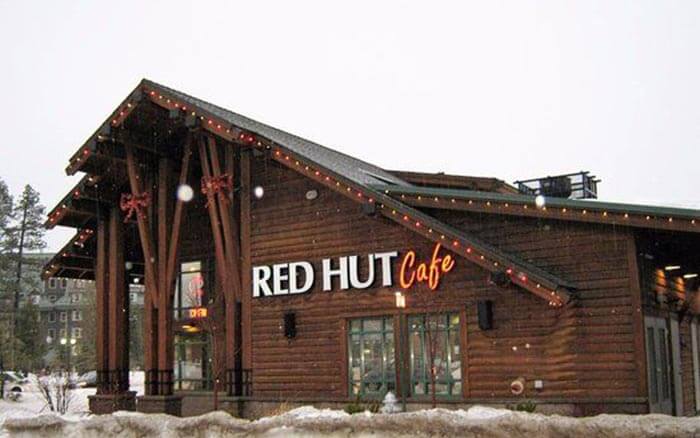 Greet the morning (and the locals) at Red Hut Café for a cup of joe in a diner atmosphere. Once you're awake and alert, take a look at the complete breakfast menu. You won't be able to resist one of the hearty offerings to go with your coffee.
Revive Coffee & Wine aims to be the bookends of a perfect winter day. Take a slow morning sipping on one of their Maple Sage Lattes. They also specialize in Nitro Cold Brew, a velvety, flavorful alternative to black coffee.
Check out Snow Fun at Lake Tahoe on Instagram: