Looking for some live music in South Lake Tahoe? If your dream vacation includes entertainment venues and bars with live music, look no further! South Lake Tahoe is the place to be after the sun goes down all year long. Check out our picks for daily and weekly shows and live music in Lake Tahoe for your next trip!
Weekly Shows and Live Music in Lake Tahoe
Heavenly Village Summer Concert Series – Lake Tahoe's largest free concert series! Food, fun, and live music. Heavenly Village Summer Concert Series music starts at 5:45 p.m. Friday and Saturday nights, Memorial Day through Labor Day, in the Heavenly Village.
Live at Lakeview: Free Summer Concert Series on the Beach – Live at Lakeview is a free weekly concert series hosted at Lakeview Commons, in the heart of South Lake Tahoe. The event hosts live music and art on the beach, along with a variety of local merchants and delicious food options plus amphitheater-style seating and breathtaking views of Lake Tahoe from the beer garden.
Valhalla Tahoe Summer Event Series – Valhalla Tahoe brings the community together to enjoy history, art, music, theatre and other cultural events at one of Lake Tahoe's most unique properties, the Heller Estate. In partnership with the United States Forest Service, Valhalla Tahoe hosts tours, cultural events and private events throughout the Spring, Summer and Fall.
Live Music Wednesdays at the Meyers Mountain Farmer's Market – Wednesdays from 3pm – 7:30 pm through September 13th at Tahoe Paradise Park! Farm-to-table fresh produce, live music, food, artisan-handmade crafts, and a grand ole' time! Yoga, 45+ vendors. Park at the Magnet School, snap a pic of your car and show us at the MMM booth to collect your MMM.
Live Music at the Beacon Bar & Grill – The Beacon Bar & Grill at Camp Richardson Resort. Enjoy live music 1pm-5pm, Thursday – Sunday.
Tuesday Night Blues at Harrah's Lake Tahoe – Harrah's is heating up the night every Tuesday, with free Blues shows. Longtime Northern Nevada musician Buddy Emmer will showcase local and regional headliner artists as they front Emmer's smokin' band with some of the best blues music around. Showtime is 8:00 p.m. every Tuesday.
Magic After Dark – Looking for an unforgettable magic experience? Magic After Dark is an irresistible window into the edgy, sexy, sophisticated, and sometimes sick mind of award-winning magician-comedian, Robert Hall. This show is perfect for couples and friends alike to enjoy and is sure to be a great addition to any special occasion. Reserved for those 18 years of age or older. Showtime is 9:00 pm every Friday.
Dueling Pianos at Harvey's – The Mountain Bar at Harvey's is one of the best bars with live music in South Lake Tahoe if you are looking for a FREE show to pass the time. Sing along to all your favorite hit songs or pull up a seat and enjoy the show. The show starts at 8:30 pm every Friday and Saturday.
Party at Opal Ultra Lounge – Fantasy meets reality at the super chic Opal Nightclub located inside the Bally's Lake Tahoe Casino Spa and Resort. Don't miss out on the sensual atmosphere that is sure to get your heart pounding! Don't miss out on the action Fridays and Saturdays all year long!
Karaoke at Rojo's Tavern – For those looking to take their singing abilities from the car into one of Lake Tahoe's many bars, Rojo's Tavern is your best bet for fun on Friday and Saturday nights. From Journey to Spice Girls and everything in between, you are sure to find the perfect song. Just don't forget to tip your DJ!
Arty the Party at Harrah's Lake Tahoe – "Arty the Party" as he's affectionately called, has been playing in Lake Tahoe for several years now and calls the Casino Center Stage at Harrah's his unofficial home. Arthur's incredible music career began as a lead singer for San Francisco's 13-piece Zasu Pitts Memorial Orchestra. He then went on to star in the city's famous stage musical production "Beach Blanket Babylon". You can party with Arty Friday and Saturday nights starting at 9:00 pm. It's the best disco, dance, R&B, and soul party in Lake Tahoe!
Tahoe Club Crawl – Ready to discover South Lake Tahoe's unforgettable nightlife? The Tahoe Club Crawl is an organized tour of all that Lake Tahoe's south shore offers after the sun goes down. The party starts at the Center Bar at the Hard Rock Hotel and Casino every Saturday night at 7:45 pm and wraps up at 11:00 pm. What you do next is up to you!
Nightly Shows and Live Music in South Lake Tahoe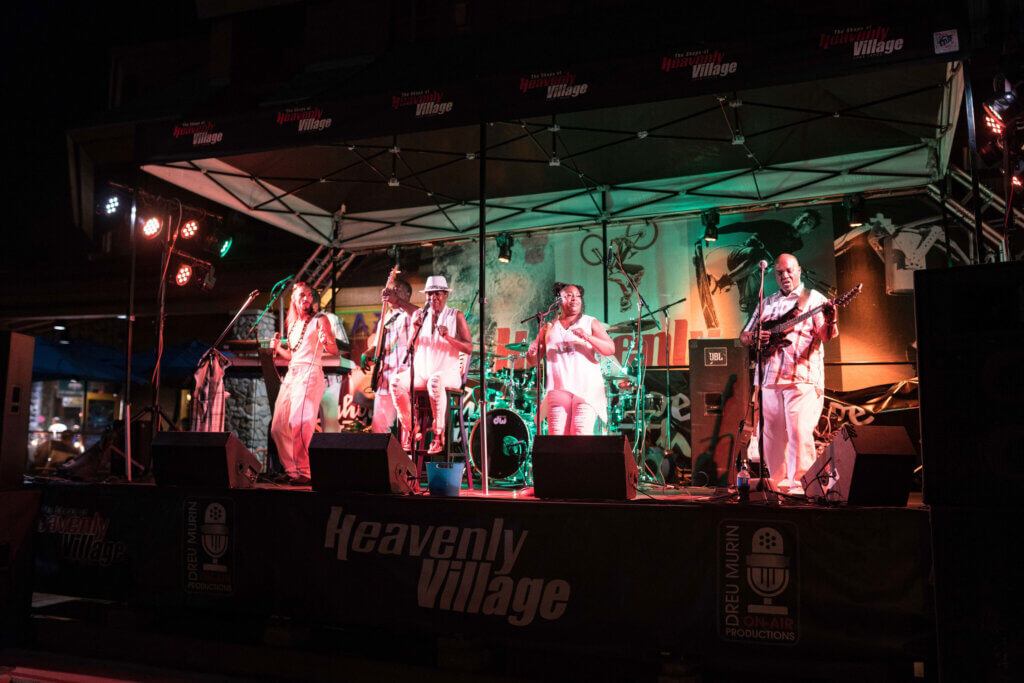 Live Music at McP's Taphouse Grill – This local's favorite has been a beer and entertainment staple in South Lake Tahoe for over 25 years. Family-owned and operated, McP's offers 40 beers on tap, live music every night, and no cover charges.
You won't be disappointed with their traditional Irish dishes along with lighter options inspired by classic California dishes.
Magic Fusion at The Loft Theatre – The Loft in the Heavenly Village is pleased to announce that their family-friendly show, Magic Fusion, is back! Shows start nightly at 7:00 and 9:00 pm with an additional KIDS FREE matinee every Sunday at 4:30 pm. All you have to do is buy one adult ticket to get one kids ticket for free.
Live Music at BaseCamp Pizza – Located conveniently in the Heavenly Village, near the fountain, Base Camp Pizza Company is the place to be for casual, family-style dining with some of the best pizzas, salads, and pasta around. You can find bands playing live music daily, so pull up a chair, eat some pizza, and take in the incredible atmosphere you can only find around South Lake Tahoe.
California Burger Company– Brought to you by the same folks behind Base Camp Pizza, Azul Latin Kitchen, and Rubicon Pizza comes California Burger Co. This gourmet burger establishment is all about good food, music, and art.
Don't miss out on live music featuring superb local acts every day of the week at the Heavenly Corner Stage in the Heavenly Village.
---
Still looking for things to do? Our events page has a ton of more ideas to make sure your next trip to South Lake Tahoe is one you never forget. Don't forget to share your experience with us using #VisitLakeTahoe on social media.
Check out Lake Tahoe on Instagram