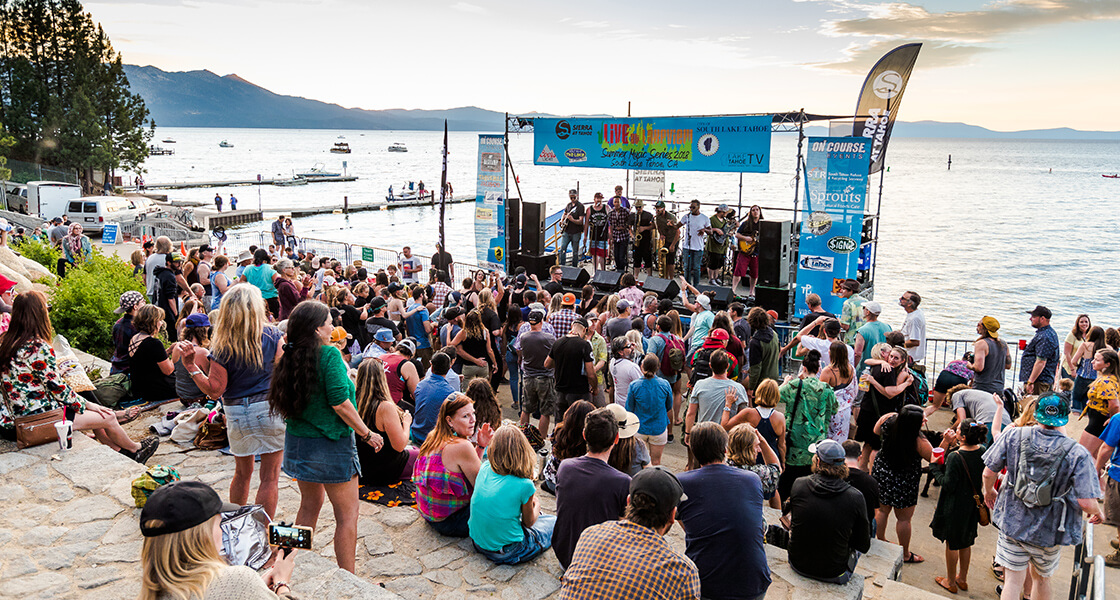 Seasons Bring Out the Fun in Tahoe Events
The beauty of Lake Tahoe is not only in its almost unbelievably clear blue waters, its dramatic mountains or pristine beaches—it's also in its up-for-anything, all-year-round attitude. There's always something going on in Lake Tahoe, no matter the season, and that's what keeps people coming back for more.
People visit in the winter months where the scenery is so picturesque it could be mistaken for a painting, so they double back for spring and summer, lured to experience the miles of sandy beaches, hiking and water sports activities that are offered almost everywhere you turn. South Lake Tahoe offers signature events each year that bring visitors back up to one of the biggest alpine lakes in the United States 365 days a year.
Check out some top Tahoe events and see if any catch your eye (we're sure they will). If you're on an impromptu trip to the lake, don't forget to check out our South Lake Tahoe events calendar, too. As we said, there's always something happening in Lake Tahoe, so let us help you round out your perfect Tahoe vacation.
South Lake Tahoe in Winter
There's no shortage of things to do in Lake Tahoe, particularly in the winter. Winter recreation in South Lake is enjoyed through December, January, February, and of course during our storied, 'Miracle March.' From world-class skiing and snowboarding, smile-inducing sledding, adventurous snowmobiling, and challenging cross-country skiing, visitors will experience snow unlike anywhere else on the globe. And, speaking of globes? Checking out the SnowGlobe Music Festival is a must while you're here. Tickets sell out quickly, though. With dozens of ski resorts, adventure parks, ponds and more, winters in South Lake are where memories are made.
Spring Tahoe Events in South Lake
Ah, spring in Lake Tahoe. At higher elevations, the weather in April and May can be a little cooler, but spring brings droves of incredible wildflowers, waking wildlife and bright, sunny skies. Spring events like Spring Loaded 2019 are the perfect mix of snow and sun, where bold souls try to the land the double; could you ski or snowboard and surf in the same day?
South Lake Tahoe Summer
Summer in Lake Tahoe is the perfect time to hit the trails, enjoy breathtaking golf courses, experience photo-worthy sports fishing and, of course, watch some of the most epic fireworks in the world on the lake. Typically enjoyed from June, July, August, and September, after you've had your fun exploring Emerald Bay and the exciting mountain vistas, embrace the inner higher roller in you and head to one of Lake Tahoe's world-class casinos that are refreshingly free of Vegas-style glitz. Catch a headline show or concert, play a few hands, and hit a luxury spa right after.
Fall in South Lake Tahoe
Warm, sunny and a bit more low-key, October and November in Lake Tahoe offer the same dazzling views and exciting nightlife at a pace you get to choose. Fall in Lake Tahoe is the perfect time to get some shopping done, enjoy cooler nights and sunbathed mornings, and the chance to ride some pretty legendary bike trails.