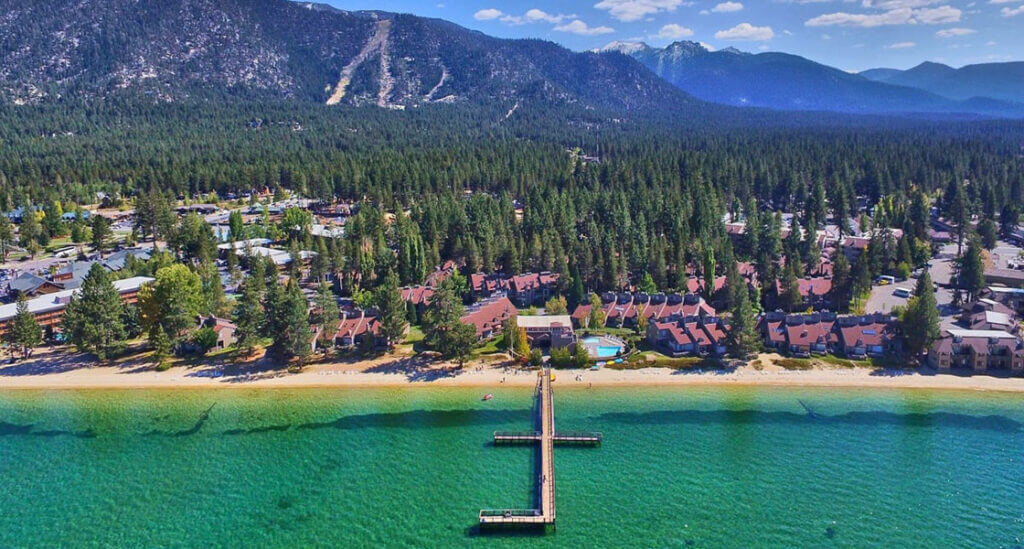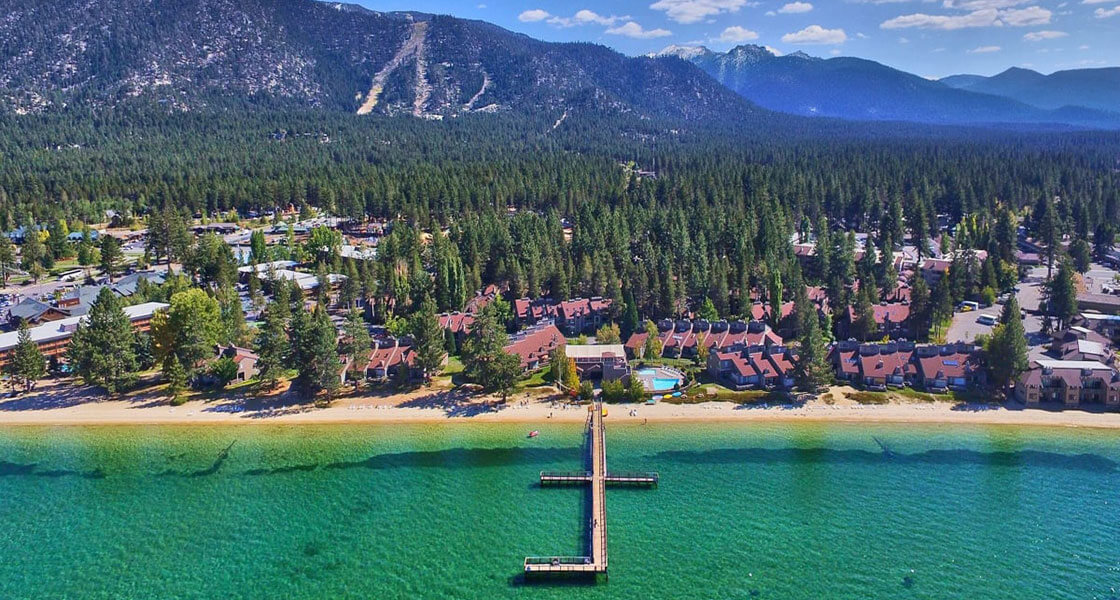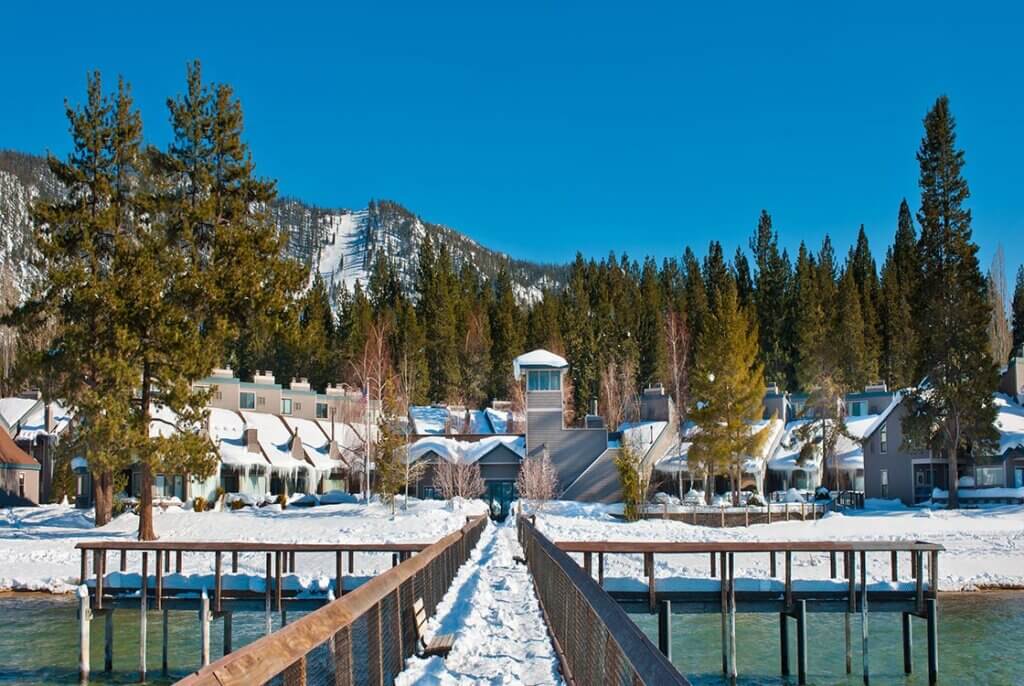 How do I fly to South Lake Tahoe?
There are a few options to fly into South Lake Tahoe. The closest international airport is the Reno-Tahoe International Airport, offering flights on eleven airlines, 20+ nonstop destinations, and 130+ daily flights. This airport is only a one-hour drive from South Lake Tahoe hotels, with a Convenient express shuttle service available multiple times per day from the South Tahoe Airporter. If you prefer a taxi, limo, bus, or car, visit the driving to Lake Tahoe page.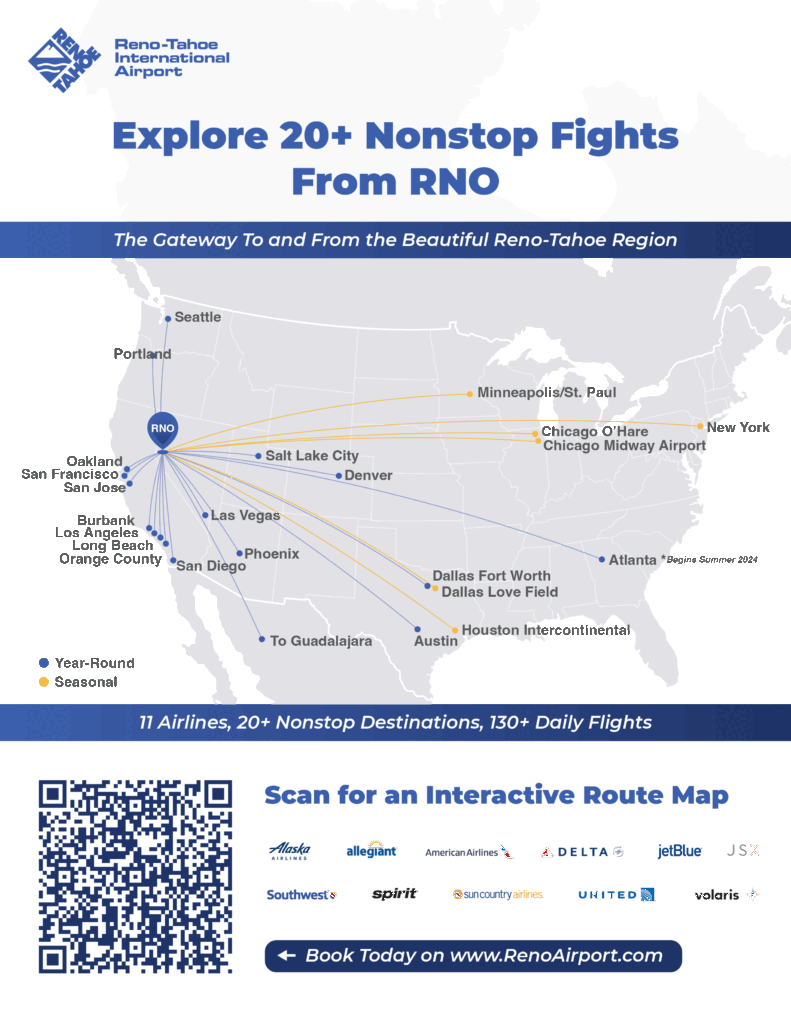 Reno Airport, real-time parking availability. Visit www.RenoAirport.com, or our Parking page, to see how many parking spaces we have available, so you can make the most informed decision before arriving at the Reno-Tahoe International Airport.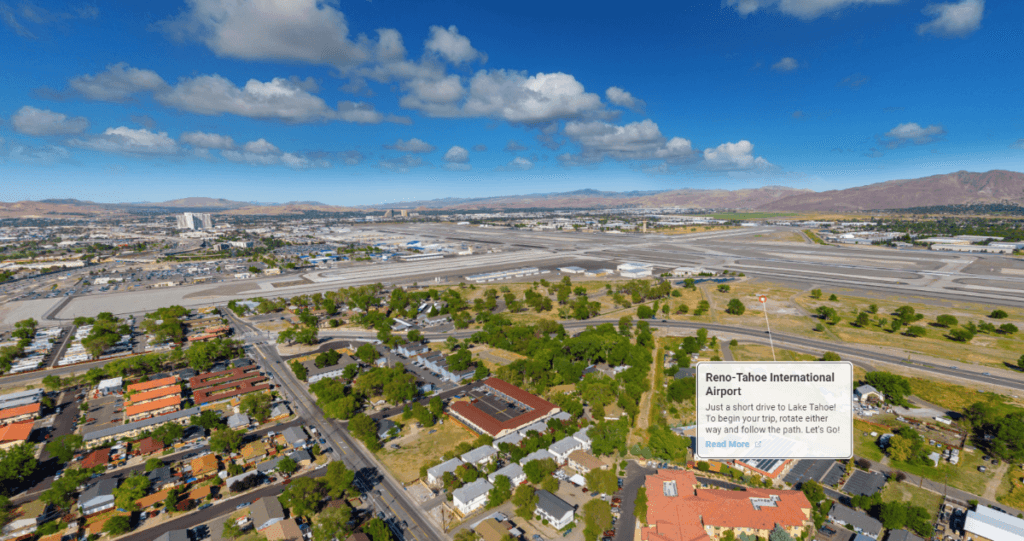 Driving to South Lake Tahoe from Reno-Tahoe International Airport?
---
Another option is the Sacramento International Airport. SMF is roughly a 2-hour drive from Lake Tahoe and is served by 15 airlines offering more than 170 daily flights to over 40 nonstop destinations across the US, Canada, Mexico, and Hawaii. Southwest Airlines is the largest carrier, followed by American, Delta, and United.
Other flight options include the San Francisco Airport, San Jose Airport, or the Oakland Airport, each about 3.5 hours away by car.
If you prefer flying with an air taxi, GaryAir can fly you to Lake Tahoe.
Non-stop direct flights to Reno Tahoe:
The Reno-Tahoe International Airport offers eleven airlines providing more than 130 daily flights serving the following non-stop destinations:
Arcata/Eureka
Atlanta – Seasonal
Austin – Scheduled to begin September 2021
Bakersfield
Burbank
Charlotte
Chicago/Midway (MDW) – Seasonal
Chicago/O'Hare (ORD) – Seasonal
Dallas/Ft. Worth
Dallas Love Field – Seasonal
Denver
Eugene
Fresno
Guadalajara, Mexico
Houston/Hobby (HOU) – Seasonal
Houston/Intercontinental (IAH)
Las Vegas
Long Beach
Los Angeles
Medford
Minneapolis/St. Paul – Seasonal
New York (JFK)
Oakland
Ontario
Orange County
Palm Springs
Pasco
Phoenix
Portland
Redmond/Bend
Salt Lake City
San Diego
San Francisco
San Jose
Seattle
Spokane
These non-stop flights can also get you virtually anywhere within one-stop.
New flights to the Reno-Tahoe International Airport are continually being added, making getting here even easier.
New Delta Air Lines flights include three daily direct flights between LAX and RNO.
With two daily flights from Los Angeles, Alaska Airlines gives you great schedule options when flying between LAX to RNO.
Allegiant offers nonstop service from Orange County to Reno, with flights twice a week. For those traveling between Las Vegas and Reno, Allegiant's nonstop flight is offered five days per week.
Travelers in Southern California can fly direct from Long Beach or San Diego to Reno on Southwest Airlines. Direct flights between LAX and Reno have resumed, and direct flights between Chicago Midway and RNO are also available. Southwest's daily direct flights between San Jose and RNO have also resumed.
Another new flight between Texas and Reno Tahoe is offered by United. This nonstop flight between Houston (IAH) and Reno is once per day, seven days a week.
In addition to American Airlines' daily nonstop flight for visitors from Austin, Texas, they also resumed their nonstop daily flights from LAX to Reno.
Another nonstop flight from the East Coast is back as JetBlue has resumed its direct flight between JFK and Reno-Tahoe International Airport.
Other Lake Tahoe Resources: