You're driving lakeside on Highway 50 or making your way around Emerald Bay on Highway 89 (whatever way is your favorite!), taking in some of the most beautiful views of one of the largest alpine lakes you've ever seen—and what's the thing you notice about the water other than its unbelievable clarity? The pockets of Tahoe boats tied up at just about every harbor. Lake Tahoe boating is a popular hobby around here and there are launch ramps all around the lake to prove it.
While there are many small marinas around the lake (low water years had locals and visitors alike getting pretty creative) there are also large marinas, like the Tahoe Keys, with slips that are typically reserved for full-season rentals and where boat fuel is readily available.
Most public piers don't usually charge a fee, likely because they assume you are patronizing a nearby business – think Camp Richardson Resort, where you can dock your Tahoe boat and walk right in to enjoy lunch with a view. There are also private piers in South Lake that may be used with an invitation, so making new friends over the summer is never a bad thing!
South Lake Tahoe boating offers buzzing marinas, rentals, Lake Tahoe boat tours and even a few events for boat lovers that are ready to show off their pride and joy.
Check out the Tahoe Boating App.
Lake Tahoe Boating, Marinas, Rentals & Launching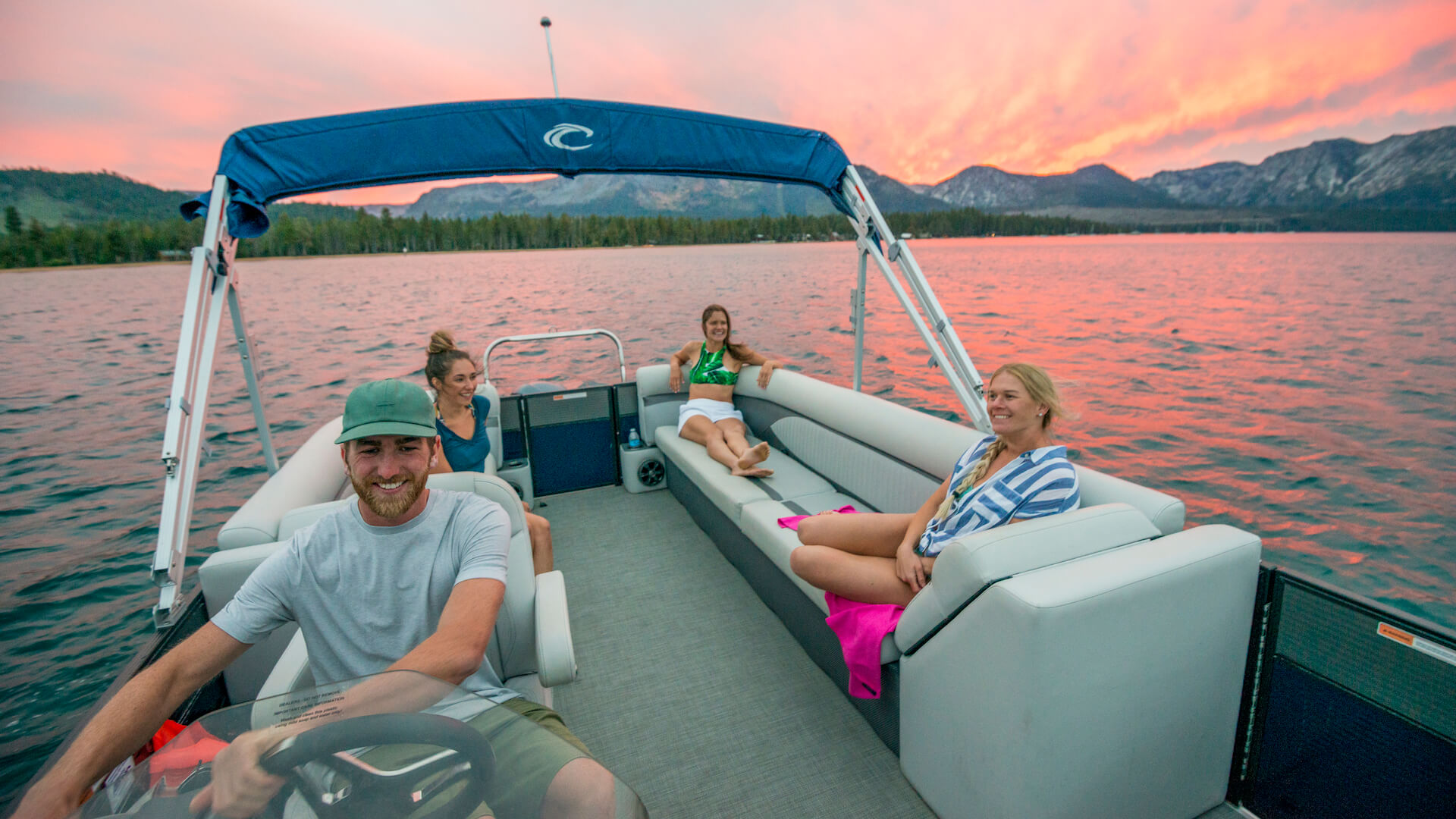 Lake Tahoe boating opportunities are everywhere, and the best place to start is at one of South Lake Tahoe's many marinas. Whether you are looking for a Tahoe boat rental or need a boat inspection for your personal vessel, there are more than a few piers and launch spots around Big Blue that are ready to help you dip your boat – and your toes – in the water.
Tahoe Boat Rentals and Lake Tahoe Slip Rentals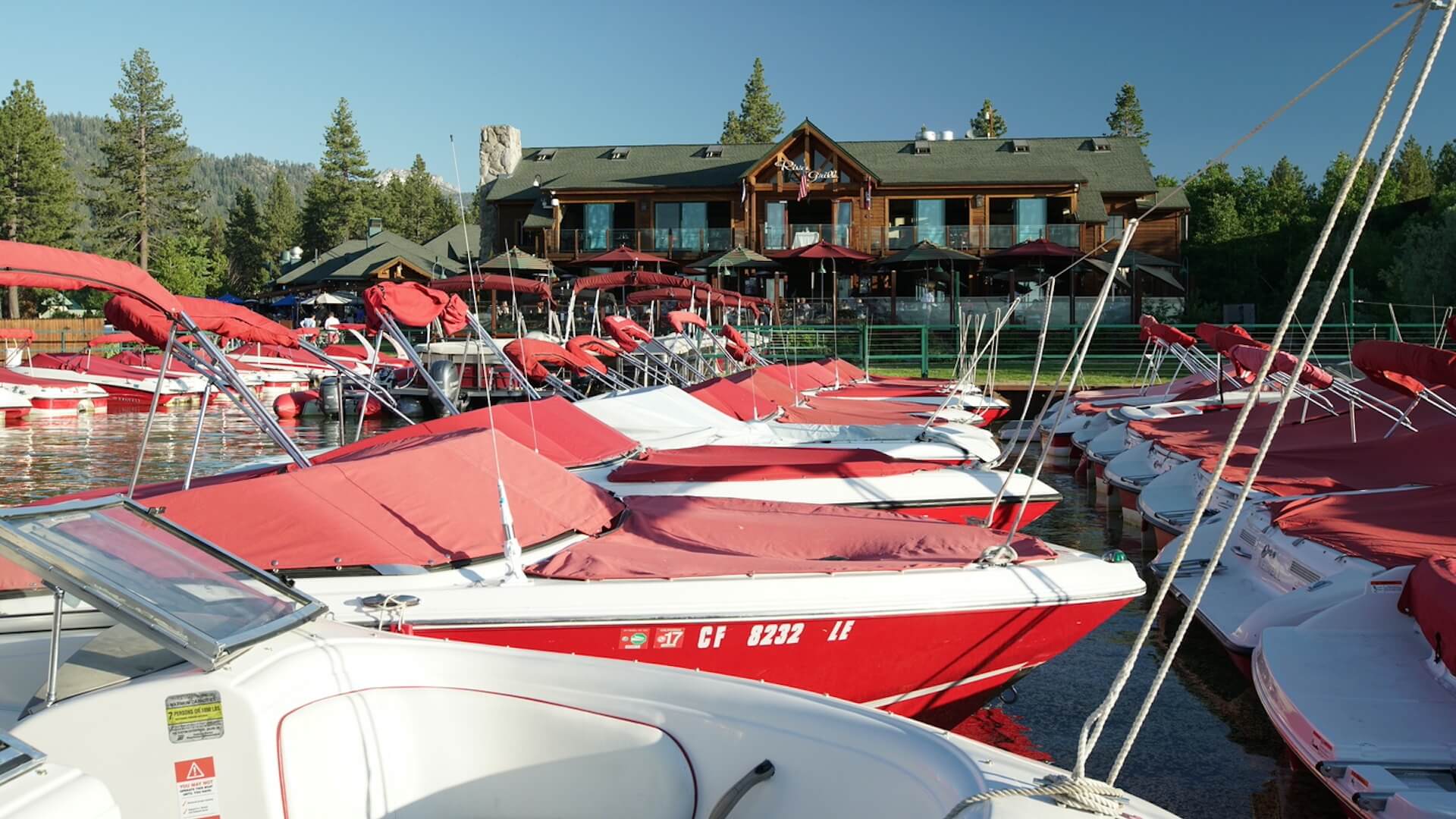 Tahoe boats are everywhere—from small water toys like kayaks and paddleboards to pontoon boats, jet skis and powerboats. It just depends on what kind of mood you're in and how far you want to go. Lake Tahoe slip rentals are available at a few piers but remember, they are a precious commodity. Lake Tahoe slips for sale come around every once and a while too, so keep your eyes peeled. Waiting lists can be long, but miracles do happen!
If you're interested in renting a slip, contact the Harbormaster for availability at Lakeside Marina, first (phone 530-541-9800). Lakeside Park property owners are given first consideration but Lakeside Marina slips are often available throughout Tahoe's boating season. Equipped with a launch ramp, boat storage, moorings, boat rentals, fuel dock, restaurant, and a warm and welcoming beach, Lakeside Marina is also just a 5-minute walk from Lake Tahoe's casinos and Lakeside Marina was selected the best harbormaster at South Lake Tahoe for all your Lake Tahoe boating needs.
Another great spot for boat mooring is Round Hill Pines Marina, (phone 775-588-3054).
Lake Tahoe Marinas and Piers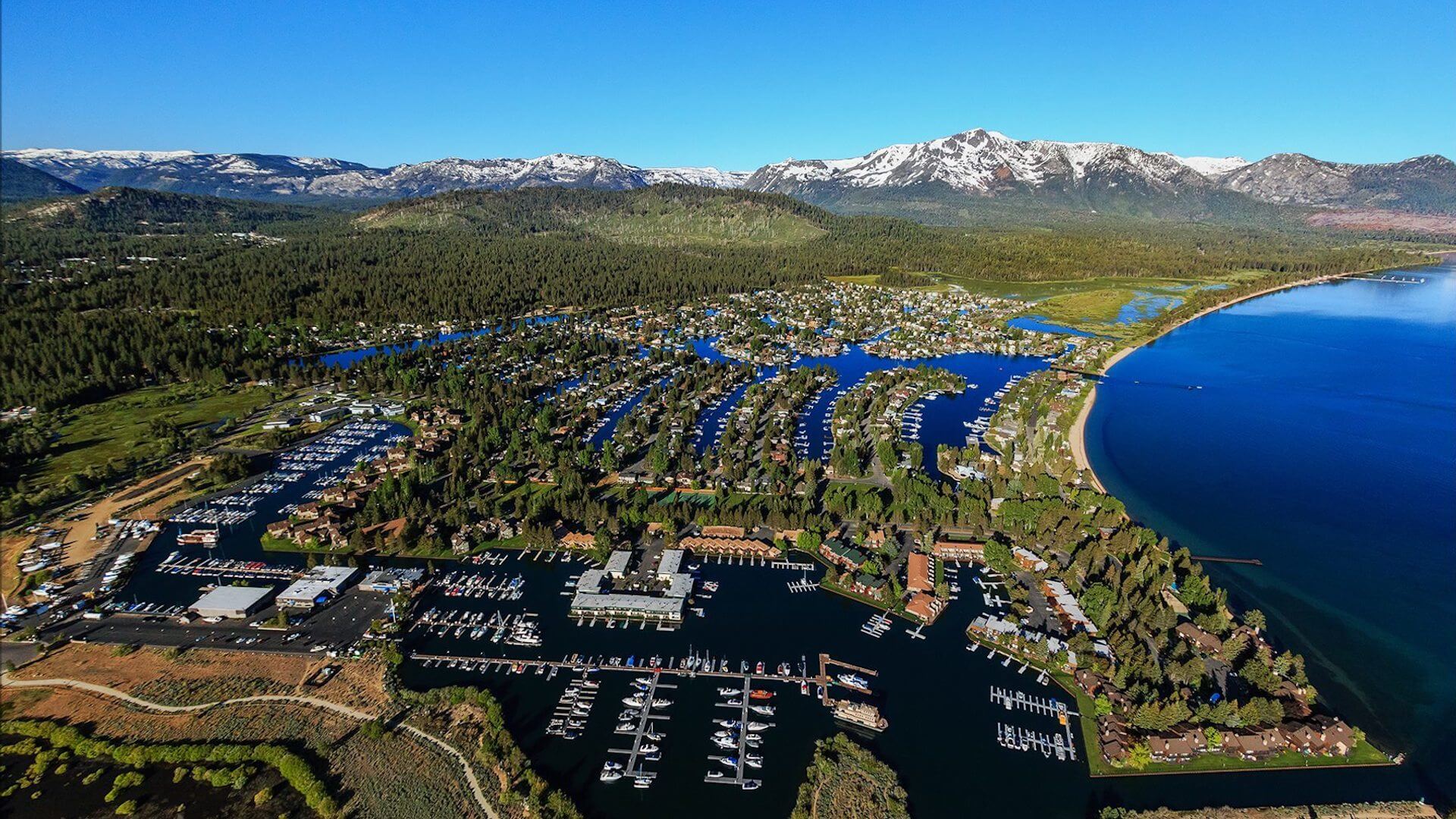 Some of our favorite piers for Tahoe boats include Timber Cove Marina, The Marina at Zephyr Cove Resort, Camp Richardson Historic Resort & Marina and Tahoe Keys Marina, which is the largest marina on the lake. These spots are the best places to look for Lake Tahoe boat rentals, speedboat rides, parasailing, sport fishing, and moorings.
Tahoe Boat Launch
If you're hauling your own boat, Cave Rock is a great boat launch tucked along the southeastern shore of Lake Tahoe. Cave Rock is also a fun spot to explore the crystalline waters of North America's largest alpine lake.
Cave Rock offers a double ramp and the park has more than 40 spaces for trailer parking, a small beach at the south end of the park for swimming, sunbathing and snorkeling, as well as a great spot to launch a canoe or kayak.
Information on bringing your own boat.
As you cruise Highway 50, look for El Dorado Beach and Boat Ramp off Lakeview Avenue for another convenient boat launch in South Lake. This is the place to go for large picnics, renting a kayak or water toy, taking in views of the lake or is simply a great spot to relax. El Dorado Beach and Boat Ramp are open year-round, depending on accessibility because this boat ramp relies on lake water levels; however, the beach is open year-round. Due to low lake levels, the boat ramp at El Dorado Beach will not be open to motorized vessels for 2022.
Lake Tahoe Boat Tours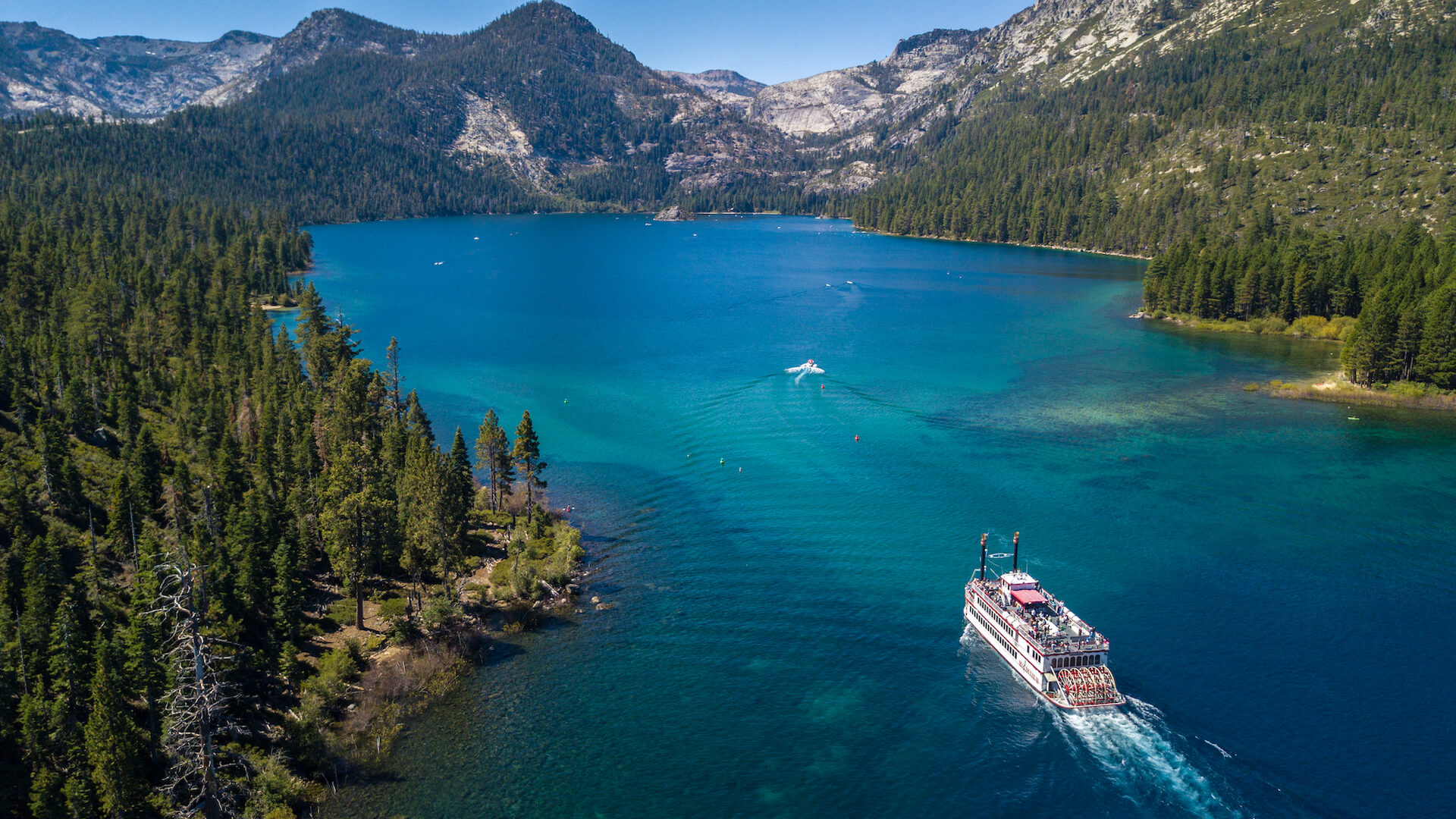 From the excitement of a booze cruise to a simple cruise around Lake Tahoe, Lake Tahoe boat cruises are the perfect way to experience the lake and truly understand what it means to be on 'Tahoe Time.'
Some of the most memorable (or maybe not-so-easy-to-remember but definitely fun!) times are had on board a Lake Tahoe boat tour. Check out the M.S. Dixie II, the Rum Runner Cruise, the Tahoe Bleu Wave, Lake Tahoe Boat Rides, the Serenity Yacht, Tahoe Wine Tasting Cruise, Sail Tahoe Blue, Tahoe Star, or the Spirit of Tahoe. Enjoy great food, great drinks and even better people aboard one of these South Lake Tahoe boat tours.
Tahoe Boat Events for Boat Lovers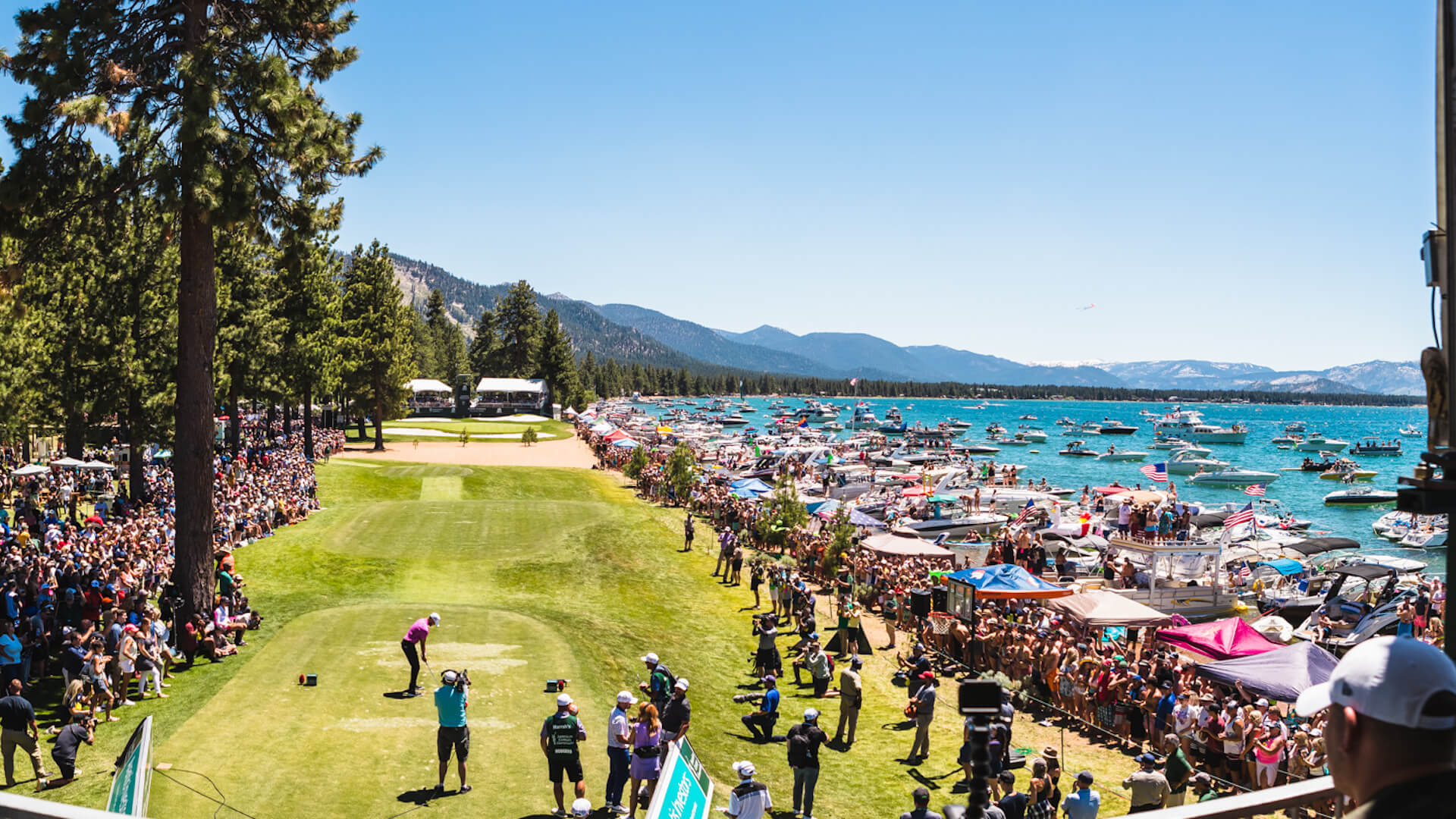 Don't forget about one of the premier events of the summer, the Concours d'Elegance Wooden Boat Show. Obexer's Boat Company, home of the first wooden boat dealership on Lake Tahoe, is home to this annual event and is located on the West shore of Lake Tahoe. Anyone who appreciates Lake Tahoe boating and the beauty and the art of boat restoration should attend. Make sure to check out seasonal events in South Lake while you're visiting too. There's always something to do in Lake Tahoe, both on and off the lake!
Tahoe Boats
Check out Boating Lake Tahoe on Instagram
Explore Places to Stay
Stay in Lake Tahoe
Find the perfect accommodation that matches your unique preferences and ensures an unforgettable experience at Lake Tahoe.