Discover What's Coming Up in Tahoe
Featured Events
Show me events for...
Custom Dates
When are you visiting?
This Weekend
December 9 - 10
Next 7 Days
December 10 - 17
Next 30 Days
December 10 - January 9
View Results
Lake Tahoe Events
Whether you are looking for headlining entertainment, craft beer and farm-to-fork festivals, marathons or even a star-studded golf tournament, Lake Tahoe events offer a little bit of everything!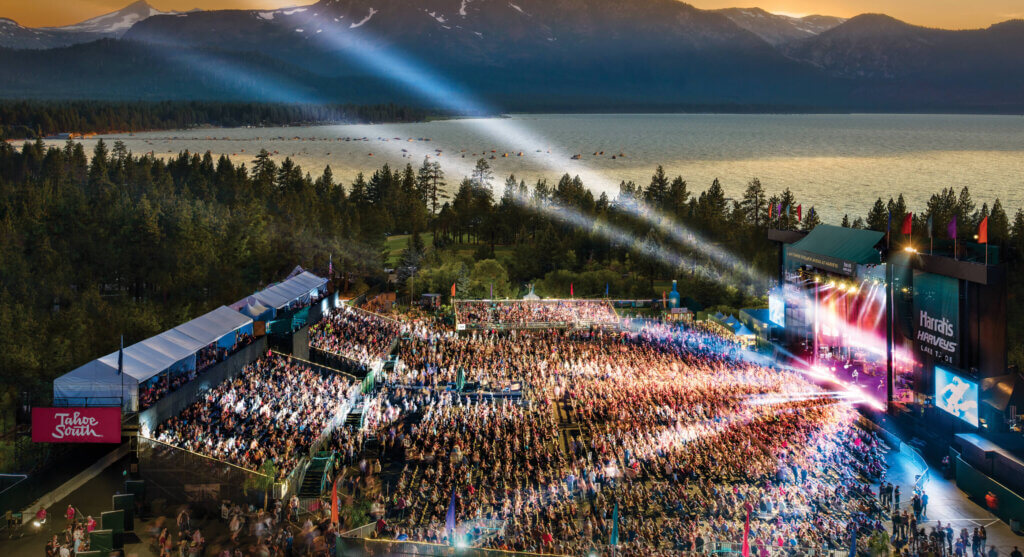 Looking for upcoming events in Lake Tahoe?
Every season on the South Shore of Lake Tahoe brings new and exciting events with Big Blue as the backdrop. During the winter and holiday season, Lake Tahoe celebrates with tree lighting, live music, apres ski parties, pub crawls and more. You can ring in the new year with one-of-a-kind events featuring fireworks and a gondola drop in South Shore, or stay warm indoors and catch a concert at the all-new Tahoe Blue Event Center for a night to remember.
As the weather warms up, you will find plenty of Lake Tahoe events to keep you entertained. You can check out the Big Blue Music and Brews Festival, a free music festival featuring over 40 artists across 15 venues. Or Tahoe Brewfest in August that brings together craft brewers from the Lake Tahoe area for a fun tasting event.
The summer brings a dynamic mix of events like the Summer Concert Series, which brings headlining acts like Paul Simon and Lady Gaga to the 4,000-seat Lake Tahoe Outdoor Arena from June through September. If you are a sports fan, be sure to check out the American Century Celebrity Golf Championship in July, which brings together 80 professional athletes and celebrities to compete in a 54-hole tournament. This Lake Tahoe event runs right up to the shores of the lake and is a gorgeous location for players and spectators alike.
Maybe you are looking for something a little more low-key; check out Sample the Sierra, a farm-to-fork festival, where you can enjoy fresh produce, local wines and more.
Whether you are looking for a Lake Tahoe event for the family, a solo adventure or an experience with friends, we have it all!
Please note events subject to change/cancellation.
---
Does South Lake Tahoe have a nightlife?
South Lake Tahoe has a vibrant nightlife offering options such as casinos, bars and nightclubs. There are also a wide variety of restaurants, pubs and lounges offering live music, comedy shows and other entertainment options.
How many people does the outdoor Tahoe arena seat?
Harvey's Outdoor Amphitheatre is an incredible venue on the shores of South Lake Tahoe that features gorgeous lake views and unique acoustic properties. Harvey's Outdoor Amphitheatre at Lake Tahoe seats about 7,500 people.
What time do gates open at Harvey's Outdoor Arena?
Harvey's Outdoor Arena at Lake Tahoe typically opens the doors 45 minutes before the event on the day of the show, but it's best to check your ticket for the exact time of your show.