So many styles of cuisine exist, it's hard to find restaurants with their own delectable niche. But travel around South Lake Tahoe, and you'll see the region has indeed found its own.
Dining and imbibing in South Lake is a multi-sensory experience.
Your eyes drink in the sublime setting surrounding you, along with the eye-catching entrées ordered at any of the eateries in the area. Aromas of pines and crisp, clean Tahoe air complement the intoxicating aromatics arising from your dinner plate. Sounds of lapping waves enhance the peaceful outdoor dining found at many lakeside restaurants. Scrumptious textures intoxicate your taste buds.
When the weather is cold, kitchens across South Lake cook up comfort foods to warm the soul. During the warmer months, a bounty of fresh produce grown nearby makes its way into myriad dishes, perfectly accompanying the idyllic temperatures often found in South Lake Tahoe.
The deliciousness of the diverse dishes served in the area may motivate you to relocate permanently…
Oh, but wait. There's so much more for your tastebuds here.
If frothy, freshly brewed beers are what you seek, a quick search around South Lake reveals a bevy of local breweries tantalizing beer drinkers with their locally inspired creations.
We also have oenophiles covered, along with those searching for creatively concocted libations. Lakeview wine and cocktail bars abound around South Lake Tahoe too.
Whether you're seeking out sustenance or searching for a superb sippable concoction, your tastebuds will surely get a delectable tour in South Lake. Here are a few ideas.
Fine Dining
When you want to splurge on some exceptional cuisine, South Lake Tahoe has an abundance of fine dining destinations.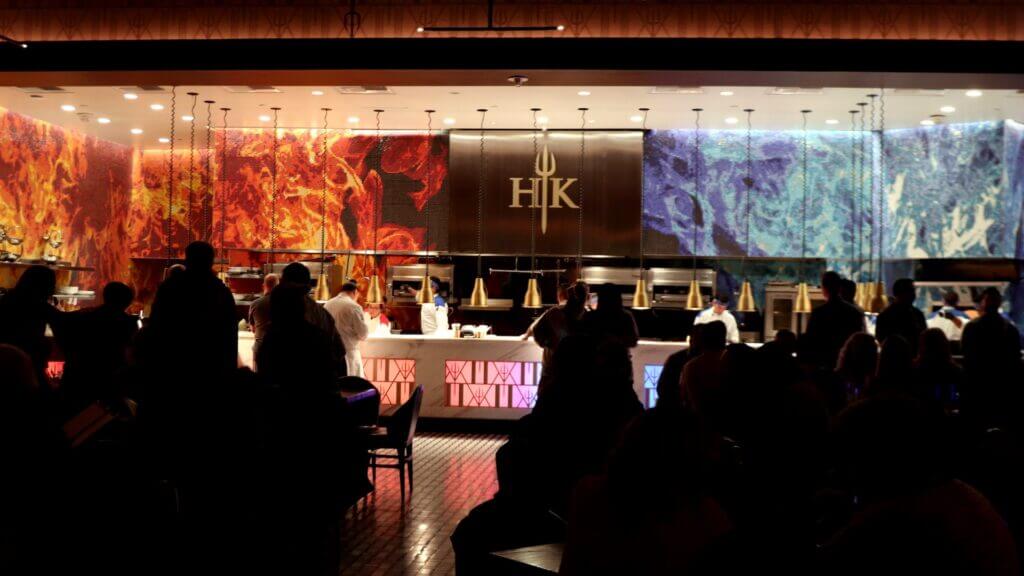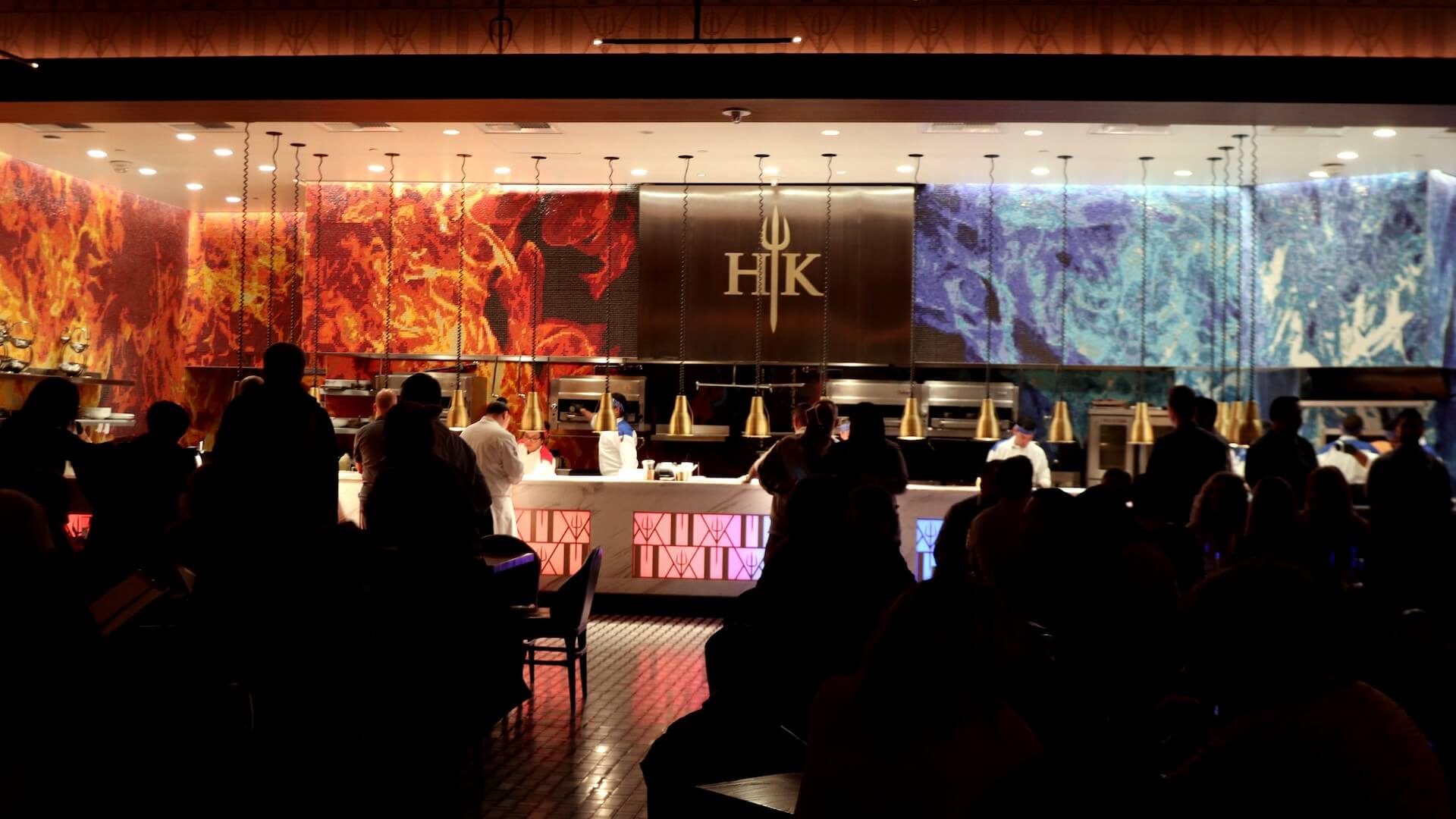 Gordon Ramsay's Hell's Kitchen inside Harvey's Lake Tahoe doles out decadence in the form of luxe prix fixe dinners, seafood, wagyu beef and seared foie gras. A side of celebrity enriches the experience, with Lake Tahoe's Hell's Kitchen under multi-Michelin Star chef Gordon Ramsay's purview.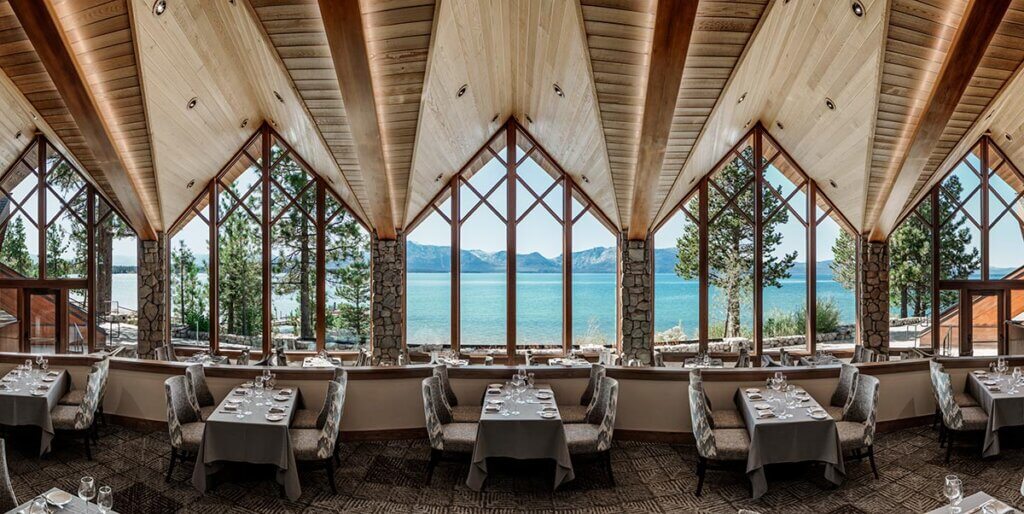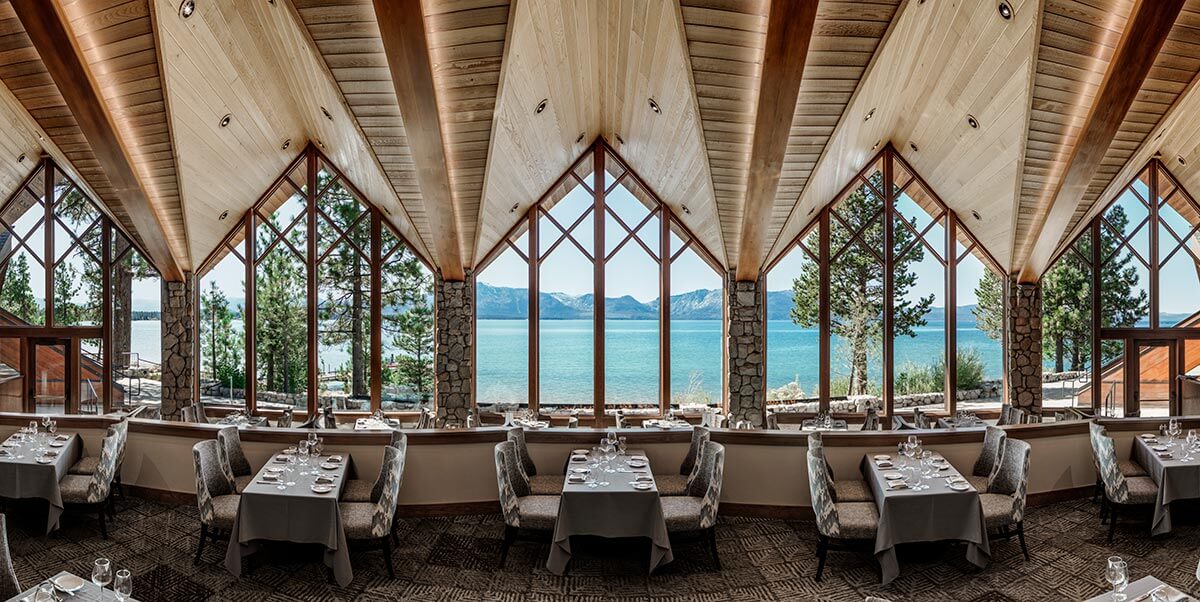 At Edgewood Restaurant, miles of cerulean blue glisten beyond the architecturally impressive and expansive windows. Rivaling the view is Edgewood Restaurant's cuisine, which includes extravagantly delicious, seasonal dishes like Lobster Angelotti and Shaved Black Truffle, Pinecone Smoked Elk Loin and Spring Rabbit & Bianco Di Napoli.
Catch the sunset over a glass of vino from their bountiful wine list and appetizers such as Spring Sweet Pea Risotto, Poached Octopus & Cuttlefish Crudo or Marin Bay Fresh Crab Bruschetta. Then share some divine desserts, like the Yuzu Mango Pavlova or a Dark Chocolate Soufflé.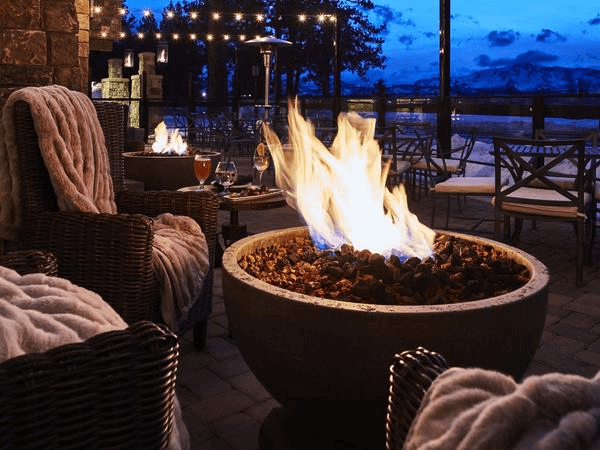 For some romance, dine in a private alcove with its own fire pit while partaking in the extraordinary dishes at Jimmy's Restaurant inside The Landing Lake Tahoe.
Begin your enchanting evening with some Llano Seco Pork Belly topped with caramelized onions, granny smith apples, toasted sesame seeds and a bourbon maple glaze. Meat eaters can revel in their Three Hoof Bolognese featuring elk, pork and veal; parpadelle pasta,;parmesan-herb breadcrumbs and shaved pecorino romano, while veggie lovers dine on the delicious Grilled Vegetable Steaks made with marinated cauliflower, Portobello, eggplant, grilled asparagus, potato hay, charred tomato puree, thyme oil and vegan steak sauce.
You'll certainly find your perfect pairing here no matter your dinner choice among Jimmy's 1,500-bottle wine vault that spotlights a multitude of classic vintages along with some rare options, plus many regionally driven selections from California and the Mediterranean.
At Kalani's, seafood finds an island influence, with an enticing array of sushi rolls, plus entrees like the crab-crusted Hawaiian Mahi-Mahi served with sweet potato mashed potatoes, roasted cauliflower and a green papaya salad and topped with sambal butter.
Lake View Dining
Since you're elevating your dining experience here in South Tahoe, you may as well get a bird's eye view of the stunning liquid gem in the center of it all. At The Chart House Lake View Restaurant perched atop Kingsbury Grade, breathtaking vistas match the extraordinary cuisine they serve. Monday through Friday from 4-6 p.m., The Chart House offers mouthwatering appetizers like crispy kimchi vegetables and lobster tartare alongside affordable draft beers and their renowned signature cocktails for happy hour.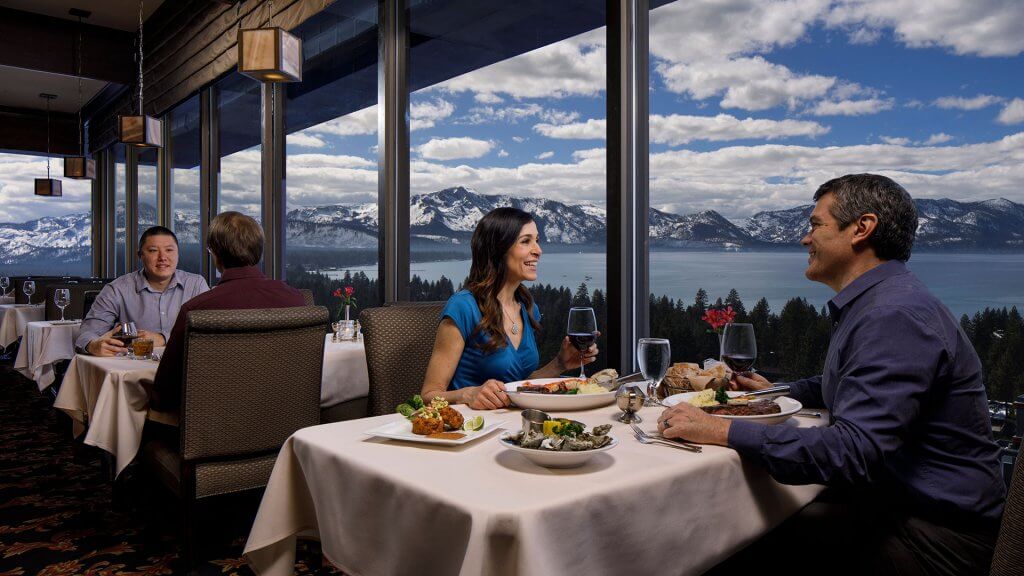 Located at the Ski Run Marina, let your eyes laze upon the picturesque scenery and soak in the serenity found at the Riva Grill. Lobster deviled eggs? Yep. Thai chicken lettuce wraps? Indeed. Wood-fire pizza craving? Got you covered. Just don't forget to try a Wet Woody, Riva Grill's sumptuous signature cocktail, an intoxicatingly delicious blend of rums and fruit juices.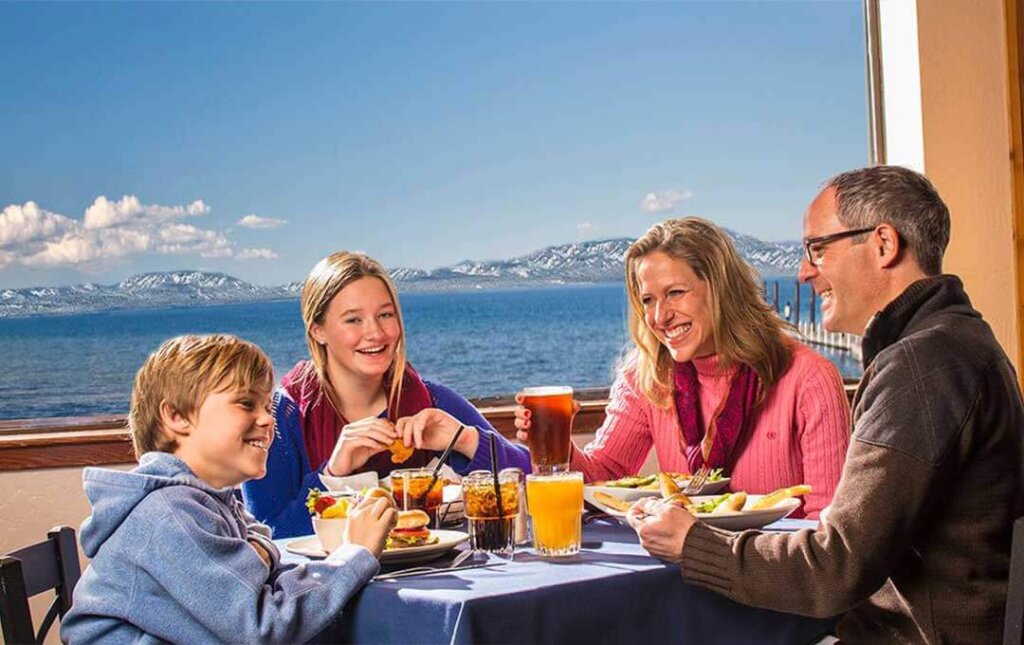 You can also find your zen at The Beacon at Camp Richardson, dining right on the beach with a RumRunner in hand. The locals' favorite cocktail goes great with their sandwiches, salads, soups and epic views of Tahoe.
Family Friendly
Bring the brood to Zephyr Cove Restaurant on the lake shore, let them work up an appetite at the resort, then fuel them up on bountiful breakfast options, sandwiches or burgers.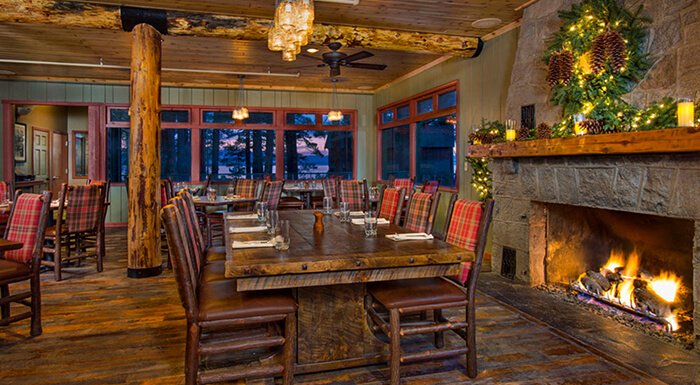 Locals frequently head to one of South Lake's Red Hut Cafes when wanting a hearty breakfast. The kitschy-cool Tahoe décor keeps little ones' eyes wandering while their wonderous selection of waffles, pancakes, egg dishes and more keep their mouths occupied. Hey, parents need a little quiet time once in a while.
Inimitable Imbibing
Playing in South Lake Tahoe works up a thirst. Thankfully, many brewers, distillers and wine-loving restaurateurs reside here, where their creativity gets constant inspiration naturally.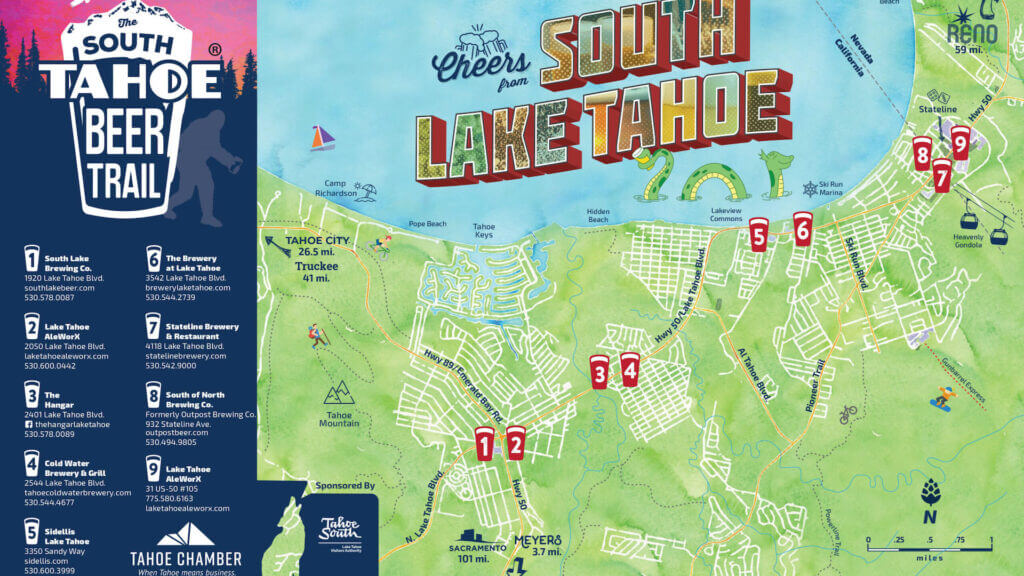 Want brews? Oh, you've found a piece of frothy paradise here. Check out South Lake's Beer Trail and try out up to nine local craft breweries producing Tahoe-influenced ales in rustic or modern alpine settings.
Take Sidellis Lake Tahoe Brewery and Restaurant, an inspired alehouse that specializes in barrel-aged and thoughtfully crafted beers featuring unusual flavor combinations like combining mango and habanero in an ale, or bourbon maple syrup with their oatmeal stout.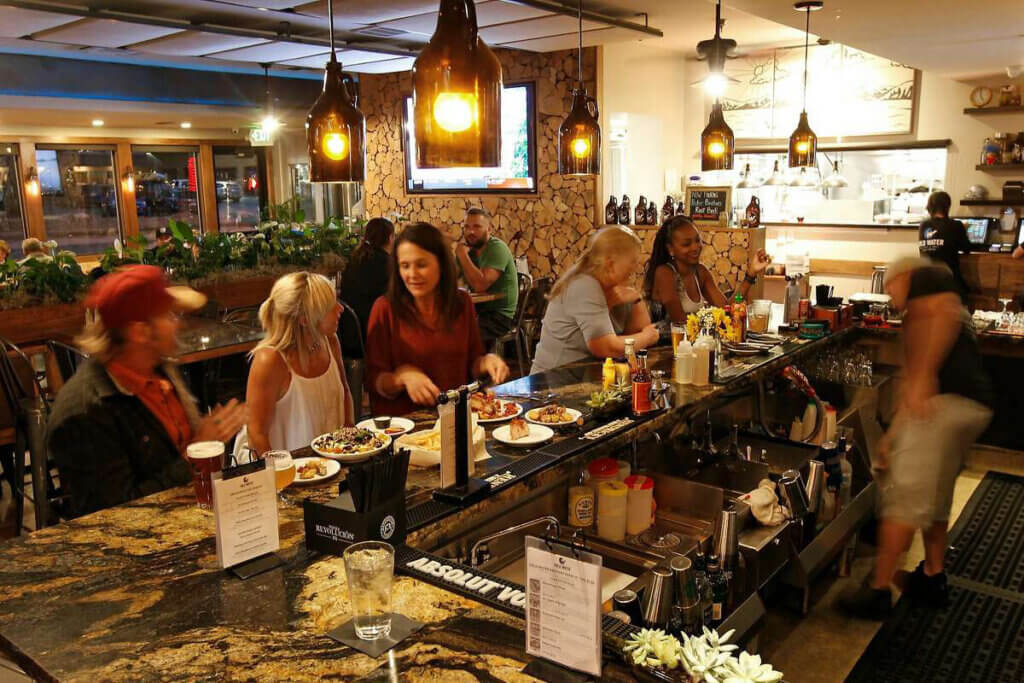 Cold Water Brewery and Grill may motivate you to get a flight, as they have a huge selection of locally crafted brews ranging from reds and IPAs to stouts, sours and lagers. Comfort foods on their menu soak up the suds delectably. And just over the California border, Stateline Brewery and Restaurant is one of the OG beer-brewing establishments in South Lake, serving up their own seasonal ales along with their signature IPA, Pale Ale, Blonde and Wit brews.
Tahoe Blue Vodka is a gluten-free spirit made in micro-batches using locally sourced water and high-quality grapes, grain and sugarcane. Purchasing Tahoe Blue also helps support nonprofit organizations that keep Tahoe clean and clear.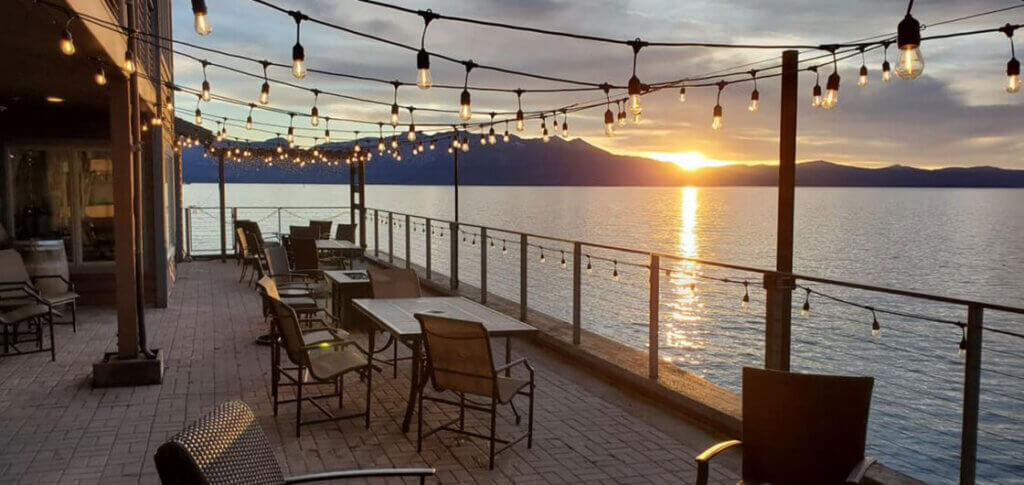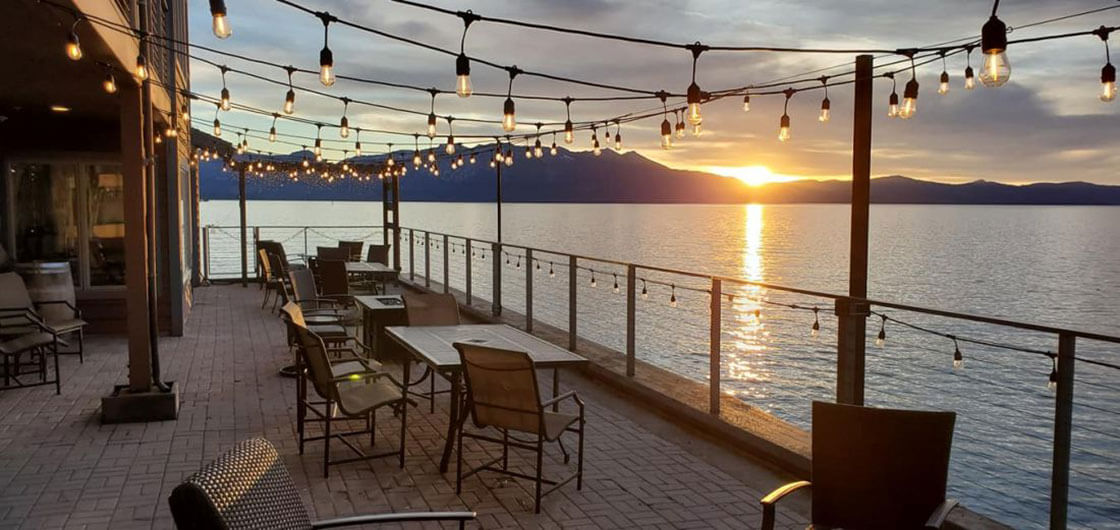 Wine lovers can settle into a lakeside seat at The Idle Hour with a glass of white, red or bubbles and take in the spectacular scenery. Small plates are also available to pair.
But wait. Did someone say nightcap? Now you're talking…
Visit The Loft for an intimate setting overlooking the lake and diverse cocktail menu, and maybe catch a magic show. The imbibing pros behind Lake Tahoe AleWorx—a premier stop for all things liquid, boozy and brewed—recently opened The Cocktail Corner, featuring artfully crafted classic cocktails plus many a martini variety. Their enticing array of beverages can warm your bones in winter or cool you off when the weather is warm.
One thing is for sure: you'll never leave Tahoe without tons of tales of your fun times…or hungry.
Check out Dining at Lake Tahoe on Instagram