Emerald Bay Lake Tahoe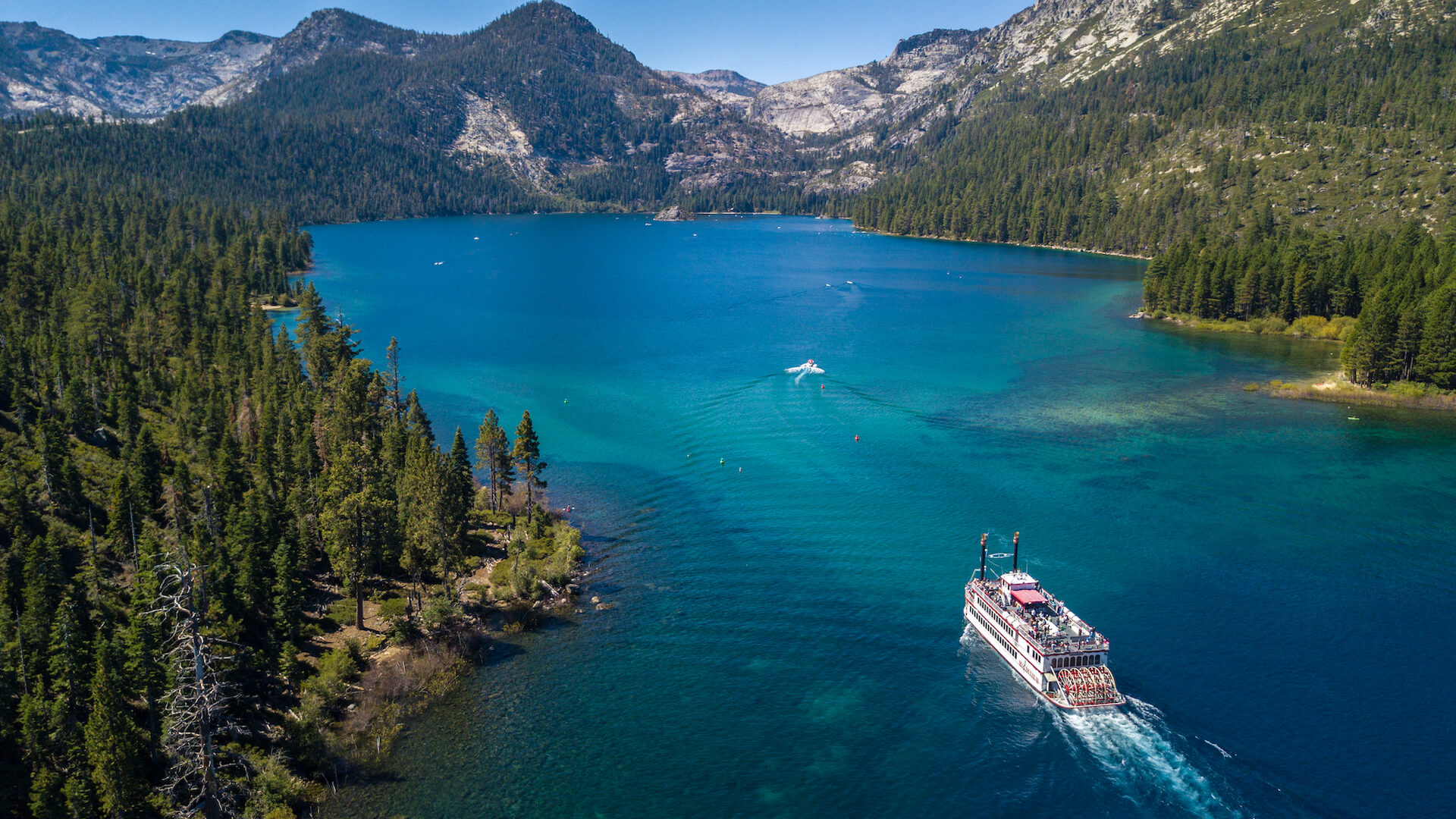 Lake Tahoe's crown jewel – an oasis of shimmering greens, turquoise and blues against a strikingly beautiful mountain backdrop on the Lake's west shore – this is Emerald Bay. Due to Lake Tahoe's incredible clarity and depth, the colors of the lake are surreal, and Emerald Bay is the perfect place to take in the entirety of the scene.
Check out Emerald Bay Virtually
---
Emerald Bay was declared a National Natural Landmark in 1969 by the federal Department of the Interior. In 1994, California State Parks included the surrounding water of the bay as part of the park as well, making Emerald Bay one of the first underwater parks of its type in California, which also protects the various treasures hiding at the bottom of the bay.
Where is Emerald Bay?
Emerald Bay is a short drive from South Lake Tahoe and can be accessed via Highway 89. It is the only inlet on the lake and is home to Lake Tahoe's only island, Fannette Island. Emerald Bay is located within Emerald Bay State Park, just south of D.L. Bliss State Park, and spans 1,533 acres. Emerald Bay State Park is home to many landmarks, but most famously, the park is home to Vikingsholm Castle, a popular tourist destination rich in history and architecture.
Vikingsholm Castle is a 38-room mansion that is long considered as one of the finest and most incredible examples of Scandinavian architecture in the United States. Vikingsholm Castle was built in 1929 by Mrs. Lora Knight, and still holds some of its original features, symbolic of 11th century stone churches in southern Sweden. A National landmark, Vikingsholm is one mile downhill from Highway 89 and offers tours daily in the summer.
What is there to do at Emerald Bay State Park?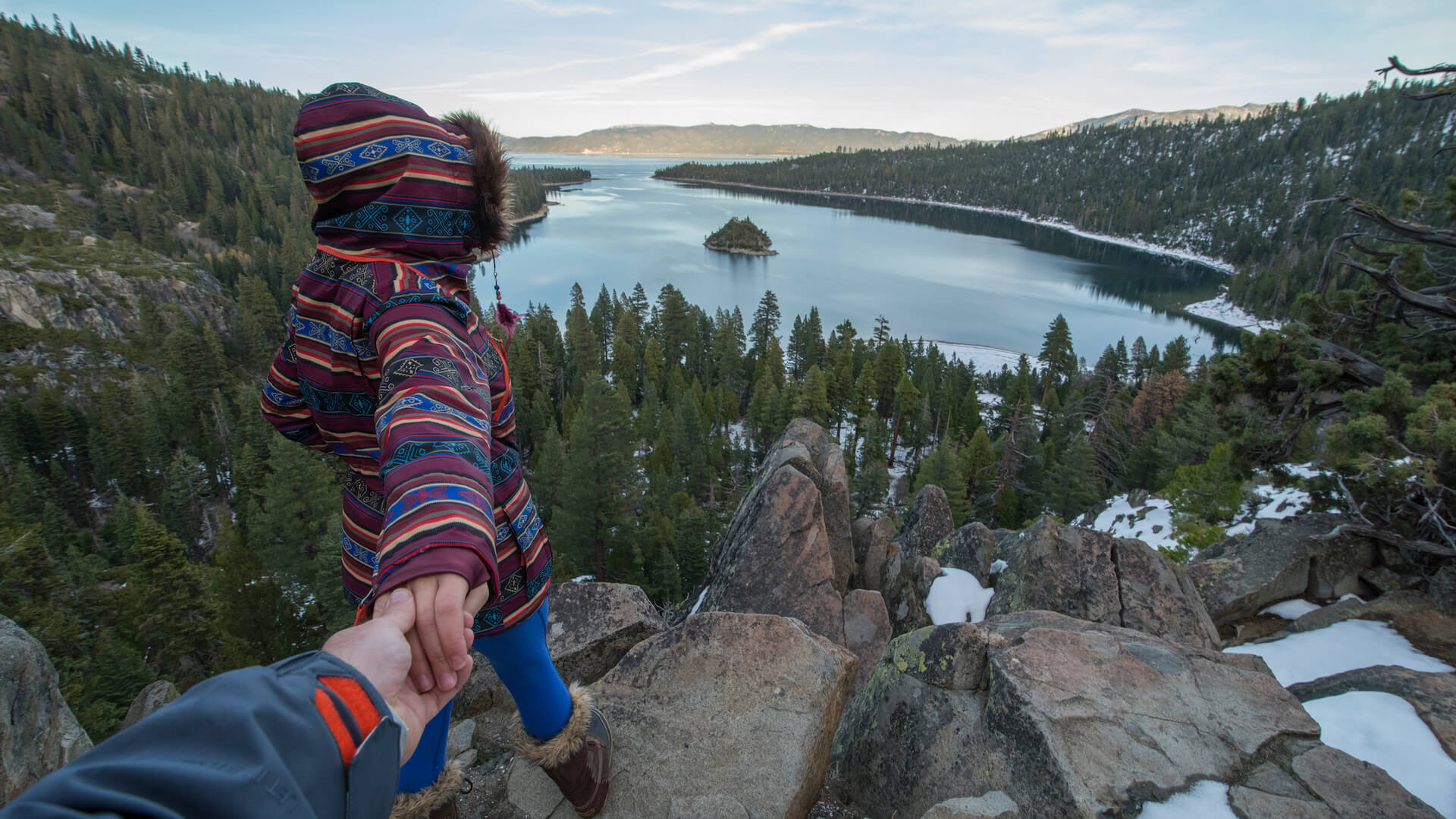 From hiking, biking, and water sports, there is much that can be explored at Emerald Bay State Park.

As soon as you drive in, one of the most iconic stops along Highway 89 to Emerald Bay is Inspiration Point. This drive-up overlook is the perfect place to capture the dramatic landscape and historic Fannette Island. There are many different spaces to pull over and admire Emerald Bay, so don't be discouraged if you can't park directly at the point. Inspiration Point is easily accessed along Highway 89 and while there is traffic, it is often mellow, as drivers can't help but take a peak down at the gorgeous inlet. Inspiration Point offers paved walkways and towers a whopping 600 feet above Lake Tahoe's Emerald Bay.
Fannette Island, located right in the middle of Emerald Bay, is home to Mrs. Knight's teahouse. The stone structure sits on the island and offers a 360-degree view of Emerald Bay in all its glory. Mrs. Knight would enjoy tea on Lake Tahoe's only island where she undoubtedly took in the magnitude of the 'most photographed place on earth.'
There's really no better way to take in the lake or Emerald Bay and all its vibrant colors than to take out a kayak, a stand up paddleboard (SUP) or hop on a boat. Scenic boat cruises are offered by the Tahoe Queen, an authentic paddle wheeler with a glass bottom, and the Ms. Dixie II. The Ms. Dixie II has been voted as the "Best Boat Cruise in Tahoe" for 10 years in a row. This cruise boat offers spacious decks, food and more.
Taking a SUP or kayak out is truly a local's favorite way to experience Lake Tahoe, though. You can rent kayaks and SUPs at Baldwin Beach or Emerald Bay Beach. Taking Baldwin Beach to Emerald Bay Beach offers a longer, more scenic view of the area, so this route is the most recommended. On this route, you can also stop by the teahouse on Fannette Island, breathe in the crisp, clean air, and fully take in the history of this magnificent area.
Whether you are planning to take a cruise, a kayak or hike, timing is everything. While Lake Tahoe is always beautiful, the sunsets and sunrises in Emerald Bay are indescribable. Because of the clarity of the lake and its surroundings, the yellows, oranges and pinks of the first hints of light in the early mornings or the last glints of sun that fade into the evenings, make way for brilliant year-round photo opportunities.
Many photographers consider fall to be the best season to get the shot due to the unique colors and the changes the aspens go through, but Emerald Bay at sunrise, in spring, is a huge attraction. Eagle Creek is roaring, there are very few people, and the scene heart-stopping. If sunsets are more up your alley, try Sand Harbor. The surrounding boulders offer an interesting foreground and during the winter months, you'll pretty much have the whole area to yourself.
Hiking Emerald Bay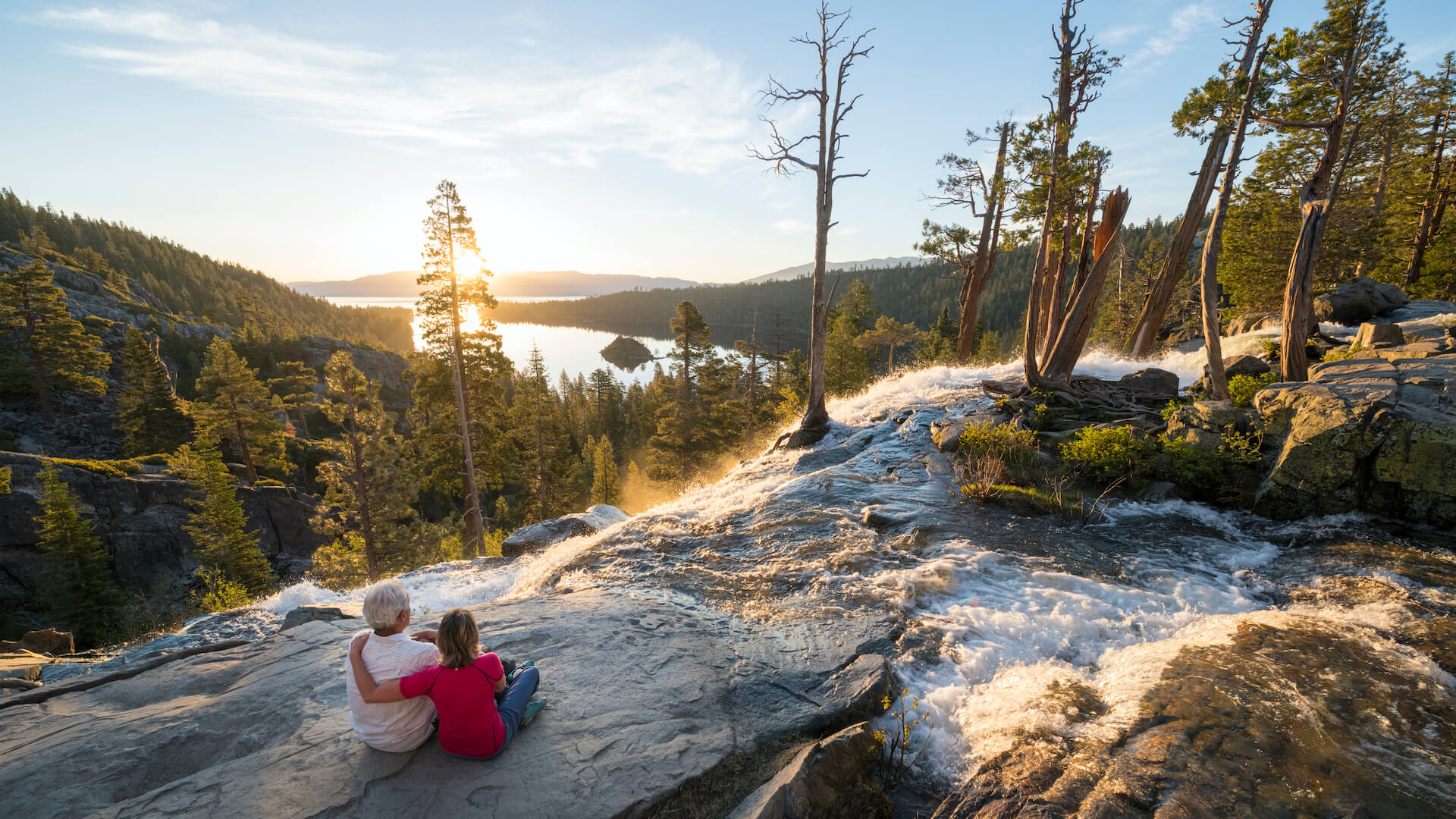 While there's no shortage of gorgeous South Lake Tahoe hikes to enjoy, some of the best views of Emerald Bay can be seen from a few choice hiking trails near the lake. Each hike offers a unique view of Lake Tahoe and Emerald Bay, guaranteed.
If you'd like to take in Emerald Bay from a higher vantage point, check out the Rubicon Trail from Emerald Bay State Park. Don't forget to look up, either. Bald eagles soar across the skyline more often than you think. This trail, as well as the Vikingsholm Trail, should knock off all your bucket list Emerald Bay views. The Vikingsholm Trail will lead you downhill (just remember you'll need to hike back up!) to the lake's shore, opening to views of both Lake Tahoe and Vikingsholm Castle that are simply breathtaking.
Located at Bayview Campground, Bay View Hiking Trail is another rewarding hike that offers more than just stunning views of Emerald Bay and Lake Tahoe. After summiting the somewhat challenging trek up Maggie's Peak, you will have accomplished a feat deserving of a quick picnic lunch and will have made it to yet another gorgeous lake, Granite Lake! Many hikers plan for overnight trips on this trail, just remember you need a permit.
With lakes and waterfalls galore, don't forget to check out Cascade Falls and Eagle Falls. Cascade Falls is a moderate hike that opens up to a 200-foot waterfall which surrounds Cascade Lake. This trailhead begins at the far end of Bayview Campground and is only two miles round trip. Eagle Falls is another great trail, and extremely popular. Eagle Falls trailhead is a starting point for Desolation Wilderness, as well as Eagle Lake, so try to hit it early. Regardless of the crowds, the views, Eagle Lake, Lake Tahoe and the scenery alone are well worth sharing with other hikers, friends and family.
Where Can I Stay Near Emerald Bay?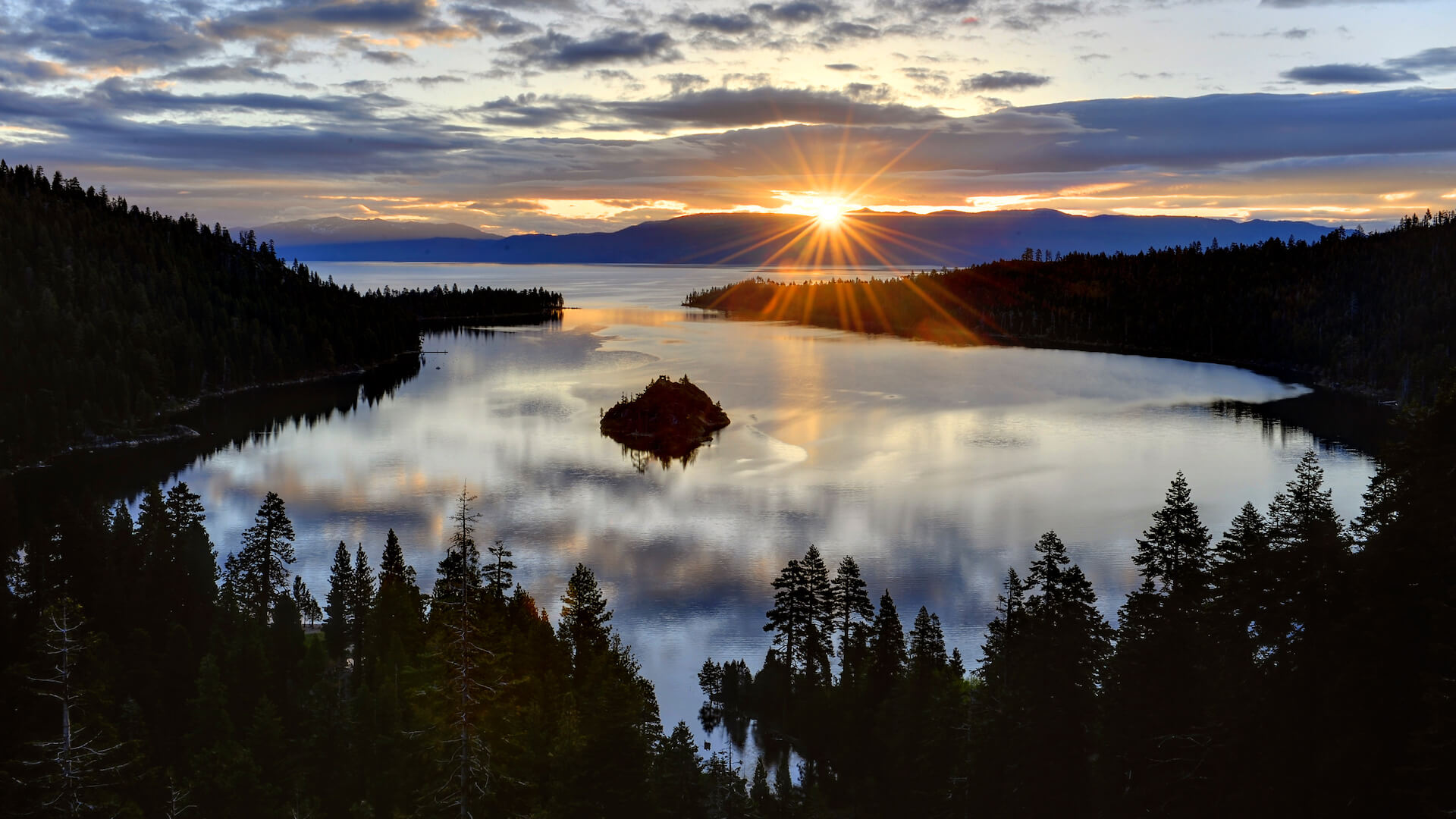 Looking for the perfect place to stay near Emerald Bay? Staying in Lake Tahoe is a must –it's just too hard to fit all there is to do at the lake into one day! Lake Tahoe offers a wide array of hotels, casino resorts, luxury and boutique hotels, cozy Lake Tahoe cabins, B&B's and even full vacation homes. Whether you're coming with your family, your friends or you're exploring the area on your honeymoon, Lake Tahoe offers the finest amenities and best places to stay near Emerald Bay, no matter your budget.
Lake Tahoe is a pet-friendly paradise, too. We know that your companion is just as much a part of the family as anyone else. With so much to do and explore in South Lake, taking your best friend along for the ride is a no-brainer.
Want to get married at Emerald Bay? Contact the Special Events Coordinator at (530) 525-5060.
Emerald Bay
Emerald Bay Lake Tahoe on Instagram