Winter Activities
Ski/Snowboard
Sierra-at-Tahoe Resort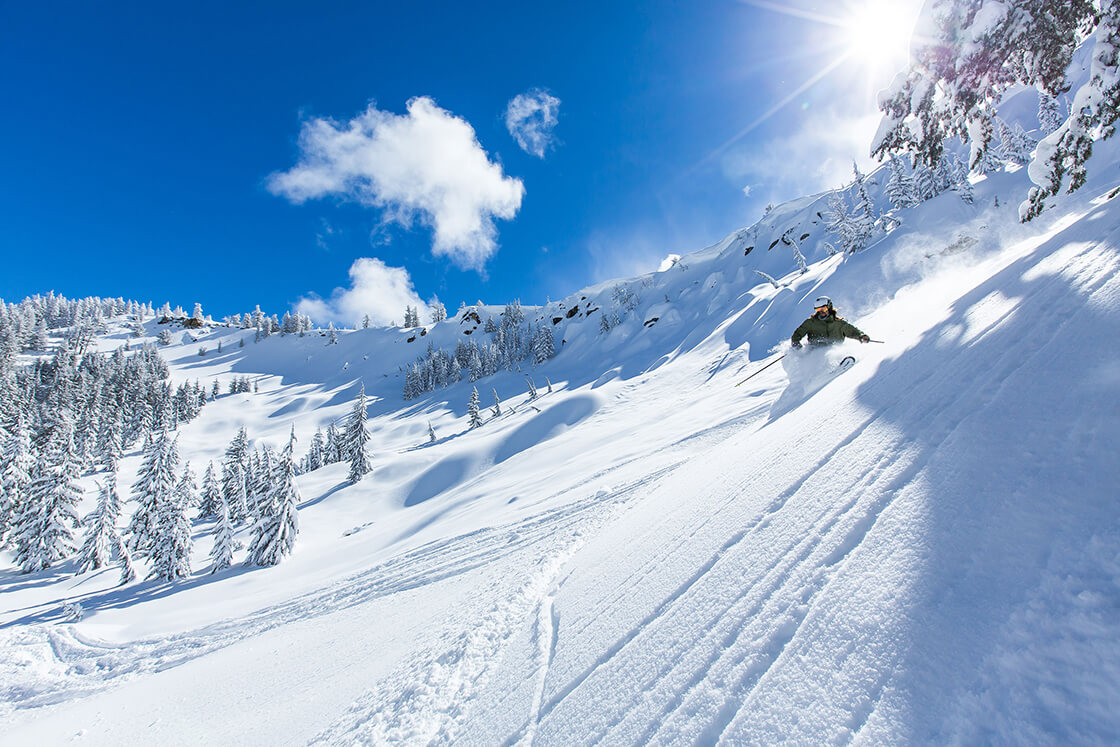 2023/24 Sierra Season Passes AVAILABLE NOW
Snowguns are running, chairs are spinning, and fryers are, well, ready to fry—we just need one more thing to kick it into full gear, snow! We are one good storm away from opening Sierra-at-Tahoe for the 2023-24 winter season, but we will be postponing our tentatively scheduled opening day of Dec. 2 until Mother Nature turns on the spigot.
Sierra prides itself on continuing to offer Tahoe's best deal on a Season Pass. With passholder perks like unlimited BFF tickets to stoke out your friends, 20% off on-mountain purchases, FREE Fridays + access to 60 FREE days at incredible independent resorts, join the Sierra Fam next season to take part in envisioning the future of your winter home.
Sierra-at-Tahoe has long been known as a gathering place for families of all ages to come together and play. Whether your kids are just learning how to make turns or you ride from top to bottom together, you're sure to make new memories on the mountain that will last a lifetime. Sierra prides itself on its family-friendly layout, from its sculpted learning terrain to its meal offerings. Explore it all here, and start planning your next family getaway!
Still recovering from the Caldor Fire that burned through the resort in 2021, this season a new maintenance shop will house Sierra's Mountain Operations department, day care services will return, Sierra-at-Tahoe Road has been repaved, and parking lot improvements have been completed. The resort will also offer a new special rate 2023-24 season pass for First Responders.
Check out our NEW 2023-24 trail map + get STOKED on all that's to come this season! For the first time since the 2021 Caldor Fire, this season we will be re-opening our entire 2000 acres of skiable terrain, unveiling new lines on the East Side + re-opening all previously closed gladed areas including thrill seeker favorites' Avalanche Bowl + all 5 backcountry gates in Huckleberry Canyon.
This year Sierra is going cashless! What does that mean for you? Stash your cash in your piggy bank and use your card, smart watch or smartphone to tap, swipe or chip at all locations across the resort.
Check out our Sierra Insider Tips page for information on how to make your trip as smooth as possible. For mountain conditions + capacity updates sent straight to your phone, text "conditions" to 833-264-8516.
They say good things come in 3's. With a lift ticket 3-PAK you get three days any day this season, no blackouts.
At Sierra-at-Tahoe, you don't have to go far for something different. Forged from flames, we welcomed a fresh start with open arms. A new range of terrain has been revealed- from big hero turns in West Bowl and fresh fall lines off Grandview, to sending big mountain terrain in Huckleberry Canyon or nailing first turns in our expansive Learning Terrain, our 48 trails, 2,000 acres and 2,212 vertical feet offer something new for everyone.
Just 12 miles west from South Lake Tahoe, this mountain averages 400+ inches of snowfall a year, making it Tahoe locals' go-to choice on a powder day, and the preferred day destination as the closest major resort from Sacramento and the Bay Area.
So this year, take a detour to something different. For first timers we offer warm, welcoming, and (even more) dedicated Learning Terrain to carve your first turns at any age. And those looking to kick it up a notch head over to the Sierra Playgrounds that features 9 amphitheater style world-class terrain parks as well as South Shore's only halfpipe.
Come experience the all-new Sierra-at-Tahoe, close to home, far from the same, and #DefinitelyDifferent
Sierra Resort is a partner in recreation with the Eldorado National Forest.
For more information, visit www.SierraAtTahoe.com or call 530.659.7453.
Text "conditions" to 833-264-8516 to get the latest reports on conditions, lifts, parking + more.
Text "snowalert" to 833-264-8516 to get on the list to receive text messages straight from our Snow Reporters if our snow stake reads 6" (or more) of new snow.
Follow Sierra-at-Tahoe on Facebook
Check out Sierra-at-Tahoe on Instagram
Sierra-at-Tahoe Resort
1111 Sierra-at-Tahoe Rd., Twin Bridges, CA 95735