Winter Activities
Ski/Snowboard
Sierra-at-Tahoe Resort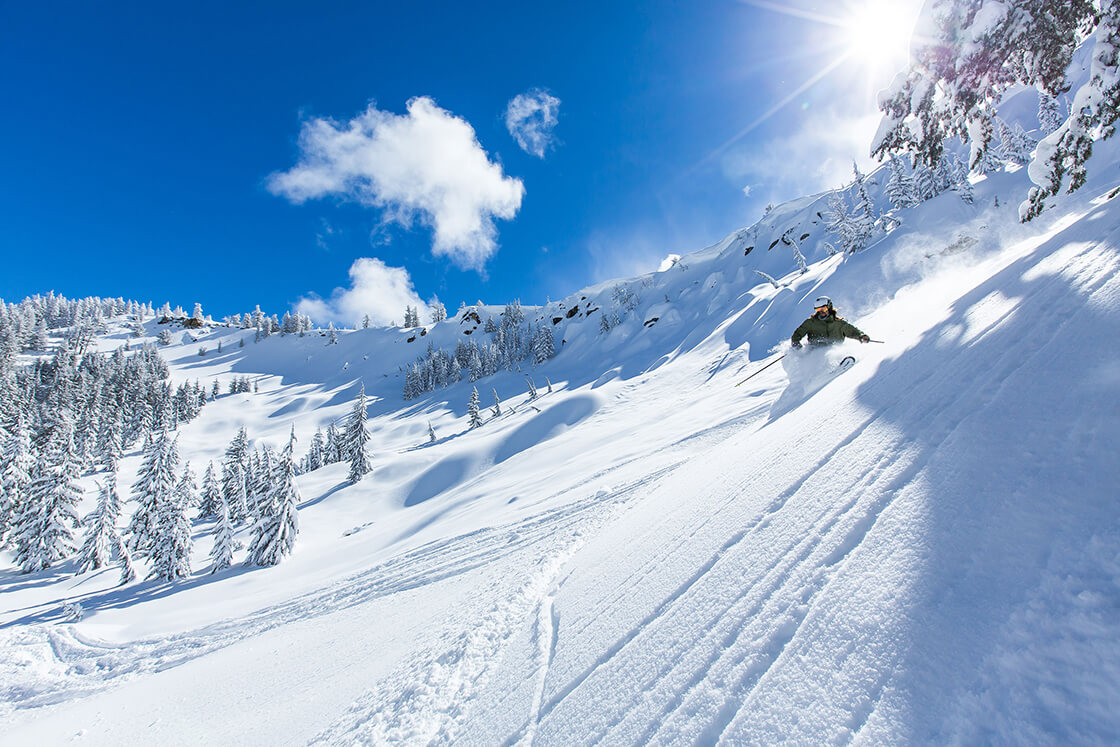 Sierra's last day for the 22/23 season will be Sunday, April 23, 2023.
With 680 inches and counting + spring on the horizon– we're turnin' things UP
If you're lookin' to get in on the action this spring, and ski some of Lake Tahoe's most talked about new terrain, score a Spring Season Pass for only $199!
The forecast is setting us up for some legendary spring skiing, and as we start eying our Hawaiian shirts, we want to invite everyone in on the fun for 'Sierra at Cabo'
With historic snowfall, an event line-up that is busting at the seams, parks that are firing + enough chill vibes to fill a flabango, ski/ride everyday this spring + save yourself the plane ticket and break spring with a Spring Sierra Season Pass.
What's included
:
• Ski the rest of the 2022/23 season
• Enjoy the lineup of events including Huck Cup, @Vanssnow Methodology @Subaru_usa Winterfest weekly jam sessions in the pub and more
• 20% passholder discount + 10% bonus cash
• For those bitin' at the bit on 2023/24 Season Passes, sit tight we're workin' on the deets to set you up for next season!
Sierra-at-Tahoe has long been known as a gathering place for families of all ages to come together and play. Whether your kids are just learning how to make turns or you ride from top to bottom together, you're sure to make new memories on the mountain that will last a lifetime. Sierra prides itself on its family-friendly layout, from its sculpted learning terrain to its meal offerings. Explore it all here, and start planning your next family getaway!
Check out our Sierra Insider Tips page with information to make your trip as smooth as possible. For mountain conditions + capacity updates sent straight to your phone, text "conditions" to 833-264-8516.
They say good things come in 3's. With a lift ticket 3-PAK you get three days any day this season, no blackouts for only $87/day.
The trails + terrain this season will be different than any other. With more work to be completed next summer to continue tree mitigation in areas currently closed for the season (represented in orange), the 2022/23 trail map will soon be a keepsake in every Sierra fan's arsenal. The efforts of too many to name were grinding before the smoke had even begun to clear to bring back this special place.
At Sierra-at-Tahoe, we believe that skiing and snowboarding are at their best when they're rooted in play, whether you're an Olympic Gold Medalist or spending your first day on the slopes.
Boasting 2,000 acres and 2,212 vertical feet of skiable terrain, Sierra offers the freedom to explore and play on the mountain however you choose. Whether that means sending big mountain terrain via the Huckleberry Canyon Gates, carving down sunbathed groomers in West Bowl, learning a new trick in the Sierra Playgrounds or the exhilaration of making your first turns on Sierra's Sculpted Learning Terrain, there is a place for you at Sierra that's just waiting to be found.
The closest ski resort off Highway 50 from Sacramento and the Bay Area, welcome to Sierra-at-Tahoe, #WherePlayReignsFree.
Sierra Resort is a partner in recreation with the Eldorado National Forest.
For more information, visit www.SierraAtTahoe.com or call 530.659.7453.
Follow Sierra-at-Tahoe on Facebook
Sierra-at-Tahoe Documentary: Heart on Fire
Check out Sierra-at-Tahoe on Instagram
Sierra-at-Tahoe Resort
1111 Sierra-at-Tahoe Rd., Twin Bridges, CA 95735