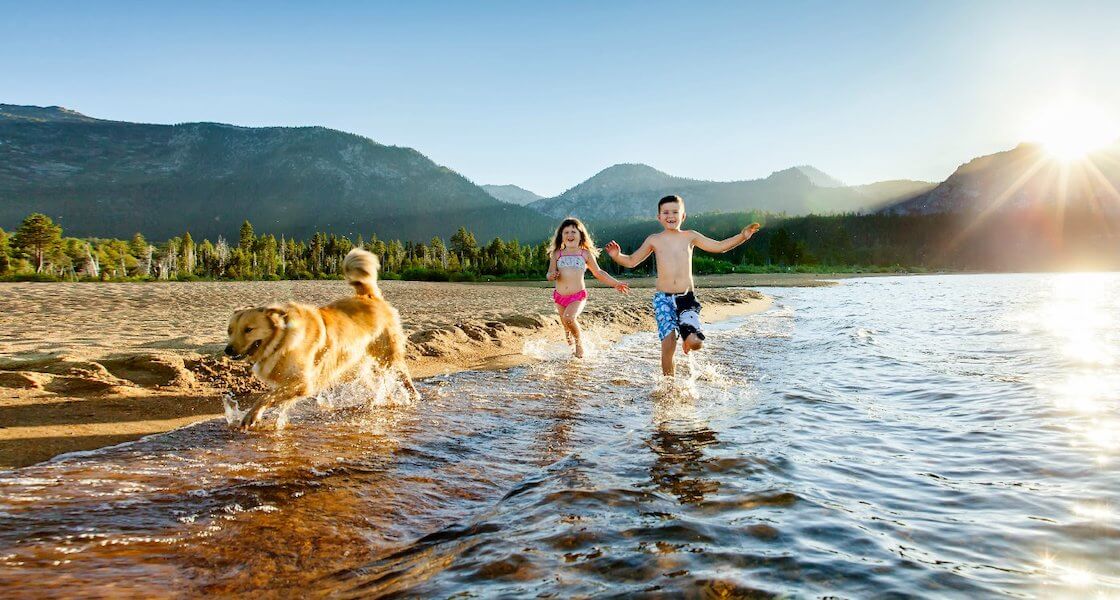 Kiva Shoreline (also known at Tallac/ Kiva Point or Visitor Center beach) is 200 yards of narrow sandy, shoreline adjacent to a fragile marsh-zone (please do not enter marsh zone for the protection of wildlife). There is minimal sand/ mostly soil shoreline from Tallac Point to Kiva Picnic Area. Portable toilets are available in Kiva Parking area (Memorial Weekend through Labor Day). A visitor center is a 1/2 mile walk on the Lake of the Sky Trail or a 3 minute drive from Kiva Parking area. An unmaintained shoreline trail to the Tallac Historic Site offers views of the lake, and interpretive panels to understand the rich history of the resort community at Tallac Historic Site. Vegetation includes willows, lodgepole pine, quaking aspen, marsh grass and the protected Tahoe Yellow Cress plants. Located at the southern portion of Lake Tahoe, one may view peaks to the North, East and West and surrounding shoreline. The beach is located on National Forest land.
Dogs allowed only on leash on the Kiva Shoreline. On land, all dogs must be leashed as per El Dorado County leash laws (enforced); please pick up pet waste; dog waste bags provided at Taylor Creek Visitor Center; no campfires on beach or adjacent lands; no free-standing barbecues. Please place garbage in dumpster in Kiva Parking lot. 911 for emergencies (cell service usually works at Kiva Shoreline).
KEEP IT CLEAN: Lake Tahoe is recognized as an Outstanding Natural Resource Water. Please, join your fellow beachgoers in protecting this special place! Begin by being an example to others:
Dispose of trash properly or pack it out.
Never feed birds, squirrels or any other wildlife.
Campfires are NEVER allowed on Tahoe beaches.
VEGETATION: Protect Tahoe plants! Keep outside signed or fenced protected habitat.
SWIM and BOAT SMART: Very cold water, sudden storms and unexpected waves deserve respect. Be alert!
PET OWNERS: Pets are permitted only on dog-friendly beaches. Use a bag to pick up after your pet, and use a leash. Protect your pet's privilege to share the beach!
BOATERS: Aquatic invasive species are a very serious threat – completely clean, drain and dry your boat before launching it at Tahoe.
FISHING: Any person over 16 years old must have a valid California or Nevada sport fishing license. Visit one of the many Lake Tahoe fishing sites to learn more about fishing and the special regulations that are enforced at Tahoe.
Kiva Beach/Tallac Point
Tallac Point Road, South Lake Tahoe, CA 96150