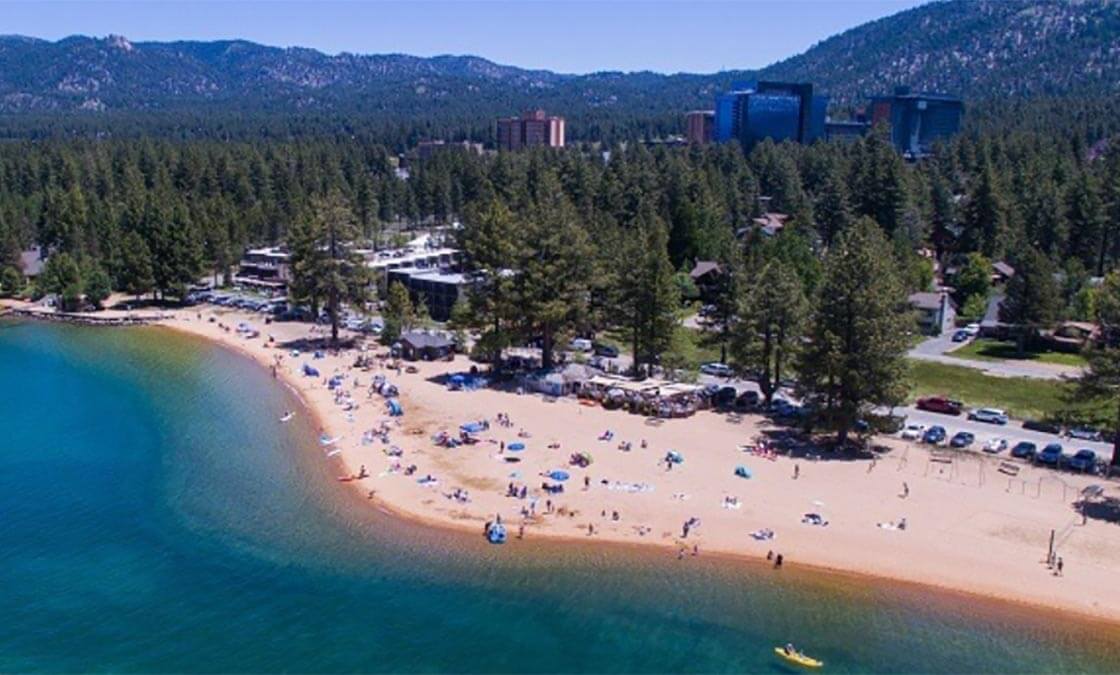 South Lake Tahoe Lakeside Beach is one of the finest sand beaches on Lake Tahoe. While privately managed by Lakeside Park Association for its member properties, Access is available to EVERYONE through daily and seasonal passes. Additionally, passes are provided to Lakeside Park Association property owners (motels, timeshares, vacation rentals and homeowners) for the use of their guests. As a guest at any of the lodging establishments within Lakeside Park Association you have daily access to the beach and its amenities. Additionally passes can be purchased by any visitor, local resident, hotel or casino in the Lakeside Park area. If you aren't staying within Lakeside Park please ask your hotel if they have purchased passes or contact the beach gatekeeper to purchase daily and seasonal passes on your own.
Explore Lakeside Beach with a Virtual Tour
Lakeside Beach provides you a quiet moment to reflect on the beauty of Lake Tahoe. Our beach enables you to take a refreshing dip in the water, have a leisurely picnic on the sands or eat and drink at the adjacent Lakeside Beach Grill. The beach has breakwaters to protect swimmers, a restaurant, children's play equipment, a volleyball net, restful benches, picnic tables, a restroom and is monitored by a lifeguard. Umbrellas and chairs can be rented on site. Boat, jet ski and other rentals are available as well as at the adjacent Lakeside Marina.
Lakeside Beach, Lakeside Beach Grill and Lakeside Marina are situated in the heart of South Lake Tahoe and are within walking distance of quality lodging, upscale restaurants, inspired shopping and the casino corridor.
The north end (right as you are facing the lake) of the Lakeside Park Beach is improved with a walkway and seating. It is available for scheduled picnics, family reunions and weddings. To avoid any scheduling conflicts, it is asked that all groups coordinate their event by telephoning 530-545-8453 or go to lakeside beach weddings
Banquets and Special Events in the Restaurant. Contact Lakeside Beach Grill for information on banquets and events at their beautiful wind protected outdoor restaurant on the beach. 530-544-4050
Transportation: Lakeside Beach is on the Tahoe Transportation District Bus system during the summer months. Free parking is available if you drive and we highly encourage walking and bicycles. There is also a water taxi which runs every other hour during the summer between Lakeside Marina and Camp Richardson. Call 530-541-9800 for a schedule.
Summer Beach Access -Memorial Day thru Labor Day
6-9am Property owner plastic pass
9am-7pm Open to the public with daily or seasonal passes
7-9pm Property owner plastic pass
Winter Access -Labor Day to Memorial Day
8am to 9:00p open to the public without a pass
Equipment availability
VolleyBall – beach court (ball available through lifeguard or bring your own)
Beach umbrellas and chairs are available to rent
Jet Skis, Paddle Boats and Kayaks rentals on the beach- As long as the marina is open
Lifeguard daily 9-5 weather permitting during the summer
Children's play set available year round but please use only with adult present
Lakeside Beach
4081 Lakeshore Blvd., South Lake Tahoe, CA 96150