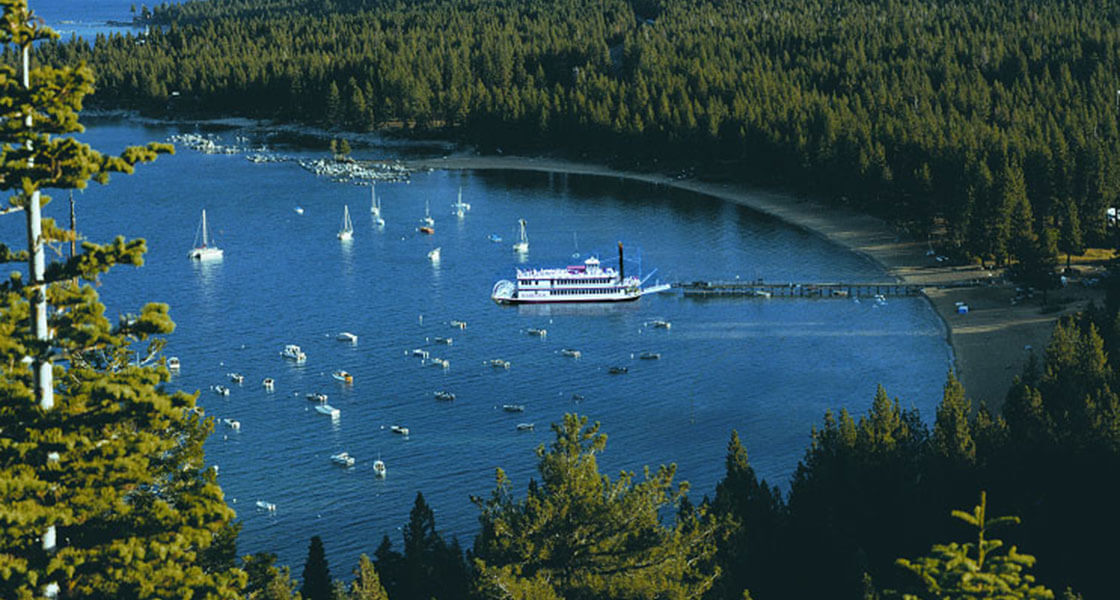 Zephyr Cove Resort's mile-long sandy beach offers nonstop opportunities for fun in the sun. Enjoy Tahoe's best beach volleyball courts, the popular Sunset Bar & Grille with beach cocktail service, as well as beach chair and umbrella rentals. Visit our gift shop for all of your beach needs. There are countless ways to enjoy the water at Lake Tahoe, but just one place to go for every kind of fun: Zephyr Cove Resort.
Zephyr Cove Beach Volleyball
We host the best Beach Volleyball Courts on the entire lake, with official professionally sized nets and boundaries. Whether you're joining a game or bringing your own group to play, there's nothing quite like serving, blocking and spiking on our sandy beach with the incredible backdrop of Lake Tahoe's alpine waters and the Sierra Nevada mountains surrounding you. Court use is free and volleyballs are available from the Sunset Bar & Grille.
Zephyr Cove Beach Beach Chairs & Umbrellas
These essential elements of beach gear are available for rent. Our friendly beach staff will also set them up for you. They make a perfect home base for you when you stake out your spot on the beach.
Swimming
Our sandy beach is the perfect entry point for a refreshing dip in Lake Tahoe's incredibly clear alpine water. Sun yourself while lazily bobbing on the water. Talk about relaxation and recreation. This is the place!
No dogs allowed; No glass containers; No campfires on the beach; No private boat access 4thof July parking fee increases to $25 due to cost of security.
KEEP IT CLEAN: Lake Tahoe is recognized as an Outstanding Natural Resource Water. Please, join your fellow beachgoers in protecting this special place! Begin by being an example to others:
Dispose of trash properly or pack it out.
Keep your butt in your pants – the sand is not an ashtray.
Never feed birds, squirrels or any other wildlife.
Campfires are NEVER allowed on Tahoe beaches.
VEGETATION: Protect Tahoe plants! Keep outside signed or fenced protected habitat.
SWIM and BOAT SMART: Very cold water, sudden storms and unexpected waves deserve respect. Be alert!
PET OWNERS: Pets are permitted only on dog-friendly beaches. Use a bag to pick up after your pet, and use a leash. Protect your pet's privilege to share the beach!
BOATERS: Aquatic invasive species are a very serious threat – completely clean, drain and dry your boat before launching it at Tahoe.
FISHING: Any person over 16 years old must have a valid California or Nevada sport fishing license. Visit one of the many Lake Tahoe fishing sites to learn more about fishing and the special regulations that are enforced at Tahoe.
THE COAST GUARD AT TAHOE: The station near Tahoe City operates 24 hours a day 7 days a week. Call 9-1-1 in an emergency and give the name of this beach!
Zephyr Cove Resort
760 US-50, Zephyr Cove, NV 89448