Winter Activities
Snowshoeing
Snowshoeing Lake Tahoe
Snowshoeing in Lake Tahoe
What is snowshoeing all about? With a quick learning curve (walk a little wider and pick up those knees), snowshoeing Lake Tahoe is an enjoyable way to experience Lake Tahoe's backcountry. There are many places to go snowshoeing in Lake Tahoe, ranging from flat and easy to steep and strenuous.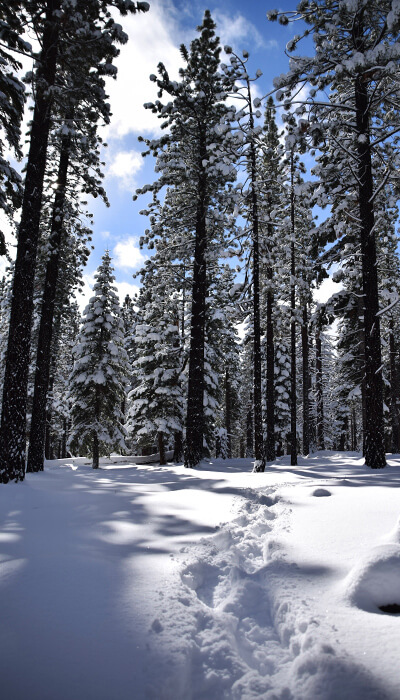 Here's where to go snowshoeing in Lake Lake Tahoe:
Highway 89 (north of South Lake Tahoe's "Y" intersection of Highway 50/89)
You'll find flat areas to snowshoe at Pope, Kiva, and Baldwin Beaches, as well Camp Richardson (no pets, trail pass required), Tallac Historic Site, Fallen Leaf Lake Campground, Taylor Creek Visitor Area, and Taylor Creek Sno-Park (permit required). Park at Mount Tallac Road to access Floating Island and Cathedral Lakes and Mount Tallac. If you plan to conquer Tallac, you'll have to contend with over 3,000' of elevation gain and a lot of exposure.
At Emerald Bay, snowshoe down to Vikingsholm and have a look around the bay, or head back into Desolation Wilderness via Eagle Falls Trailhead. For a view that's second to none, hike up to South Maggie's Peak via the Bayview Trailhead (at the back of the campground). Maggie's Peaks are challenging with roughly 2,000' of elevation gain.
Meyers
West of the "Y" you'll find a number of easy to moderate trails along Lake Tahoe Boulevard, Tahoe Mountain Road, and North Upper Truckee Road. Park at the Forest Service gates along those roads and snowshoe around Tahoe Mountain, Washoe Meadows State Park, and Angora Ridge, Lakes, and burn area.
Traveling west of Echo Summit on Highway 50, turn right onto Johnson Pass Road (near Little Norway) and park at the Echo Lakes/Johnson Pass Sno-Park (permit required). Then, snowshoe through Desolation Wilderness to Echo Lakes and Lake Aloha.
South Lake Tahoe
Bijou Park is centrally located in South Lake Tahoe and mostly flat. To snowshoe further and higher into the mountains, begin at a Forest Service gate on Pioneer Trail or at the end of Oneidas Street.
Highway 89 (south of Meyers) & Highway 88
This area boasts early and late season snowshoeing in Tahoe due to its higher elevation. Grass Lake and nearby Hope Valley are mostly flat, whereas Big Meadow and Carson Pass Sno-Park (permit required) offer more challenging routes. For even more difficult climbs, head up Waterhouse, Freel, or Red Lake Peaks. These three peaks are extremely strenuous and require backcountry experience and a lot of time to safely navigate out and back.
Kirkwood Ski Resort (no pets, trail pass required) offers easy to advanced routes along their trail system (80km in optimal winter conditions).
Sierra-at-Tahoe Resort maintains miles of snowshoe trails that wind through scenic hideaways and pristine alpine terrain. Take a self-guided romp through the woods and enjoy the mountain environment.
Stateline
Rabe Meadow, on Kahle Drive, is easy to access and mostly flat. The Van Sickle Bi-State Park is behind Heavenly Village and set on the mountain face, so hike as high as your fitness level will accommodate. Use the paid parking garage on Bellamy Court to avoid being ticketed.
Spooner Lake
The 3.1-mile system of meandering trails wind through dense forest, across an open meadow and along the banks of the lake. The trail system is made possible by a partnership between Nevada State Parks and Nevada Nordic, a nonprofit based in the Tahoe Basin. The scenic, intermediate trail includes varied flat and rolling terrain, which makes it great for both families and experienced skiers. When using the trails, please be mindful of trail etiquette:
Do not walk on the trail in shoes or boots.
Dogs should be on a leash of not more than 6 feet in length and off to the side of the groomed trails.
Snowshoers are welcome but should stay to the far edge of the trail and be careful not to interfere with the center of the trail for skate skiing, or the tracks set for classic skiing.
All access to cross-country ski trails are open to the public at no charge other than the $10 per vehicle entry fee.
See this link for Senior Citizen, All Access, and Annual Entrance Permits.
Find the trail map here.
Click on the thumbnail below to download a map of these and other South Shore Lake Tahoe snowshoeing areas: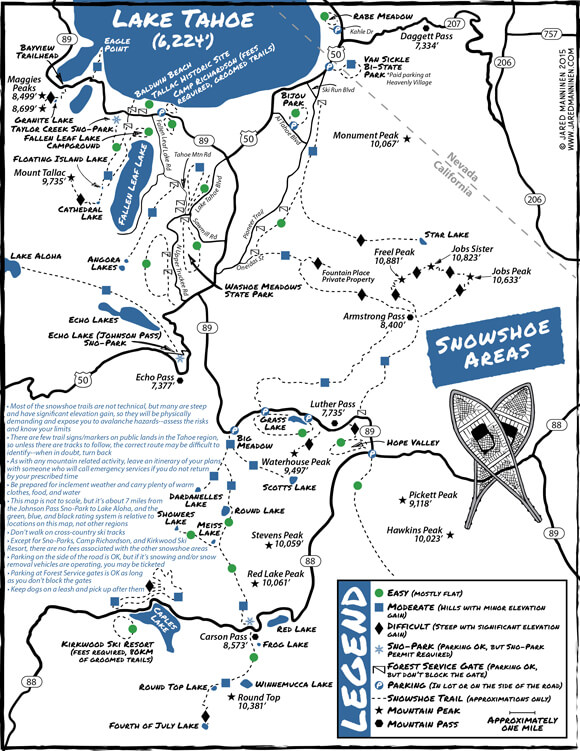 Check out Snowshoeing at Lake Tahoe on Instagram
Snowshoeing Lake Tahoe
NA