There's no season quite like autumn around Lake Tahoe's south shore. A time of ever-changing beauty, the fall months are a perfect time to recharge or let loose, all while taking in the incredible sights, smells, and sounds that Big Blue delivers.
Couples can easily make memories to last forever around South Lake Tahoe, with a tolerant and inclusive community, miles of beaches, and a lifetime's worth of trails to explore.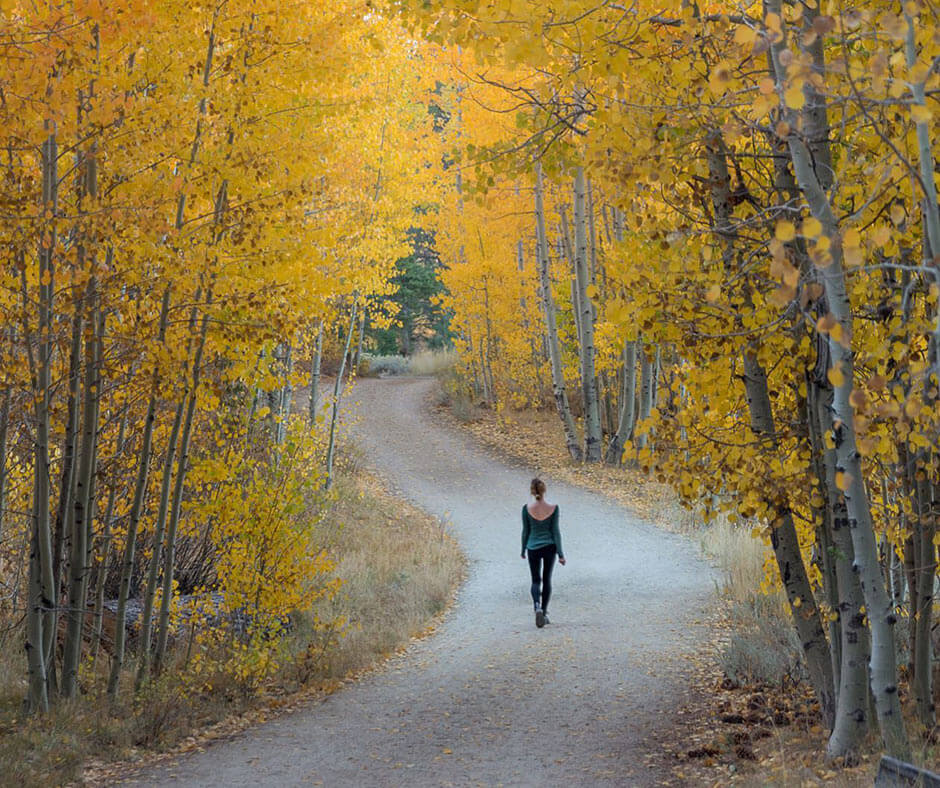 Day One
Welcome to South Lake Tahoe!
From the deep blue waters of the lake to the sea of emerald pine trees, all the way up to towering granite peaks, take a minute to soak up the incredible sights of Lake Tahoe. Take in a few big breaths of crisp, cool mountain air and smell the scent of pine trees that lingers throughout the area. You've made it!
Deciding where to stay in Lake Tahoe helps set the vibe of your vacation. South Lake Tahoe lodging options are as varied as the landscape itself, but one thing they all have in common is a door that opens to either serenity or adventure. Looking for a rustic cabin in the mountains? Or perhaps a luxury resort close to the beach? If you're searching for the perfect place to stay, we've got you covered.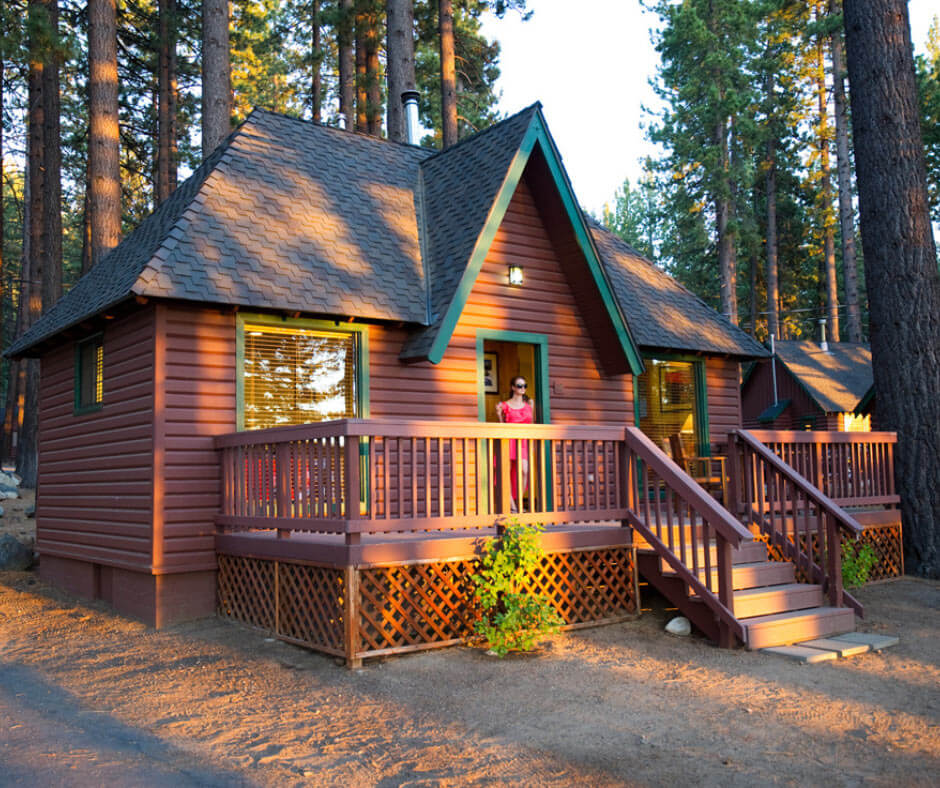 Looking to pair an incredible view with delectable food? South Lake Tahoe offers a variety of lake view dining options to let you get right into the heart of your getaway. Towering windows at Edgewood Restaurant frame Tahoe's picture-perfect vistas while tables frame enticing cuisine. Romantic views are elevated, literally, at the Chart House Lake View Restaurant. High on the mountain separating Lake Tahoe from the Carson Valley, the Chart House's immaculate view of Lake Tahoe and the mountains can only be matched by the sumptuous steaks and seafood dishes you are sure to find.
After a well-deserved meal, it's time to get out and explore Tahoe's miles of trails by foot or by bike. You don't have to spend a lot of time or walk very far to find incredible views, though. There are plenty of quick treks with high rewards!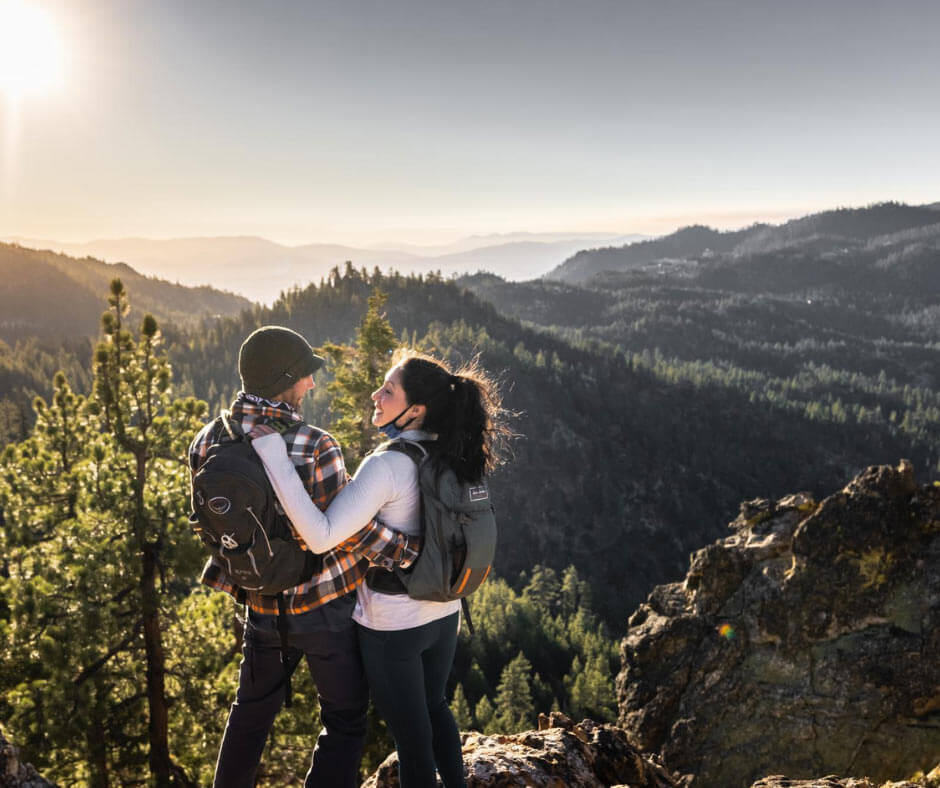 It's almost time to get out onto the water, but first, let's test your luck at a table inside one of South Lake Tahoe's casinos.
Some of the most memorable moments of your trip can be found on the deck of a Lake Tahoe boat tour. The M.S. Dixie II, Rum Runner Cruise, Tahoe Bleu Wave, Serenity Yacht, and much more are waiting to set sail for adventure with you onboard. Some boat tours also offer dinner, so be sure to take advantage of that if you're hungry from the fun of the day.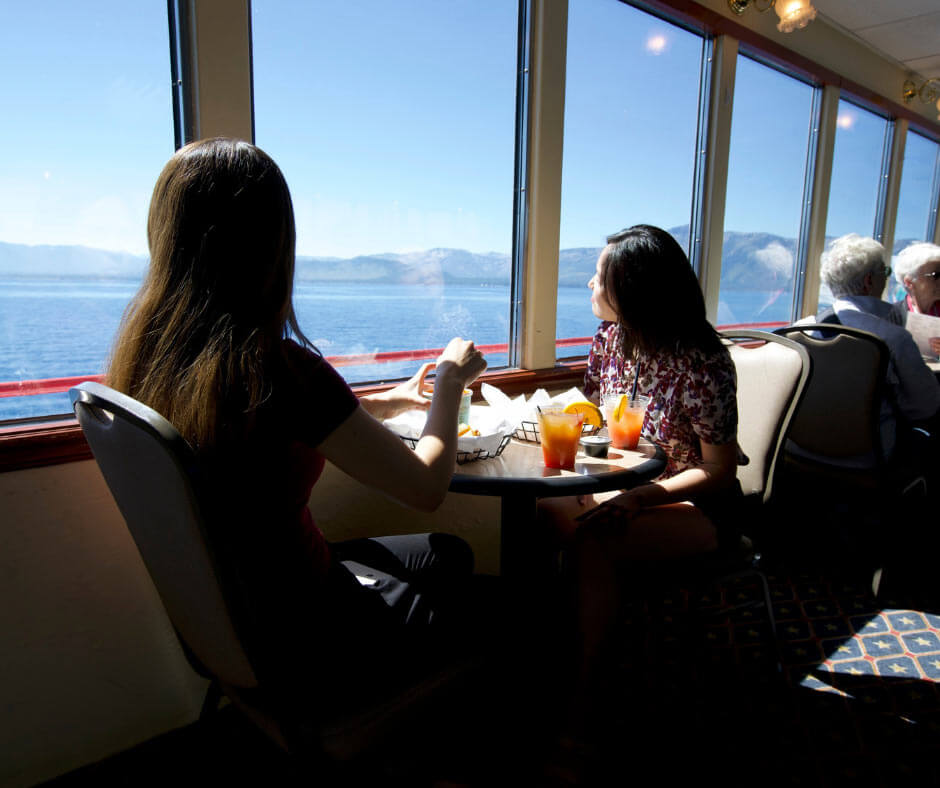 Don't let the sun set on your first night without busting some of your best dance moves at the hyper-modern and uber-chic, Opal Ultra Lounge inside Bally's Lake Tahoe. Let their DJs bring you to your feet and dance into the wee hours.
Day Two
You're halfway through your two-day stay, but there's still plenty to do! Fill up for the day at Red Hut Cafe. Try the popular biscuits and gravy or enjoy a fluffy omelet with fresh fixings of your choosing. In the mood for a bagel? Stop by Tahoe Bagel Company for (possibly) the best bagel you'll ever eat.
It's time to peep the beautiful fall colors of Lake Tahoe, and the secluded Hope Valley is just the place to see the best fall foliage around. To get there, drive from South Lake Tahoe on Highway 50 toward Echo Summit for approximately 5 miles and turn left at Highway 89 south. Continue over Luther Pass to Pickett's Junction, and you'll be there!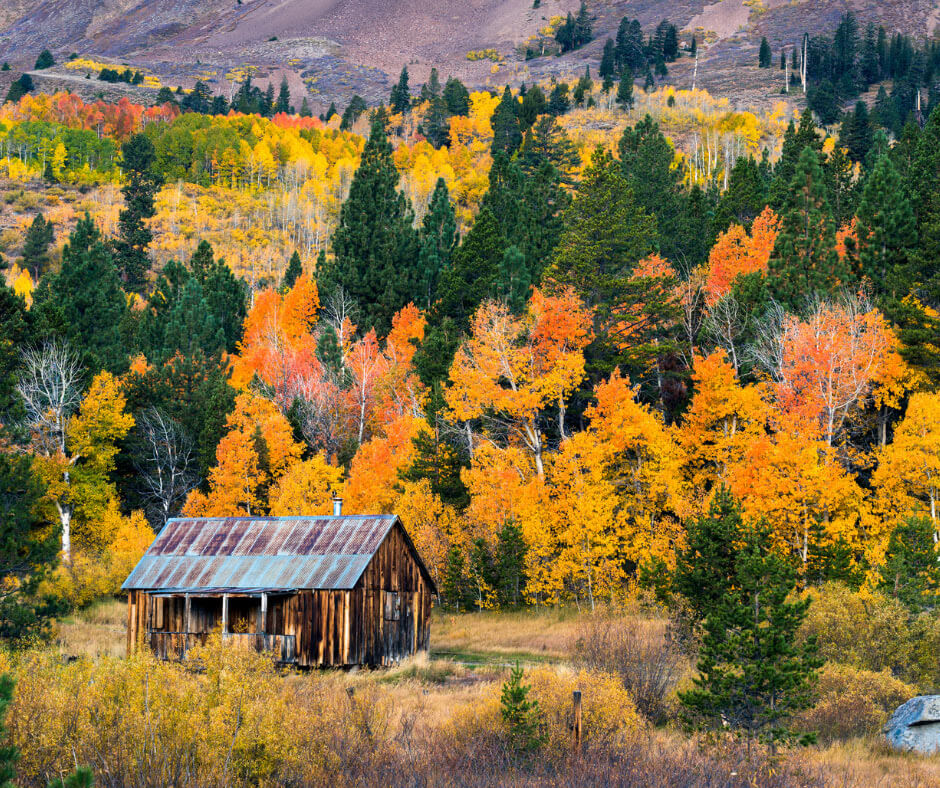 With leaf peepin' out of the way, it's time for some lunch before getting back to town, and there's nothing like perfectly prepared authentic Thai cuisine. My Thai Restaurant's specialty spicy chicken is definitely worth a try!
With the trip almost at an end, it's time to saddle up on a horse and get back onto the trails. Lake Tahoe stables provide the unique experience of sitting six feet off the ground on a sturdy steed that gently ambles along select pathways and allows you to focus your attention on the sun glistening on damp meadow grass and the fleeting beauty of Tahoe's changing seasons.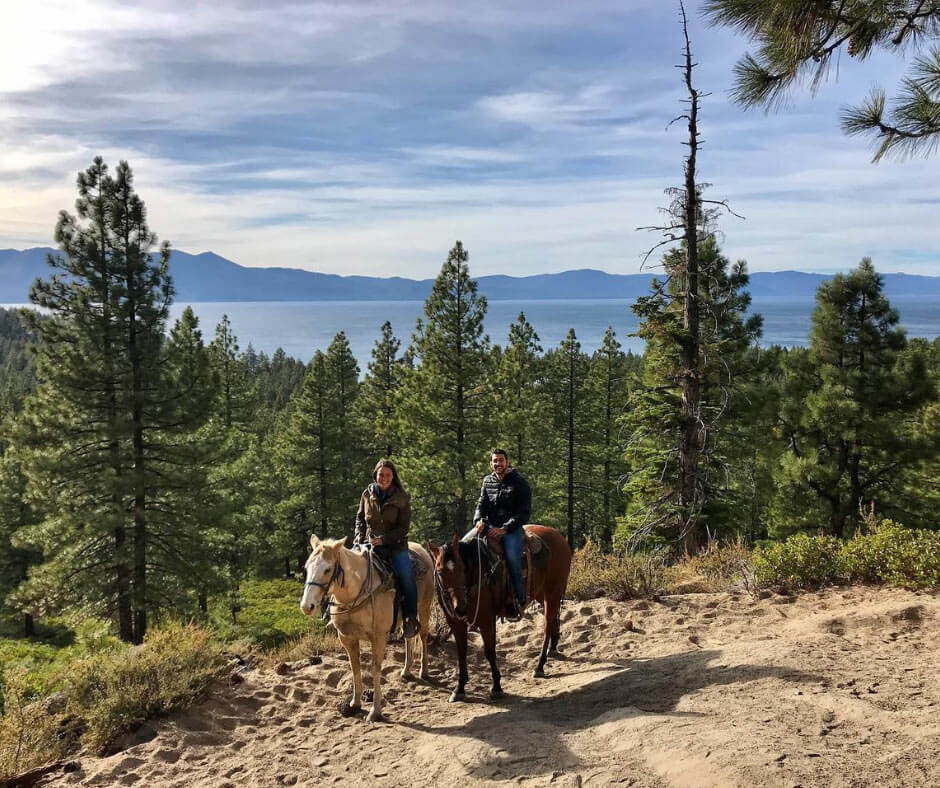 No trip to Lake Tahoe is truly complete without at least dipping your toes into the cold, clean water. While fall isn't exactly prime swimming season, there is still plenty of daylight for a trip to one of Tahoe's many pristine beaches for those looking to test the waters or catch an early Tahoe sunset.
You've already tasted some of the best food that South Lake Tahoe has to offer, but now it is time for some comfort food before solemnly packing your bags and mentally preparing yourself to leave this beautiful place. Order a pizza or stop by one of our favorite burger joints for one last taste of Tahoe.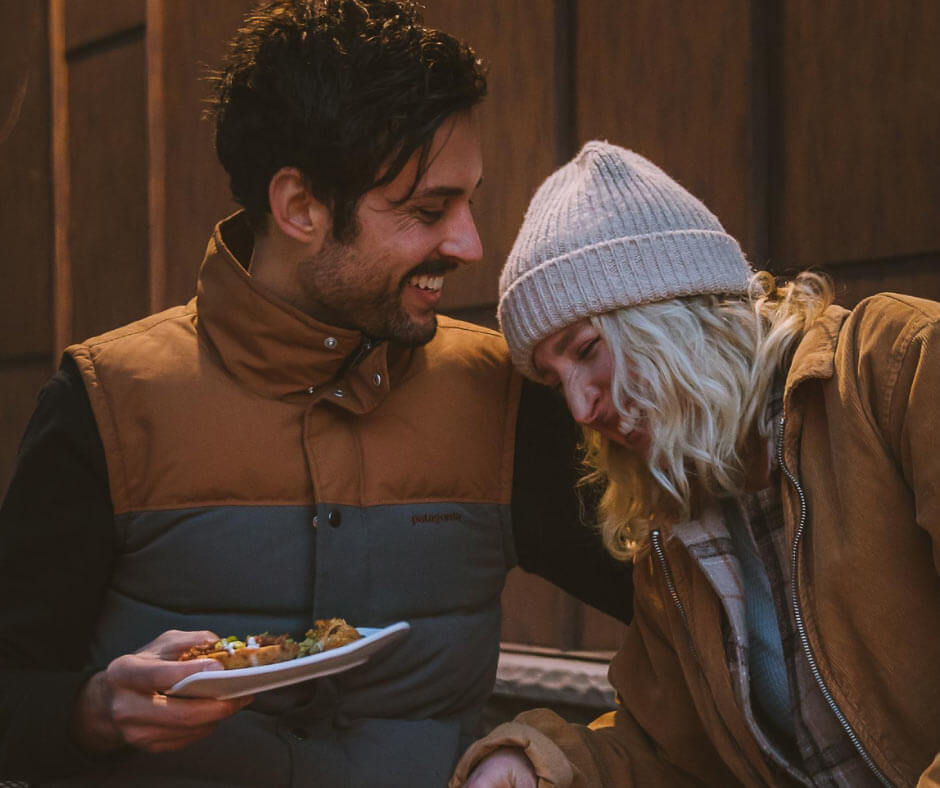 Ready to extend your trip? You've only scratched the surface of all that there is to do and see during fall around Lake Tahoe's south shore, and there's plenty more to discover (and re-discover)! Share your trip with us by using the hashtag #VisitLakeTahoe on your next trip!
Help Us Remain Pristine
Lake Tahoe is an ancient marvel filled with 37 trillion gallons of 99.9% pure, sapphire blue water that we are fortunate to recreate in and around. Please respect its pristine nature and that of the surrounding forests and mountains by packing out all you pack in. If no trash container is handy or filled, take your trash and find another appropriate receptacle.