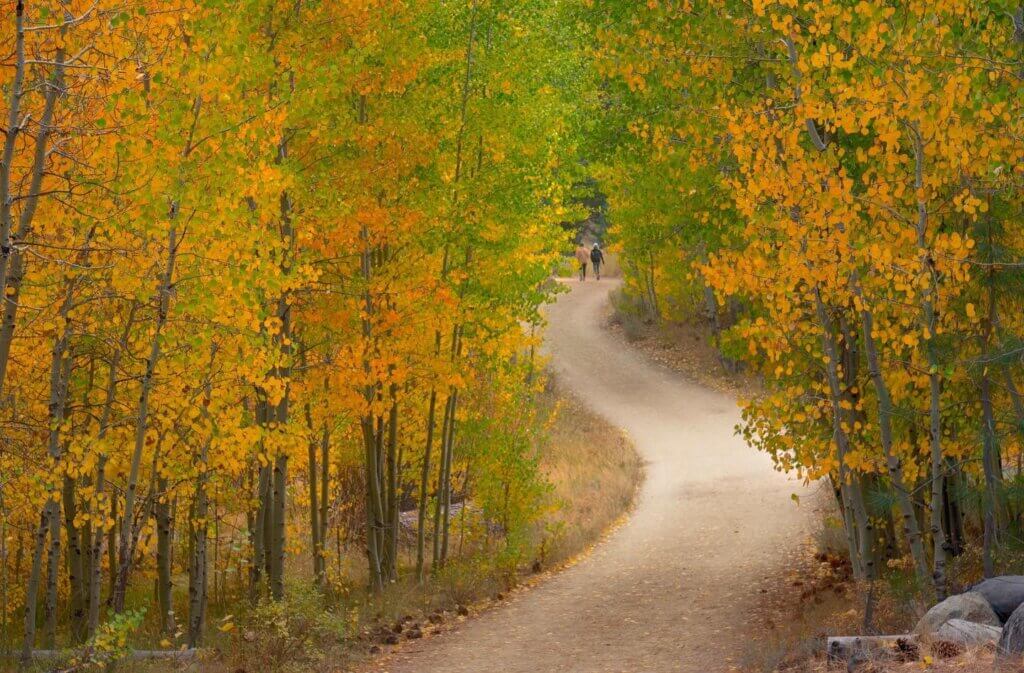 It won't be long before we start doing our snow dances in earnest. This fall, take a drive, hike, or bike ride around and you'll see bursts of yellow and gold throughout Lake Tahoe's South Shore. Please remember to recreate responsibly.
Some recommended spots for fall colors:
A paved path winds through the meadow and forest along Taylor Creek, featuring interpretive signs and a visitor information center to help educate as well as inspire. Bonus: The annual fall migration of the Kokanee salmon takes place beginning early October. From South Lake Tahoe, take Highway 89 north approximately 3 miles. Turn right at the Visitor Center entrance just past the Tallac Historic Site.
This has become my go-to trail for a lunchtime dog walk or a pre-work morning run. The paved bike path offers easy access, and the network of dirt trails provides fun options to explore the area. Pack a picnic, take a long walk through the trees to the Nevada Beach shoreline. From South Lake Tahoe, take Highway 50 east toward Stateline approximately 5 miles. Turn left on Kahle drive and then park in the lot on the right.
Whether you make this an afternoon drive or a day-long hike, the Hope Valley area provides some of the best fall foliage around. Drive From South Lake Tahoe, take Highway 50 toward Echo Summit approximately 5 miles. Turn left at Highway 89 south and continue over Luther Pass to Pickett's Junction approximately 10 miles.
The 2.5-mile loop around the lake may be better presented as a nature walk. Many informational signs dot the path, and there is an abundance of waterfowl and wildflowers in the springtime. In the fall, watch out for falling pinecones from the copious lodgepole pines. From the main parking lot, simply follow signs for Spooner Lake. Once you reach the lake, the trail will be fairly self-explanatory. Make your way around the lake, taking breaks to enjoy the flora and fauna along the waters edge. Don't expect much elevation change, as this hike is almost entirely flat.
Looking for more fall colors around Lake Tahoe?
Check out Lake Tahoe Fall Colors on Instagram