Spooner Lake
NEW! Spooner Lake Visitor Center & Amphitheater is officially open! The new visitor center and amphitheater will serve as the heart of Spooner's natural and cultural history programs and ranger-led hikes and tours and provide a one-of-a-kind outdoor science venue for students. The project will also serve as a major portal to more than 60 miles of paths and trails spanning 13,000 acres of spectacular non-motorized primitive wilderness within the Lake Tahoe Basin. Read more about the Spooner Lake Park Improvement Project.
Sitting at 7,150 feet, Spooner Lake is a manmade lake on the Nevada side of Lake Tahoe. Spooner Lake as well as much as the backcountry surrounding it lie within Lake Tahoe Nevada State Park. Using downstream flow from nearby Marlette Lake, Spooner Lake was created as a means of redirecting water to chutes transporting logs from Spooner Summit to mills in Carson City. These logs were used to support the walls of the ambitious silver mining operations in what is now Virginia City.
More information on Spooner Lake & Backcountry
The Loop Trail
The 2.5-mile loop around the lake may be better presented as a nature walk. Many informational signs dot the path, and there is an abundance of waterfowl and wildflowers in the springtime. In the fall, watch out for falling pinecones from the copious lodgepole pines. From the main parking lot, simply follow signs for Spooner Lake. Once you reach the lake, the trail will be fairly self-explanatory. Make your way around the lake, taking breaks to enjoy the flora and fauna along the waters edge. Don't expect much elevation change, as this hike is almost entirely flat.
Once you return to the parking area, check out some of the informational plaques near the picnic area. If you wish to continue your adventures, the entrance fee to Spooner Lake can be applied to the Sand Harbor Park entrance fee.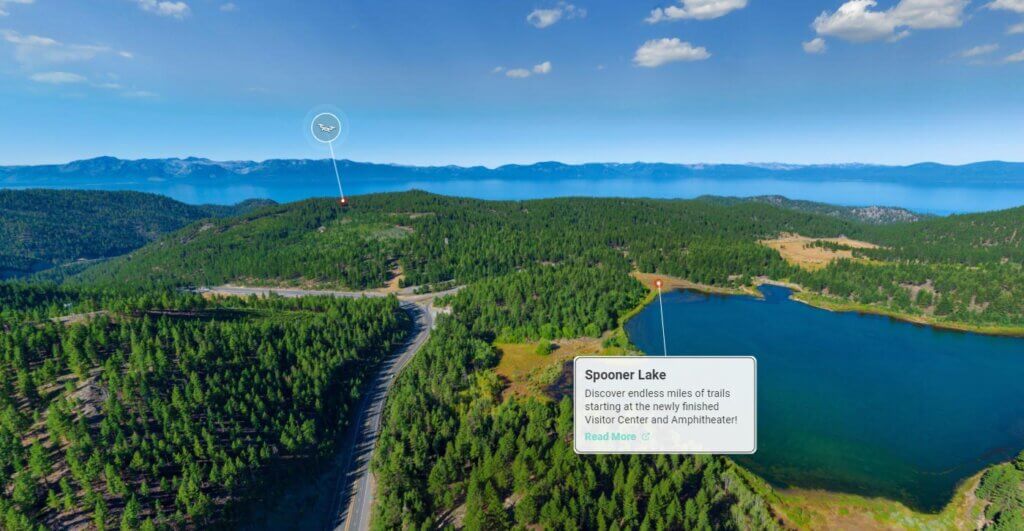 Check out Spooner Lake Virtually
Spooner Lake is a hidden gem nestled in the heart of the Sierra Nevada mountains near Lake Tahoe. This virtual tour will transport you to the serene shores of Spooner Lake.
Explore Spooner Lake Virtually
More Information
Spooner Lake on the Outdoorproject.com
Check out this blog about the Spooner Lake Trail – A Hike for All Ages
Spooner Lake Hike on TripAdvisor
Spooner Lake Article on Tahoe Tribune
More Spooner Lake, Lake Tahoe Nevada State Park information
Click here for the Nevada State Parks App
Spooner Lake Hike
NV-28 & Spooner Lk Trl, Glenbrook, NV 89703