Taylor Creek Visitor Center and Stream Profile Chamber
The Taylor Creek Visitor Center, operated in partnership with the Great Basin Institute, is located on the south shore of beautiful Lake Tahoe approximately three miles north of the City of South Lake Tahoe. The visitor center serves as a hub where four fascinating self-guided trails begin. The visitor center is typically open from June through October. Though the buildings are closed during the winter, the grounds remain open year-round and the site serves as a popular cross-country skiing and snowshoeing destination.
Stream Profile Chamber is Closed for Repairs.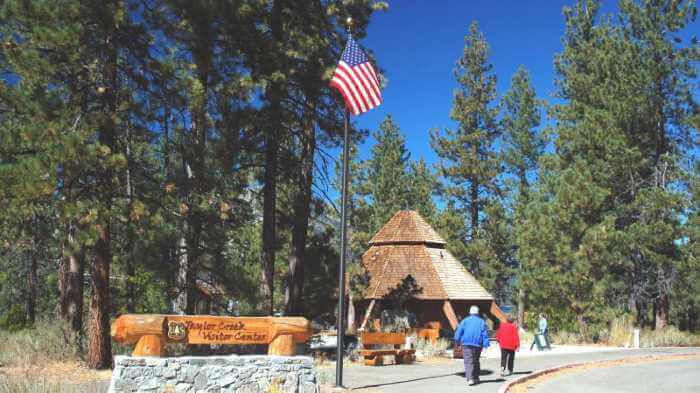 Several trails begin at the Visitor Center and meander through forest, marsh, streamside, and beach habitats.
The Trails
The Rainbow Trail begins at the Visitor Center and is an easy 1/2-mile walk that is paved and wheelchair accessible. For people experiencing visual impairment, there is an audio tape presentation of the Rainbow Trail available. The trail meanders through forested glades with views of Taylor Marsh and Taylor Creek. The Stream Profile Chamber, an underground viewing chamber where trout and other aquatic life can be viewed through a window, is also accessed from the Rainbow Trail.
The Lake of the Sky Trail starts behind the Visitor Center. It is an easy 3/8-mile walk to the south shore of Lake Tahoe. This trail goes through Jeffrey Pine forest with views across Taylor Marsh of Mt. Tallac and other Sierran peaks. The terminus of this trail at Baldwin and Kiva Beach connects to the Tallac Historic Site Trail, an easy 3/4-mile stroll that skirts Kiva Beach. This historic promenade rambles under aspen past the remains of Lucky Baldwin's Tallac House, gambling casino, and Tallac Hotel. The trail then enters the grounds of the Baldwin-McGonagle, Pope and Valhalla summer homes. You can continue on to the Camp Richardson Resort where public facilities are available.
Along the Forest Tree Trail, you will discover the Jeffrey Pine, the most dominant tree in the Lake Tahoe Basin. The life cycle of this pine, from germination to decomposition, is interpreted along this enjoyable trail. This trail is an easy 1/4-mile walk.
Safe campfire construction is the theme on Smokey's Trail, which begins just outside the Visitor Center, and is an easy 1/8-mile long. Children who walk the trail and can remember the procedures for a safe campfire will receive a reward from the Visitor Center.
The Visitor Center and Taylor Creek Stream Profile Chamber are FREE and open to the public. Wilderness permits for backcountry access are also available here.
Located on Hwy 89 three miles north of South Lake Tahoe offers numerous self-guided trails with award-winning signs. An underground chamber features a cut-away of the stream so visitors can view fish behind the glass. Take the 1/2 mile loop on the fully accessible Rainbow Trail to see the chamber.
More Information
Map of Taylor Creek Visitor Center – Tallac Historic Site
Taylor Creek Visitor Center – Forest Service Lake Tahoe Basin Mgt Unit
Lake of the Sky Trail and Tallac Historic Site on AllTrails
Taylor Creek Visitor Center and Stream Profile Chamber
Visitor Center Rd. CA-89 (3 miles N of South Lake Tahoe), South Lake Tahoe, CA 96150