There's no need to venture back into Desolation Wilderness with a day pack full of survival gear just to get a nice vantage point of this beautiful area. I do highly recommend it if you get the chance, but there are much easier ways to get those expansive, jaw-dropping views accompanied by that nature fix you're seeking. All around Lake Tahoe are short treks that offer a reward much greater than their time or distance would convey.
Sometimes you just need to get outside and do something without it being a big production, sometimes all you need is a high hill to eat a PB&J on, a quick and easy spot to enjoy a sunrise or sunset, do some stargazing perhaps. Got only an hour? There's no shortage of options no matter what side of the lake you find yourself on.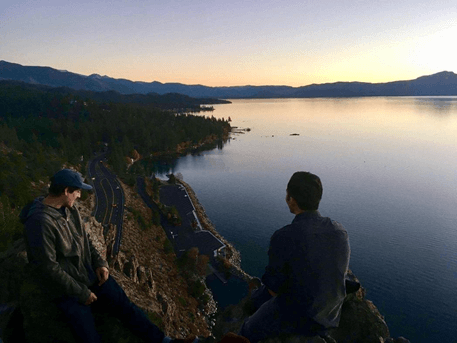 Scenic Lookouts:
Cave Rock is my go-to. This volcanic rock formation on the east shore is much easier to get to the top than it looks. Compared to the dirt/paved footpaths and other rocky trails along the shores, it is a nice change to trek around the volcanic formations protruding around the end of the trail. Driving through the rock tunnel you don't realize how incredible the view from up top will be, and it's only about a 15-minute walk before you're looking out at the entire lake. Any time I host company I make sure we stop here for an always stunning sunset.

Eagle Rock is like Cave Rock's sister trek on the opposite side of the lake. Located just north of Homewood, it is also an eroded, dormant volcanic formation that provides spectacular panoramic views once atop. Although a bit steep and rocky as you summit, I've seen young children, seniors and even dogs make it up with ease. Great for any time at roughly 1.5 miles round-trip, but especially for sunrise since it faces east.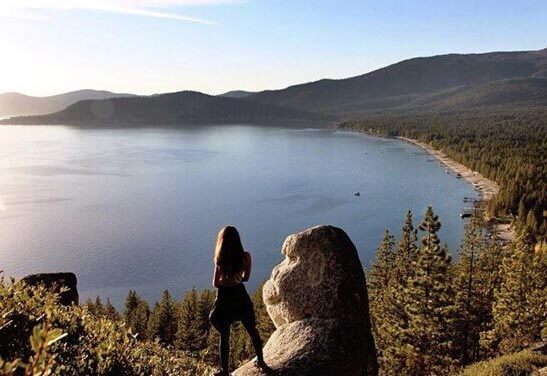 Monkey Rock is accessible a few different ways, but if you can opt for the steep route it is a short excursion. The spot is named after the iconic monkey-shaped rock toward the top that's looking out and enjoying the incredible view with you. If you can get through 'hell hill,' it's a fairly quick jaunt with a great view to match.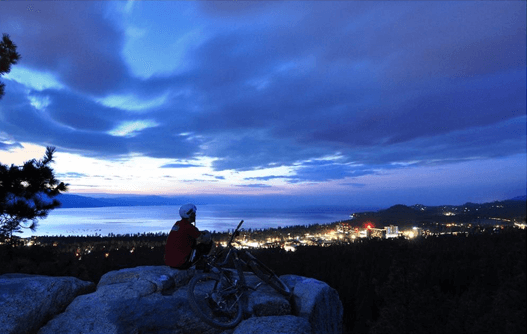 The lookout at Party Rock is not really a hike, I would barely consider it a walk, yet still well worth it for some instant gratification. Since the surrounding Forest Service Land connects to many other trails, it is a popular spot with access to much more for bikers and hikers, including the Tahoe Rim Trail which surrounds the entire lake. This spot is comparable to a highway vista stop – quick, easy, and basically at the lookout when you exit your vehicle.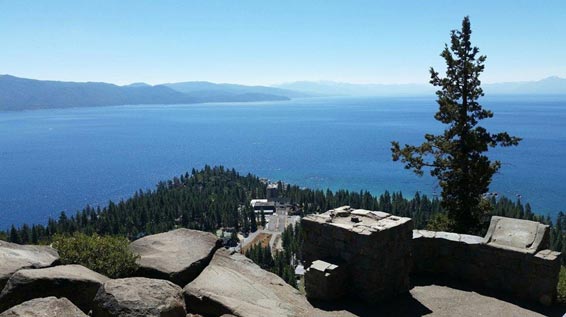 The Stateline Fire Lookout starts with a paved fire road climb for about a half-mile and before you reach the mountain top location of what was once a fire lookout from 1936. The fire lookout has since been taken down and replaced with a scenic viewing platform accompanied by an interpretive loop around the top that gives insight into the history of this area. Better than the trek or history is the view overlooking Crystal Bay and Kings Beach.
Slightly More Effort, Even Larger Rewards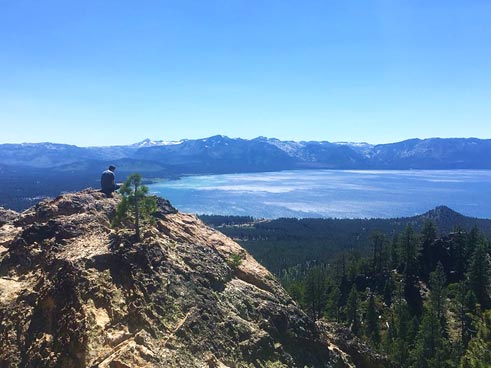 If you were hoping to cover a little more distance but still keep it shorter on time, Castle Rock is, in my opinion, one of the best treks on the south side. This hike only gets cooler and more fun the further you go – as you approach Castle Rock, the trail requires some alpine scrambling to get to certain rock peaks. There are multiple options to find a higher perspective, the fun is choosing where you want to go and how to get there. All in all, it does require some skill, however not a strenuous hike and depending on your route is roughly only 2.5 miles round trip.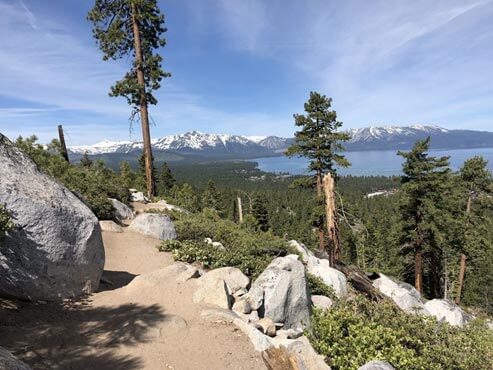 Another favorite option on the south side is the Van Sickle Bi-State Park. For most, it's the trek to the waterfall they've heard about, but you'll hit one of the more stunning outlooks on this trail at only about a half-mile in. If you choose to continue on to the waterfall, you won't be disappointed. After a slightly steep trek through the serene Tahoe forest, you're standing above the tree line looking out toward Tallac.
No matter where you decide to go, Tahoe doesn't disappoint.