Come to Lake Tahoe, bring your dog, please. We love 'em. How are you going to just ditch the favorite child at home? You don't have to, the days of leaving our four-legged friends behind are over. In Lake Tahoe, it ain't no fun if the dog can't have none.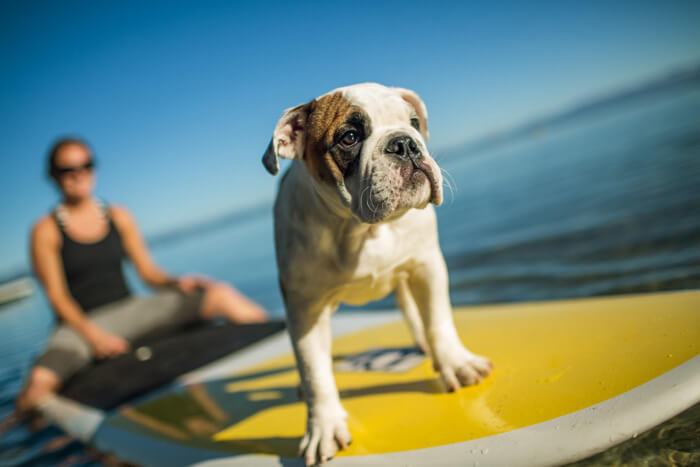 If you think you'll love Tahoe (you will), just imagine how much your dog will. From dining out to treks around the lake, you'll quickly realize that this lake town was built with man's best friend in mind. If you don't have a dog, I am sorry to hear that, but continue reading anyway and you'll know where you can go live vicariously through others. Maybe even sneak some fetch in.
Bijou Dog Park
First things first – the dog park. The Bijou Community Park has two fenced off areas specifically for dogs – one with plenty of room to run wild, and one with obstacles and different agility course features for dog training. Let them loose off leash for a while and take advantage of the rest of this awesome local park featuring a basketball court, a bike park/track, volleyball courts, a concrete skateboard park, an incredible disc golf course (with over 30 holes), and even a gazebo area perfect for hanging out for the day.
Dog-Friendly Beaches in Tahoe
When it comes to dog-friendly beaches, Kiva Beach is where you want to be. Not only will you have a wide open beach to roam, but this spot offers some seriously astounding views where the marsh meets the lake looking right up at the majestic Mount Tallac.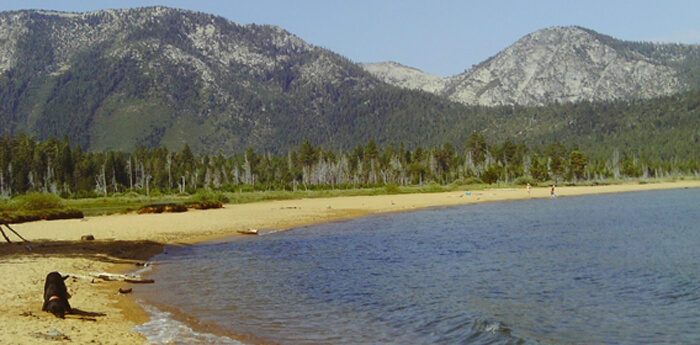 Another great beach North Zephyr Cove Beach, just be sure that you are not on the resort's private beach. For more dog-friendly beaches or just general beach info, check out the Tahoe Beaches app.
Dog-Friendly Hikes in Tahoe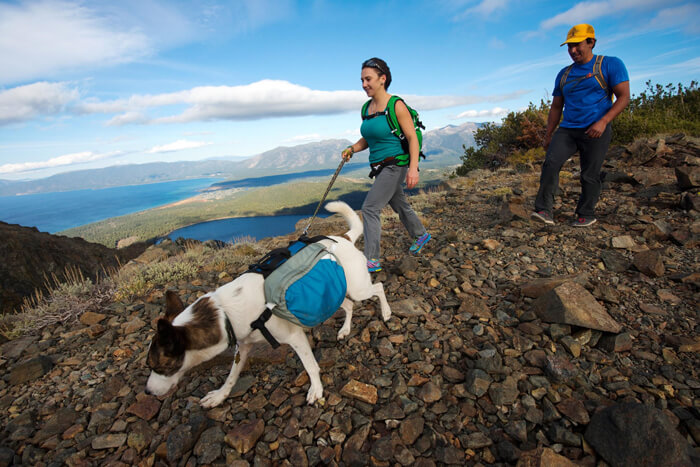 For the best views of the whole lake, the Mt. Tallac hike offers the most stunning scenery, hands down. This is one of the longer, more challenging trails at over 10 miles even taking the shortest possible trip. You and your dog will need plenty of water for the strenuous journey to the top, however, there's no greater feeling than being up there in the clouds towering over the beautiful city of South Lake below.
If you're looking for those great views but something less intense, head to Van Sickle Bi-State Park. The Van Sickle Trail eventually connects with the Tahoe Rim Trail allowing you to access much more but has scenic views within the first mile of the hike. Hike up to the waterfall or continue up for some bouldering with a stellar view. This park is great for dogs of all sizes.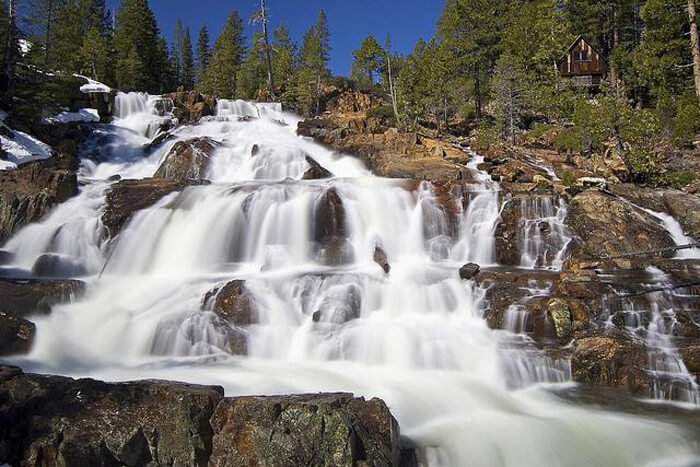 A personal favorite for this time of year is to venture out to any of the numerous waterfall hikes (excluding Lower Eagle Falls), especially Glen Alpine Falls (lower or upper). The nice part about starting at the trailhead is that you'll have the option to connect to a number of different hikes that all lead to or loop around lakes, streams, and even pass some cool historic spots.
Most trails around the Tahoe Basin allow dogs as long as they are leashed. Anywhere along the Tahoe Rim Trail will make for an exceptional option with views, and since it spans around the entire lake you won't have trouble accessing from wherever you are. Although we love our dogs here, this is not the type of place where you'll see disposable bags at every trail or beach, so always remember to be prepared and treat our home like it's your own.
I try to be on my phone as little as possible, but if you're looking for more ideas, download the All Trails App. You can search for trails by city, park, trail name, you can see exactly how long the trail is, where you will climb or descend, see an actual map of everything around you, record your trip… I could go on, but check it out for yourself.
A MUST Stop for your Dog
Whether it's before you head out for the day or on your way back from an adventure, you need to make it to Dog.Dog.Cat. This 'Petique' is a dog's dream come true with TONS of natural foods, toys, and gear. There's so much to look at you might enjoy it just as much as your dog, stop in for everything you'd need to keep your dog stylish and equipped for whatever the day calls for.
One Last Dog Tip
If you are ever unsure of where and what you are or aren't allowed to do, it can't hurt to visit the USDA Forest Service site for up to date information regarding tips and rules for enjoying our parks and nature.
Check out flying with Rover on www.rover.com/blog/traveling-with-pets/
Check out Dogs at Lake Tahoe from the United States Forest Service
The sultry dog days of summer are still months away, but any day is a great day to be a dog in Lake Tahoe.
Check out Dogs at Lake Tahoe on Instagram