Rainbow Trail at Taylor Creek Visitor Center
Easy walks through diverse forest habitat and to the Lake Tahoe beach. See beautiful fall foliage, as well as salmon, trout, and waterfowl.
The Rainbow Trail at the Taylor Creek Visitor Center, a highly used, accessible interpretative path, has undergone improvements to create a more sustainable alignment with the site's wetland characteristics, including a newly constructed elevated boardwalk.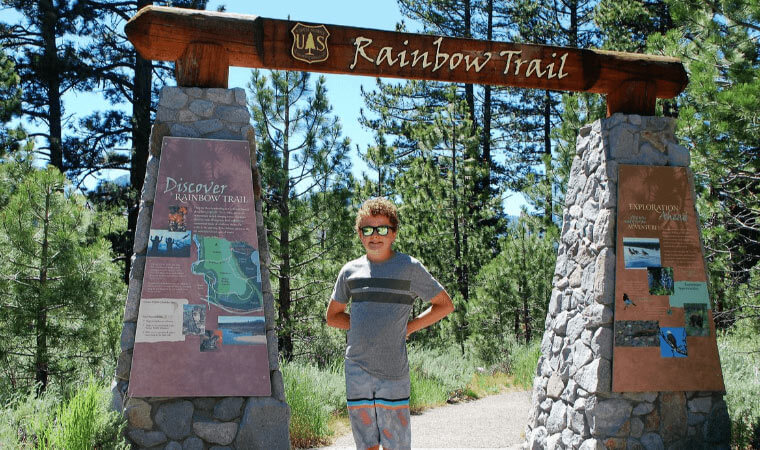 Generous grants made available by the Great American Outdoors Act and more locally, the Tahoe Fund, as well as implementation through partners including the National Forest Foundation and Great Basin Institute, have made new interpretative features available including a bilingual audio tour, a webcam system for Taylor Creek, and upgraded interpretative signage.
The Taylor Creek Visitor Center, located about 3 miles down HWY 89, is a good place to start when exploring Lake Tahoe. Take the Rainbow Trail and walk along the 1/2 mile paved path through the forest with many aspens and evergreen trees. There is a stream with colorful bushes on the banks. Be sure to walk to the stream and look for bright red Kokanee salmon that are spawning in the fall. For a better look at the salmon and trout, there is a stream profile chamber where you can get an underwater view of the fish.
This is an especially scenic place to visit in the fall when the trees and bushes along the shore and in the marsh have their most colorful foliage. Autumn is also the best time to see the salmon. Try to visit during early to mid-October for the best foliage. Stop by the visitor center for maps, information, or souvenirs.
This trail is wheelchair friendly.
Each year the Taylor Creek Visitor Center offers a guided walk on the Rainbow Trail. More information here.
Rainbow Trail at Taylor Creek Visitor Center
35 Visitor Center Rd, South Lake Tahoe , CA 96150