The rush of moving water. The sparkling brilliance of a cascade. Nothing is more soothing on a hot summer's day than a waterfall. We've talked about the top 5 waterfalls. We even have a waterfall guide. If you've seen the biggest and baddest cascades in Lake Tahoe, these three lesser known falls are a good option to check out from late spring through summer to escape the crowds.
Modjeska Falls / Upper Glen Alpine Falls (50 ft.)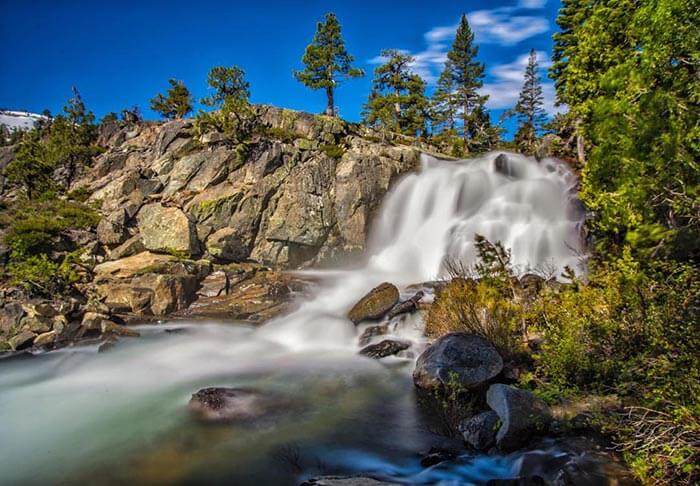 Distance: 2 miles (out-and-back)
Difficulty: Easy
When most talk about the Glen Alpine Falls, it's the first set they speak of. They're close, beautiful, AND majestic. While they aren't huge, it's the surrounding landscape and history that has really pushed these into the limelight. But, did you know if you hike up a bit further there's another one? These falls are even named after a Polish actress who made such a lasting impression during her performance here in 1885, she has her own named falls. While a bit shorter than the lower Glen Alpine Falls, you can get right in front of these waters and feel their cool spray against the warm weather.
Hawley Falls / Upper Truckee Falls (20 ft.)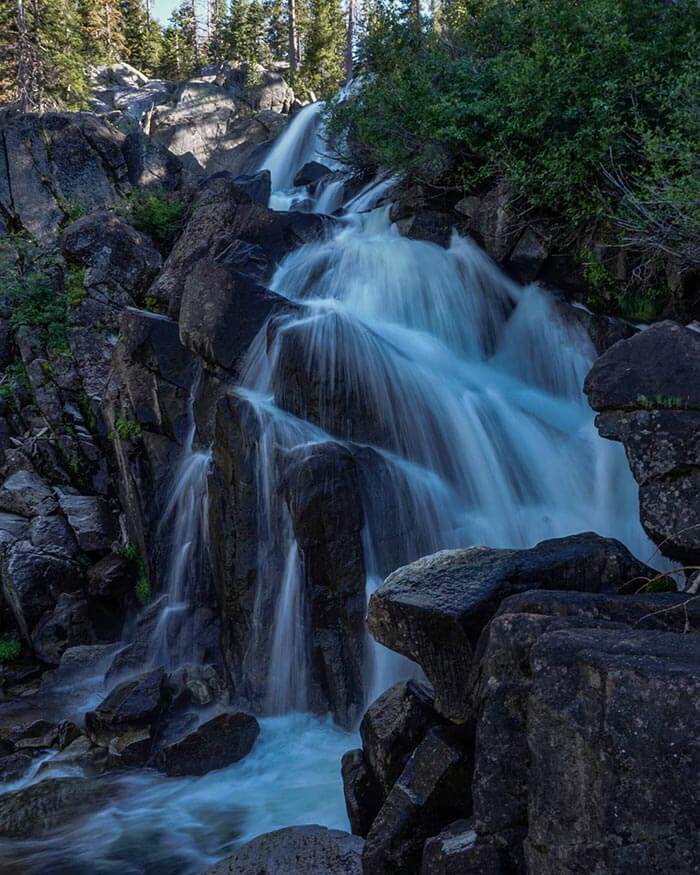 Distance: 4 miles (out-and-back)
Difficulty: Moderate
Named after Asa Hawley who established a trading post in 1854 near the Upper Truckee River, the first thought in your head as you venture along the path is "How in the world did wagons roll through this tight trail back in the 1860's?" One thing to note is that this short (20-foot) drop from the Upper Truckee River is lovely in spring but fades quickly as the runoff dwindles in summer.
Hot Springs Creek Falls (50 ft.)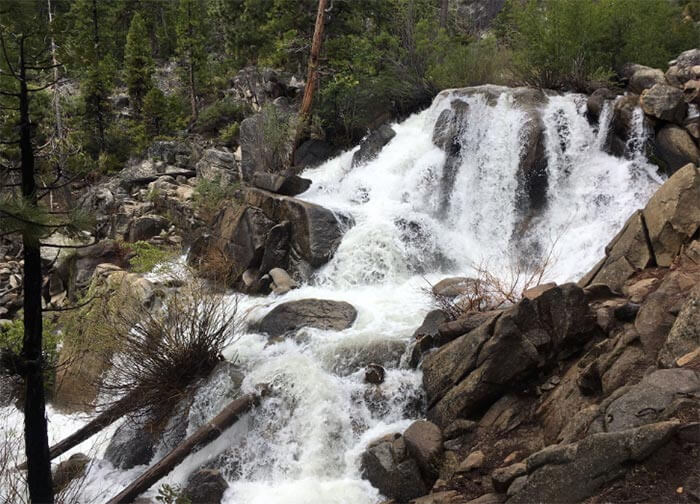 Distance: 3.2 miles (out-and-back)
Difficulty: Easy
This dog friendly hike, set in the picturesque Grover Hot Springs State Park, offers a short and relatively easy jaunt into the wilderness to see an impressive set of cascading water. With being so close to the Grover Hot Springs, be aware that this trail can get a bit busier than the others on this list.
Waterfall Camp (various)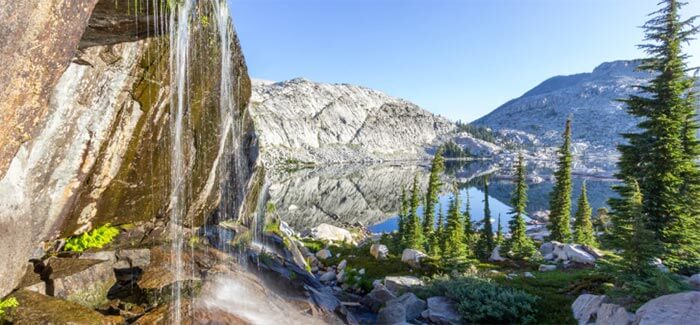 Distance: 10.5 miles with 5 mile water taxi (out-and-back)
Difficulty: Strenuous
Note: You will NEED an overnight wilderness permit to do this hike. Obtain one at the ranger stations or visitor centers in the Tahoe Basin or buy them online at this address: Recreation.gov.
As the name entails, this is the ultimate destination for those that love cascading water and athletics. It's a place filled with over 50 waterfalls (yes, 50!). The northwestern portion of Lake Aloha resembles a bay with enormous cliffs surrounding it. This sharp juxtaposition between the granite flows and a lush green area create the perfect backdrop for the myriad of water flowing into the lake.
Although these aren't as big as the perennial favorites, these do provide a peaceful hike into the wilderness with less people surrounding you. What more could you want?
Check out Waterfalls at Lake Tahoe on Instagram: