How one family and one couple spend one day in one place
This article produced in partnership with TravelNevada.
Family of Four
Husband and wife Mike and Jennifer are IT professionals with a deep love of the outdoors, which they indulge as often as possible. Their twin daughters Bailey and Lucy are in 5th grade and are active in soccer and gymnastics.
We'd always meant to get up to Tahoe, but work commitments had left us with very few chances to get away. Both my husband, Mike, and I are IT professionals, so while we love heading outdoors, the reality is that a lot of our time is spent in front of screens.
I have to admit, our 10-year-old twin girls, Bailey and Lucy, are much more glued to tablets than we'd like, too, so when the opportunity for a weekend away in Tahoe arose, we grabbed it!
We booked a hotel near Stateline in South Lake Tahoe, within walking distance of Lakeside Beach and the various attractions of Heavenly Village. At breakfast on that first morning, Bailey and Lucy were reluctant to put the tech away, until Mike said, "I'd hate to see those tablets go overboard." We had pre-booked (which is recommended) a cruise on the lake; a fantastic way to see Tahoe's sights and learn something along the way.
The only screen coming along on this trip was a phone for taking pictures, so with anything else firmly removed and locked away, we boarded the shuttle bus at our hotel and headed for the dock at Zephyr Cove Resort. We especially appreciated this complimentary service when we saw how busy the parking lot was!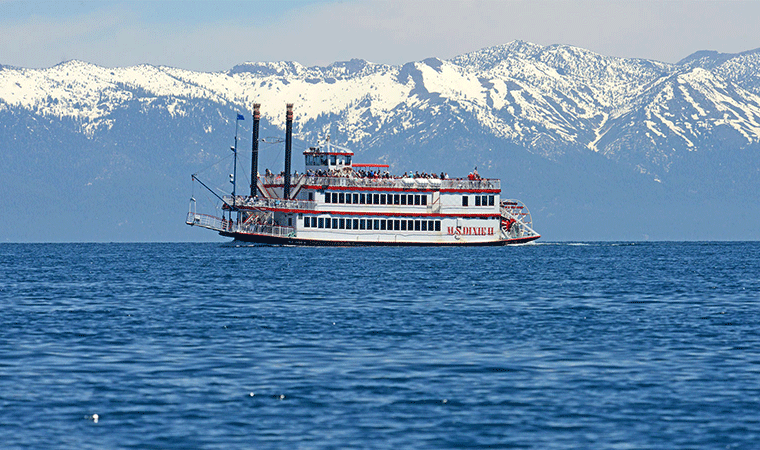 As we boarded the M.S. Dixie II, we debated for a second where to head to claim seats, but as it was a glorious, clear-sky day (for which Tahoe is well-known), we headed for the openness of the upper deck. The girls immediately headed toward the railing, the breeze whipped through their hair as they admired the clear water below. I sneakily snapped some very nice pictures of them with the scenic shores of Lake Tahoe in the background as the sights distracted Bailey and Lucy. We purchased lunch on-board and took in the commentary across the two-hour voyage. We heard tales of Mark Twain's exploits in the area and explanations of the formation of the lake. Mike and I were encouraged by how interested the girls were in the tour—almost the same attention they'd give their screens. They had learned about Mark Twain in school and Bailey wondered if the paddle boat we were traveling on could be as old as him.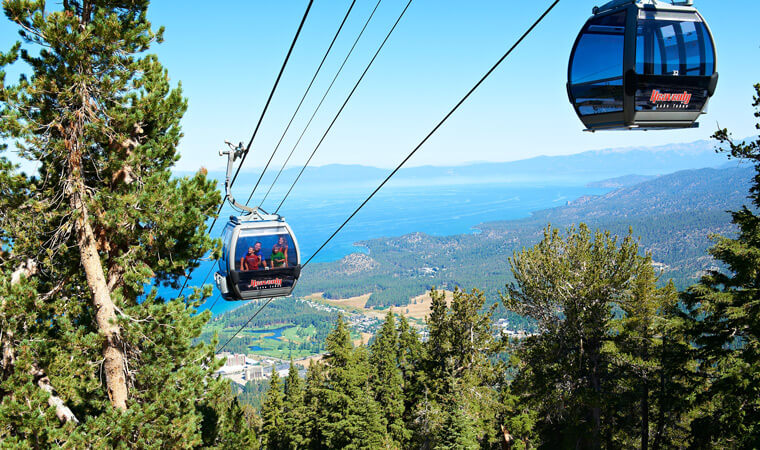 After returning to the dock, we went from water to sky. Back at Heavenly Village, we hopped into a gondola for a ride and bird's-eye views. Breathtaking, to say the least; we could literally see why Lake Tahoe is known as "The Jewel of the Sierra." The girls were keen for some beach time at the end of the day, so we headed to Lakeside Beach where Mike and I could enjoy a cocktail or two while Bailey and Lucy played nearby on the shore. As the girls wandered back over, we got to talking with a young couple who were enjoying a drink before an outdoor concert just up the road. They had enjoyed the hiking trails during the day and recommended a nearby walk. "Mom," said Lucy, "can we go hiking tomorrow?" Success! No screens required…
The Couple
Husband Victor is a registered nurse while wife Marissa works in real estate. They love pursuing their active interests together, whether it's hiking, biking or fine dining, and make it a point to try something new together regularly.
My husband, Victor, surprised me with a getaway to Tahoe—I love that man. Our third anniversary was coming up so he booked a weekend and we soon found ourselves landing at the Reno-Tahoe airport. After a ride on the South Tahoe Airporter shuttle, we were dropped off right outside our hotel: MontBleu Resort, Casino and Spa.
I wasn't too sure what to expect on this trip, but Victor had warned me to pack some gear for hiking and something I'd like to dance in, so I was looking forward to some time outdoors and who-knows-what in the evening.
We began our day with a fantastic breakfast at Café Del Soul in the hotel, and then it was time to get out. The day was bright and clear, so we slathered on sunscreen and packed our bags with snacks and water.
I was pleasantly surprised to learn that we were so close to a trailhead—we could actually walk there from our hotel. The entrance to Van Sickle Bi-State Park was about a seven-minute walk up the road, then another few minutes up the driveway to the trailhead. We couldn't resist goofing around and taking some pictures as we straddled the California/Nevada Stateline, before picking a hike of approximately eight miles round trip, which would take us up to a lookout along the Rim Trail Connector.
The hike was moderate with some steep uphill tracks, but oh boy, what a view from the top! We looked out to see Tahoe dwarfed below by the majestic, glittering lake. We really got a sense for how close to nature the people of Tahoe are.
After we'd showered back at our hotel and eaten, Victor revealed why I needed to pack a little black dress: he got us tickets to see Aerosmith at the Lake Tahoe Outdoor Arena at Harveys! I was so excited—when was the last time we went to a concert together?
We had a bit of time prior to the show, so we walked down to Lakeside Beach, just down the road from Harveys. We wandered along the beach before grabbing a couple of cocktails at Jimmy's at The Landing Resort & Spa.
We got to chatting about our day with a couple there with twin girls—also on vacation. "Can we go hiking tomorrow?" one of the girls asked their mom.
We said goodbye and made our way up to the arena, passing locals who were tailgating outside.
Inside, the concert atmosphere was electric and inviting. The crowd enjoyed themselves and Aerosmith put on an amazing show.
As they ended a set with "I Don't Want to Miss a Thing," Victor turned and kissed me. "Happy anniversary, honey."
It was certainly one I'll never forget.
Explore more of Lake Tahoe and plan your getaway.