A Drive You Don't Want to Miss
Phoenix to Seattle Road Trip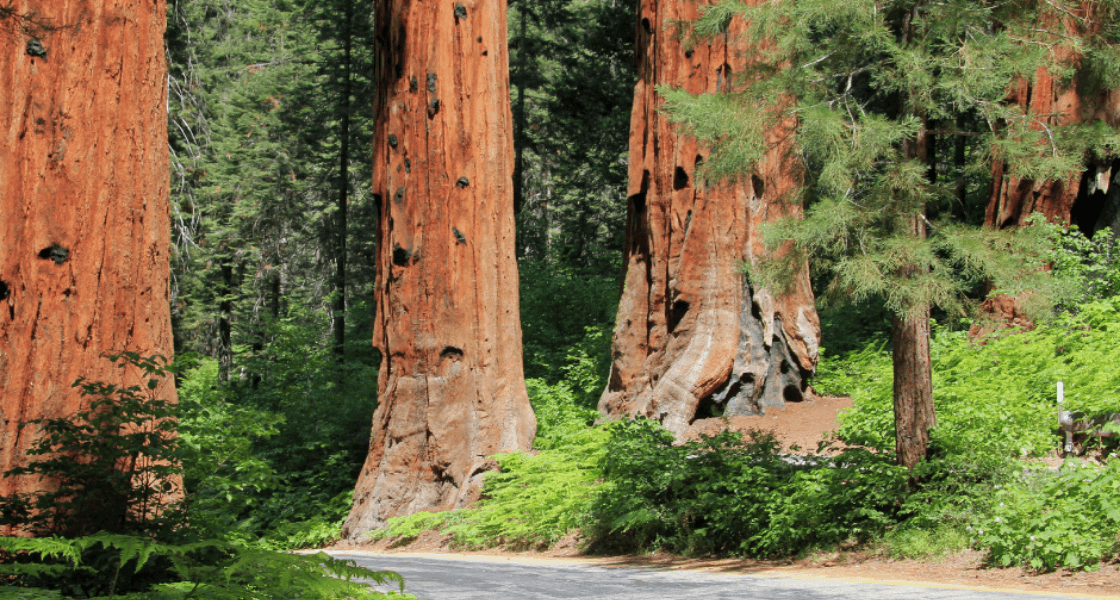 Best of the West Road Trip: A Phoenix To Seattle Road Trip Through South Lake Tahoe
This truly epic road trip takes you through 10 national parks in America's West. Spend up to a month exploring postcard-famous destinations like the Grand Canyon and Lake Tahoe and lesser-known areas like Lassen Volcanic National Park. Go ahead, take a photo in front of the fountains at the Bellagio in Las Vegas and Half Dome in Yosemite National Park and take a spin on the Seattle Space Needle. This road trip includes it all!
This Phoenix to Seattle road trip itinerary was created in partnership with Visit USA Parks.

STATES: Arizona, Nevada, California, Oregon, Washington
START/END: Phoenix / Seattle
TOTAL MILES: About 2,368 miles (3,811 km)
SUGGESTED DAYS: 21-30
SUGGESTED SEASON: Year-round
Phoenix to Seattle Overview
If you've been letting your bucket list get out of hand, this is the trip that will quench all wanderlust. Designed to begin in Phoenix, Arizona, you'll journey through every ecosystem imaginable on your way to Seattle, Washington, from the lowest point in North America to the second highest peak in the lower 48. You'll even see the deepest lake in America (Crater Lake) and one of the purest water lakes in the world (Lake Tahoe)! We truly left nothing out in this outdoor-focused, active itinerary.
PREPARATION
While this road trip can be completed any time of year, it may be best to undertake it in its entirety during the spring or fall for the best of both worlds in the Southwest and Pacific Northwest. (Think: beat the heat…and the rain and snow.) No matter when you depart, pack both your car and your duffel for four seasons to ensure you're prepared for anything.
PHOENIX, AZ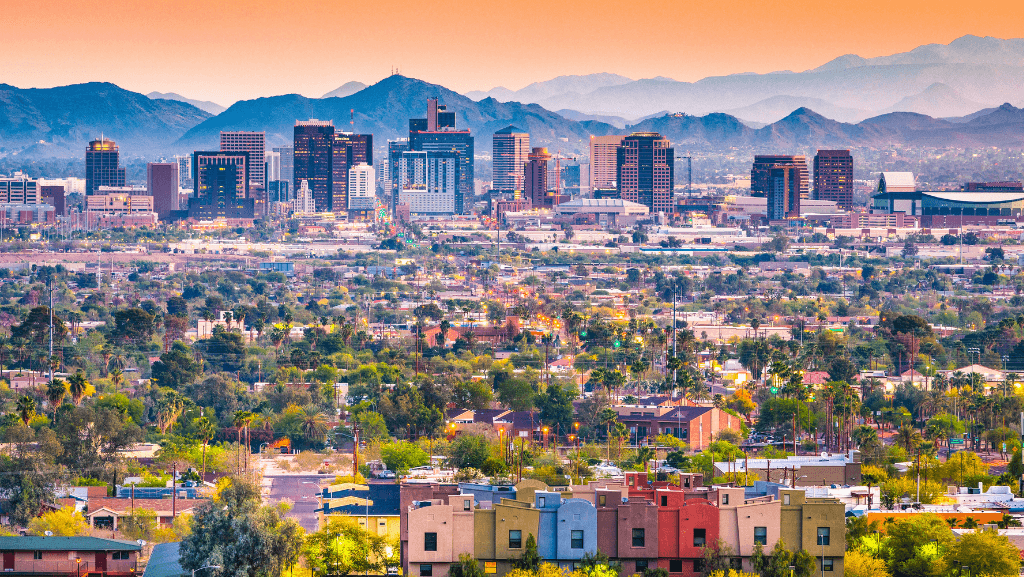 Fly into Phoenix, the capital of Arizona to kick off your epic journey. Depending on when you arrive, the temperature could range from comfortable t-shirt weather to wishing you had packed a sweatband. Don't worry, no matter what time of year you begin your trip, Phoenix offers a variety of cool opportunities to get out and explore.
Best accessible hiking trail: White Tank Waterfall Trail
Favorite way to escape the heat: The Dolly Steamboat on Canyon Lake
Coolest nature experience in the heart of town: The Desert Botanical Garden
Act like a local: Play a Round of Golf
TUSAYAN, AZ – GRAND CANYON NATIONAL PARK
Travel Time: 3 hours 20 min. – 222 miles / 375 km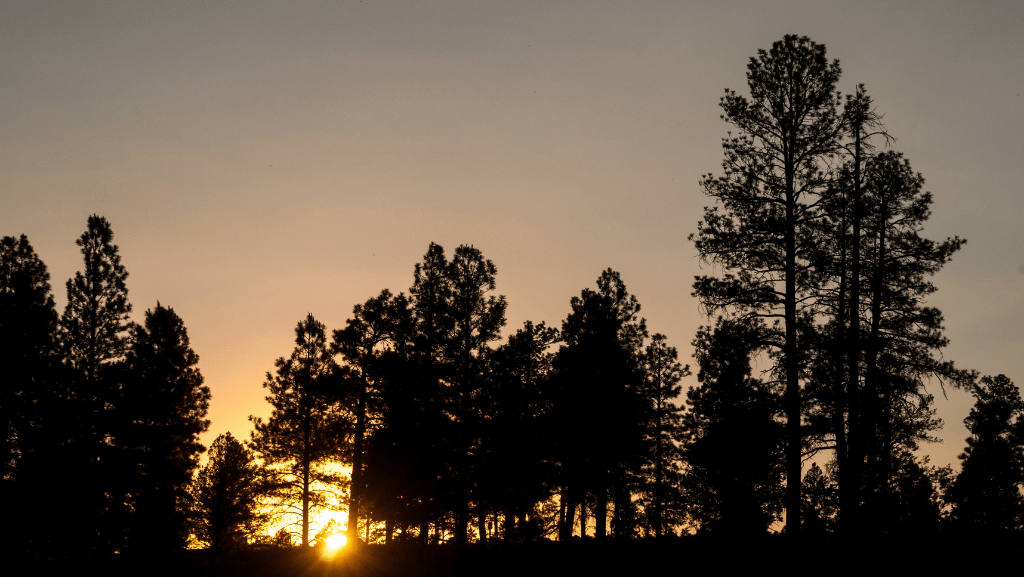 Arizona is known as the Grand Canyon State, after all! Your journey through 10 of the west's best national parks kicks off at this namesake. You'll arrive on the South Rim; an accessible region of the park that affords unobstructed views of the Grand Canyon and has several visitor centers—perfect for picking up a souvenir or two.
Most scenic photo opportunity: Yavapai Point and Geology Museum
How to spend your afternoon: Walk the Rim Trail
Place to ride a bike: Greenway Trail
Best place to get a burger: Bright Angel Lodge
LAS VEGAS, NV
Travel Time: 4 hours 15 min. – 273 miles / 439.3 km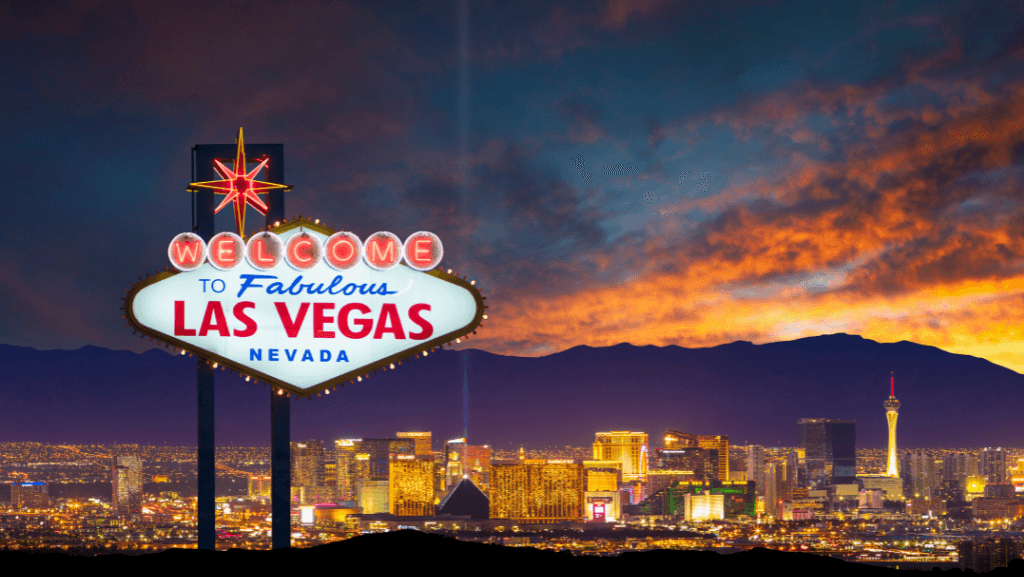 No trip through the American West would be complete without a pitstop in Sin City. Whether you decide to spend a single evening here or make an event out of it, Las Vegas is an iconic road trip staple in American literature and cinema. The shopping is endless, the food bottomless, and the people-watching an activity of its own. That's not to mention the favorite pastime of all in Las Vegas—gambling!
Not to miss: The Fountains at the Bellagio
Most scenic place to eat dinner: The Top of the Stratosphere
How to spend your winnings: A helicopter ride over the city or the Grand Canyon
Best place to take a hike: Red Rocks National Conservation Area
DEATH VALLEY NATIONAL PARK / BADWATER BASIN
Travel Time: 1 hour 55 min. – 126 miles / 203 km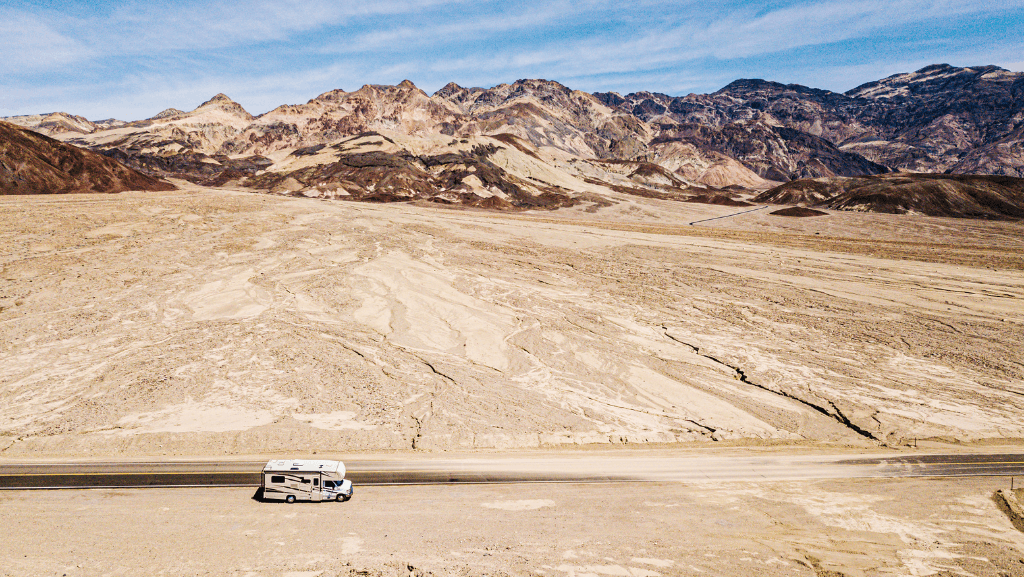 Death Valley National Park is one of the most unique places in North America. A vast swath of desert hugging the Nevada border, this California gem is absolutely worth driving through (with a full tank of gas). Early spring visitors will enjoy a surprising number of wildflowers, but North America's lowest elevation at Badwater Basin (282 feet / 86 meters below sea level) is fascinating year-round.
Most scenic overlook: Zabriskie Point
Historical stop of interest: Mustard Canyon, Harmony Borax Works Interpretive Trail
Enjoy the nightlife: Stargazing in Death Valley, an International Dark Sky Park
Step into the past: At one of Death Valley's 8 Ghost Towns
SEQUOIA NATIONAL PARK
Travel Time: 6 hours – 381 miles / 613 km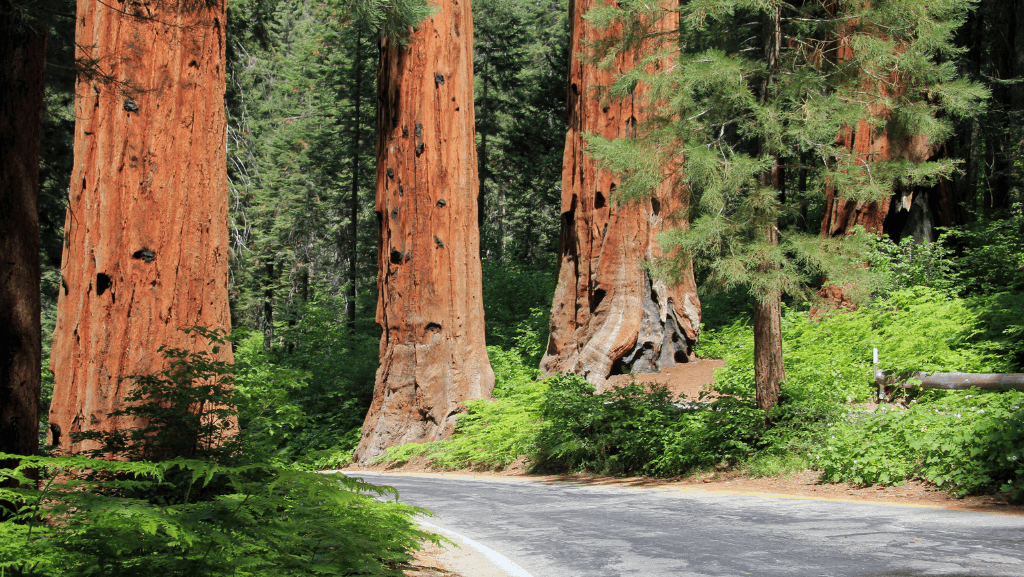 Located just to the south of Yosemite and Kings Canyon national parks is Sequoia National Park. One look at the towering sequoia behind the entrance station, and you'll know you've arrived. This park protects these stunning red-wooded giants, the largest trees in the world. Keep in mind that there are some changes to accessibility in the park following recent wildfires that may impact your visit. You can find all the necessary information here.
How to get your bearings: The Giant Forest Museum
Take a hike: General Sherman Tree
Unleash your inner scientist: Stump Meadow, Home to 3,200 Year Old Stumps
Get the best sleep of your life: Wuksachi Lodge
KINGS CANYON NATIONAL PARK
Travel Time: 1 hour 30 min. – 46 miles / 74 km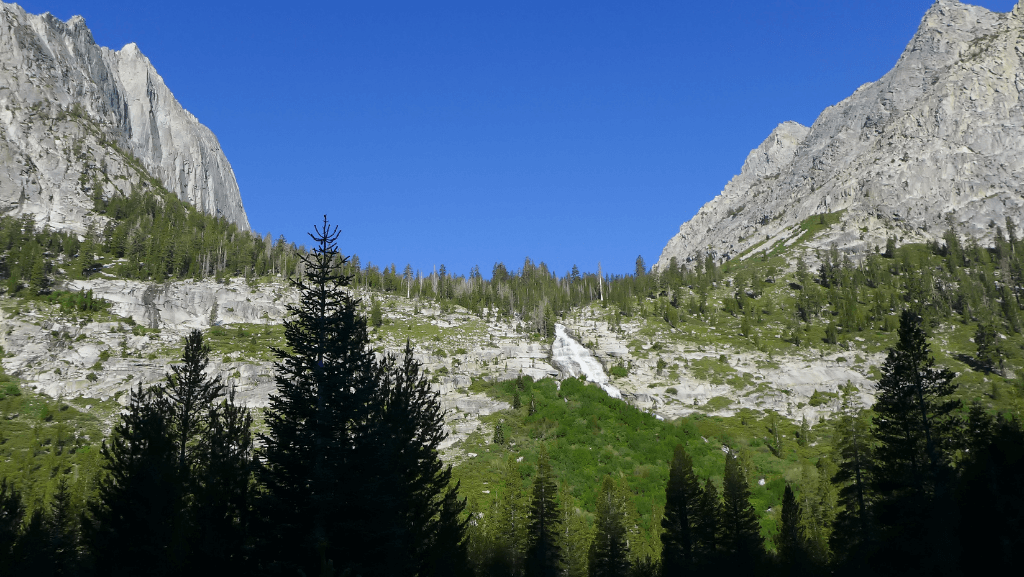 If you thought you'd had your fill of giant sequoia trees, think again! Neighboring Kings Canyon National Park is home to the largest remaining grove in the world: Redwood Canyon. This glaciated valley is reminiscent of Yosemite National Park, next on your trip and located just to the north in the Sierra National Forest. Enjoy fewer crowds here without sacrificing any of the scenery or accessibility, including miles of hiking trails and woodsy lodging options.
Can't miss photo opportunity: General Grant Tree
Ideal place for a picnic: Kings River in Cedar Grove
Unexpected adventure: Boyden Cavern
Best day hike: Zumwalt Meadow
YOSEMITE NATIONAL PARK
Travel Time: 3 hours 25 minutes – 146 miles / 235 km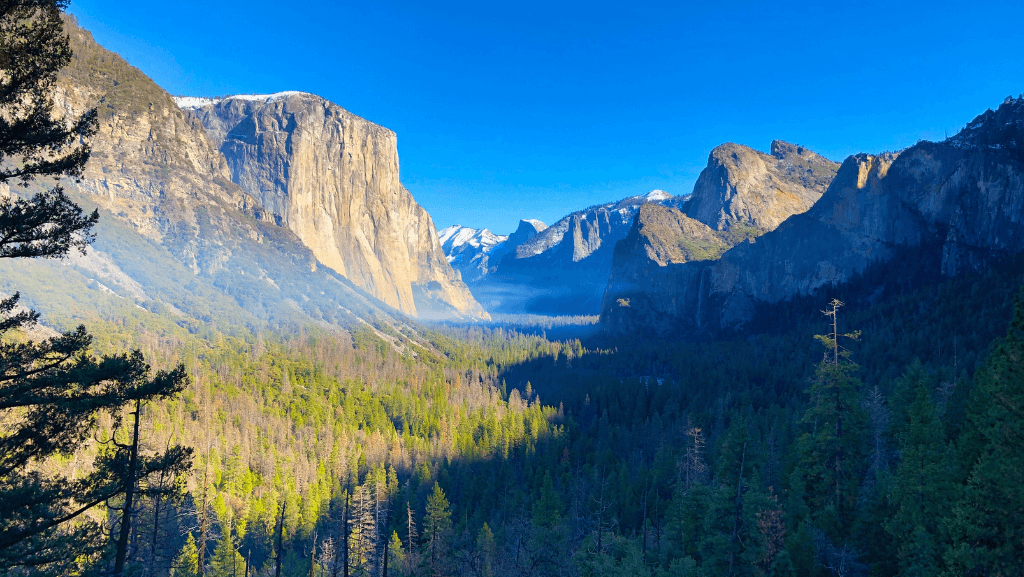 Perhaps the most famous national park in the entire country, Yosemite is an American treasure. Dramatic granite cliffs, rushing rivers, tumbling waterfalls, and grand meadows can all be seen in a single afternoon. (Of course, we encourage you to stay for as long as you can!) First protected in 1864, Yosemite played a significant role in the formation of the national park system after naturalist John Muir gave President Theodore Roosevelt a personal tour. Today, you can follow in their footsteps to appreciate their legacy.
Take time for a history lesson: Yosemite Valley Visitor Center
Guaranteed adrenaline rush: Summit Half Dome
Most photogenic backpacking destination: Cathedral Lakes
If you only have a day: Hike to Yosemite Falls
SOUTH LAKE TAHOE, CA
Travel Time: 4 hours 36 min. – 205 miles / 330 km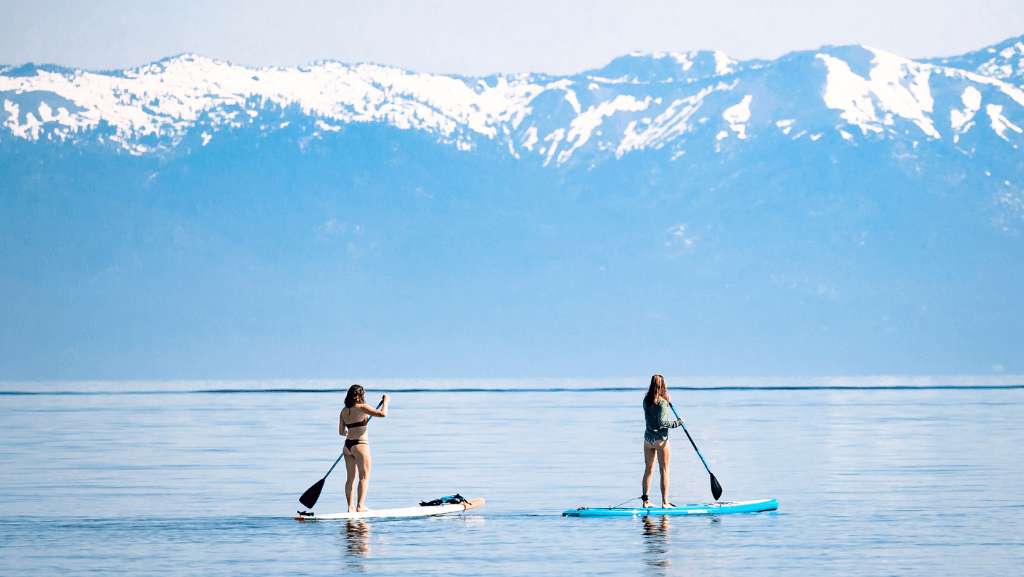 The emerald hue of Lake Tahoe is recognized around the world, and for good reason. This tremendous body of water on the California-Nevada state line is a true gem of the American West. Surrounded by rocky shorelines, towering forests, and snow-capped mountain peaks, Tahoe is an outdoor recreationalist's dream. Base your stay in South Tahoe, where skiing Heavenly in the winter and playing on the water in Zephyr Cove all summer make it a veritable destination for year-round fun.
Best place to paddleboard: Zephyr Cove Resort
How to get a bird's eye view: The gondola at Heavenly Resort
Pedal miles of singletrack: Choose your own adventure
Enjoy being in Nevada: And roll the dice at a casino
LASSEN VOLCANIC NATIONAL PARK
Travel Time: 3 hours 30 min. – 185 miles / 298 km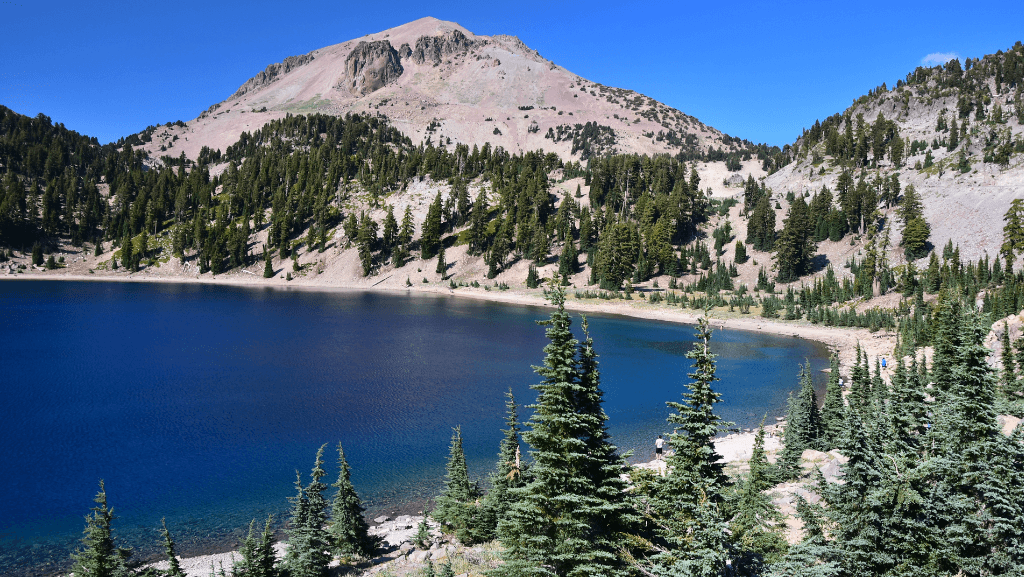 One of the lesser-known national parks in the west, Lassen Volcanic National Park is one of California's best-hidden secrets. Plus, taking the scenic route is a lot better than cruising northbound on I-5! Formed by volcanic activity, this park features all kinds of geological variety: shield volcanoes, cinder cones, plug domes, and composite volcanoes are all found within its borders. For those of us who aren't earth scientists, that translates to miles of scenery and solitude. Lush forests, fascinating sulphur springs, and year-round snowball fights await!
Cutest wildlife sighting: The American pika
Best day hike: Bumpass Hell from Kings Creek
Catch a reflection: Kayaking at Manzanita Lake
Go searching for treasure: In the form of a geocache
CRATER LAKE NATIONAL PARK
Travel Time: 3 hours 30 min. – 207 miles / 333 km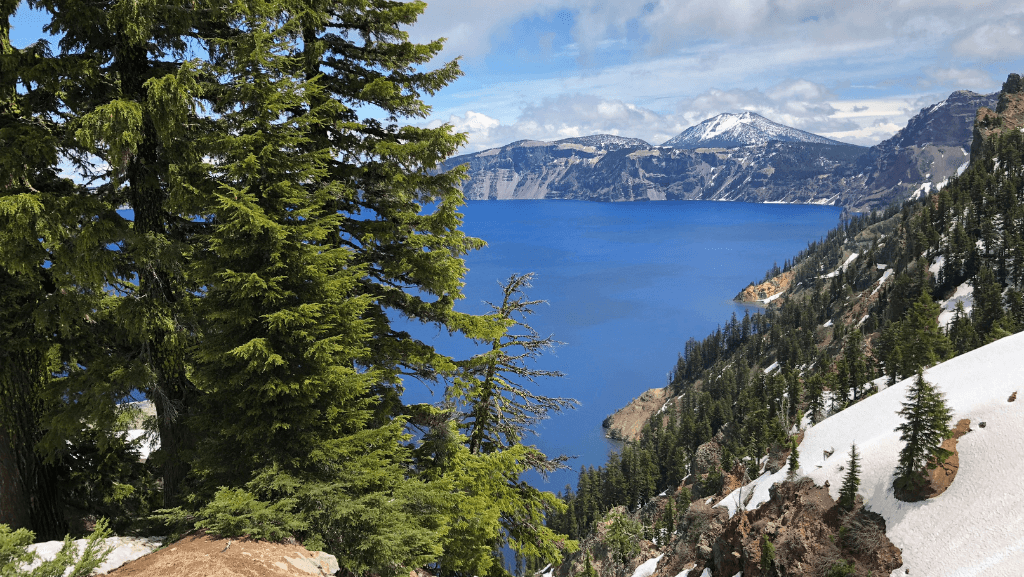 There's no mistaking it—Crater Lake National Park is one of the most picturesque spots on the west coast. Formed 7,700 years ago when a volcanic eruption collapsed Mount Mazama's peak, today it's a striking sight. Visitors flock to the caldera's edge to gaze upon what looks like the tip of Mazama, but is actually Wizard Island, a newer development formed by volcanic activity below the water's surface. Crater Lake is the deepest lake in the United States at a depth of 1949 feet (594 m). No wonder there's a bit of folklore surrounding a mysterious hemlock log that has been floating here for decades!
Find the best vantage point: Take the 33-mile scenic rim drive
Unexpected activity: Go birdwatching for 250 species
Hike to the shore of the lake: Cleetwood Cove Trail
Learn about lake lore: The Old Man of the Lake
Mount Rainier National Park (Henry M. Jackson memorial Visitors Center)
Travel Time: 7 hours – 387 miles / 623 km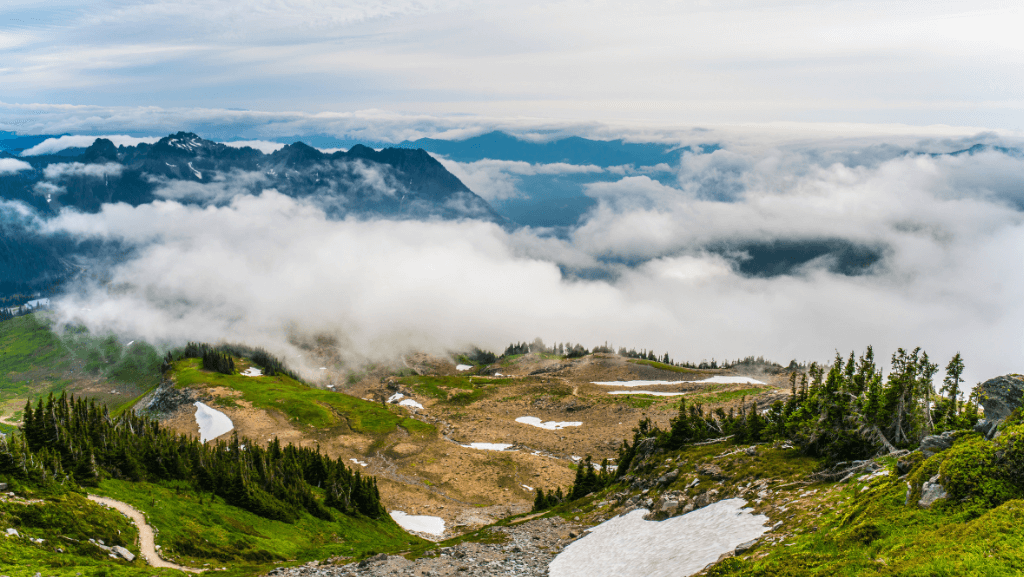 Anyone who has seen a Washington State license plate has caught a glimpse of Mount Rainier. Most often shrouded in clouds in the heart of the Pacific Northwest, this behemoth is the crown jewel of the Cascade Mountains. Standing at 14,411 feet, the glaciers at the top of this regal peak make way to meadows teeming with wildflowers and wildlife, rivers and creeks, and huge timber. It's no surprise that one of the main base camps for visitors in Mount Rainier National Park is called Paradise.
Experience an old growth forest: Go hiking in Ohanapecosh
See Rainier by bike: Pedal the 5-mile Carbon River Trail
Spend the afternoon: Fishing at one of the many approved spots
Step back in time: In the historic Longmire District
OLYMPIC NATIONAL PARK
Travel Time: 3 hours 50 min. – 178 miles / 289 km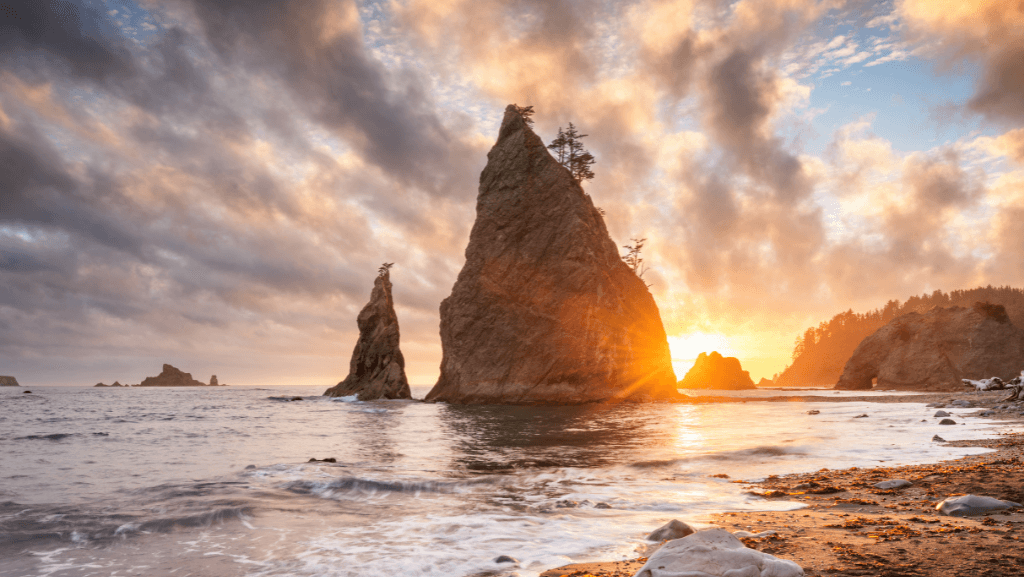 The final park on your journey? Olympic National Park. Located in the Olympic Mountain Range on the Olympic Peninsula, it's not hard to see why everything boasts the same name around this part of the world. Here, you can get a permit to camp on the beach, where once the sun sets, the Pacific Ocean laps the shore with glowing, bioluminescent phytoplankton. You can hike through the Hoh Rainforest, awash with damp greenery. Then, you can drive to Hurricane Ridge, where all that green finally gives way to snow-capped mountains, year-round. Take the time to do it all in one of the most diverse parks in the nation.
Best place to write a novel: Lake Crescent Lodge
Look for otherworldly creatures: Go tidepooling
Get lost in a sea of moss: Hall of Mosses Trail
Feel like you're on top of the world: Hurricane Ridge Visitor Center
SEATTLE, WA
Travel Time: 2 hours 35 min. – 138 miles / 222 km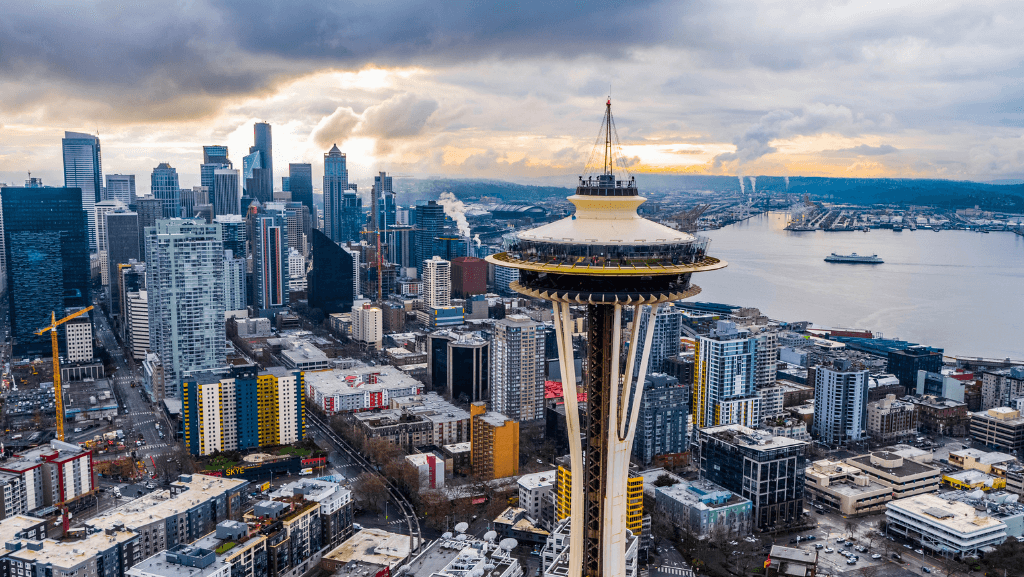 At long last, you'll arrive in Seattle, Washington. With a skyline set against the stunning Cascade Mountain Range and bustling Puget Sound, you might just feel a world away from where you began in Phoenix. Take some time to enjoy the sights: the Space Needle, Gas Works Park, Pike Place Market, and Lake Union can all be enjoyed in a day. Even better? Experience it all over the course of a long weekend. Take your time, sample the seafood, and treat yourself to a Seahawks game. The Emerald City is sure to be the perfect finale to your epic adventure.
Most touristy thing to do: Catch a salmon at Pike Place Market
Best place to fly a kite: Gas Works Park
Go for a trail run: Discovery Park
On a sunny day: Take a scenic flight with Kenmore Air