See America's National Parks
Yosemite to Yellowstone Road Trip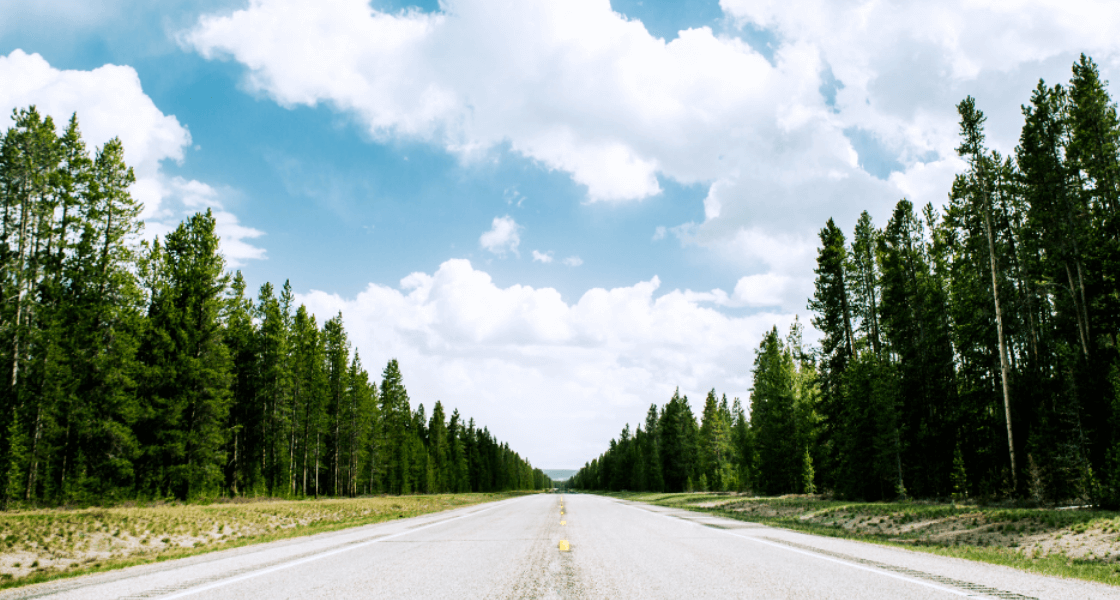 Yosemite to Yellowstone Road Trip through South Lake Tahoe
Built for the creative explorer who appreciates getting off the beaten path, this Yosemite to Yellowstone road trip through South Lake Tahoe is bookended by two of the world's most iconic national parks. In between lies a wealth of adventure, from mysterious ghost towns to soothing hot springs. You'll travel the charming Cowboy Corridor of Nevada and sneak a glimpse of lesser-known scenery in Idaho and Utah. Just don't forget to make a splash in Lake Tahoe along the way!

STATES: California, Nevada, Utah, Idaho, Montana, Wyoming
START/END: Yosemite National Park / Yellowstone National Park
TOTAL MILES: About 1,188 miles (1,912 km)
SUGGESTED DAYS: 12-20
SUGGESTED SEASON: May-September
Yosemite to Yellowstone Road Trip Overview
The most flexible of our western United States road trip ideas, this itinerary can be executed from a number of access points, from Mammoth Yosemite Airport to Jackson Hole and several places in between. We've even included an optional shorter or longer route mid-trip so you can pick and choose based on your available time.
PREPARATION
Because a number of mountain passes will be closed to traffic in the winter, we recommend this itinerary between May and September. For travelers who prefer to avoid peak tourist season, early spring and late fall are optimal times to visit—although you do run the risk of inclement weather and possible snowfall. No matter when you decide to journey between Yosemite and Yellowstone, and who comes along for the ride, you are sure to have the adventure of a lifetime!
YOSEMITE NATIONAL PARK, CA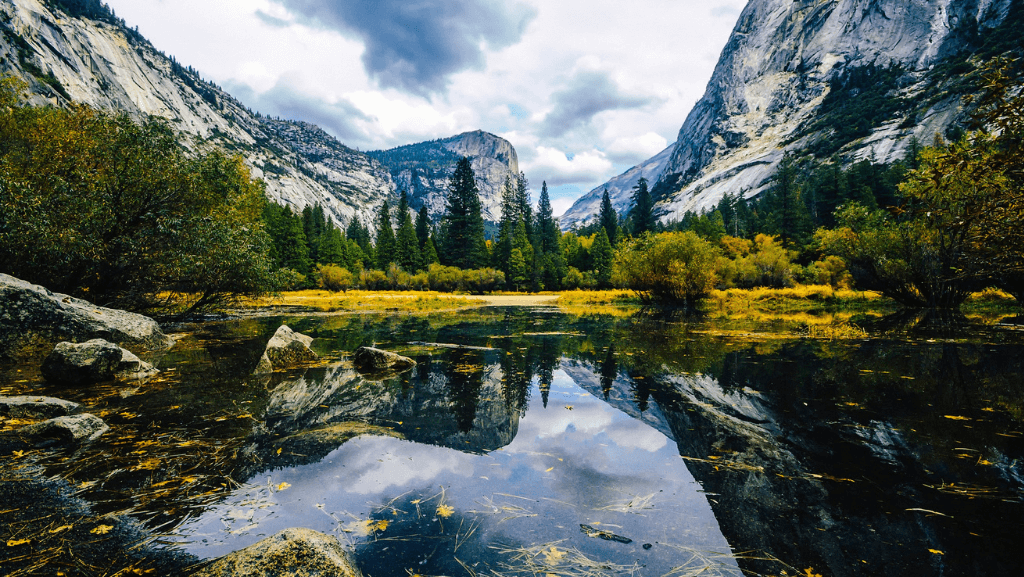 Skip the crowded side of California and begin your trip directly from Mammoth Yosemite Airport. While you'll still have a short road trip to Yosemite National Park, it'll be on the scenic Highway 395; one of the more remote roads in the Golden State. As your rental car winds up the backside of the Sierra Nevadas, enjoy lesser-seen vistas of this world-famous destination. Tuolumne Meadows, Cathedral Peak, and plenty of roadside picnic areas will greet you before arriving at the visitors center on the valley floor.
Let the experts take the wheel: Open-air bus tour to Glacier Point
Make like a pioneer: Guided horseback ride through Wawona Meadow
Leave no trace: See if your trip overlaps with a volunteer day
Where to rest your head: In a canvas tent in Curry Village
LEE VINING, CA
Travel Time: 2 hours 20 min. – 75 miles / 121 km
East of Yosemite National Park is the small community of Lee Vining, California. Named after a Texas Ranger who settled in the area in 1857, it is so much more than a place to fill up the gas tank on your way to Lake Tahoe. Local attractions include the salty and haunting Mono Lake, the incredibly well-preserved Bodie Ghost Town, and the Mono Craters. There are even a handful of wilderness hot springs begging to be discovered on rugged backroads. Stay for the afternoon or extend your adventure in Lee Vining with the below activities before continuing north!
Refresh tired muscles: Inn at Benton Hot Springs
Cast the day away: On a nearby creek with tips from Beaver's Sporting Goods
Look for ghosts and gold: Bodie State Historic Park
Get your caffeine fix: Latte Da Coffee Cafe
SOUTH LAKE TAHOE, CA
Travel Time: 2 hours 7 min. – 110 miles / 177 km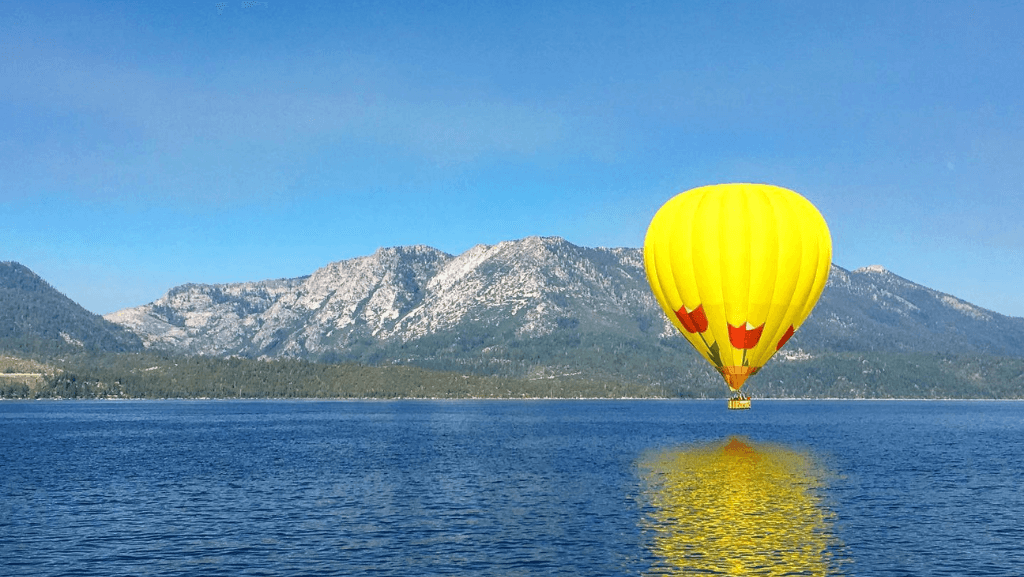 The crown jewel of the Sierra Nevada Mountains, Lake Tahoe is a bucket-list destination for travelers across the globe. Not only is the color of the water against the surrounding evergreens a head-turner—the shoreline dotted with giant granite boulders will surely take your breath away. South Lake Tahoe boasts all the adventure of the lake in addition to the added bonus of world-class entertainment and nightlife. Enjoy the best of both worlds with a day outdoors and an evening under the lights watching a headliner!
All aboard: The M.S. Dixie II for a boat cruise out of Zephyr Cove
Play a round of golf: On one of South Tahoe's many courses
Feel the burn: Hike the Mt. Tallac trail for unobstructed Lake Tahoe views
Enjoy dinner with a view: At one of South Tahoe's mouthwatering restaurants
LAHONTAN STATE RECREATION AREA, NV
Travel Time: 1 hour 30 min. – 70 miles / 113 km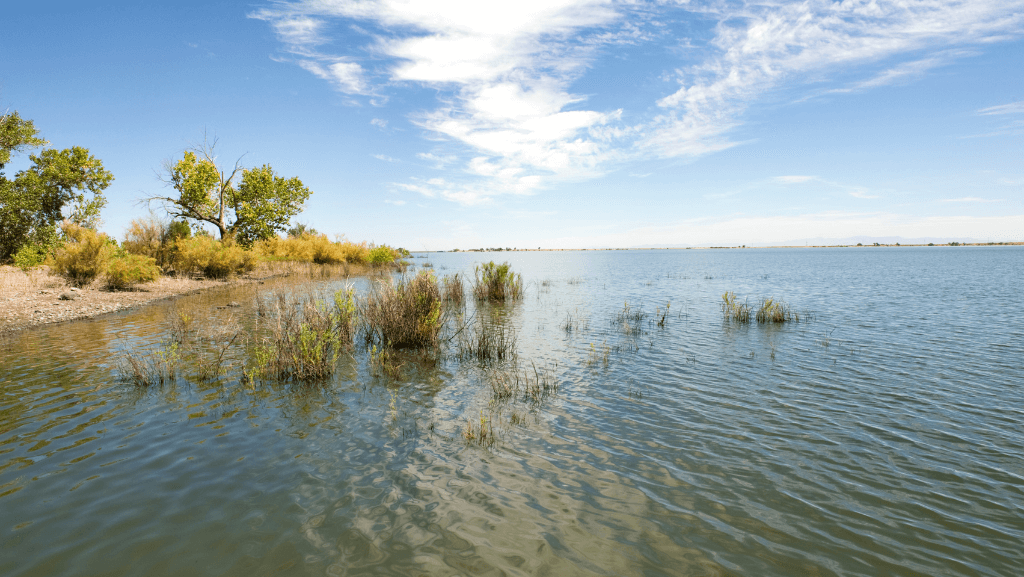 Nevada might not be known for its water, but not two hours after leaving the shores of Lake Tahoe you'll find yourself at another desert oasis: Lahontan State Recreation Area. The Lahontan Reservoir boasts 69 miles of shoreline and is one of Nevada's most popular places for year-round outdoor recreation. Although man-made, plenty of endemic species also enjoy being by the water and in the riparian zones it creates. Wild horses, bobcats, foxes, pelicans, herons, and many more species can all be spotted by the discerning traveler. Keep your eyes to the skies! Bald eagles soaring overhead make for an unexpected sighting.
Best place to camp: Silver Springs Beach
Best voyage: Canoe from Fort Churchill to the lake
Best skills practice: Leave No Trace
Make some dam dad jokes: Lahontan dam
LOVELOCK, NV
Travel Time: 1 hour 25 min – 84 miles / 135 km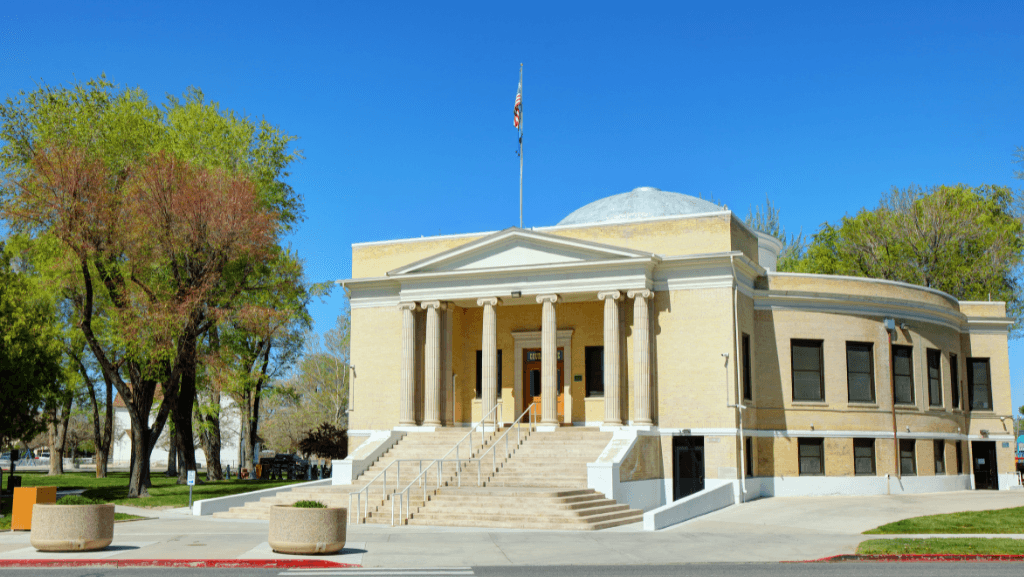 Once you join up with Highway 80, you'll find yourself on what locals call the Cowboy Corridor. First stop? Lovelock, Nevada. This town is packed with history, outdoor fun, and a dose of charm. Enjoy stretching your legs in Lovers Lock Plaza, where visitors have left their love fastened to the fenceline forevermore. You'll also get a view of the only round courthouse in the Silver State, built by Nevada architect Frederic DeLongchamps. Afterwards, take the scenic 20-mile Lovelock Cave Backcountry Byway. You'll take in sweeping vistas unchanged by time and get to explore one of the most important sites of North American archaeology–Lovelock Cave–along the way.
Catch up on some zzz's: Old Pioneer Garden Country Inn
Step back in time: Marzen House Museum
Go to a ghost town: Seven Troughs
Add some adventure to your ghost town tour: Unionville
WINNEMUCCA, NV
Travel Time: 1 hour – 72miles / 116 km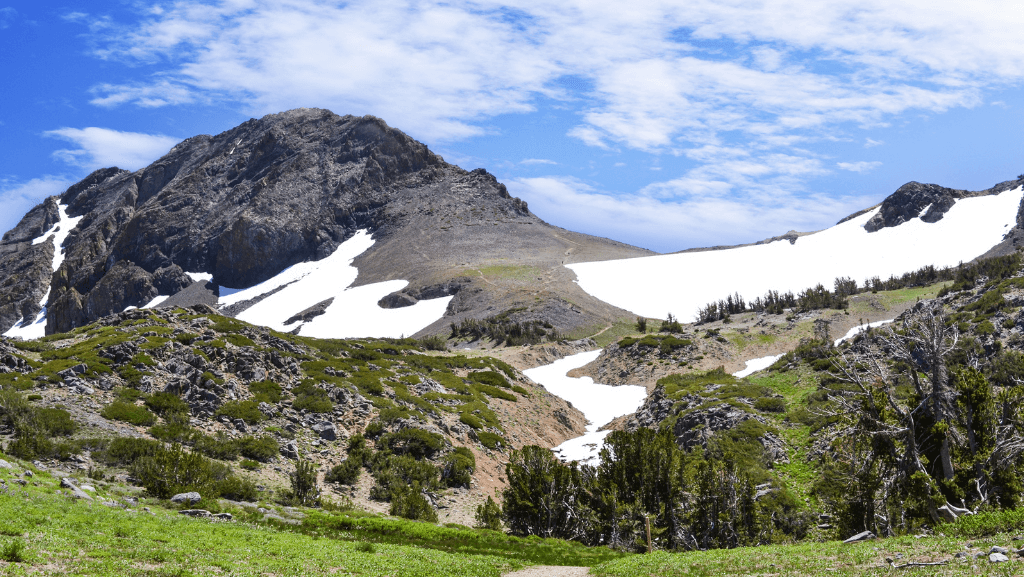 Known as the "friendliest town in Nevada," Winnemucca marks your halfway point through the northern part of the state. With plenty of lodging and dining options, it certainly checks the box for a road trip waypoint. But there's a lot more to do than fill your cup here. On your way into town, stop by Safe Haven Wildlife Sanctuary. This incredible property houses rescued animals of all shapes and sizes, from black bears to bobcats. Then, stop at Thunder Mountain Monument, where an eccentric visionary known as Chief Thunder spent years crafting this quirky destination that is hard to put into words. You'll just have to see it for yourself!
Meet the animals: Safe Haven Wildlife Sanctuary
Do not miss: Thunder Mountain Monument
Go back in time: Humboldt Museum
Sample Basque dining: Bakarra Basque Bistro
ELKO, NV
Travel Time: 1 hour 47 min – 124 miles / 200 km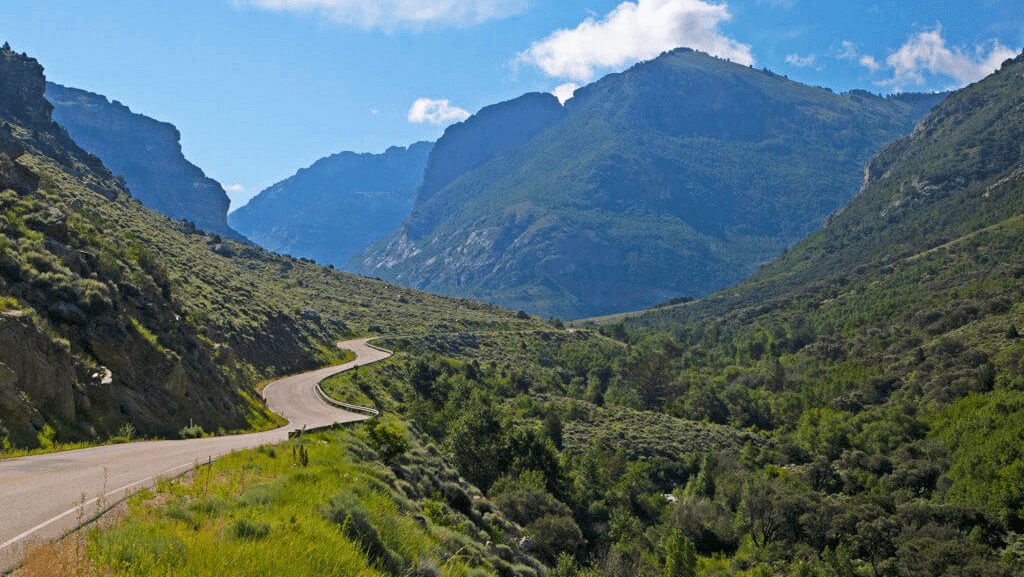 The largest town in Northern Nevada, Elko is a must-see on your route east. If you get lucky, your trip might coincide with one of Elko's flagship events, like the National Cowboy Poetry Gathering, the National Basque Festival, or the Silver State Stampede—the oldest rodeo in Nevada. But if you're visiting during a quieter time, there is still plenty to do. Spend the morning hunting for dozens of colorful murals, or swing by the local world-famous saddle maker's shop to get a sense of Elko's living western legacy.
Learn about the gold rush: California Trail Interpretive Center
Entertain the kids: Northeastern Nevada Museum
Explore outdoors: Lamoille Canyon
Hear the voice of the American West: Western Folklife Center
WELLS, NV
Travel Time: 45 minutes – 50 miles / 80.5 km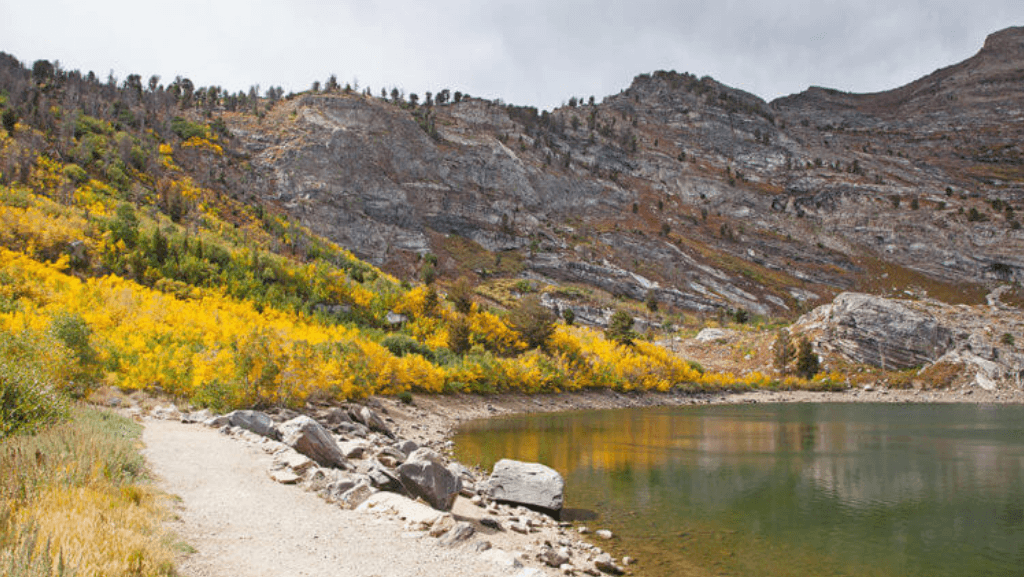 Your last official stop in Nevada, Wells is an old west town steeped in Native American and railroad history. In fact, human remains that date back 10,000 years have been found in the area! Wrap your head around all this history on a self-guided walking tour of the 1880s Wild West district. If you have time, consider going fishing at nearby Angel Lake, or meander through the ghost town of Metropolis. Afterwards, it's time to make a decision. Either head north directly to Jackpot, or take the long way to Salt Lake City. We'll rejoin in Twin Falls, Idaho, either way!
Get some fresh air: Angel Lake
Have a hearty bowl of Posole: Betaso's Restaurant
Keep a secret: 12 Mile Hot Springs
Best season to come back: Winter
Long Route ->
WEST WENDOVER, NV
Travel Time: 54 minutes – 58 miles / 93 km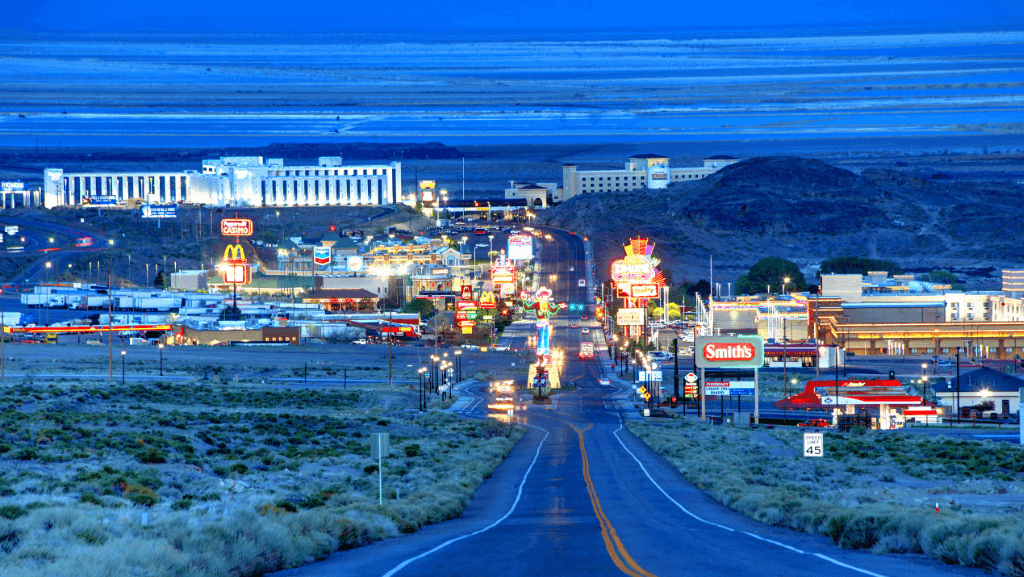 Located right on the edge of Utah's famous Bonneville Salt Flats, West Wendover, Nevada is a road tripper's dream. As you pull in, wave hello to Wendover Will—a giant neon cowboy greeting you on the edge of town. One look at his neon outline and you'll know you've arrived! Quench your thirst and rumbling tummies at one of the casinos in town before catching a show at the Peppermill Concert Hall. Or, catch up on some sleep before your outdoor adventures continue the following day.
Get a shot of adrenaline: Bonneville Salt Flats
Take a unique photo: at the Tree of Utah Sculpture
See the curvature of Earth: Horizon Viewpoint
Best event: Salty Lizard and Stupid Pony gravel grinder bike races
SALT LAKE CITY, UT
Travel Time: 1 hour 42 min. – 123 miles/198 km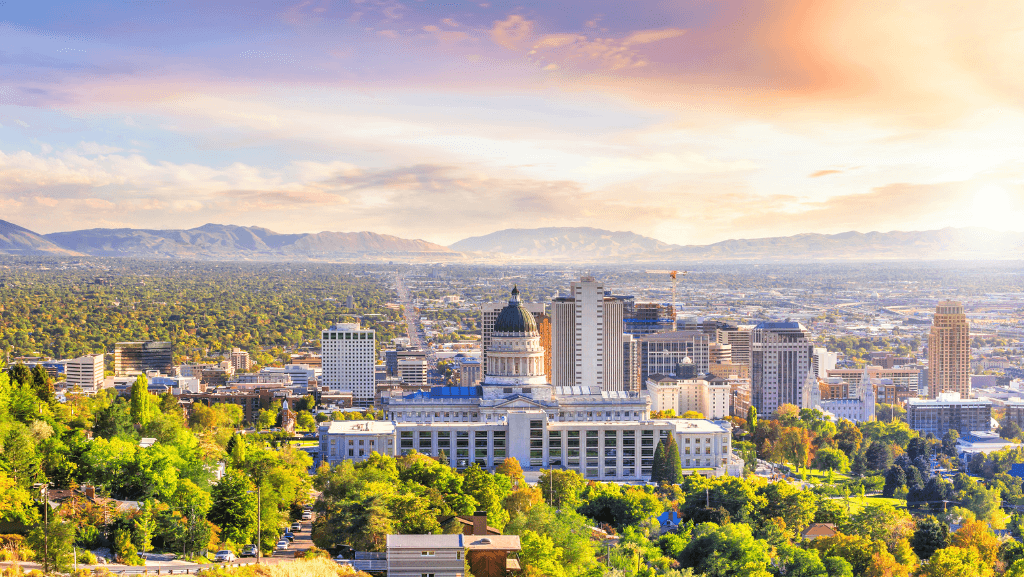 In comparison to the wild west towns you've been exploring on the Cowboy Corridor, arriving in Salt Lake City may feel like you've landed on another planet. But for a big city, Salt Lake is actually quite approachable. Plus, with the towering Wasach Mountains not ten miles from downtown, it feels almost like a mountain town. Spend your time enjoying the shopping and dining that the city has to offer while indulging in a few outdoor pursuits as well.
See where the bison roam: Antelope Island State Park
Best place to spend the afternoon: Crystal Hot Springs
Refresh your wardrobe: City Creek Center
Take a hike: On miles of local trails
Short Route ->
JACKPOT, NV
Travel Time: 1 hour 42 min. – 117 miles / 188 km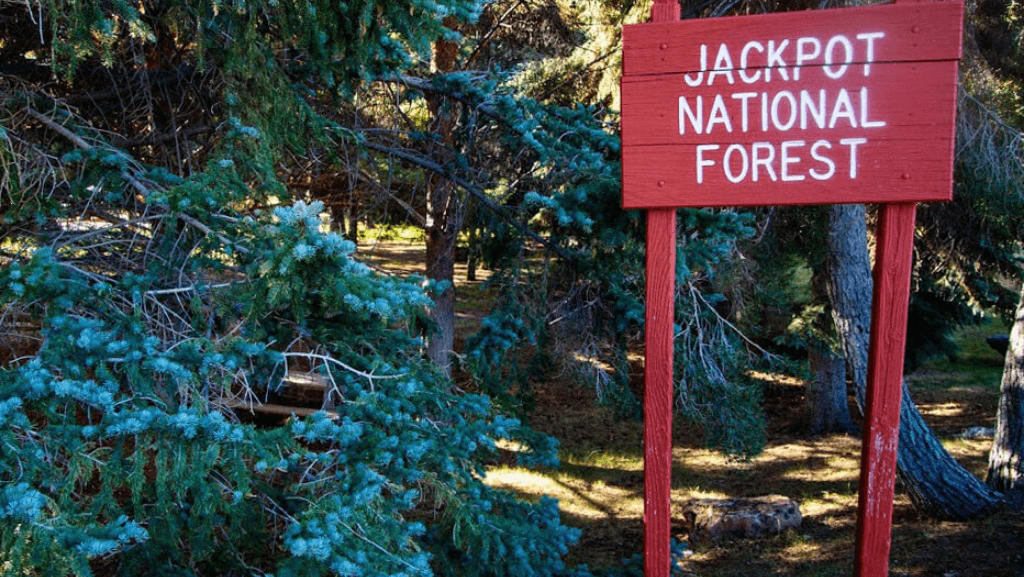 Perhaps the most aptly-named town in all of Nevada, Jackpot does not disappoint! Travelers who enjoy rolling the dice will find no shortage of places to spend their money within city limits. Because Jackpot receives so many visitors from the neighboring state of Idaho, they actually set their clock to Mountain Time to accommodate northern friends. But if the neon lights don't beckon to you, head to Jarbidge Wilderness Area. It is one of the most unexpected delights of Northern Nevada.
Where to play golf: Jackpot Golf Club
Best day hike: Jarbidge River Trail
Soak your muscles: 12 Mile Hot Springs
Win big: Cactus Petes
TWIN FALLS, ID
Travel Time From Jackpot: 49 minutes – 47 miles / 76 km Travel Time From Salt Lake City: 3 hours 9 min. – 218 miles / 351 km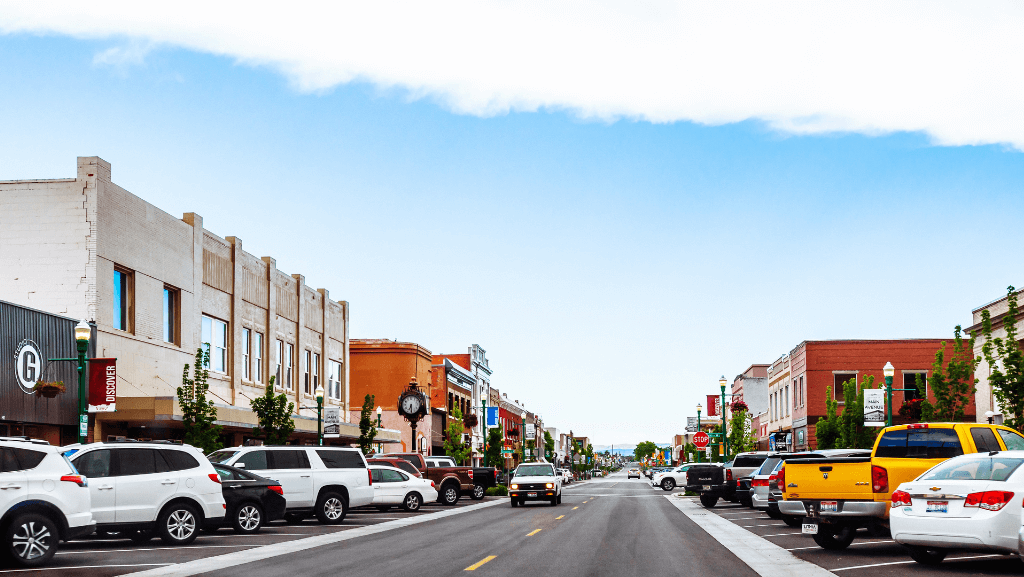 Our two options rejoin in the bustling hub of Twin Falls, Idaho. Not only is this a fantastic place to refuel after your adventures in more remote parts of the country, but it has a lot to offer in terms of recreation. In fact, you don't have to do more than pull into town to see what we mean! Head directly to Perrine Bridge, where on a nice day you're bound to see B.A.S.E. jumpers drifting effortlessly to the river's edge below.
Easiest access waterfall: Shoshone Falls
Best place to fill up your reserves: Magic Valley Farmers Market
Elevate your heart rate: Snake River Canyon Rim Trails
Enjoy local flavor: Von Scheidt Brewing Company
BUTTE CITY, ID
Travel Time: 2 hours 4 min. – 113 miles / 182 km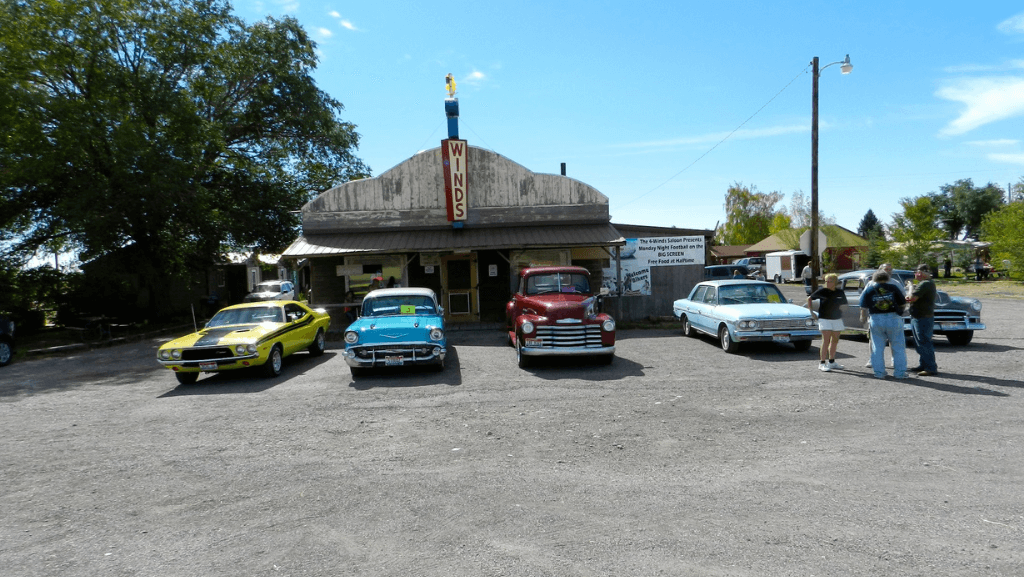 Your next stop is Craters of the Moon National Monument and Preserve, located just before Butte City, Idaho. This stunning wilderness destination seems to come out of nowhere, and the miles and miles of black lava streaming past the side of the highway are truly something to behold. Stop at the visitor center to grab a map and a trail suggestion; there are plenty of ways to explore depending on your available time. There's a bonus if you can stay past sunset, as this is a designated International Dark Sky Park!
Best short hike: Broken Top Loop
Don't miss: Exploring a cave
See what's on tap: 4 Winds Saloon and Roadhouse
GREEN CANYON HOT SPRINGS, ID
Travel Time: 1 hour 51 min. – 115 miles/185 km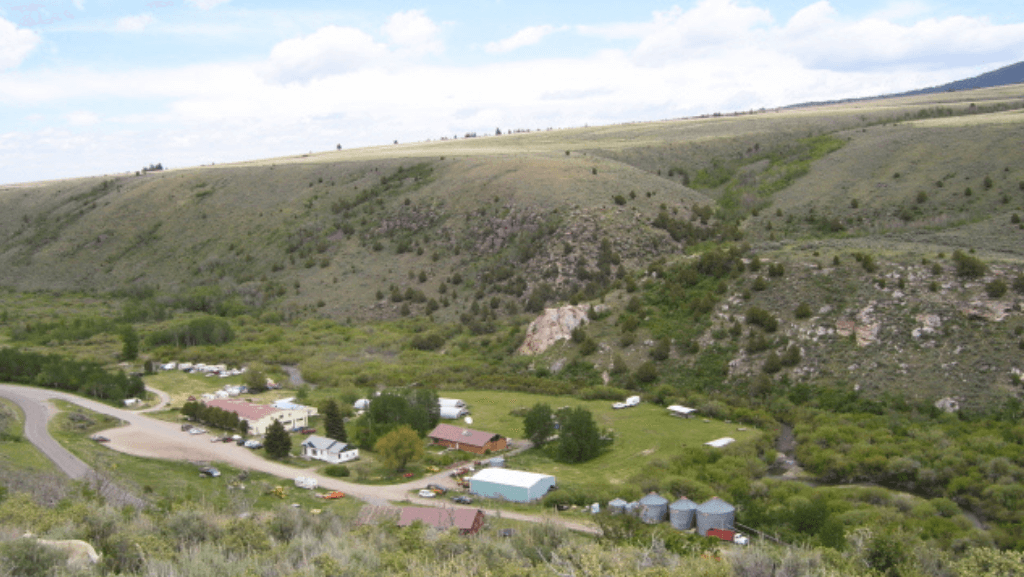 Next up, is a different type of watering hole: Green Canyon Hot Springs. Unlike some of Idaho's more remote and rugged hot springs (which are also worth a visit), Green Canyon offers just the right amount of ease for a road trip pit stop—, particularly for those with restless leg syndrome! This hot spring more closely resembles a huge indoor pool than what you might expect. Whether you choose to rest or get some laps in, you'll benefit from the natural healing powers of the geothermal water that has drawn visitors throughout history, dating back to long before there was a roof overhead.
Best way to stay Zen: Spend the night
Reading material: History of the hot springs
WEST YELLOWSTONE, MT
Travel Time: 1 hour 33 min. – 87.5 miles / 141 km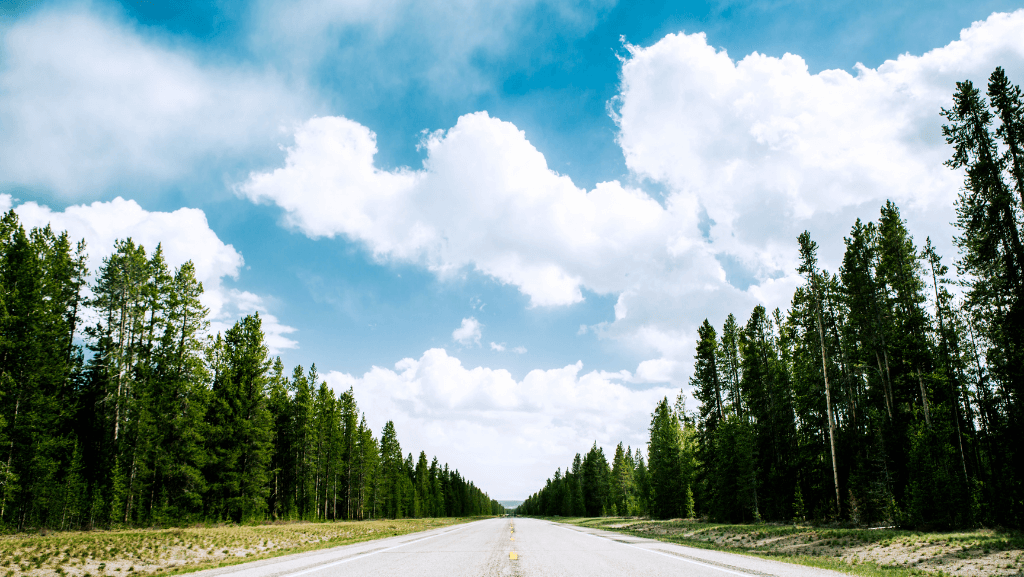 Your last scheduled stop in a town, West Yellowstone, Montana is a gateway to Yellowstone National Park—the grand finale to your adventure. This small town is a true wilderness area, hemmed in by three national forests, the stunning Hebgen Lake to the north, and just to the east, Wyoming's astonishing vastness. Take advantage of what West Yellowstone has to offer before crossing the state line
Travel back in time: Museum of the Yellowstone
Have a (safe) wildlife encounter: Grizzly and Wolf Discovery Center
Satisfy your cravings: The Buffalo Bar
Treat yourself to a good night's sleep: 1872 Inn
YELLOWSTONE NATIONAL PARK, WY
Travel Time: 1 hour 21 minutes – 53 miles / 85 km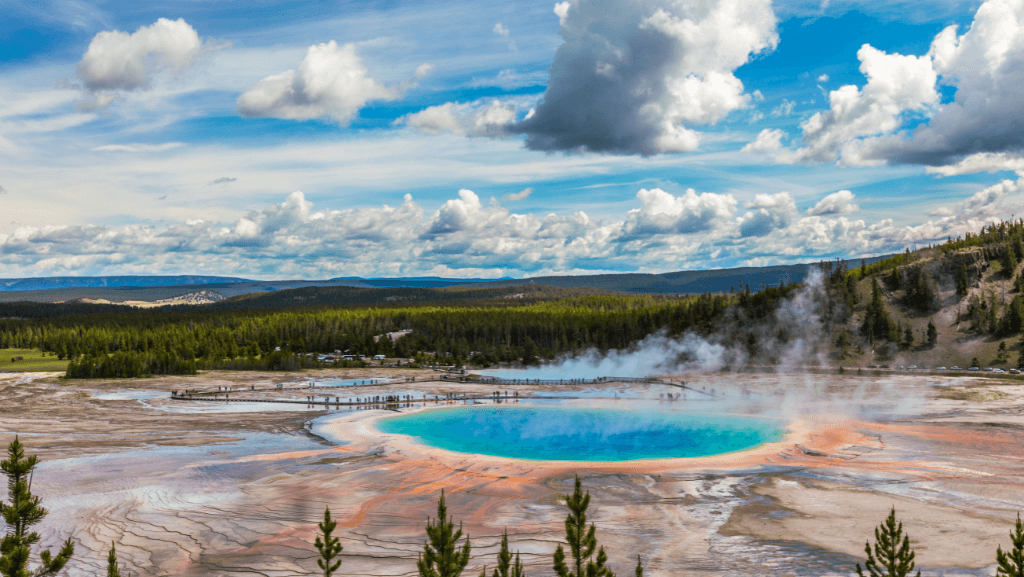 Somewhere around 1,188 miles later, you'll purchase a ticket at the entry gate to Yellowstone National Park, your final destination! Wave to the ranger as she hands you your receipt and get ready for the experience of a lifetime. The nation's first official national park, Yellowstone is known for its huge size and larger-than-life critters, including bison, wolves, moose, and gigantic herds of elk. There are smaller animals too, and plenty of them: antelope, fox, deer…even river otters! Look to the skies and you'll find eagles, turkey vultures, and hawks galore. You could spend an entire week driving the many roads of Yellowstone and experiencing its delights and surprises. We sure wouldn't blame you for wanting to extend your stay!
Most iconic spot for a photo: Old Faithful
See the park by bike: Take a guided ride
Drink local: Map Room Bar
Don't miss: Wildlife viewing in the Lamar Valley