Classic Itinerary
Rural Nevada Loop Road Trip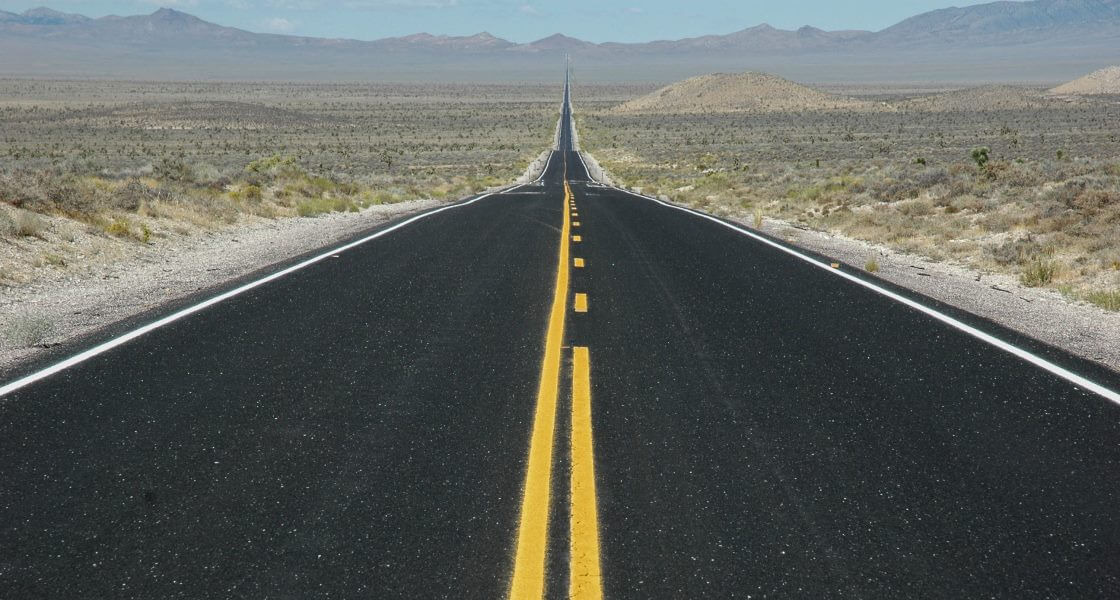 Rural Nevada Loop Road Trip
This rural Nevada loop road trip will show you why Nevada might just be the most underrated state in the country! From outdoor adventures in the diverse desert to the mountainous lakes, there is such a wide variety of places to see and activities to experience along this wild route.

STATES: Nevada, California
START/END: Carson City
TOTAL MILES: About 1,375 miles (2,212 km)
SUGGESTED DAYS: 21-30
SUGGESTED SEASON: Year-round (mid-summer can be very hot)
Nevada Road Trip Overview
This loop route begins and ends in Carson City, Nevada. While there is a smaller regional airport in Carson City, we recommend flying into Reno-Tahoe International Airport. The first one-third of this route follows Highway 50, which was described as "The Loneliest Road in America" by LIFE Magazine in 1986. They warned readers not to risk traveling off the main highway unless they had "survival skills." So, grab your copy of the Nevada Highway 50 Survival Guide and see how far you'll survive on your vacation of hiking, mountain biking, hot springing, horseback riding, sandboarding, camping, saloon-hopping, offroading, and stargazing—sounds deadly, right?
PREPARATION
Other than your "survival guide," travelers should be prepared with a working GPS or physical map, as you should on any road trip. In some areas of the route, like closer to Lake Tahoe, travelers could expect some winter road closures that could extend into the spring season. Whichever season you plan to visit, make sure you're prepared with the proper clothes and gear—sun hats, sunscreen, sunglasses, and plenty of water in the summer; boots, warmer clothes, and a warm sleeping bag in the winter.
CARSON CITY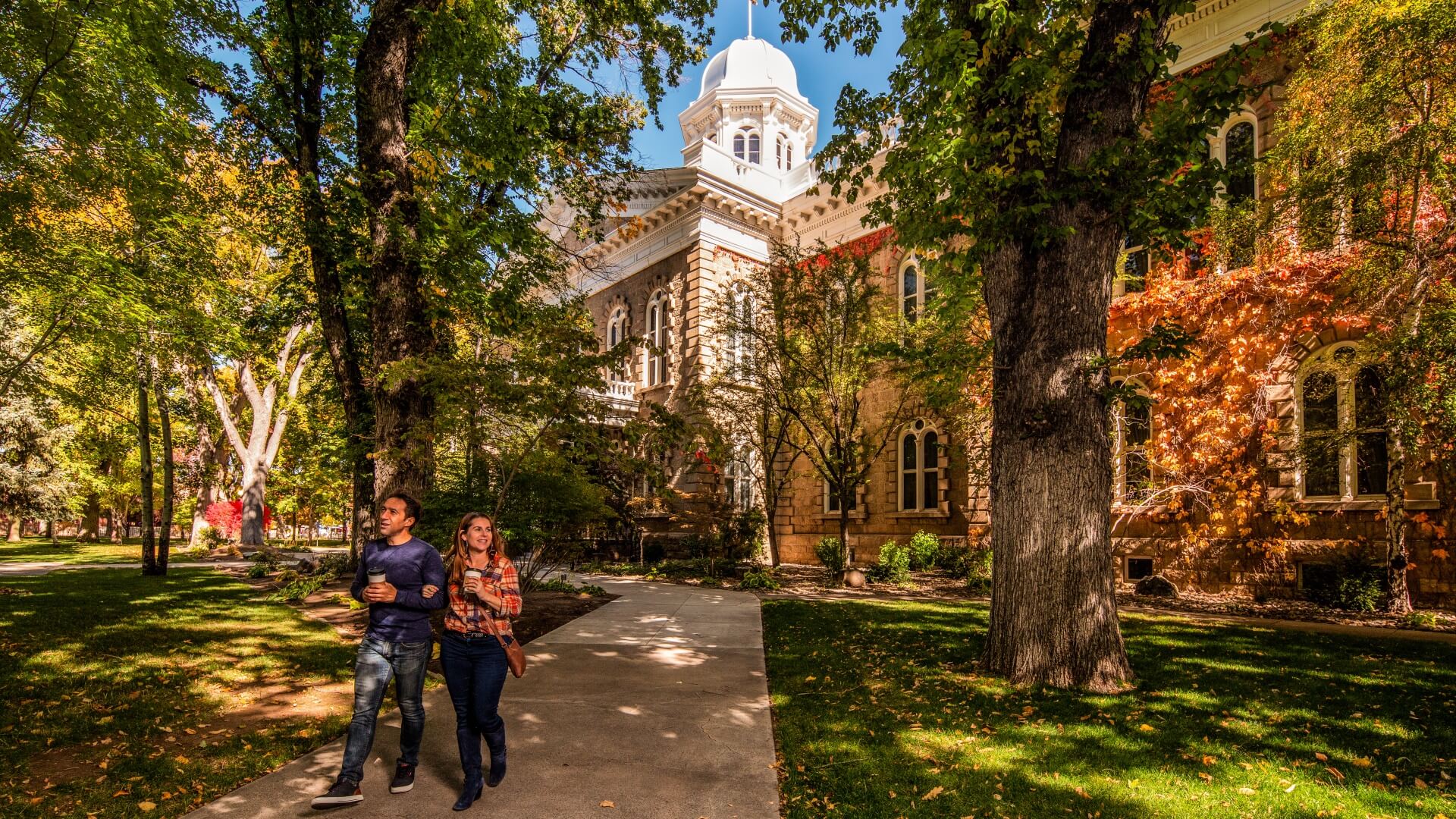 Just 30 minutes outside of Carson City is Reno-Tahoe International Airport, where we suggest flying in to. Start your road trip in Carson City, the capital of Nevada. With an average of 265 days of sunshine a year and mild weather year-round, Carson City is a good place for folks to enjoy the outdoors, whether that be in the park or the mountains.
Most unique place to shop: The Purple Avocado
Best place for dinner: The Union
Most relaxing experience: Carson Hot Springs
Best experience for the whole family: Nevada State Railroad Museum
VIRGINIA CITY
Travel Time: 30 min. – 15 miles / 24 km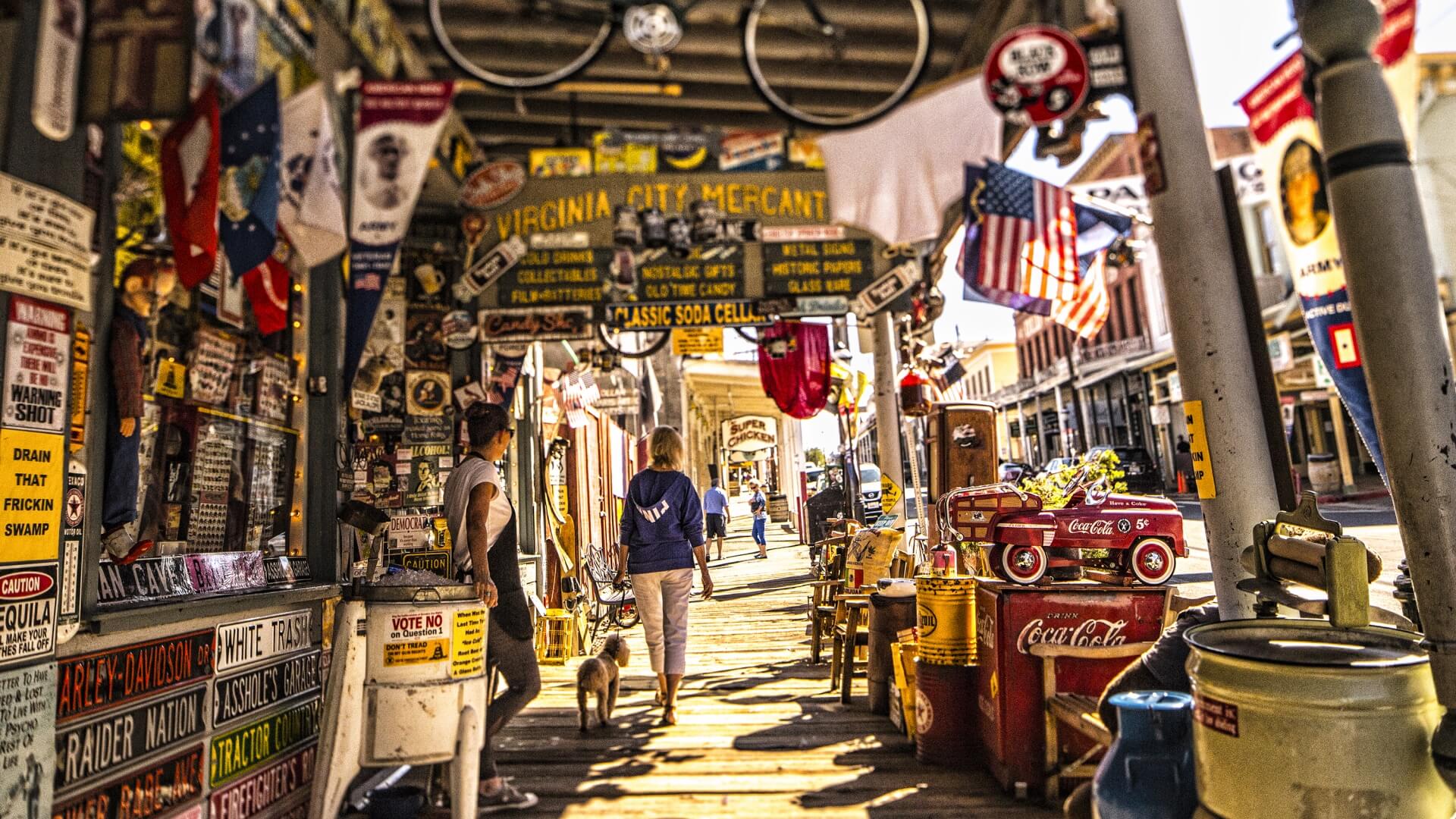 It's a short detour off the highway getting to Virginia City on your way to Fallon, and so worth it! Virginia City is a town of under 1,000 people, known for its Victorian buildings that were built during the 19th-century mining boom. Enjoy the history of the town by picking up a Comstock Adventure Pass to access mine tours, old mansions, the railroad, museums, and more!
Best coffee and breakfast: The Roasting House
Most historic hotel: Tahoe House Hotel
Hidden gem restaurant: The Cider Factory
For the whole family: Virginia City Outlaws Outdoor Comedy Show
FALLON
Travel Time: 1 hour – 53 miles / 85 km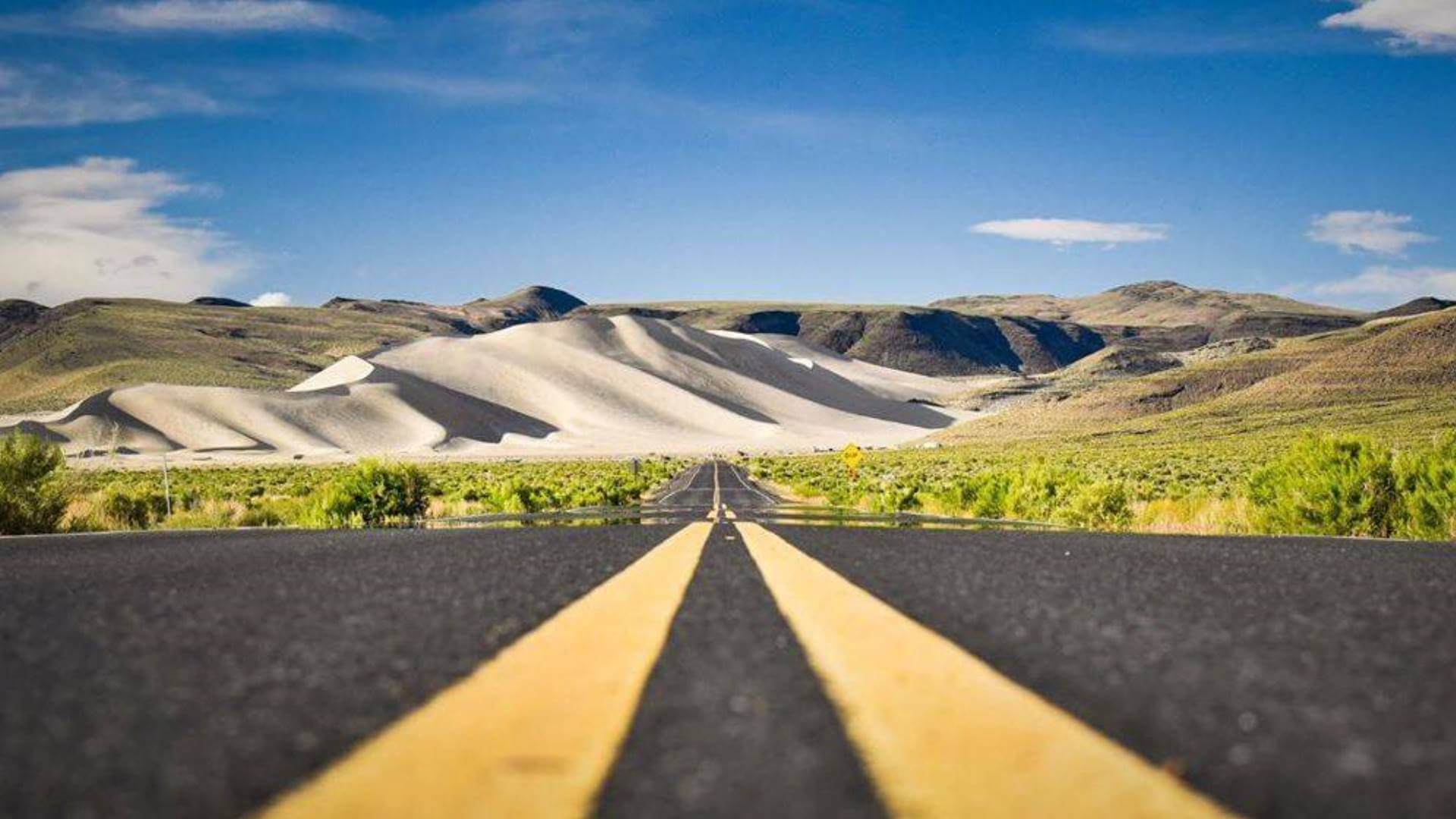 Continue East on Highway 50 towards Fallon, a quaint town surrounded by wide open spaces, internationally known wetlands, state parks, and best of all—sand dunes! Sand Mountain Recreation Area is a popular destination for off-road vehicles, hikers, or folks "boarding" and "sailing" down the dunes.
Adults can't miss it: Frey Ranch Whiskey Farm and Distillery
Best place to take the kids: Hidden Cave at Grimes Point
Before you hit Fallon: Lake Lahontan State Recreation Area
For food: The Courtyard Cafe & Bakery
AUSTIN
Travel Time: 1 hour 45 min. – 111 miles / 179 km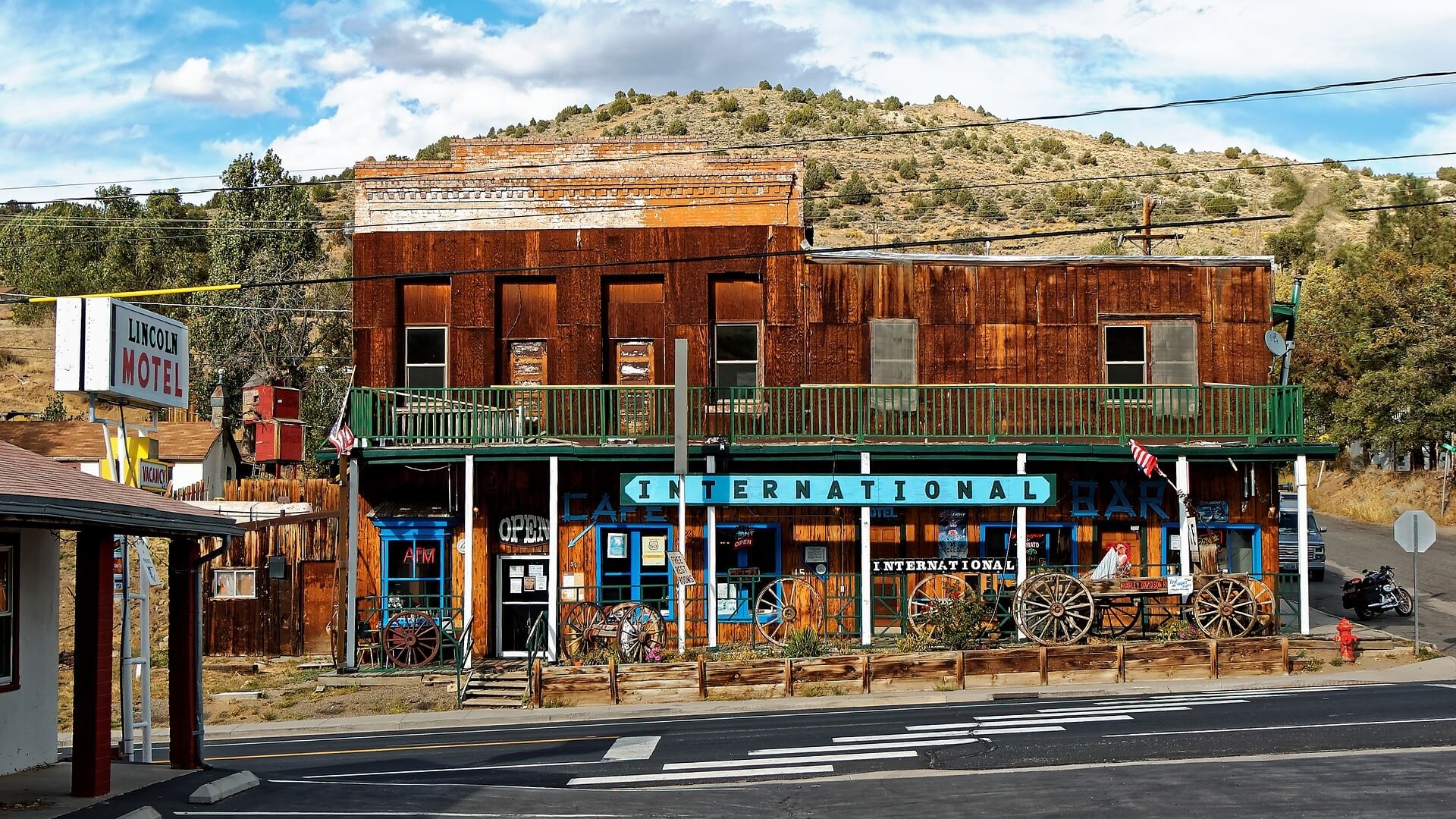 Austin is considered a "living ghost town," still home to a few hundred people and a good example of what an early Nevada mining town looked like. There's even a still-standing, three-story castle from 1897. If you're a fan of hot springs, pictographs in caves, old-timey bars, or western jewelry, you'll love this stop along the road trip.
If you love turquoise: Little Blue Bird Turquoise
Best "getaway" stay: Miles End Lodge Bed and Breakfast
"Best bar in the middle of nowhere": Lucky Spur Saloon
Most unique adventure: Hickison Petroglyphs
EUREKA
Travel Time: 1 hour 15 min. – 70 miles / 113 km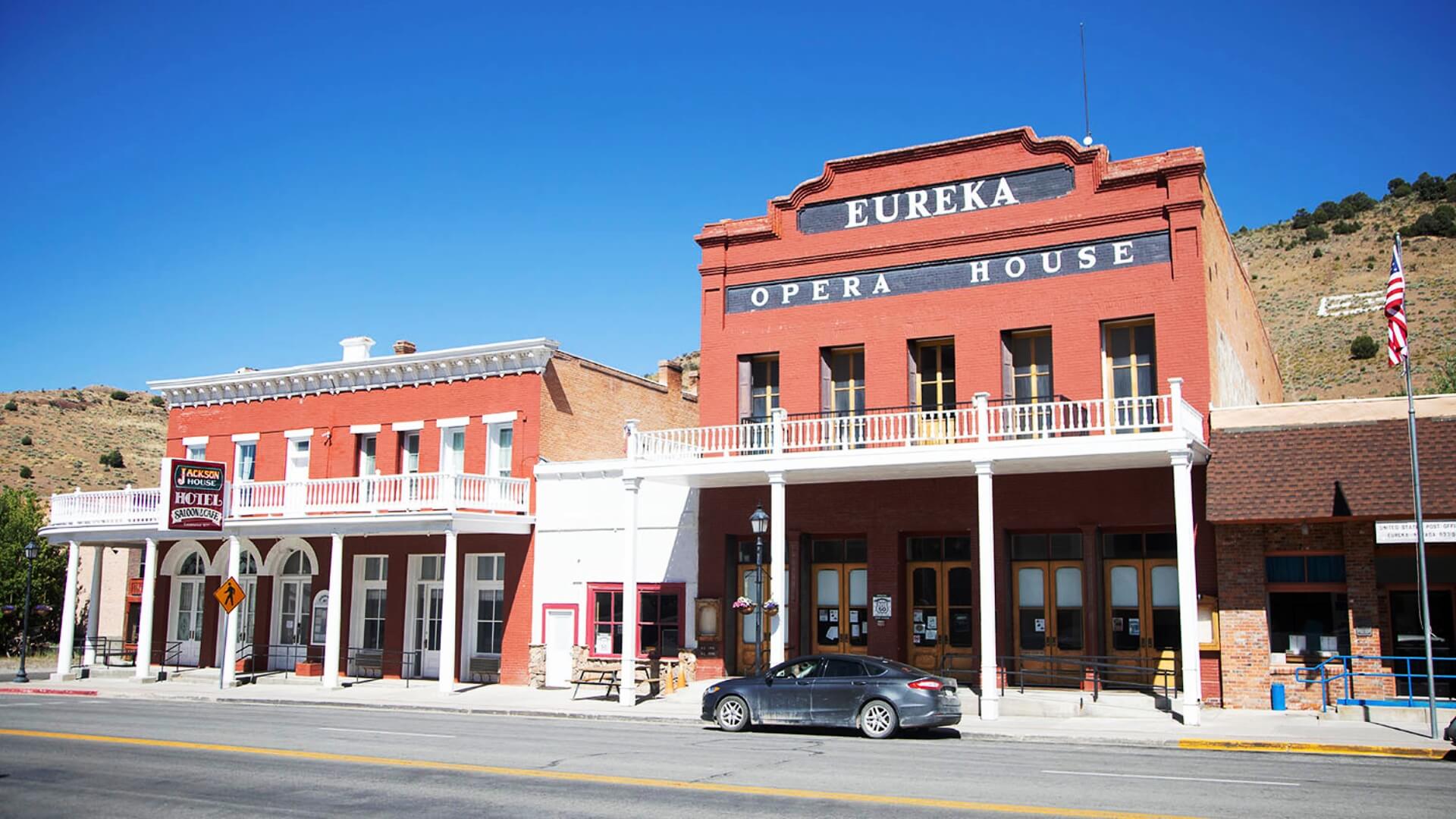 Known as the "friendliest town on the loneliest road," Eureka is situated at the base of the mountains with the cutest main strip through the center of town. Go back in time and explore the old Opera House that was built in the 1880s, or enjoy the public-land hiking and camping available close to town.
For the history buffs: Eureka Sentinel Museum
Best steak dinner: Owl Club Bar & Steakhouse
Best place to stay: Gold Country Inn
Most unique point of interest: Opera House
ELY
Travel Time: 1 hour 15 min. – 78 miles / 126 km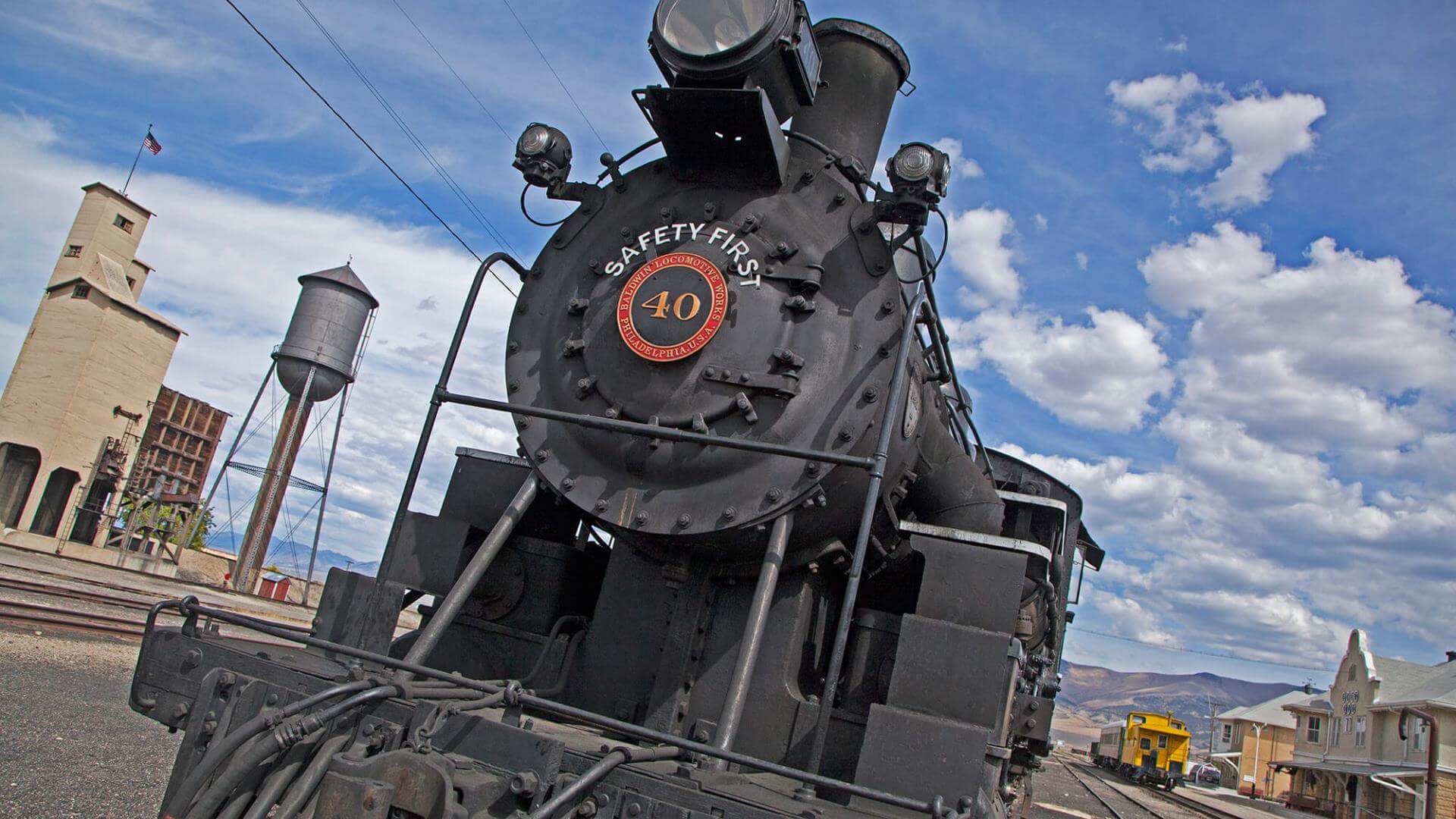 Ely, while just under 4,000 people, is the largest city in White Pine County. The town was founded as a stagecoach station along the Pony Express and Central Overland Route, then later had a mining boom. Today, the mountain town draws visitors from all over to take in the history and enjoy the mountains, sitting just an hour from Great Basin National Park.
Best place to get local art: Ely Art Bank
Most unique lodging: KOA Ely – Cabins, RV sites, tent sites
A must see: Ward Charcoal Ovens
Family fun: Ride the Nevada Northern Railway
GREAT BASIN NATIONAL PARK
Travel Time: 1 hour – 66 miles / 106 km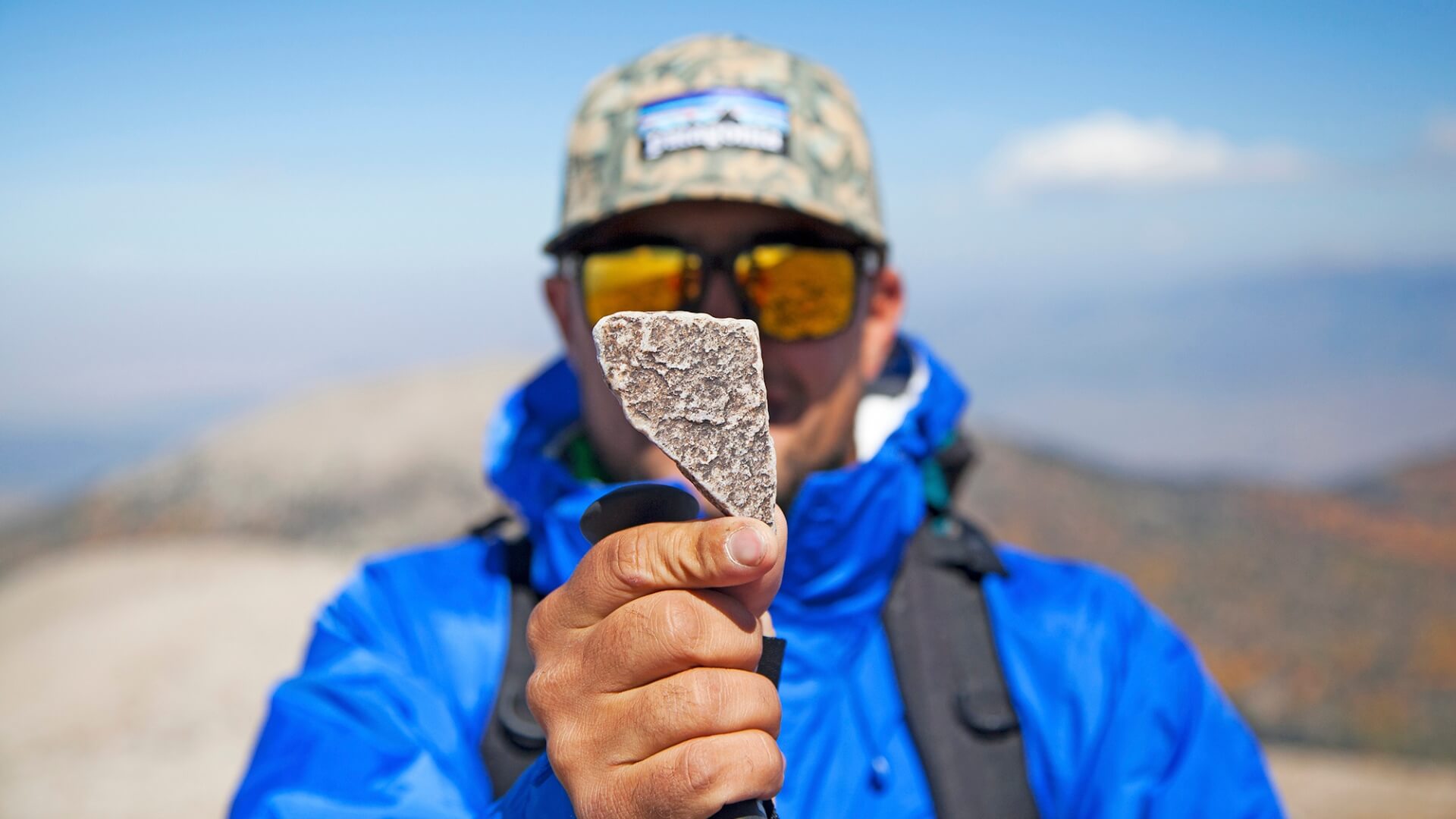 It's hard to believe that Great Basin National Park is one of the least visited national parks in the country, as it boasts such incredibly diverse and beautiful landscapes. Great Basin National Park has it all, whether you want to see the desert, the mountains, underground caves, birds, or fish. Some of the park's lower trails sit at around 6,000 feet, while the highest point in the park stands 13,060 feet above sea level. Summit the park's high point of Wheeler Peak or take a tour of Lehman Cave.
Best short hike: Alpine Lakes Loop Trail
Where to reserve a Lehman Cave Tour: Recreation.gov or Lehman Cave Visitors Center
A must-do: Stargazing in the park
Best camping: Upper Lehman Creek Campground
PIOCHE
Travel Time: 1 hour 45 min. – 120 miles / 193 km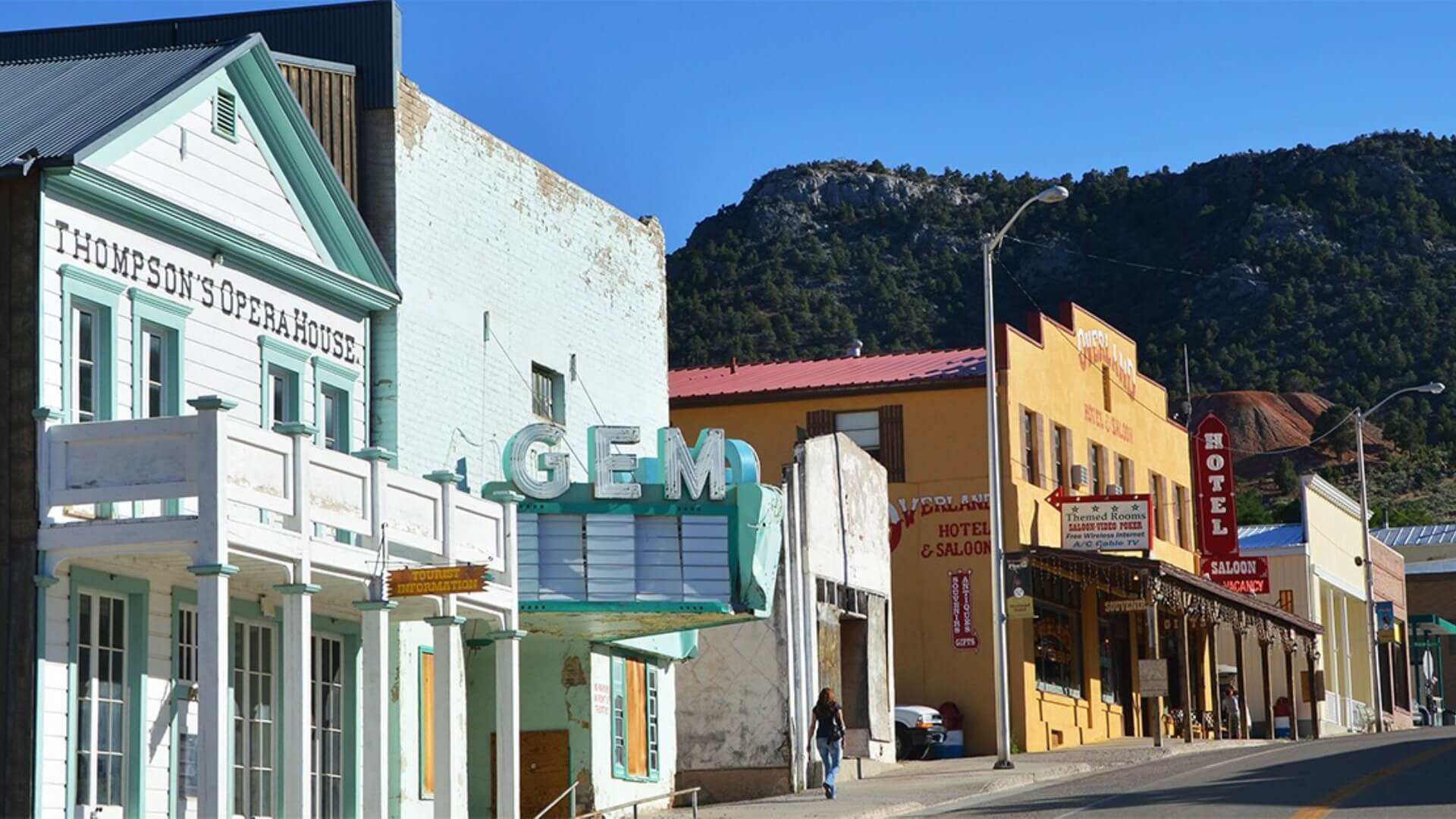 Some people call Pioche "Nevada's liveliest ghost town" and they're pretty spot on. The small town is located beside high desert mountains, just 12 miles from Cathedral Gorge State Park. Never been there before? Well, make sure to pack your camera, because this park has some amazing rock features that are waiting to be photographed!
Most photographic hike: Miller Point Trail in Cathedral Gorge State Park
Establishment over 100 years old: Silver Cafe
Most haunted hotel: Overland Hotel
Most unique attraction: Boot Hill
CRYSTAL SPRINGS
Travel Time: 1 hour 15 min. – 70 miles / 113 km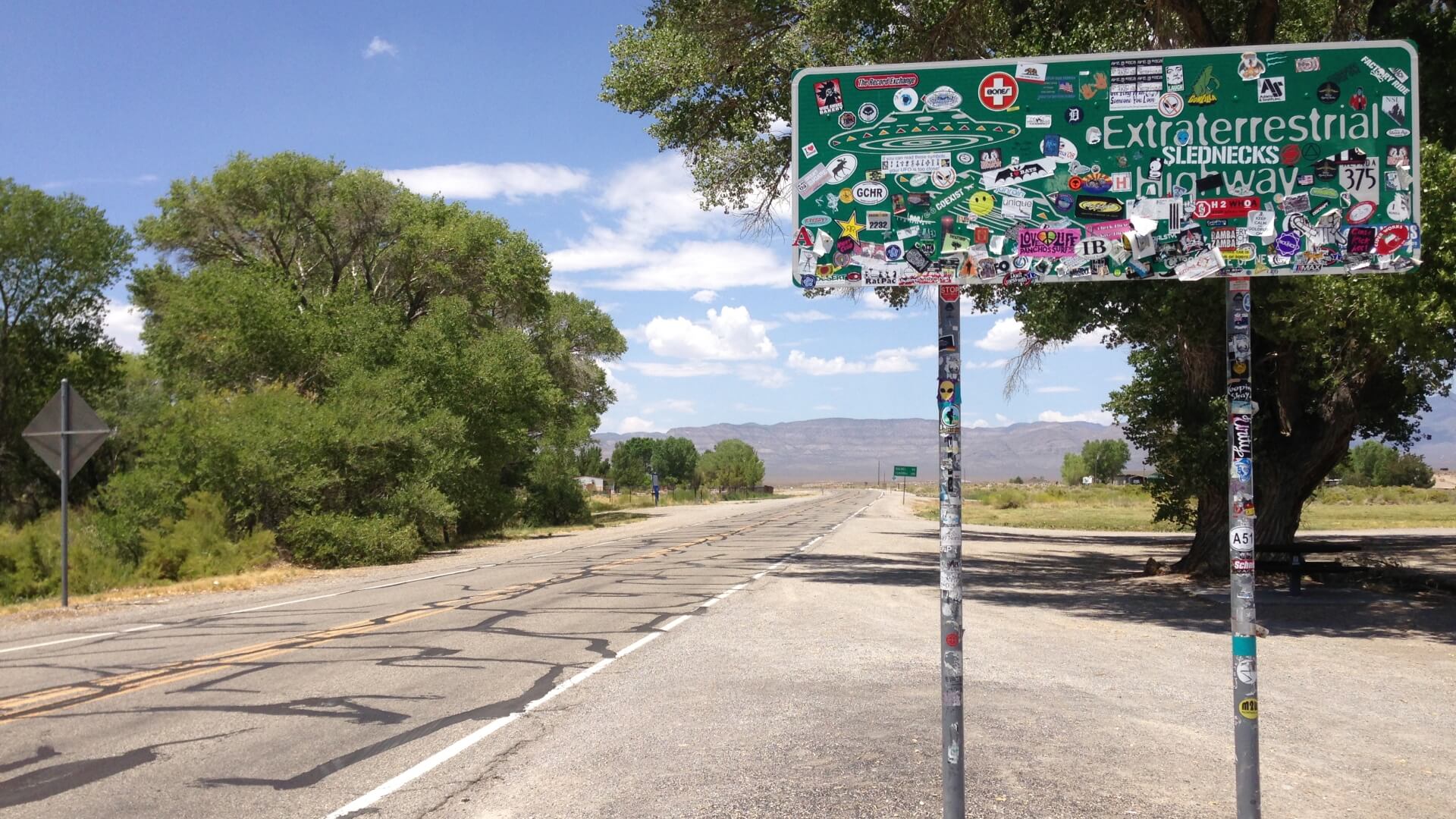 On your way down to Valley of Fire State Park, you'll drive through a ghost town called Crystal Springs. The town sits at the eastern end of Highway 375, popularly known as "Extraterrestrial Highway." The highway got its name because of an alien spacecraft mystery, multiple "UFO" sightings, and its proximity to Area 51—a highly classified government facility. Whether you want to look for signs of extraterrestrial life or not, we suggest at least getting a picture with the unique highway sign before heading south!
Best snacks: E.T. Fresh Jerky
Best gift shop: Alien Research Center
VALLEY OF FIRE
Travel Time: 2 hours – 108 miles / 174 km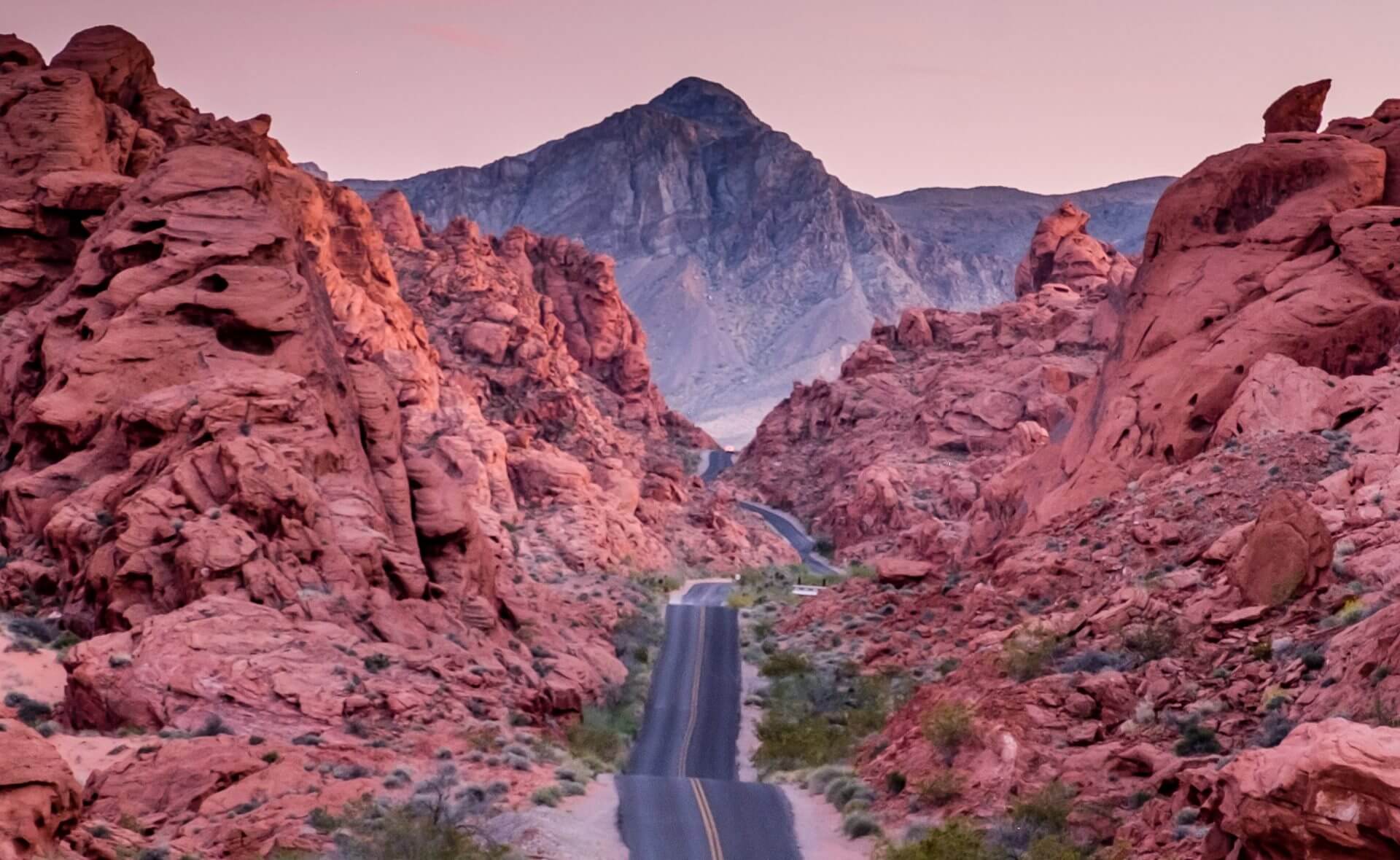 Just an hour outside of Las Vegas, Valley of Fire State Park is a popular destination for photographers, hikers, and archaeology-lovers. The park consists of 40,000 acres of red Aztec sandstone rock features with unique patterns, rock arches, petrified trees, and petroglyphs that are more than 2,000 years old. Drive through the park on the main road or stop and go for a hike to get a better view.
Best short hike: White Domes Hike
Best long hike: Prospect Trail
For the archaeology-lovers: Petroglyph Canyon Trail
A must-see: Fire Wave
LAKE MEAD
Travel Time: 1 hour – 37 miles / 60 km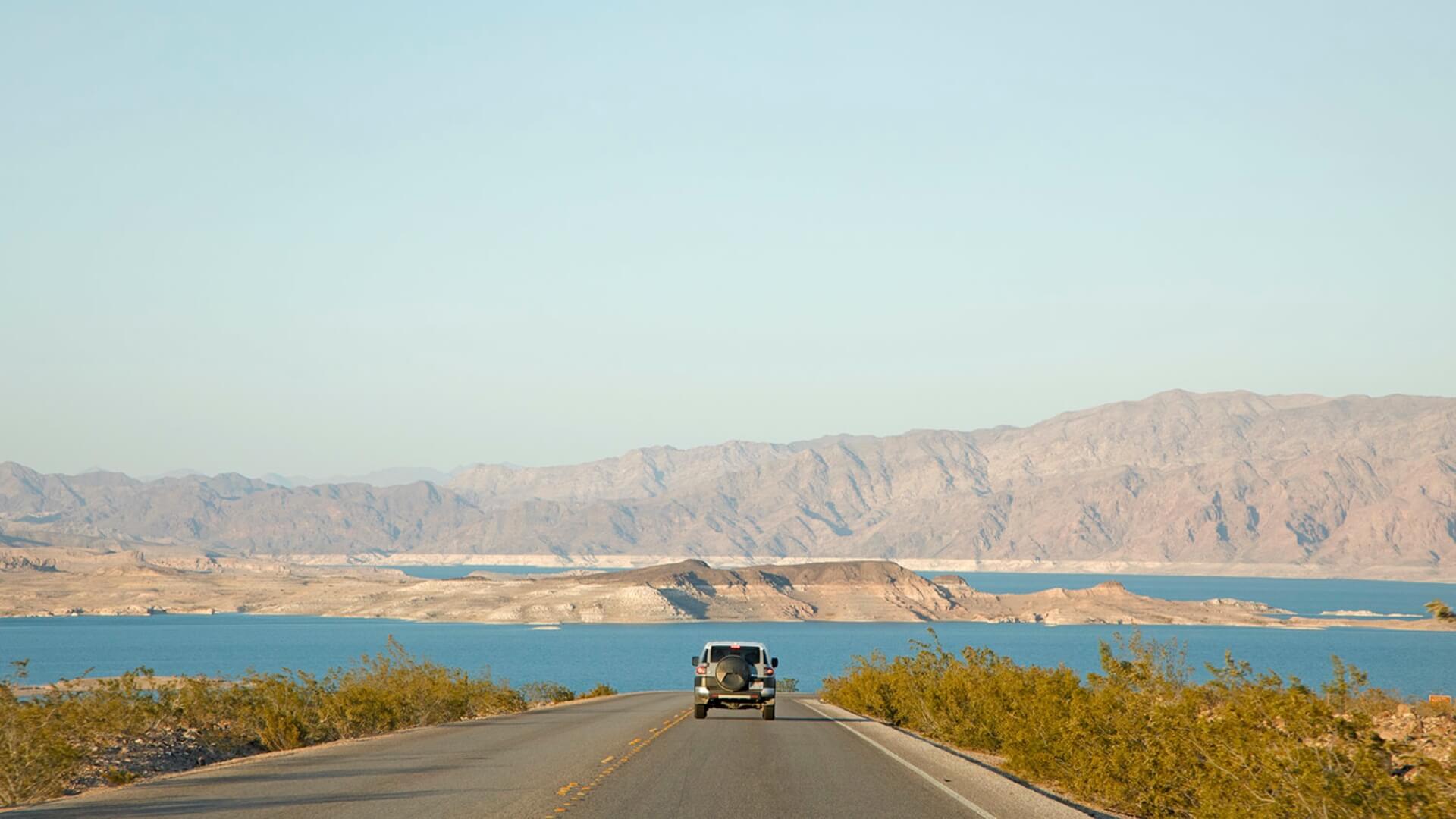 Lake Mead is located on the border of Nevada and Arizona, only 24 miles from the Las Vegas strip. It's the largest reservoir in the U.S. and became the country's first national recreation area in 1964. With bright red rocks surrounding Lake Mead, the scenic spot is a popular destination for boating, fishing, and swimming.
Don't forget: Bring your fishing gear!
For the whole family: Rent a canoe or kayak to go out on the water
Out-of-the-ordinary adventure: Horseback riding
Whole day adventure: Rent a boat
HOOVER DAM
Travel Time: 1 hour – 32 miles / 51 km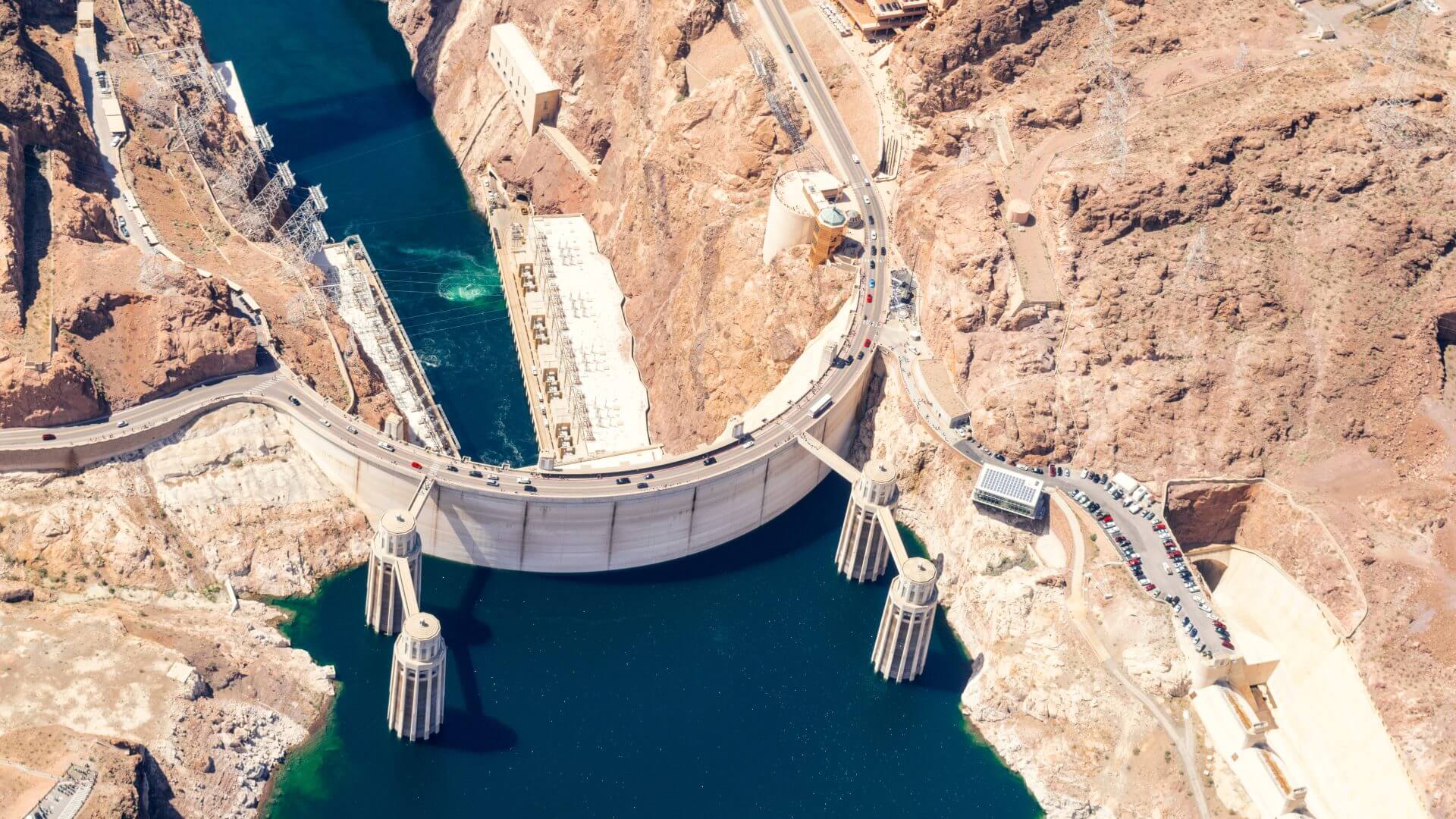 Hoover Dam is situated at the southwestern point of Lake Mead, where the reservoir turns back into the Colorado River via the dam. The impressively large dam was built in 1935 and was the largest dam in the world at the time. Being built during the Great Depression, the dam holds a lot of history. We recommend going on a tour to learn more.
Best tour of Hoover Dam: Guided Dam Tour (purchased on-site only)
Best spot for a picnic: Boulder Beach Campground
LAS VEGAS
Travel Time: 1 hour – 38 miles / 61 km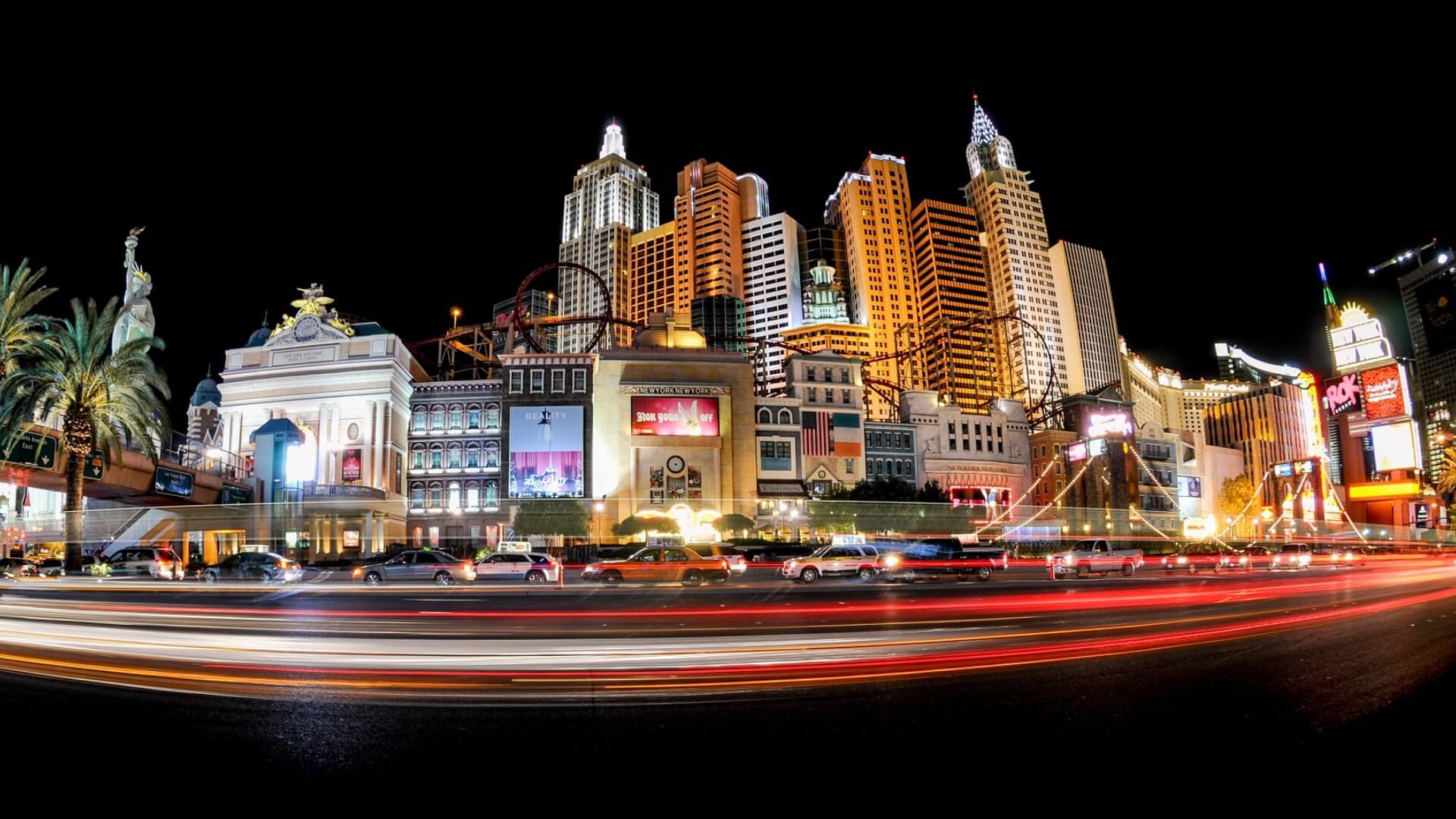 Viva Las Vegas! Spend some time in the big city to experience the slot machines, the Vegas Strip, or the famous buffets. After you've had your city-fix, step into the sunshine to go play in the red rocks and enjoy desert sunsets. Whatever you plan to experience here, Las Vegas is worth your time!
Where to go hiking: Mt. Charleston
Dinner with a view: The Strat
Best activity for the kids: Discovery Kids Museum
Best place to go swimming: The Beach at Mandalay Bay
BADWATER BASIN
Travel Time: 2 hours 30 min. – 155 miles / 250 km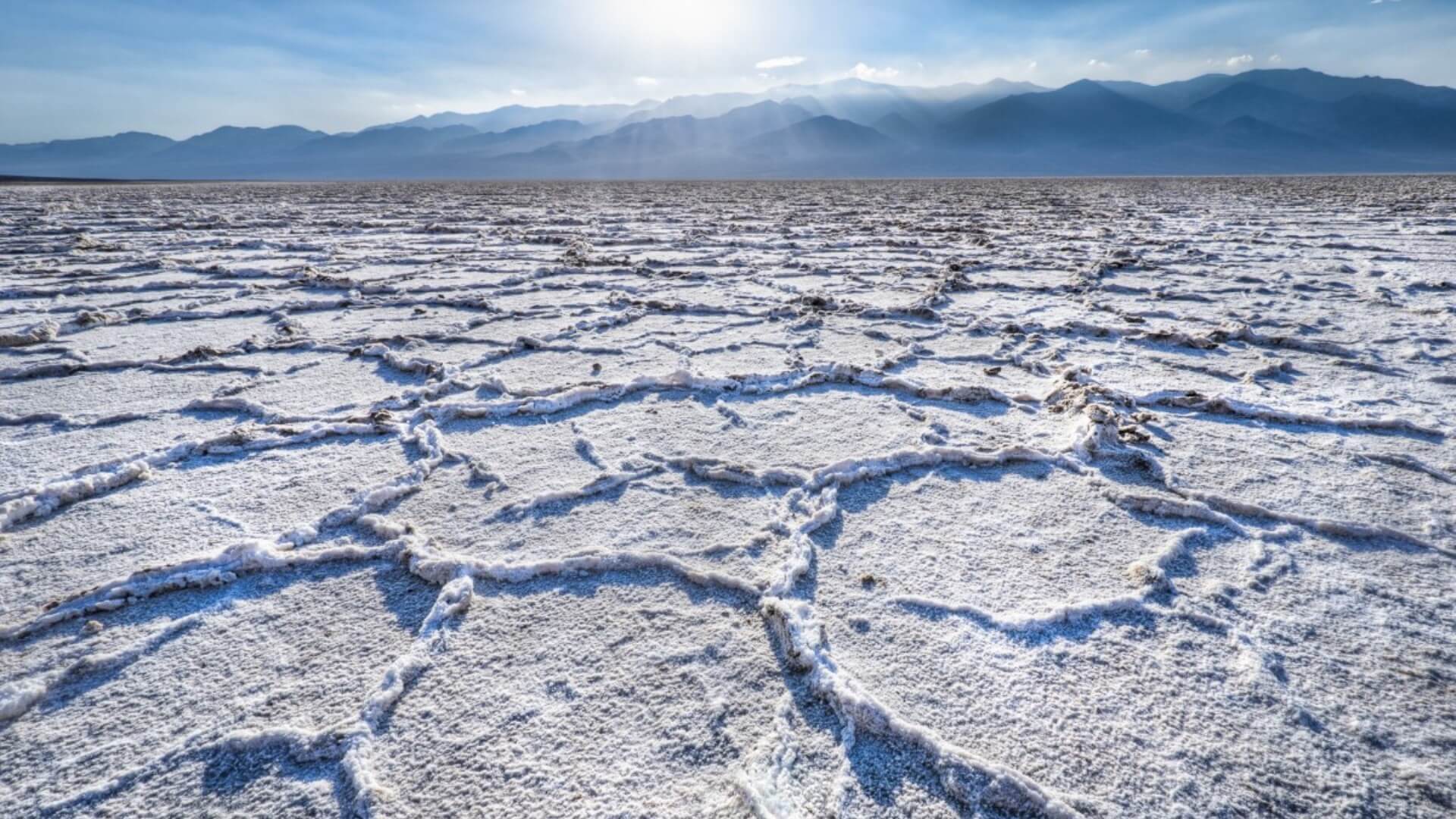 Ever hit rock bottom? Well, you're about to…literally. Badwater Basin in Death Valley National Park is the lowest point in North America. Briefly cross the state border into California to view this incredible landscape, where the basin sits 282 feet (86m) below sea level. For all of you photographers: the vast salt flats make great photographs—just shoot from a low angle!
On your way here, make sure to stop in Death Valley Junction and check out the still-operating Amargosa Opera House, a Spanish Colonial-style hotel and venue from the mid-1920s.
To learn more about the salt flats: Badwater Basin Salt Flats
Best day-hiking: Desolation Canyon
RHYOLITE
Travel Time: 1 hour – 53 miles / 85 km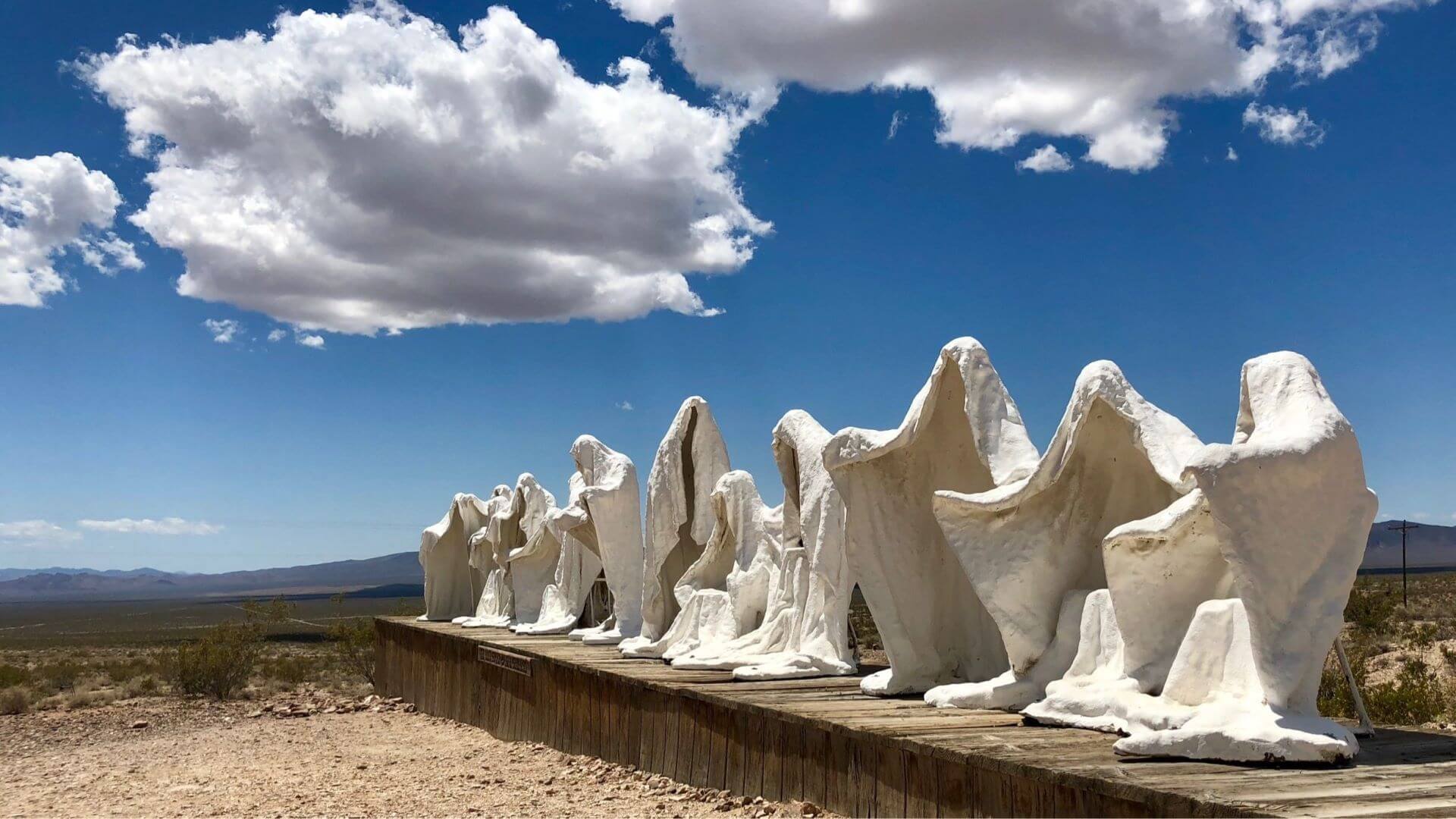 Rhyolite is a true ghost town where visitors can imagine a booming town that once was. In 1904 prospectors found quartz and gold in the area—that was the beginning of a town that didn't last very long. Hundreds of people moved the Rhyolite when the Montgomery Shoshone mine was established.
There was electricity in 1907, a bank, a three-story building, hotels, stores, a school, an ice plant, an ice cream parlor, and even a hospital. Later that year a financial panic happened and by 1911 the mine was closed. In 1916 electricity was turned off in town and that was the official end of Rhyolite. Visitors can still see old buildings and remnants of the glory days in town.
A must-see: Goldwell Open Air Museum
More info: What to See in Rhyolite
BEATTY
Travel Time: 10 minutes – 6 miles / 10 km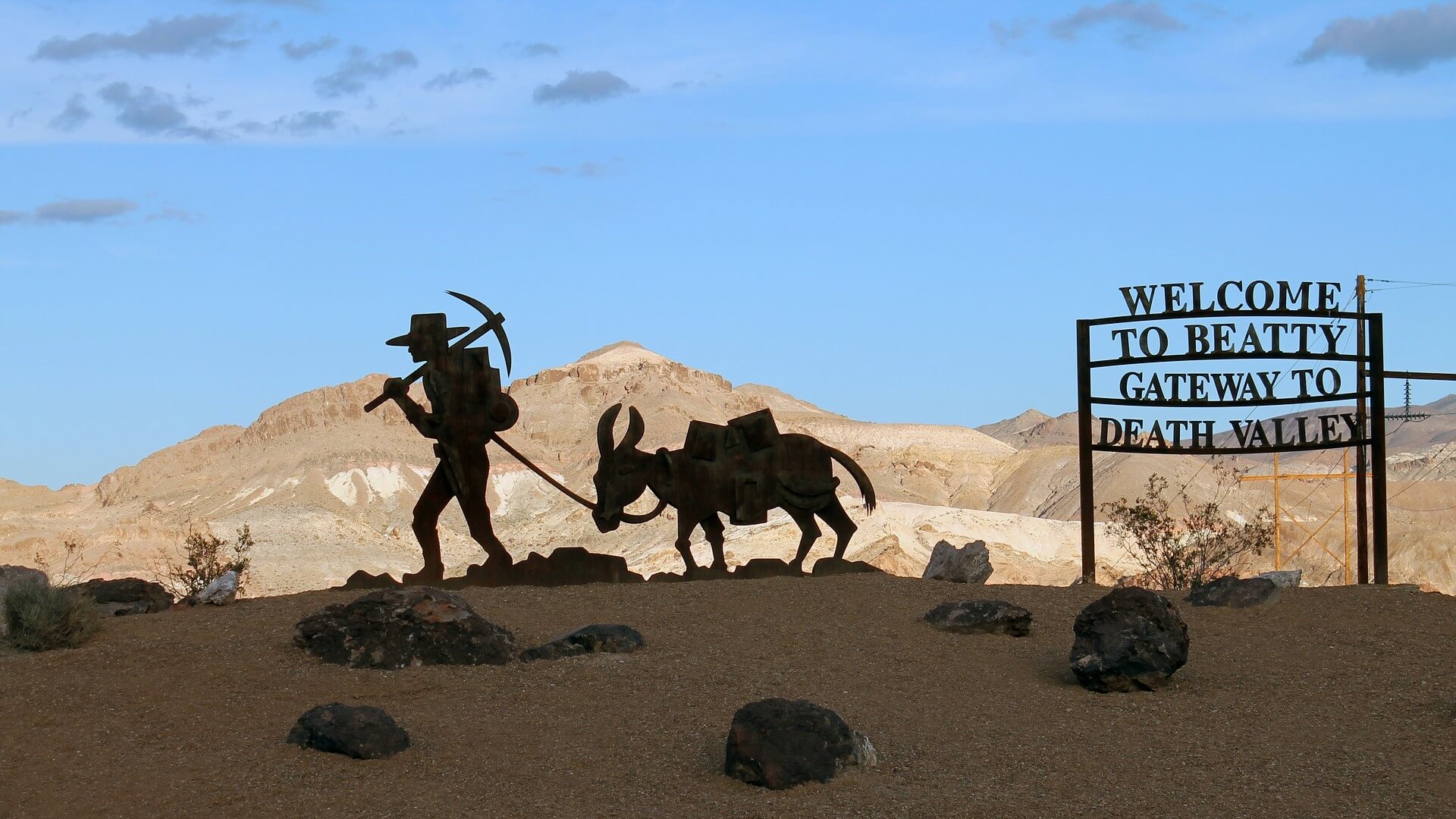 Just ten minutes from Rhyolite is the small town of Beatty. Beatty was a part of the same gold rush as Rhyolite, except that Beatty survived the years after the financial panic. Beatty is known as "The Gateway to Death Valley." Many of the buildings on Main Street are the same building that have been there since the beginning, so it's a really cool place to step back in time and enjoy the park, too.
Best place to stay: Death Valley Getaway Cabins
Most scenic drive: Titus Canyon
For the sweet-tooths: Sugar Mama's Ice Cream
If you haven't already: Visit the Goldwell Open Air Museum
GOLDFIELD
Travel Time: 1 hour – 67 miles / 108 km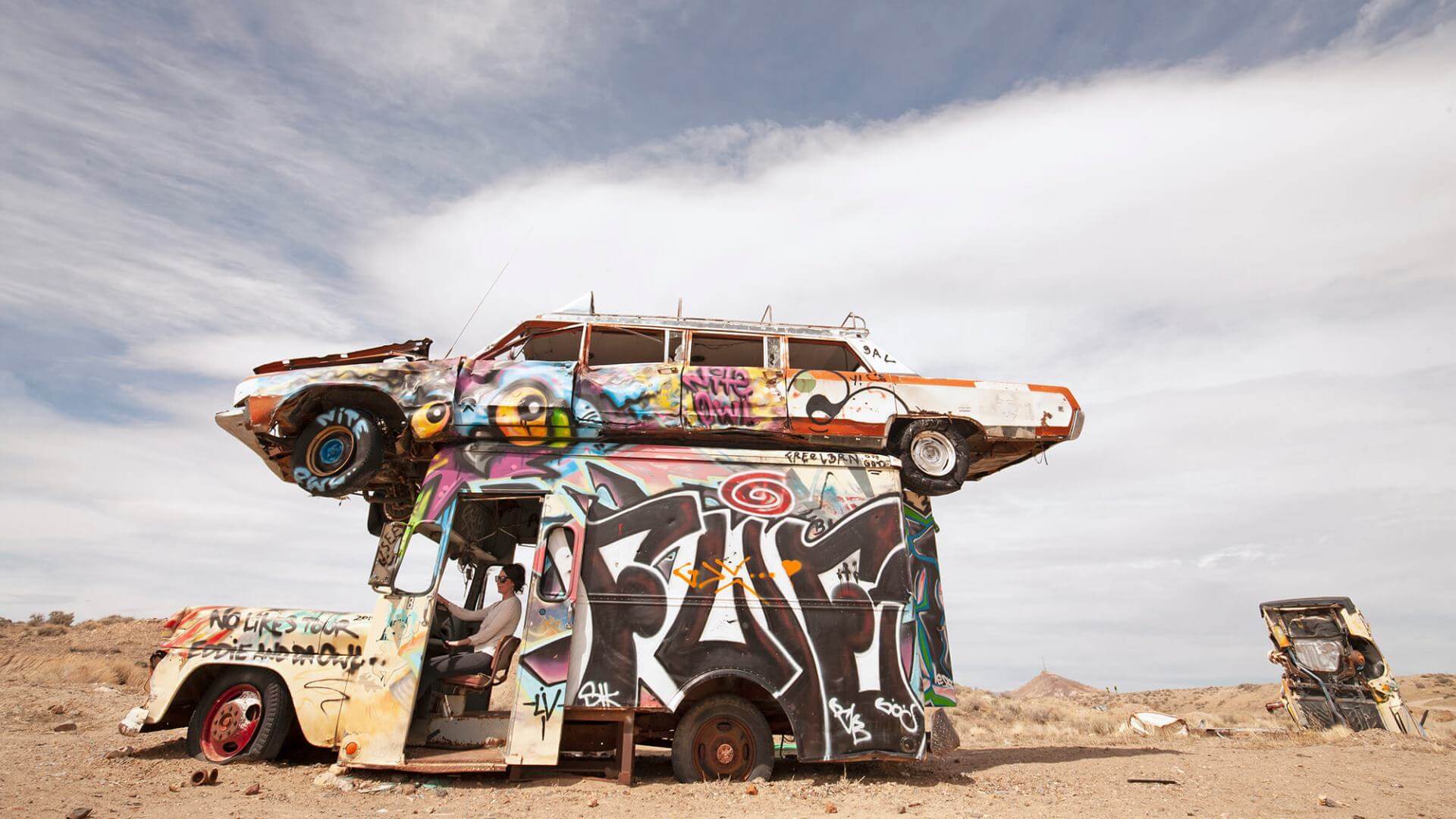 Once the largest, and possibly richest, town in Nevada, the town of Goldfield was given its name for good reason. In the height of the town's boom, Goldfield was home to about 30,000 people and yielded $86 million in gold. Now, less than 200 people reside there, among all the fascinating history left behind.
Strangest point of interest: International Car Forest
Oldest continually operating business in Goldfield: Santa Fe Motel & Saloon
Most historical point of interest: The Florence Mine
TONOPAH
Travel Time: 30 minutes – 27 miles / 43 km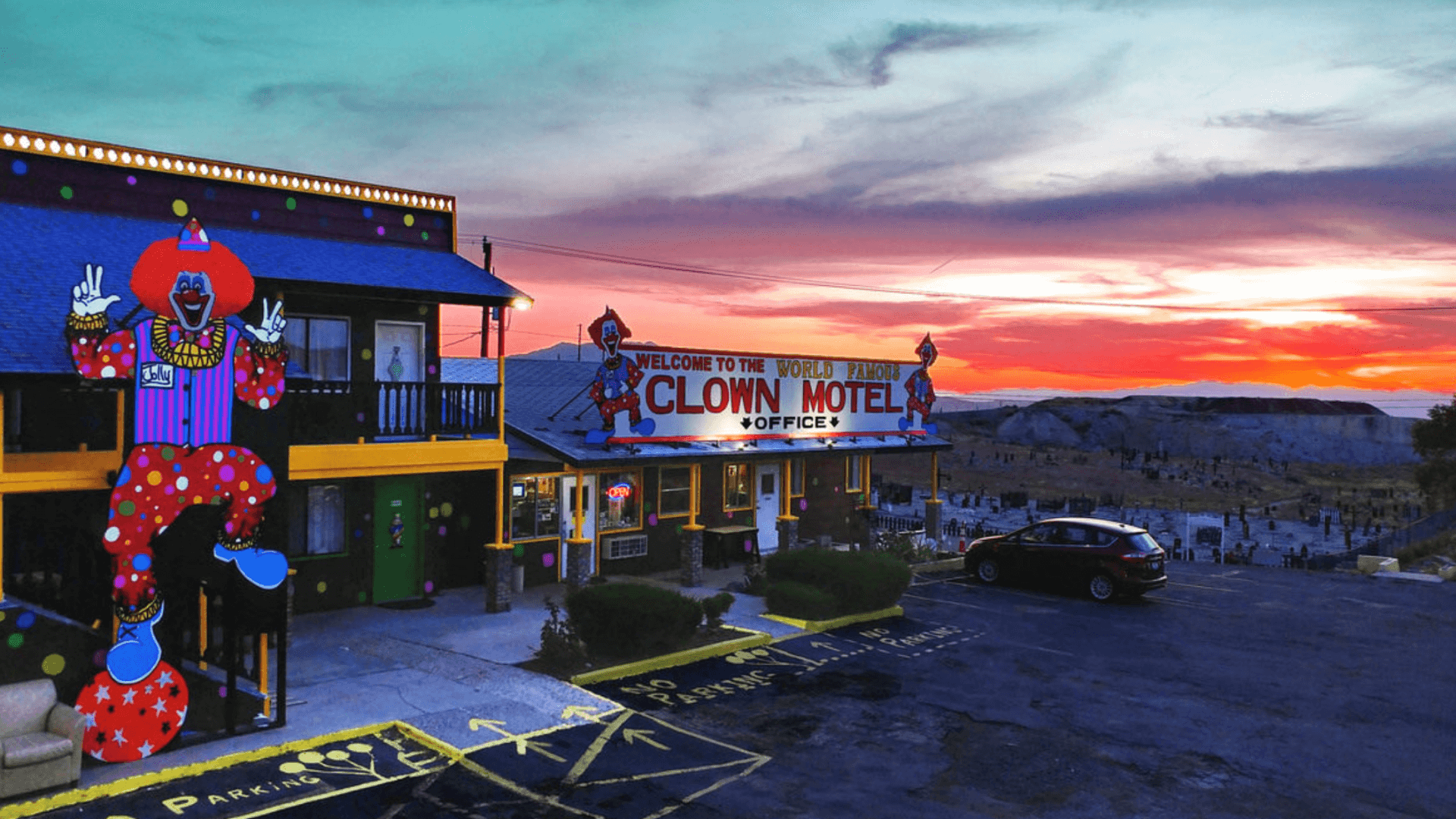 Another stop along your trip is Tonopah, Nevada. What does Tonopah have to offer? First off, the town was rated the "#1 Stargazing Destination in America" by USA Today. The skies above Tonopah are some of the darkest in the country, allowing folks to see over 7,000 stars, including the Milky Way! Stop here for a day of fun and a night of stargazing
Most unique landmark: The Clown Motel
Coolest adventure: Tonopah Mining Park Underground Tour
Best brew in town: Tonopah Brewing Co.
The creepiest spot to go for a walk: Old Tonopah Cemetery
HAWTHORNE & WALKER LAKE
Travel Time: 1 hour 45 min. – 103 miles / 166 km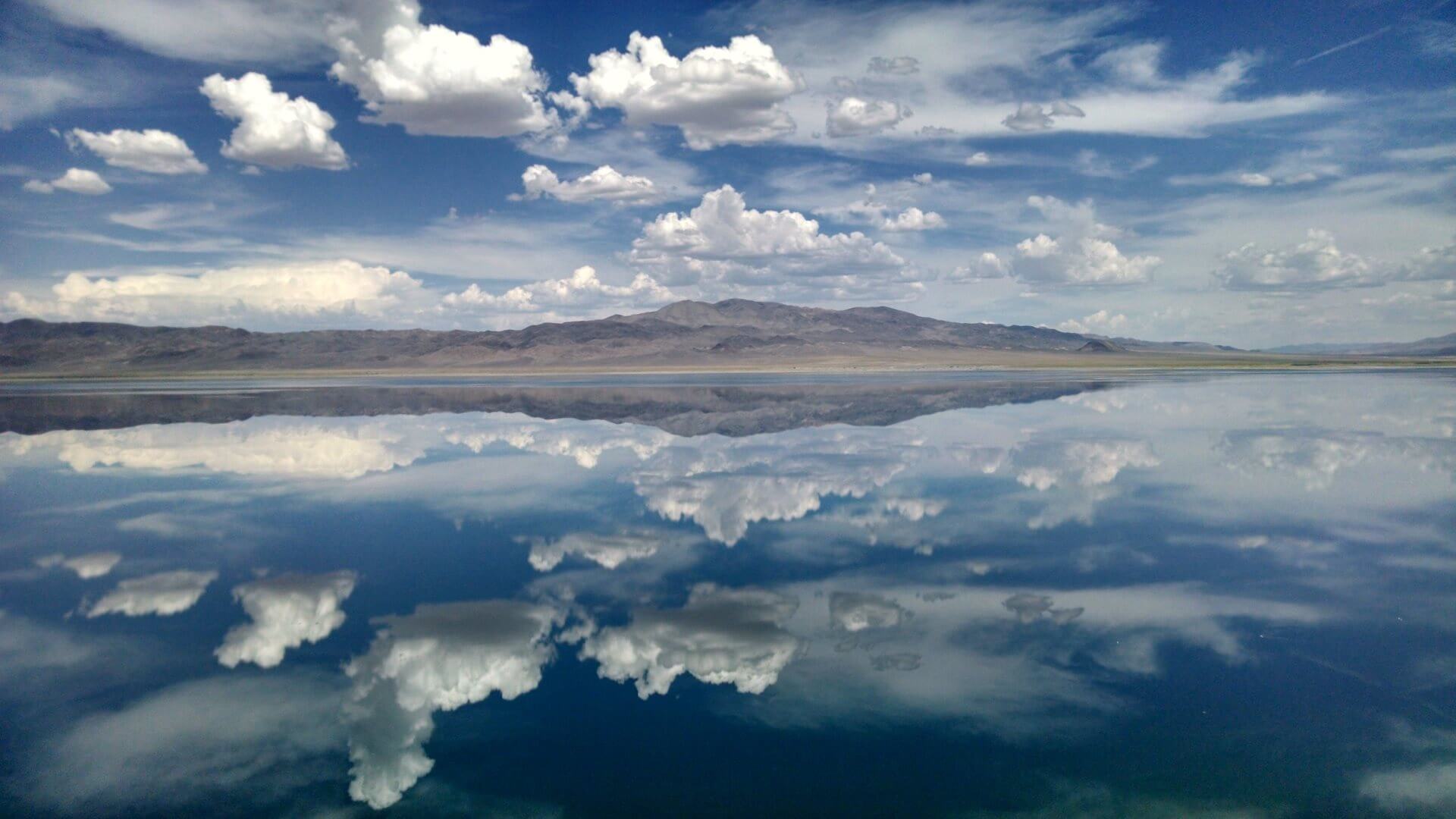 It may be hard to believe, but you can find paradise deep in the Nevada desert—it's called Hawthorne. With nearly 365 days of sunshine and a beautiful natural lake just 10 minutes down the road, Hawthorne is a great place to retreat from the big cities and crowded parks. Visitors can enjoy the outdoor recreation opportunities, and for wildlife lovers, Walker Lake has roadside bighorn sheep. Definitely a must-see!
Best place to spend the day: Walker Lake
For the curious: Hawthorne Ordnance Museum
Best burger (in the state?): Socorro's Burger Hut
Best place to take the kids: Mineral County Museum
TOPAZ LAKE
Travel Time: 1 hour 30 min. – 80 miles / 129 km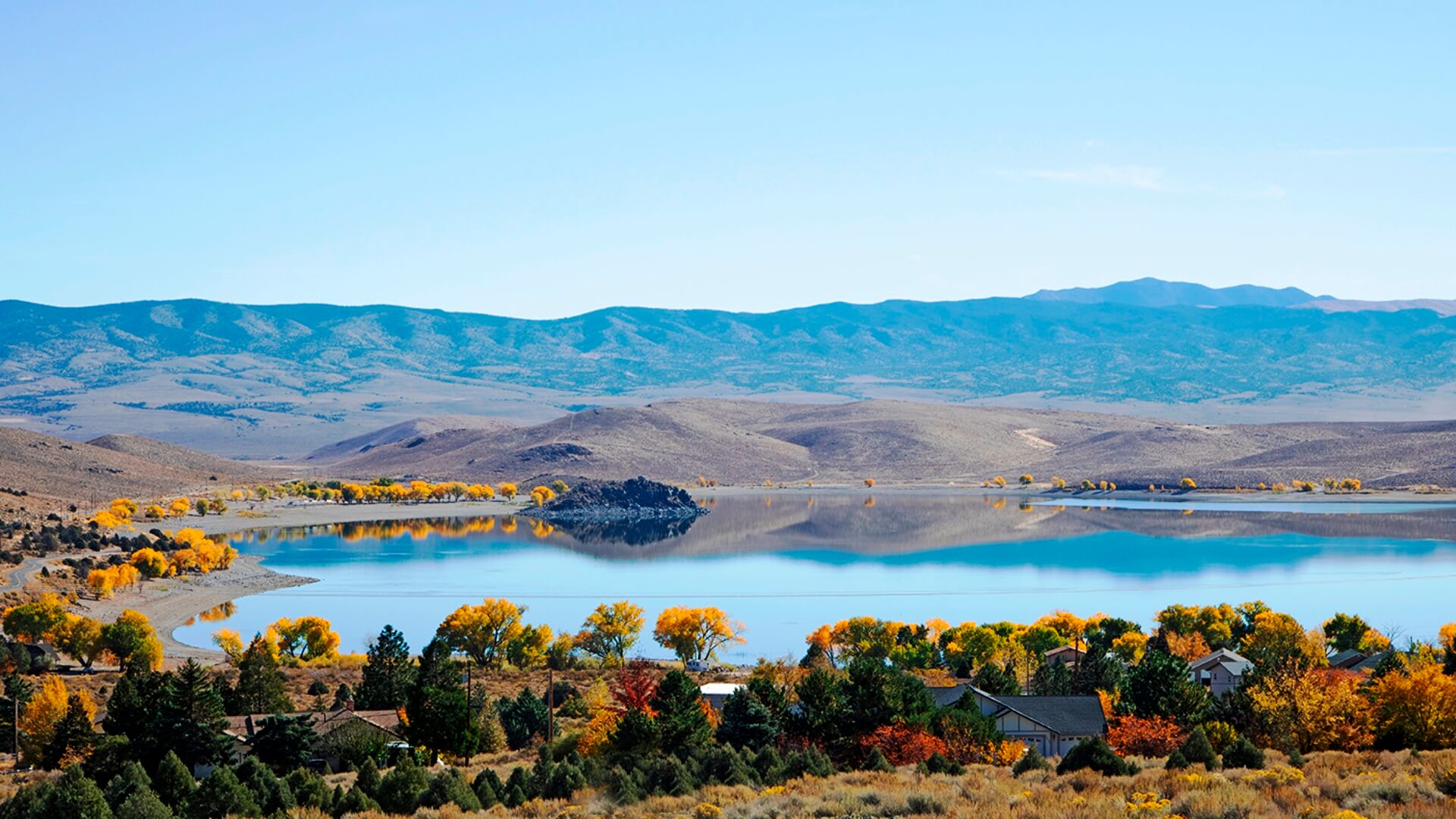 From one stunning lake to the next, Topaz Lake is a beautiful spot split between the Nevada and California border. Topaz Lake Park offers RV and tent camping, while the Topaz Lake Lodge and Casino offers a more comfortable stay. Get your fishing on and bring home a trophy rainbow or brown trout!
Best activity for everyone: Fishing on the lake
Best food nearby: Iggy & Squiggy's Junction Bar & Grill
STATELINE & LAKE TAHOE
Travel Time: 1 hour – 38 miles / 61 km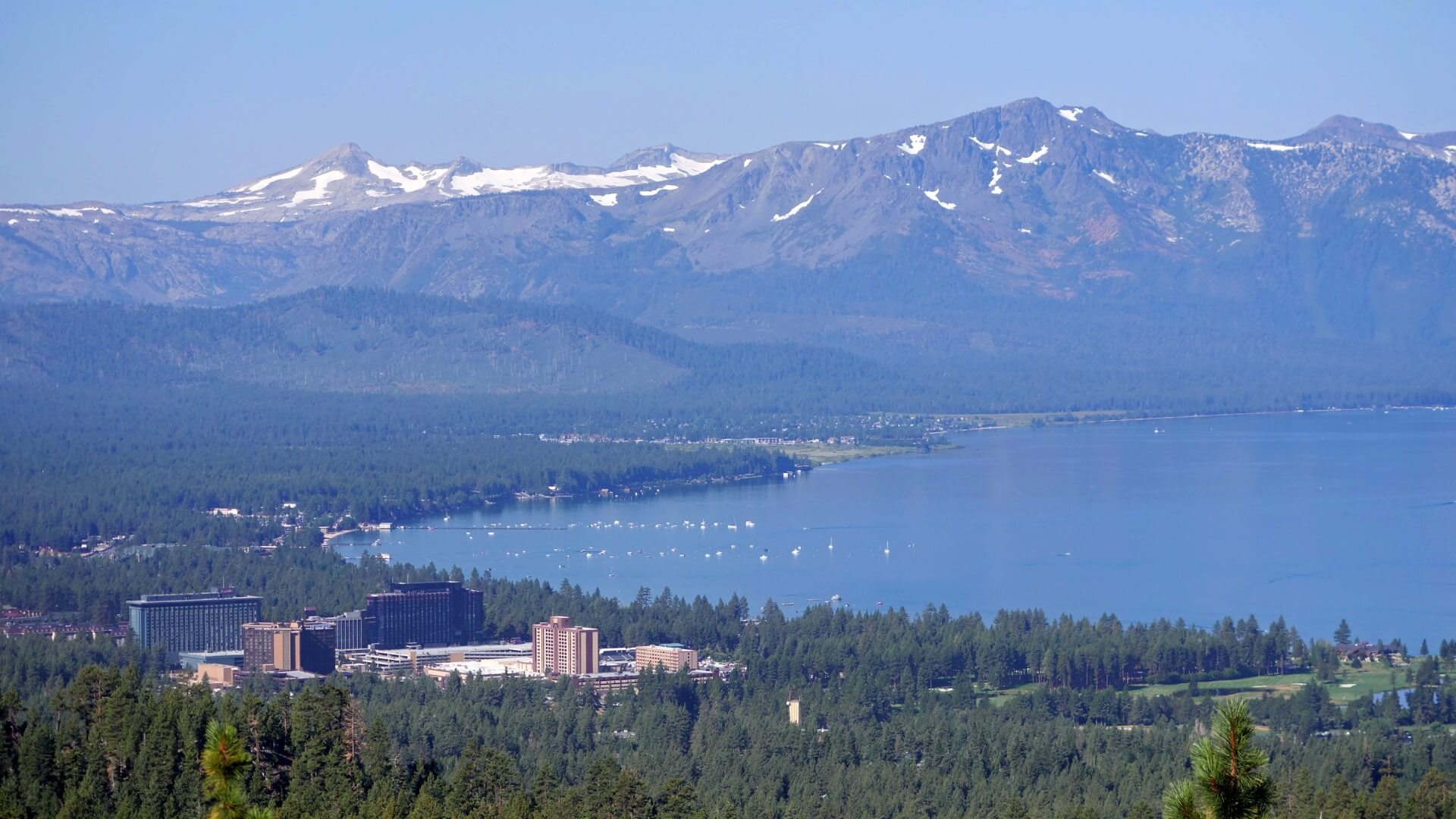 Summer or winter, it doesn't get much better than Lake Tahoe. Warm sunshine beaming over the clear, blue water in the summer or snow-covered peaks and fresh powder in the winter. We recommend stopping in Stateline, Nevada, which is on your way back to the airport AND along the beautiful shores of Lake Tahoe. Spend a few days here as you can't really relax unless you've spent a full day on the beach and a full day out on the water, right?
Best beach: Zephyr Cove Beach
Best day-hiking: Genoa Peak
Where to stay: Edgewood Tahoe
Dinner with a beach view: Sunset Bar & Grille
As you make your way back north to Reno-Tahoe International Airport, we recommend driving along Highway 50 to experience as much of the lake as possible before you leave.