Valentine's Day in South Lake Tahoe just makes sense. What better way to celebrate the love and beauty in our lives than being surrounded by the untamed splendor of Lake Tahoe and the surrounding Sierras? See this guide to a perfect Valentine's Day in South Lake Tahoe and be inspired to plan your own!
Choosing the right place to stay is an important part of any memorable trip. Fortunately, lodging options in South Lake Tahoe are numerous and can match any style. Looking for a rustic cabin in the mountains? Or perhaps a luxury resort close to the beach? No matter the place you're looking for, we've got you covered.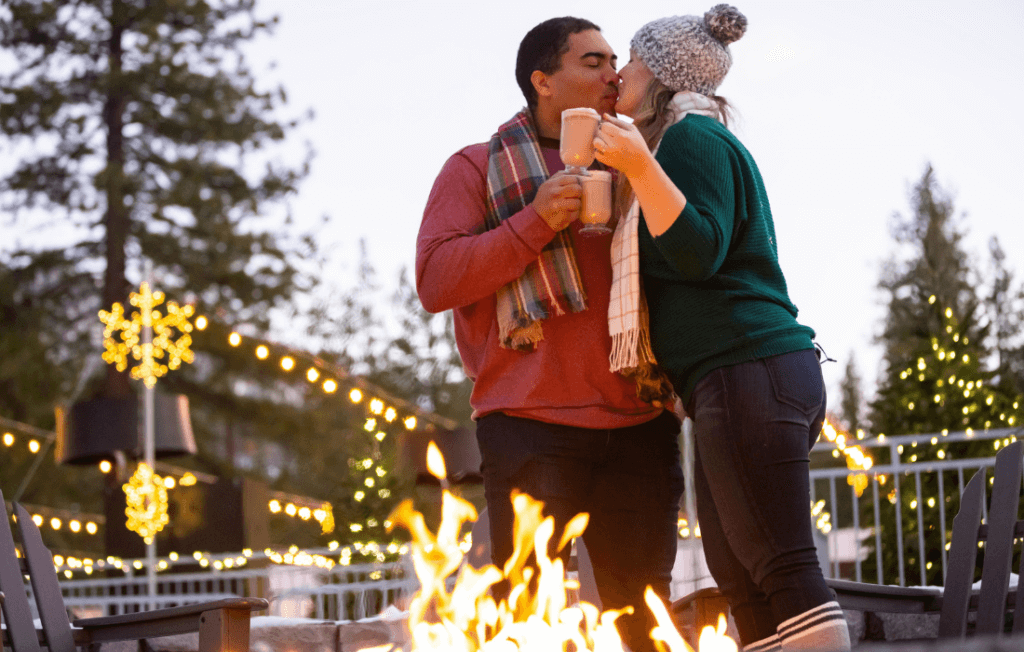 Morning Of
Sleeping in can be just what the doctor ordered, or for many of us, having breakfast in bed is unbeatable. However, seeing the sunrise on Lake Tahoe from the water's edge is in a completely different league. Create a precious memory this morning and check the forecast, time your morning, have a coffee, bundle up, and be with your special someone while you spectate an unforgettable sunrise.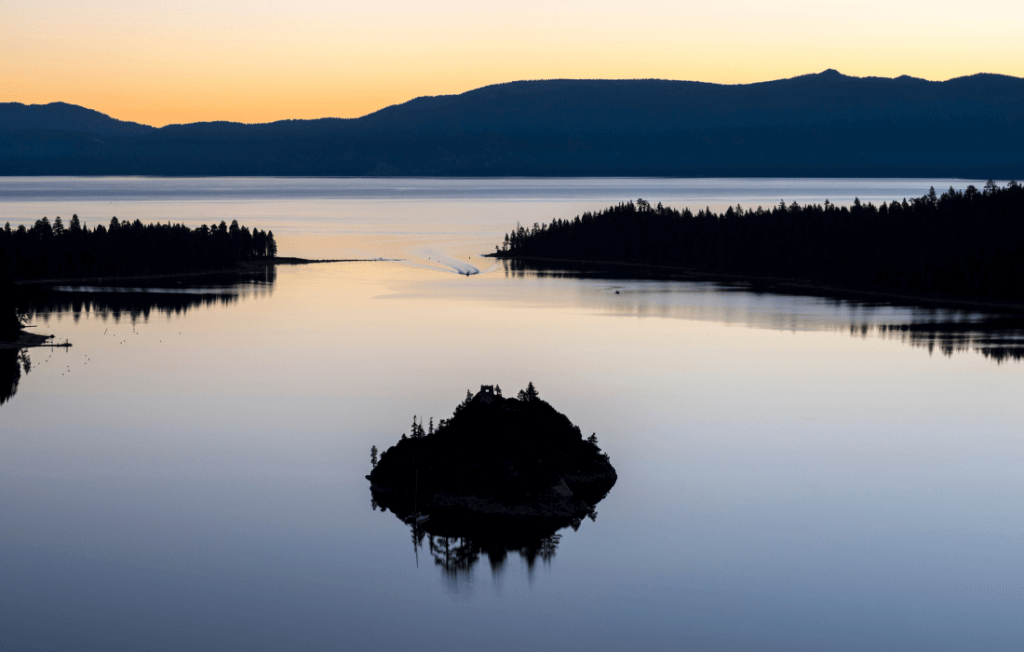 The Sun is Up!
After an early morning and rewarding sunrise, you will probably have worked up an appetite! For more than your average breakfast, head to Jimmy's Restaurant at The Landing Resort to try their impressive eggs benedict. Or, head to Artemis Lakefront Cafe for a delicious meal with middle eastern options like their incredible Turkish coffee! After breakfast, you should be eager for more outdoor activities. With so much snow here, getting back outside will be the perfect seasonal wake-me-up after breakfast. Depending on your personal preference and skills, choose between skiing and snowshoeing and have a classic Tahoe morning with your loved one. Special moments in nature are exactly what keep us here year-round. Sharing these moments with someone you love makes those moments all the more special.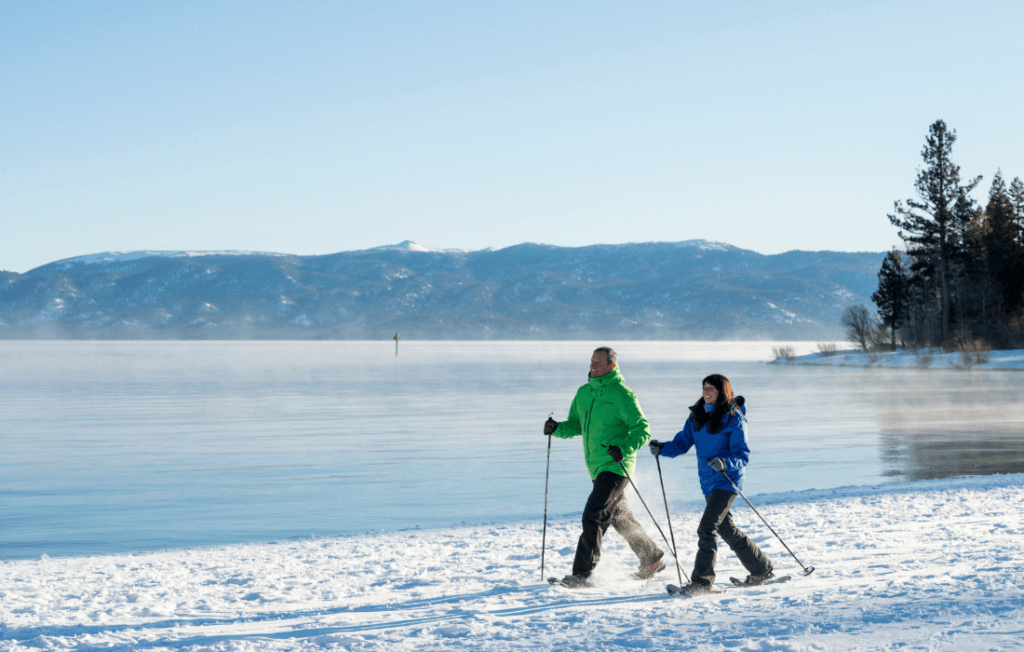 Snow Problem!
After an active, snowy morning in paradise, you're likely ready to relax. Wind down in true Valentine's Day form at Champagne & Chocolate in Heavenly Village. Choose your ideal combo of champagne, homemade fudge, caramel apples, or specialty coffees. This dessert, wine, coffee, and gift shop is perfect for settling down and lounging after a fun, busy morning. Or, depending on your style, take your bubbly and chocolate somewhere more private and add an intimate interlude to your day.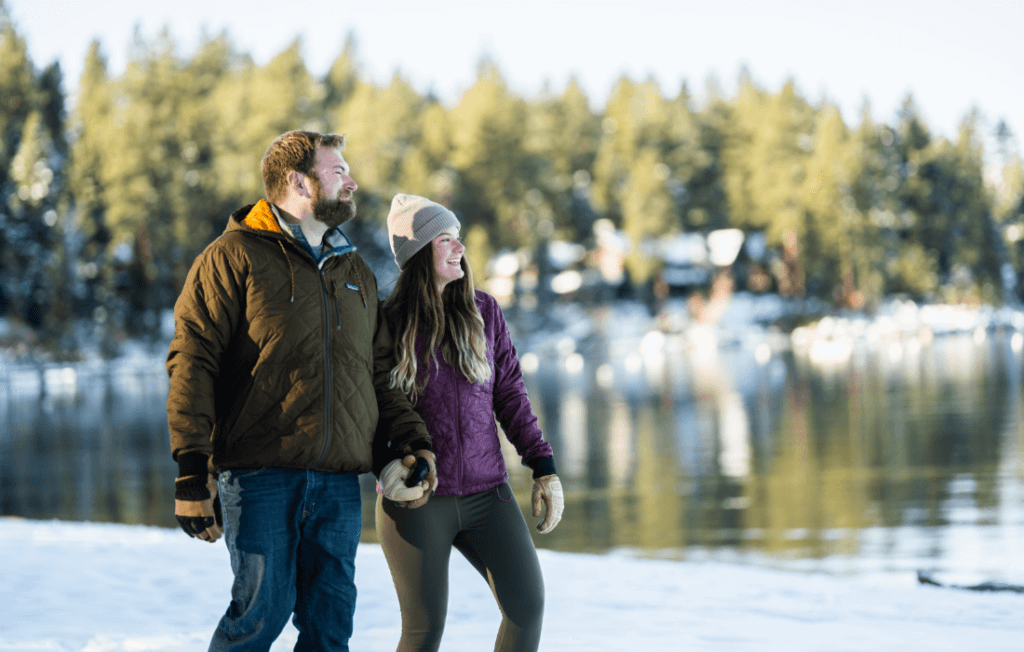 Stroll Along The Lake
The more time you spend on the lake, the better. It may be a cliché, but walking next to the lake is a perfect way to seize the day Tahoe-style. Life in South Lake Tahoe has always been lake-centric, so take time, get close to the water, and feel the power that so many of us are drawn to and call home. You don't need a psychology degree to understand the positive effects that occur when a person is outside in a place as breathtaking as South Lake Tahoe – it just feels good. This special relationship with people and nature is something to consider and experience while you are here. Sharing a bond with your significant other is special, and bonding in nature can become an unforgettable experience.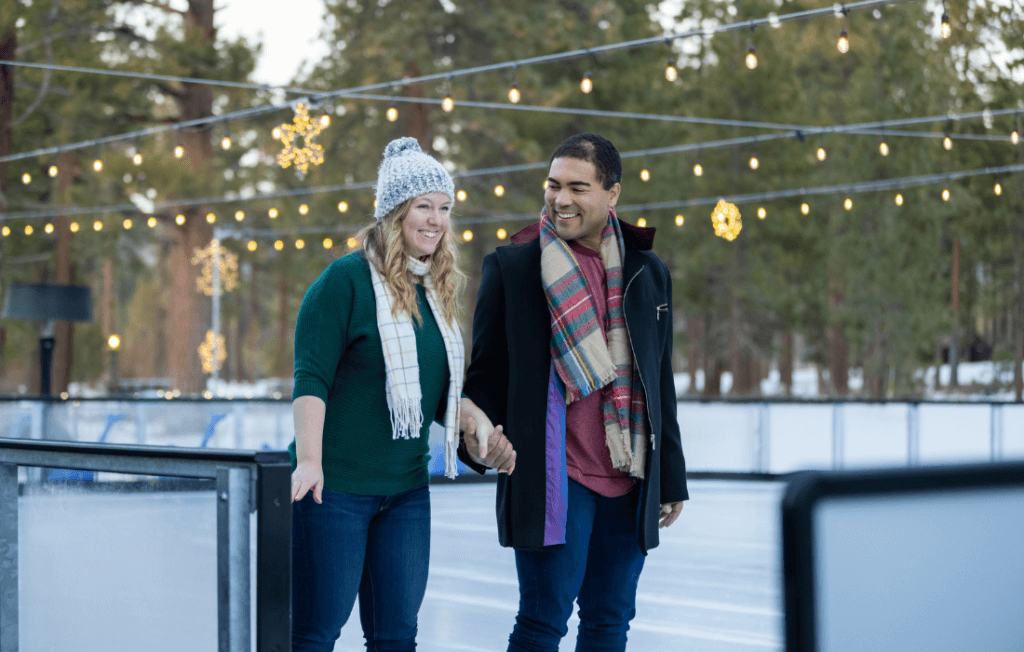 From Strolling To Skating
With a few ice rinks to choose from, gliding gracefully into lunchtime will be an easy, fun thing to do with your partner! There's a community ice arena on Highway 50 close to El Dorado Beach, a rink in the Heavenly Village, and a rink at Edgewood Resort. If you choose to skate at Heavenly Village, you'll be surrounded by numerous lunch options like California Burger Co., Base Camp Pizza, and many others, all within walking distance. If you skate the rink at Edgewood Resort, across the state line in Nevada, be sure to stop by the resort's Bistro or Brooks Bar for a delicious mid-day fillup.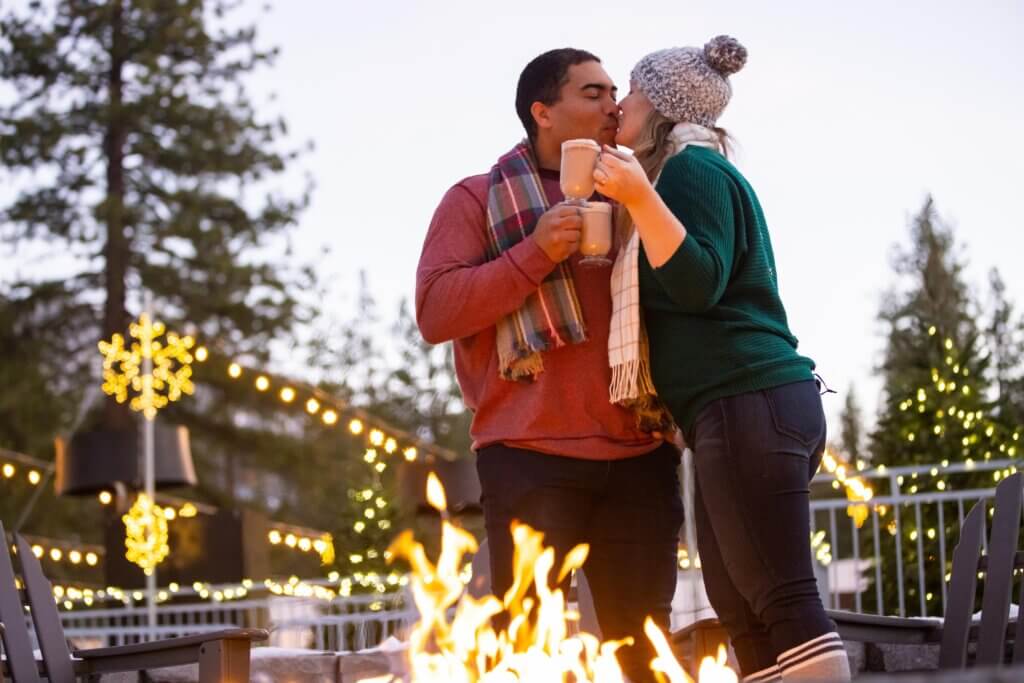 Fireside Fun
After smooth skating and good eats, come back outside to a cozy firepit for some in-the-moment relaxation. Grab a drink to accompany the flames, your special somebody, and the marvelous South Tahoe wilderness. Find a fire and a drink, and warm up with your favorite person by your side.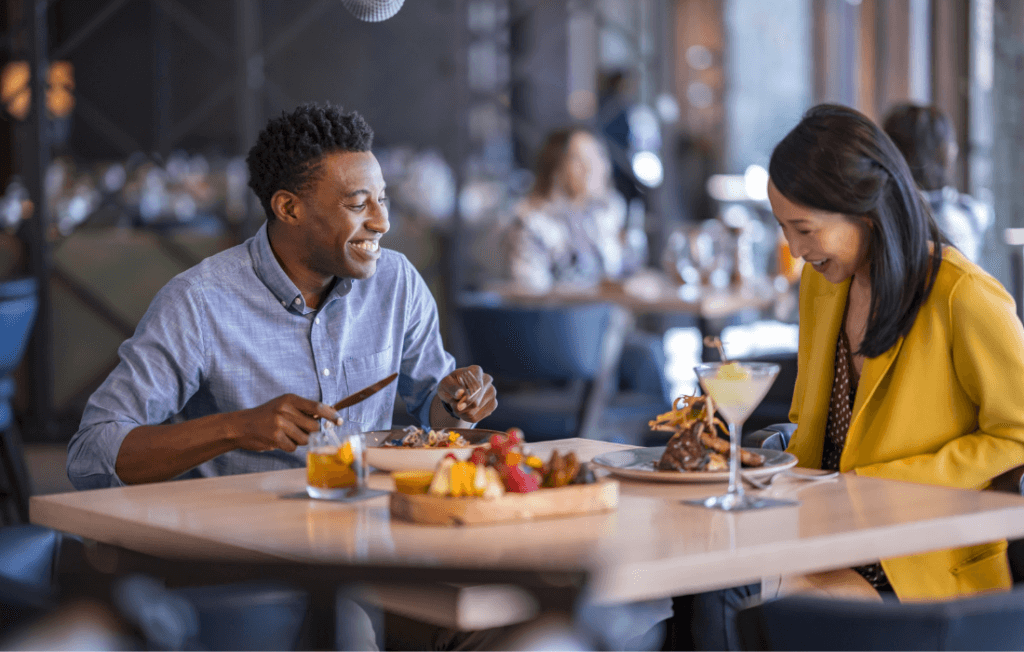 Fine Dining
Valentine's Day dinner is an important part of the holiday. Luckily, South Lake Tahoe knows exactly how to play host to this vital evening. The Bistro at the Corner and Riva Grill are two local favorites that offer special Valentine's Day menus to make the evening especially unique. Both of these choices will leave you with a memorable meal and a perfect V-Day atmosphere. If you're looking for next steps after dinner, look no further than The Loft in the Heavenly Village. The Loft (also offering a 5-course prix fixe Valentine's Day dinner) is the perfect late-night resturant+lounge where you can enjoy a nightcap in an enticingly sleek setting. Go right for the dessert and drink menus to find the perfect combination of flavors while you decide whether or not you'd like to catch one of their magic shows… although at this point in your night, there may be more than enough magic in the air to call it an evening. Click here for a full list of Valentine's Day dinner options.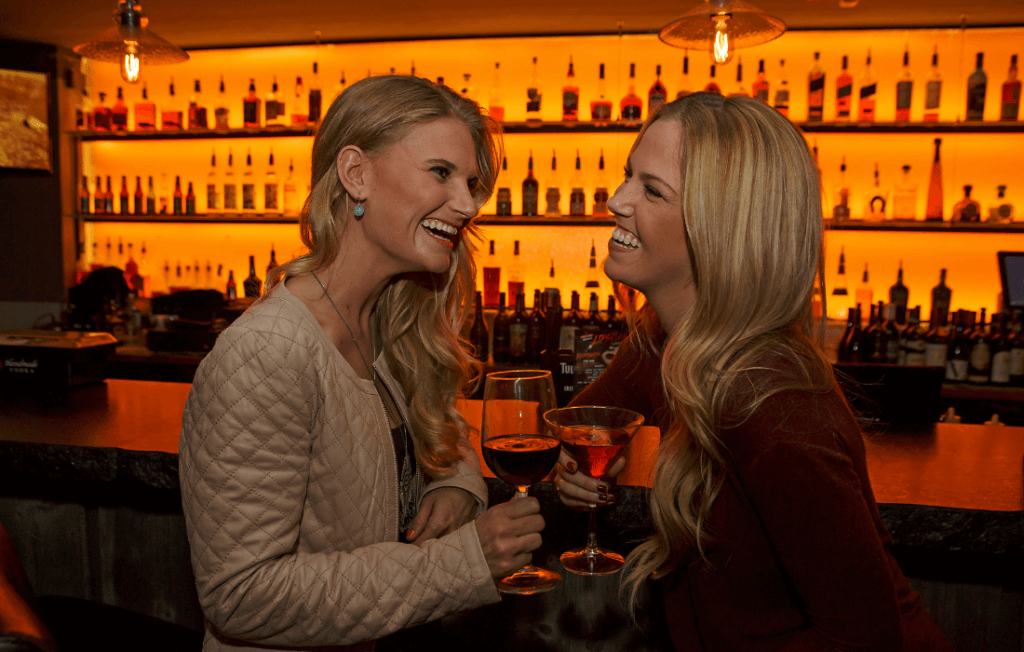 Ready to extend your trip? You've only scratched the surface of all that there is to do and see during winter around Lake Tahoe's south shore, and there's plenty more to discover and re-discover!
Share your trip with us by using the hashtag #VisitLakeTahoe
Check out Lake Tahoe Valentine's Day on Instagram