Lake Tahoe Valentine's Day – Where to Make a Reservation in South Lake Tahoe
If you're looking to make this Valentine's Day as perfect as Lake Tahoe, look no further. The Jewel of the Sierra offers breathtaking views and equally impressive food to pair with a day of unforgettable fun high in the mountains. Reservations are recommended.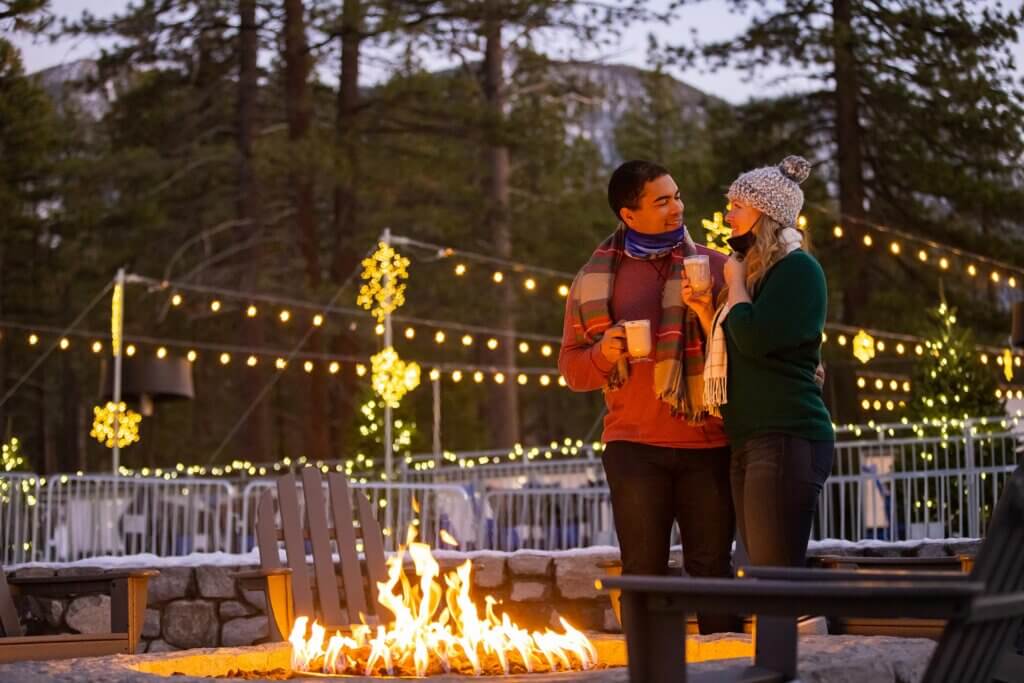 Lake Tahoe Valentine's Day Restaurants
Evans American Gourmet Cafe
Acclaimed as South Lake Tahoe's finest restaurant, Evan's features a blend of cuisine styles from around the world. Top Zagat rated Restaurant in the Sierras!
(530) 542-1990 www.evanstahoe.com
Ciera Steak + Chophouse Bally's Lake Tahoe
Known as much for the sumptuous decor and semi-private booths, as for the delicious food and impeccable service.
(775) 588-3515 ballyslaketahoe.com/
The Bistro at the Corner Valentine's Dinner
The Bistro at the Corner invites you and your special someone to enjoy a memorable multi-course Valentine's dinner that will make for a truly passionate evening! (530) 600-2751
Echo Restaurant inside The Lake Tahoe Resort Hotel
Chef Sal's Adventure Menu features an inventive and varied menu.
(530) 543-2140 echorestaurantloungelaketahoe.com
Edgewood Tahoe Options
With its stunning location, Edgewood Tahoe Restaurant has long been the ideal spot for important events such as engagements (hint, hint), anniversaries and private parties. The Bistro located inside the lodge at Edgewood and Brooks' Bar & Deck. (775) 588-2787
Friday's Station inside Harrah's Lake Tahoe
Located on the top floor of the Harrah's hotel tower, this Lake Tahoe fine dining gem features a dramatic entrance, a 1,000-bottle display wine cellar and magnificent views from every table. (775) 588-6611
The Chart House
Perched atop a hill near Kingsbury Grade and overlooking exquisite Lake Tahoe, Chart House is a legendary seafood restaurant known for being an excellent vacation destination. (775) 588-6276
Jimmy's at the Landing Resort & Spa
Jimmy's Restaurant features several private dining alcoves – each with its own fireplace. Five additional fire pits invite guests to linger on the patio or rooftop deck overlooking the lake. (530) 600-3501
Lake House Restaurant
This Valentine's Day, indulge in a romantic dinner with your sweetheart at The Lake House! Experience the ideal ambiance, delectable menu, exquisite wines and impeccable service for your special night out on Cupid's holiday, February 14th. (530) 600-1308
Kalani's
Kalani's creates unique dishes by blending the fresh ingredients of Hawaiian regional cooking with Asian and European techniques and influences.
(530) 544-6100
The Loft at the Heavenly Village
The Loft (a live theatre complete with a lounge and dining area) Taste At The Loft wants to make your Valentine's Day date feel special. Enjoy pre- or post-dinner entertainment with The Loft's Magic Fusion show, which stars world-class magicians from across the globe and begins at 7:00 p.m. Tickets for the performance and dinner are available online at http://www.thelofttahoe.com. (530) 523-8024
Riva Bar & Grill
Riva Grill features a beautiful, wooden boat-inspired decor, lake views and a special Valentine's Day menu.
(530) 542-2600
Here are a few more Valentine's Day ideas for restaurants in Lake Tahoe:
Artemis Lakefront Cafe
(530) 542-3332 www.artemislakefrontcafe.com
Beacon Bar & Grill on the Lake
(530) 541-0630 www.camprichardson.com
Freshies Tahoe
(530) 542-3630 www.freshiestahoe.com
Gastromaniac – Homemade Pasta & Pizza
(530) 600-2110 www.gastrotahoe.com
Gordan Ramsey's Hell's Kitchen inside Harveys
(775) 588-2411 www.HarveysTahoe.com
MacDuff's Pub
(530) 542-8777 www.mcduffspub.com
Park Prime inside the Hard Rock Hotel & Casino Lake Tahoe
(775) 588-1010 www.HardRockCasinoLakeTahoe.com
Sage Room & Steak House inside Harveys Lake Tahoe
(775) 588-2411 www.harveystahoe.com
The Idle Hour Wine & Bubbly Bar
(530) 600-3304 www.theidlehourlaketahoe.com
Many hotels are offering Valentine's Day deals this year as well, including Valentine's Day at Edgewood Tahoe. Whatever your plans are for Valentine's Day, be sure to get out and enjoy the beauty of your surroundings.
Check out Valentine's Day at Lake Tahoe on Instagram