Here is a guide to some of our favorite things to do in South Lake Tahoe this summer.
Travel Responsibly. Take the Pledge. Please join us as we pledge to be mindful and respectful of the magical landscape of Lake Tahoe.
Check out the list of our six favorite hikes in Lake Tahoe.
For more information on hiking, discover our waterfall guide.
Fishing is a fun thing to do in Lake Tahoe during the summer and in the rivers and smaller lakes in the region. With the water levels higher than normal this year, take caution when being near rivers as the water is very cold and moving very fast. Some ideas for fishing in Tahoe:

Lake Tahoe is a top notch destination for mountain biking. There are lots of bike trails, both paved and dirt, around Lake Tahoe to explore. Here are some of the more popular bike routes in the area. To discover more trails visit the Tahoe Area Mountain Biking Association website.
Flume Trail: This trail is approximately 14 miles one way, and averages between 7000' and 8100' elevation, sitting above Lake Tahoe's North East shore. This trail is moderately difficult and offers sweeping views of the area. For more information on the Flume Trail, check out our blog post about mountain biking the Flume Trail.
South Shore Bike Path and Pope-Baldwin Bike Trail: This paved bike trail goes through Camp Richardson and passes Pope, Kiva, and Baldwin Beaches. This trail is very popular during the summer months.
Tahoe Rim Trail: While most of this trail is open to biking, some parts are restricted. Mountain biking is not allowed in the Desolation, Granite Chief, or Mount Rose Wilderness Areas. There are other small areas of the 165 mile trail that are restricted to biking. These can be found on the Tahoe Rim Trail Website.
This has become one of the most popular activities on Lake Tahoe. The waters and scenery at Tahoe make it one of the best ranked paddleboard destinations in all of the world. Our Summer Paddleboarding Guide has everything you need to know.

This is one of the most exhilarating activities at Lake Tahoe but, also one of the best views. The views while parasailing above the waters of Lake Tahoe are unmatched. You can try parasailing at three different locations in Lake Tahoe, Action Water Sports, Zephyr Cove Marina, and the Ski Run Boat Company.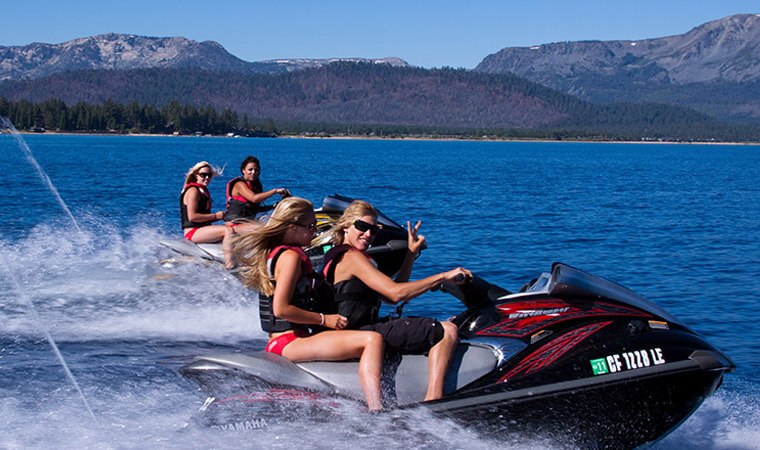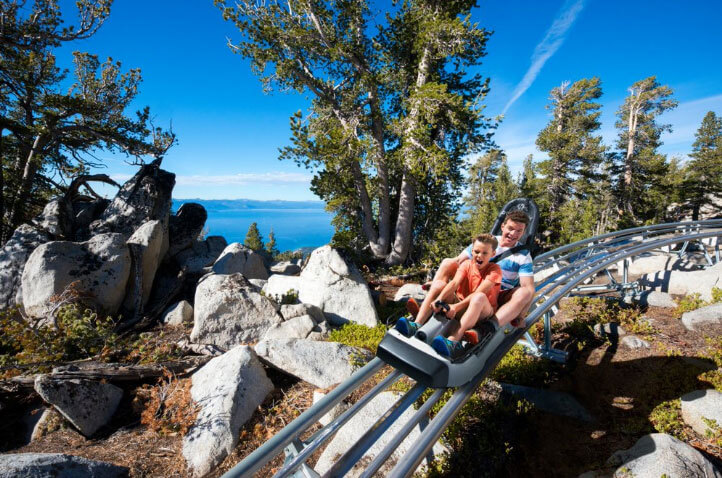 Discover summer on Heavenly Mountain by riding the Ridge Rider Mountain Coaster, Gemstone Panning, hiking, going tubing, and taking in the views from the Gondola. Visit the Heavenly website for information on how to spend your summer atop one of the largest ski resorts in America!

Golfing in Lake Tahoe comes with spectacular views of the Sierra Nevada Mountains and the waters of the lake.
Check out Summer at Lake Tahoe on Instagram