You've seen it on the tropical waters of any Caribbean vacation, you've seen it on the marvelous Lake Tahoe, and I am not referring to the alluring blue hues. On any calm day, you can bet on parasails bobbing around the lake as far as the eye can see.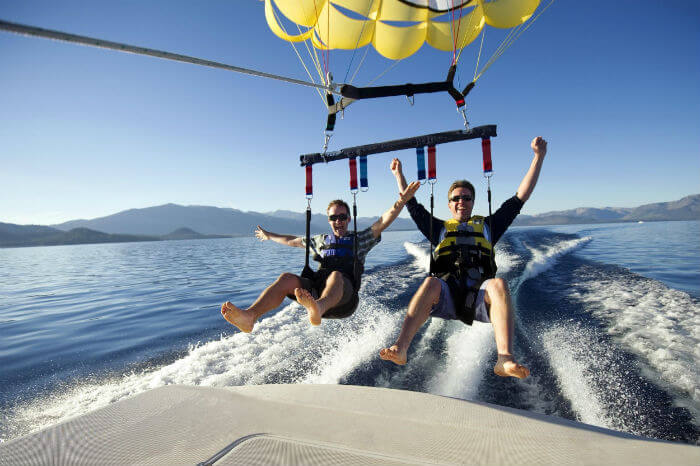 Parasailing Lake Tahoe
You've watched and seen others having a blast, probably even been a bit jealous. "Looks kind of cool, but is parasailing for me?… maybe next time," you tell yourself and watch little kids go instead while you contemplate if you've got the nerve. Maybe the time is now. You like fun, thus parasailing is for you. After it all, it is one of the best Lake Tahoe water sports there is.
You may not know why, but similar to a roller coaster, there's something about that uneasy feeling where your stomach flips and your hair stands tall that is very intriguing. Once you're in the air though, it's a whole different experience. As you begin parasailing, floating up to 500+ feet, you will gradually come into a very calm and relaxed state. The boat that you were just zipping around on is still hauling full speed, but you are enjoying a leisurely sway as you look down at the treetops. It is a very serene moment, followed up by a reassuring feeling of clarity.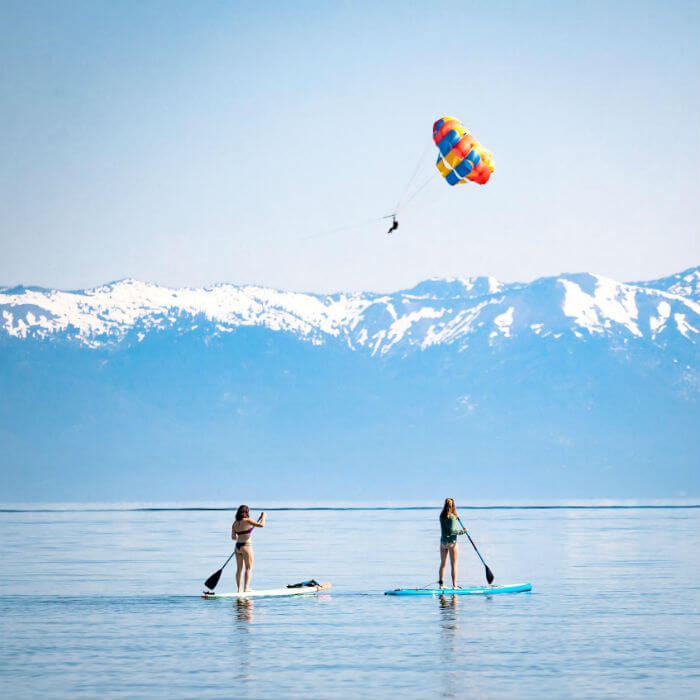 Although a bit of a thrill, the experience is actually pretty relaxing overall, even peaceful. Parasailing Lake Tahoe straddles that line of wholesome fun while also providing the adrenaline rush, which makes it a great activity for all ages. At first, it can be hard to get your feet off the ground, but you won't regret it.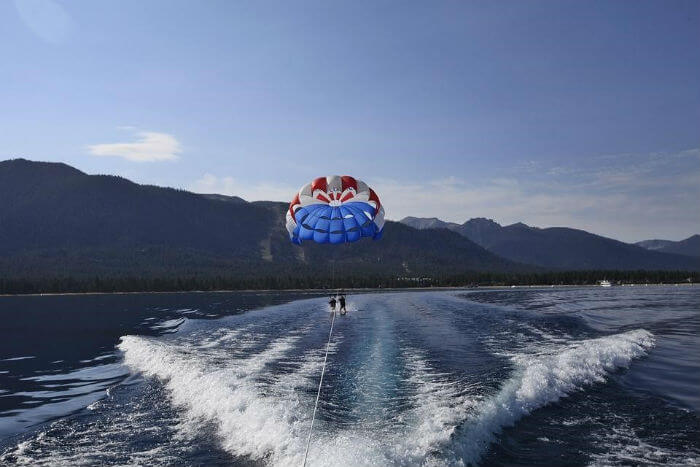 Best of all, even though it's a water activity by nature, you don't have to get wet if you don't want to. Out of all the ways to see Tahoe from above, parasailing is a blast and usually easier with less time commitment, costs, and prep. Just find a marina near you and give it a shot – keep reading for parasailing Lake Tahoe options.
How Can I Go Parasailing on Lake Tahoe?
The team at Action Water Sports operates out of the Lakeside Marina, Timber Cove Marina, and the Round Hill Pines Marina. With them you can take in all the wonder of Lake Tahoe from 500ft or 1000ft above the lake. This is who you want to go with if you want to get as high as is allowed. Dry take-off and landing available from the back of their specially built boats.
Action Water Sports allows parasailing for 1-3 passengers:
Up to 500ft: $75 per person
Up to 1000ft: $95 per person
Boat Ride Along (optional): $20
Enjoy breathtaking views while parasailing over Lake Tahoe with Tahoe Sports. You can catch them at the Ski Run Marina, or if you are closer to the 'Y' this will be your best option as they also operate out of the Tahoe Keys Marina. They use a US Coast Guard Certified Vessel and have three different heights so you can choose your experience.
Tahoe Sports allows parasailing for 1-3 passengers:
Up to 400ft: $75 per person
Up to 800ft: $85 per person
Up to 1200ft: $100 per person
Come fly with the exceptional crew at Zephyr Cove Marina. These guys do everything at their resort and marina, so if you need a drink before or after your parasail, they'll take care of you. Enjoy a dry and gentle take-off and landing if you prefer. If you forget to take your own camera, they can hook you up with a helmet cam!
Zephyr Cove allows parasailing for 1-3 passengers:
Single – Before 10am: $79; After 10am: $89
Double – Before 10am: $149; After 10am: $169
Triple – Before 10am: 179; After 10am $199
Boat Ride Along (optional): $35
Helmet Camera Rental (optional): $30
NOTE: $5.00 Fuel surcharge will apply per flight.
Parasailing weight and age limits, harness requirements and other variables may need to be taken into consideration. It is always best to directly contact each organization for their respective rules on parasailing alone or with a group. Weather permitting, you're in for a great time when you go parasailing on Lake Tahoe.
Please note pricing subject to change.
For other thrills by air, check out our recommendations for seeing Tahoe from above.
Check out Parasailing Lake Tahoe on Instagram