Glass Garage Collective, a media and correspondence platform, launches a mail art project with a call for artist submissions.
We Are All Guests Here is a mail art project based in Tahoe and founded in May 2020 to accept and document art from around the world. The project was launched during the closure of major museums and art centers due to COVID-19 when a universal pivot from art consumption to art creation at all levels prospered. The mail art project invites professional and elite artists, writers, and poets as well as self-taught and amateur makers, and students or doodlers to submit art to the collection.
We Are All Guests Here aims to chronicle and celebrate the current creative culture by collecting, curating, and displaying interdisciplinary work by diverse voices.
We Are All Guests Here invites any participant to submit art on the theme: People + Place. Call for artist submissions is now open and ongoing through May 2021.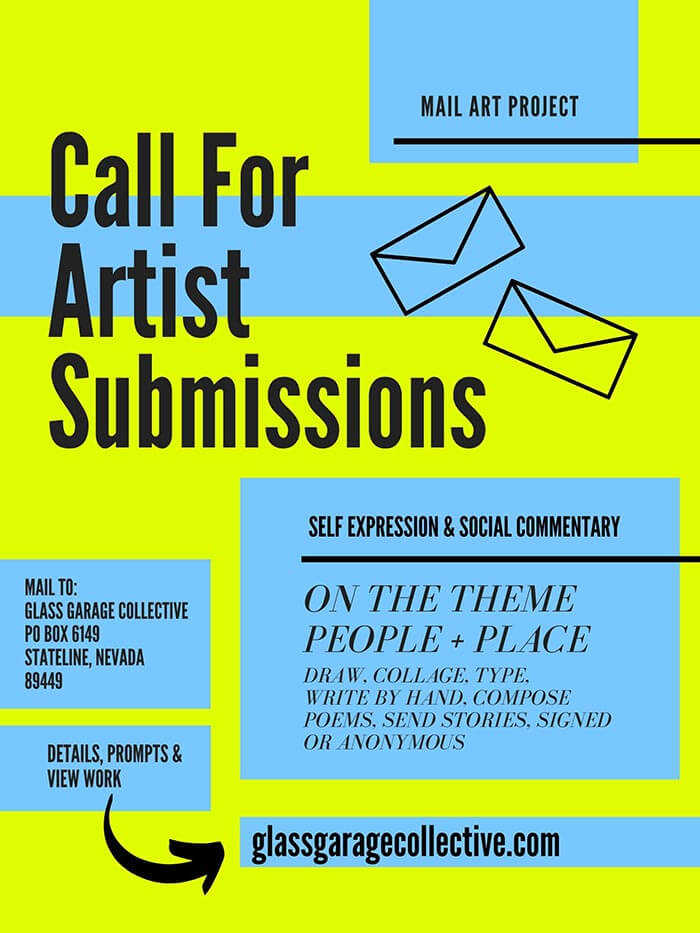 What is Mail Art?
Mail art is a movement, with roots from the 1950s and 1960s, of sending small scale works through the postal service.
Although mail art has roots in various Modernist, Dadaism, and Fluxus movements, Ray Johnson is generally considered the model pioneer when he began mailing art collages to friends in the late 1950s. Johnson was interested and aware of how mail art democratized making and collecting art.
How to Participate in We Are All Guests Here:
Write by hand, draw, collage, compose poems, share secrets, tell stories in letter, post-card, 3-D, or mixed-media form. Work can be no larger than what will fit in the PO BOX: 11" x 13" x 5". No stress should be placed on "good grammar" spelling or style. We Are All Guests Here can be signed or anonymous.
Send submissions to Glass Garage Collective, PO BOX 6149, Stateline, Nevada, 89449
Submitted work and the collection will be shared digitally on glassgaragecollective.com at the discretion of the curator, Sarah Wells.
Physical copies will be archived for future exhibitions. All submissions are considered a part of the We Are All Guest Here collection. No work will be returned or sold. The FAQ page answers artistic and logistical questions on mail art.
About Sarah Wells, Curator
Sarah Wells is the founder of Glass Garage Collective and curator of mail art project: We Are All Guests Here. Sarah envisioned We Are All Guests Here as an experiment in collaboration and exchange. She is interested in collections of works by diverse voices through diverse media.
Sarah is on staff at Classical Tahoe Festival & Music Institute. She is a board member with Tahoe Arts Alliance. She previously facilitated member events as Membership Benefits and Programs Senior Coordinator at the Museum of Fine Arts, Houston in Houston, Texas. Sarah holds a Masters of Arts in Liberal Studies, Arts and Culture: Program Management and Development from University College, University of Denver. Sarah's capstone project explored the contemporary role of the museum with suggestions for inclusion programming in the context of linguistic challenges defining the genre of outsider art. Sarah interned with Curious Theatre Company, participated in the University of Denver's Roger Salters Writing Institute, and holds a Bachelor of Arts in English Literature from the University of Colorado at Boulder. She grew up in Ridgefield, Connecticut, and currently resides in Stateline, Nevada.
Glass Garage Collective
Glass Garage Collective is a media and correspondence platform to celebrate and document creative culture. Based in Tahoe and founded in 2020, Glass Garage Collective hosts two projects. We Are All Guests Here is a mail art project with a call for submissions through May 2021. Mother Tongue is a to-be-launched publication.