While Lake Tahoe may be best known for its brilliant blue, the bright gold and reds of autumn are a beauty to behold. It's mid-September, and the aspens, willows, and meadow grasses have started turning on their fall colors already! Some areas are changing faster than others, but here are my top spots for viewing the fall colors in Lake Tahoe: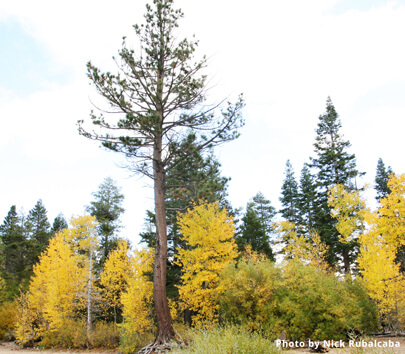 Standing Tall, Photo by Nick Rubalcaba
Taylor Creek Visitor Center – It's not just the foliage that changes color here – the fish do as well! The Kokanee salmon are spawning, and their silver blue scales turn to brilliant red.
Directions: From South Lake Tahoe, take Highway 89 north approximately 3 miles. Turn right at the visitor center entrance just past the Tallac Historic Site.
Hope Valley – Some of the most dramatic colors will be on display here, from Wylder Hope Valley, previously Sorensen's Resort to Blue Lakes Road.
Directions: From South Lake Tahoe, take Highway 50 toward Echo Summit approximately 5 miles. Turn left at Highway 89 south and continue over Luther Pass to Pickett's Junction approximately 10 miles.
Angora Meadow – The aspen grove near the beginning of Angora Road turns a beautiful bright yellow as the weather cools. Parking is very limited, as the gate closes for the summer season, but this is also a lovely, gradually steeper hike up to Angora Lakes. And come back later in the winter for snowshoeing.
Directions: From the intersection of Hwy 89 and Hwy 50 in South Lake Tahoe, continue southwest 2.5 miles on Lake Tahoe Blvd to Tahoe Mountain Road; turn right. Turn right on Glenmore, and left on Dundee Circle. Turn left to stay on Dundee Circle. Continue onto Tahoe Mountain Road; the intersection with Angora Ridge Road is 200 feet ahead on the right. Please note: this is a very narrow road; please be courteous to oncoming traffic.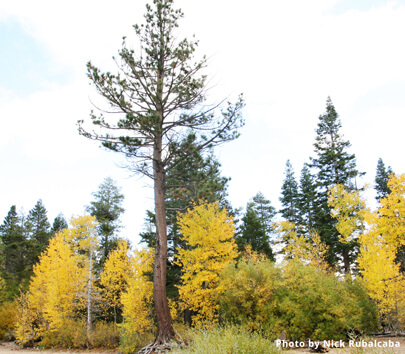 Floating Leaf at Fallen Leaf Lake, Photo by Tim Nicol
Check out Fall at Lake Tahoe on Instagram