Lake Tahoe is a world-class destination and there are a few agencies in the region working to attract visitors. The names of the agencies can sound familiar, and it gets confusing as they each have different goals. Also, people want to know the difference between them.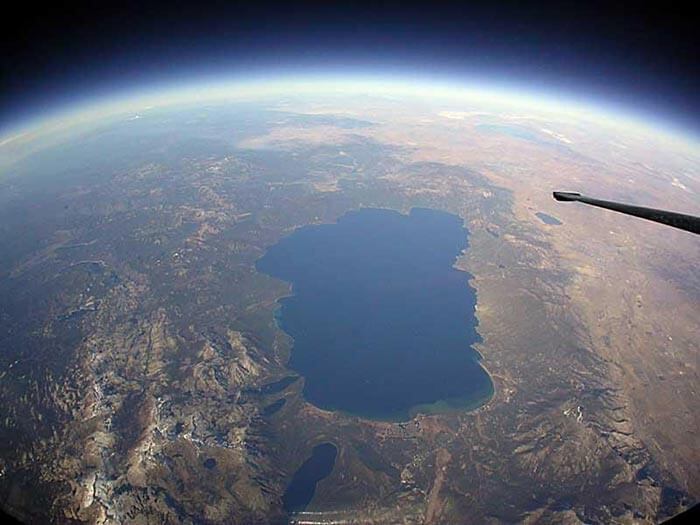 Agencies Promoting Travel to South Lake Tahoe, North Lake Tahoe, and Reno
The main agencies are: Lake Tahoe Visitors Authority, which uses the brand name Visit Lake Tahoe and is responsible for promoting and selling lodging on the south shore of Lake Tahoe; North Tahoe Community Alliance and Travel North Tahoe Nevada or Tahoe North which promotes the north shore of Lake Tahoe; and Reno-Sparks Convention Visitors Authority, also known as Reno Tahoe which promotes Reno and their accommodations. The jurisdiction of each agency is the main difference.
South Lake Tahoe, also called Visit Lake Tahoe
South Lake Tahoe and North Lake Tahoe are comprised of small cities and towns located in California and Nevada. The south shore includes South Lake Tahoe, Meyers, Stateline, Zephyr Cove, Glenbrook, Emerald Bay, and the Markleeville and Kirkwood areas.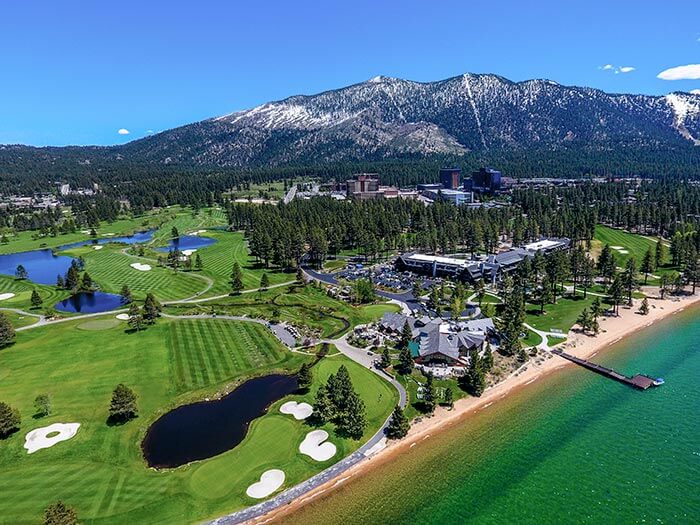 South Lake Tahoe is the largest city around Lake Tahoe with a permanent resident population of just over 21,000 people. The community has all the amenities and services you would find in a comparably sized destination where prices are geared for locals and not tourists, unlike standalone resort destinations.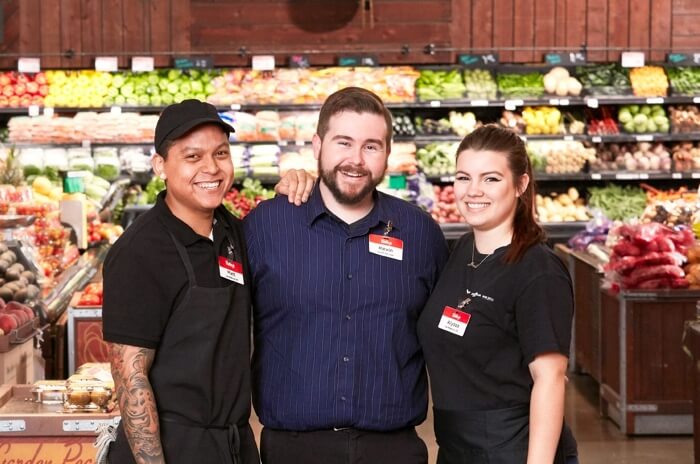 The main draw of the south shore is the downtown area. On the Nevada side of the downtown area are four casino resorts: Harrah's Lake Tahoe; Harveys; Bally's Lake Tahoe; and the Golden Nugget Hotel & Casino Lake Tahoe. On the California side is the large pedestrian-friendly Heavenly Village which is filled with restaurants, shops, bars, live outdoor music, and the Heavenly Gondola, which runs almost year-round.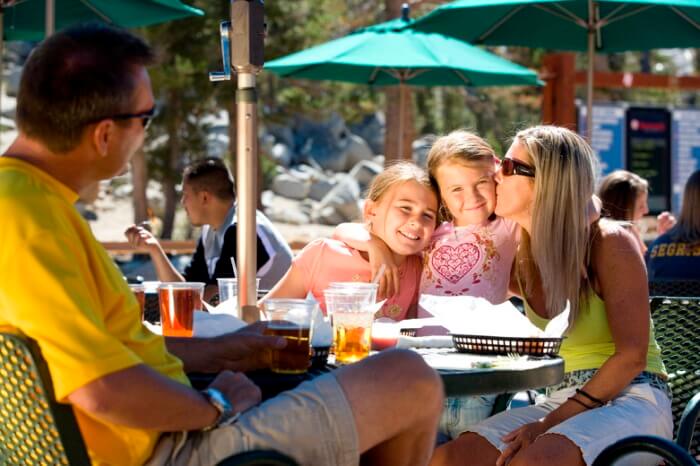 The south shore is more popular among those looking for exciting entertainment and nightlife experiences. The main difference to the north is that the south shore of Lake Tahoe is filled with bars, many with live music, and the casinos appeal to the 24-hour crowd looking to dance all night in their clubs and ultra lounges. Dining options abound, from American to Chinese, Japanese to Vietnamese, and Italian to Thai.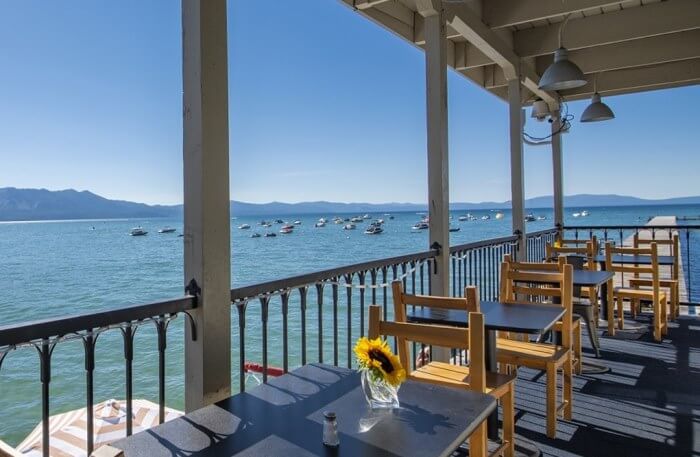 The south end of the lake is famous for its long, clean sandy beaches and has year-round outdoor activities available for all ages, like boating, jet skiing, hiking, biking, fishing, snowshoeing, skiing, and snowboarding.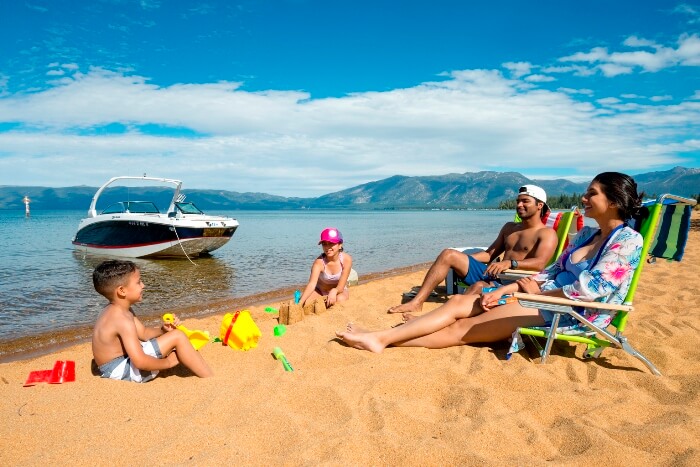 South Lake Tahoe has more than 100 different lodging options, from budget motels to 5-star resorts and charming log cabins to lakefront hotels. The newest Edgewood Lodge is the only luxury 5-star true lakefront hotel around Lake Tahoe, and The Landing Lake Tahoe Resort & Spa offers a 4-star boutique experience centrally located and right on the water. Other lakefront hotels include Beach Retreat and Lodge, Tahoe Lakeshore Lodge & Spa and Lakeland Village.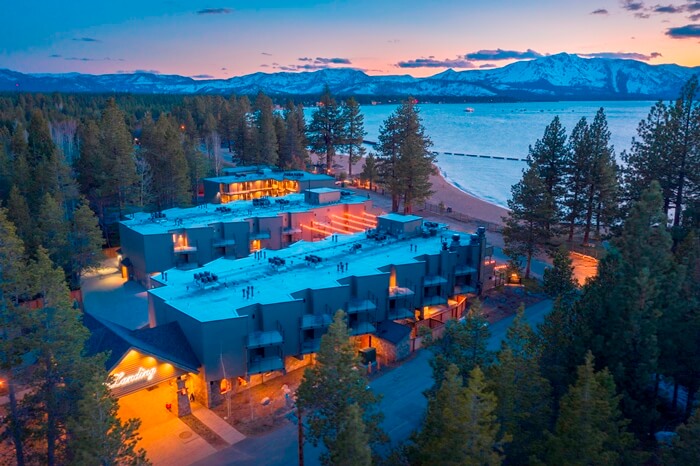 South Lake Tahoe is about an hour from Reno and has the most lakefront and lake view lodging in the region. After all, visiting Lake Tahoe is about being as close to it as possible.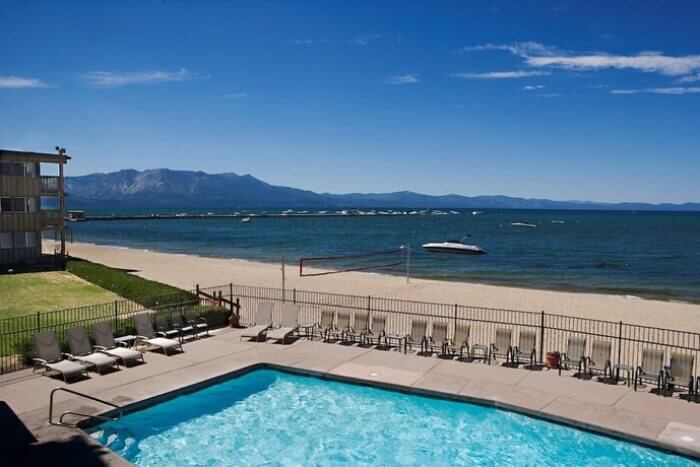 North Lake Tahoe, also called Tahoe North
North Lake Tahoe is also made up of small cities and towns: Incline Village; Sunnyside/Tahoe City; Kings Beach; Carnelian Bay; Crystal Bay; Tahoe Vista; and Truckee. Truckee has a population of just over 16,000 people and is located about 12 miles / 20 km north of Lake Tahoe. By comparison, the Sunnyside/Tahoe City area has a population of about 1,500 people.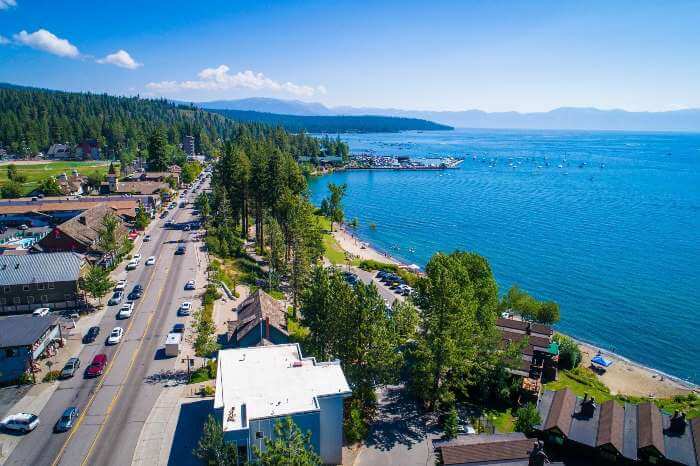 North Lake Tahoe is well known for its quieter, more laid-back atmosphere, which appeals to those looking for a more modest vacation experience. The difference is the towns are smaller in size and this gives visitors a quaint community feel.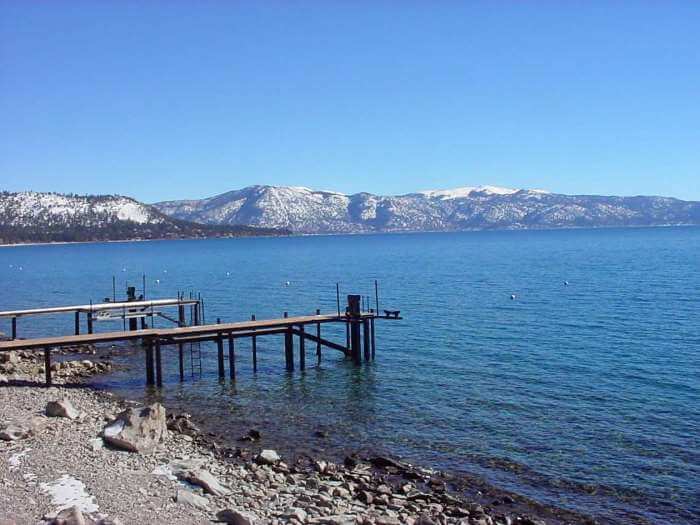 Entertainment and nightlife can be found at the Crystal Bay Club casinos on the Nevada state line in Crystal Bay and at the Hyatt in Incline Village. In Tahoe City, there are some bars and lounges, and many of the towns have great restaurants.
There are year-round activities including river rafting, hiking, biking, boat rentals, skiing, cross-country skiing, snowboarding, and sledding. During the summer, North Lake Tahoe has a few picturesque beaches, like the popular Sand Harbor, but plan ahead as parking is extremely limited. North Lake Tahoe is also famous for its striking rocky granite boulder shoreline.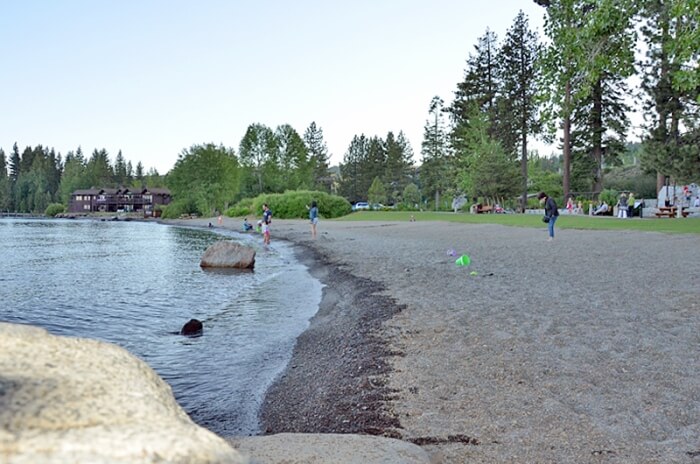 North Lake Tahoe has a wide choice of lodging too. The Hyatt Regency is in Incline Village, and across the road is their Lone Eagle Grille located right on the shoreline. It is 16 miles / 25 km from Tahoe City. The Ritz-Carlton, Lake Tahoe is located at Northstar California Resort, about 18 miles / 29 km from Tahoe City. Everline Resort & Spa (formerly Resort at Squaw Creek) is located in Olympic Valley and is 6 miles / 10 km from Tahoe City.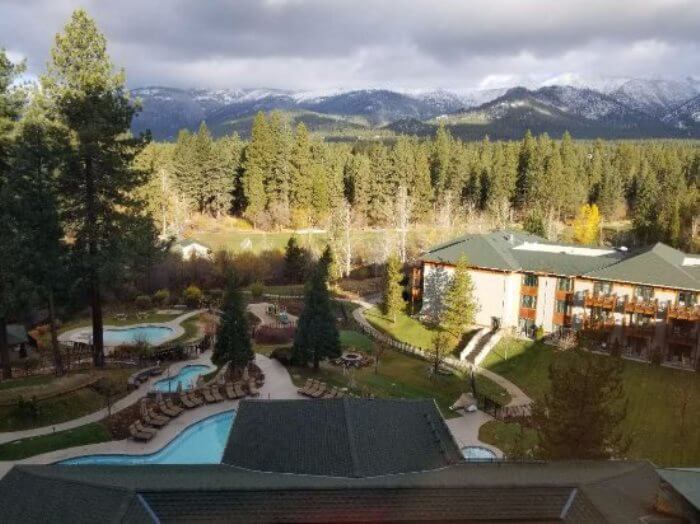 Reno Tahoe
Reno is also known as "The Biggest Little City in the World". The city sits in a high desert river valley at the foot of the Sierra Nevada mountains. The downtown area occupies a valley informally known as the Truckee Meadows. Reno has a population of 250,000 and is the fourth-most populous city in the state of Nevada after Las Vegas, Henderson, and North Las Vegas.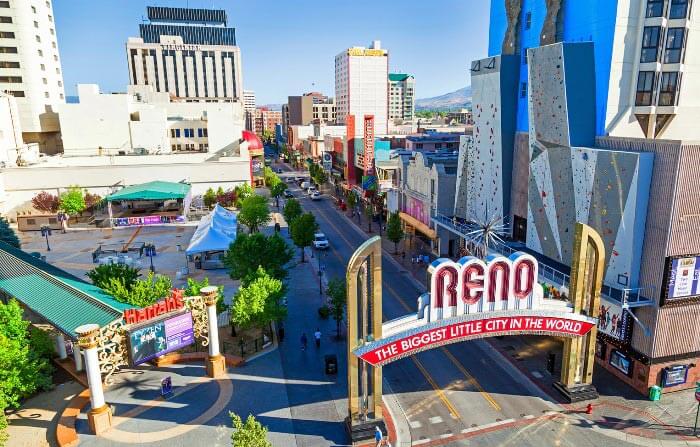 Downtown Reno's main street is N. Virginia Street and is a place where you can casino hop, and where you can find some of the vibe and food specials resembling that of historic Las Vegas.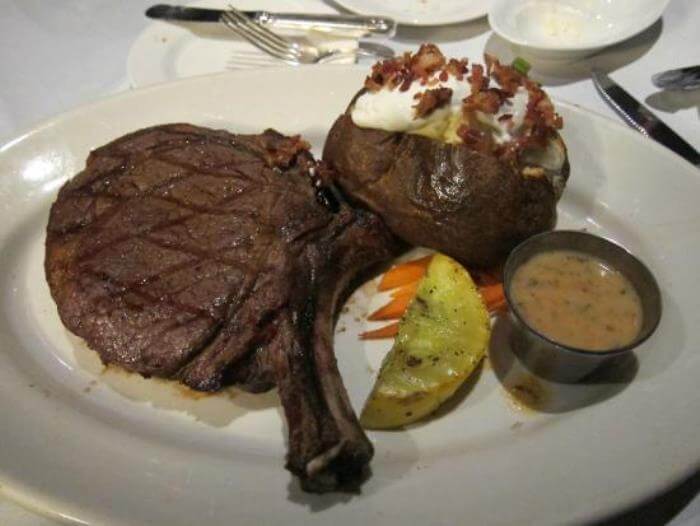 Reno has a number of museums: The Nevada Museum of Art; and The National Automobile Museum. Reno also hosts a number of music venues, such as the Nevada Opera, the Pioneer Center for the Performing Arts, the Reno Philharmonic Orchestra, and the Reno Pops Orchestra. Reno has been lucky to host the United States Bowling Congress Championships several times, attracting tens of thousands of bowling enthusiasts over a five-month period.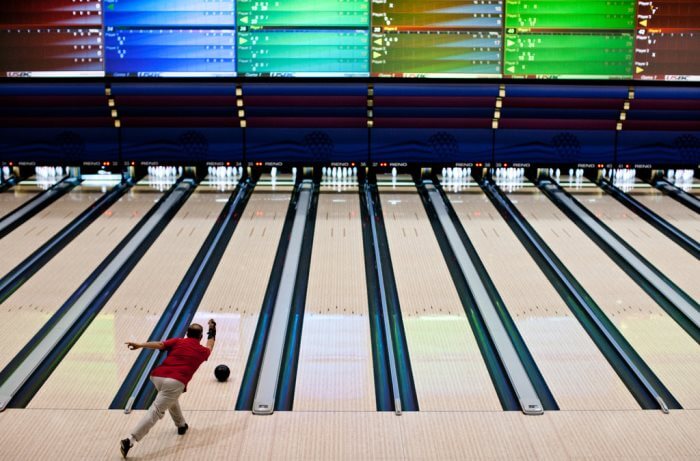 Reno is home to a variety of recreation activities including both seasonal and year-round. In the summer, Reno locals can be found near three major bodies of water: the Truckee River, Sparks Marina Park, and Pyramid Lake. The Truckee River that originates at Lake Tahoe, flows west to east through the center of downtown Reno before terminating at Pyramid Lake to the north. Reno is about 50 miles / 80 km from Tahoe City and 58 miles / 94 km from South Lake Tahoe.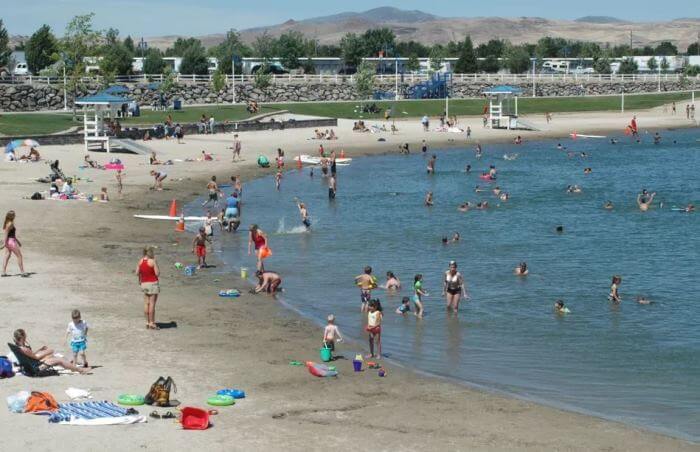 The Reno-Sparks metro area has over 100 hotels, motels, and casino resorts with something to suit every budget. About 68% of the properties are in the economy category. There are 5 properties that are really big and have over 1,000 rooms each. The largest is Grand Sierra Resort with nearly 2,000 rooms, followed Silver Legacy and Peppermill.
Skiing in the South and North Lake Tahoe Region
The Lake Tahoe region boasts 15 downhill alpine ski resorts. Only three of them are within the Lake Tahoe basin itself and afford breathtaking views of Lake Tahoe. They are Heavenly Mountain Resort in South Lake Tahoe, Homewood on the West Shore, and Diamond Peak in North Lake Tahoe. Just outside the basin are Kirkwood Mountain Resort, and Sierra-at-Tahoe, which are within an hour drive of the South Shore. Heavenly Mountain Resort is the largest ski resort around Lake Tahoe and on the west coast of the United States. Some of the other ski resorts offer partial lake views or unfortunately, no lake view at all. However, all of them have a great snowfall record and the renowned Lake Tahoe region vibe!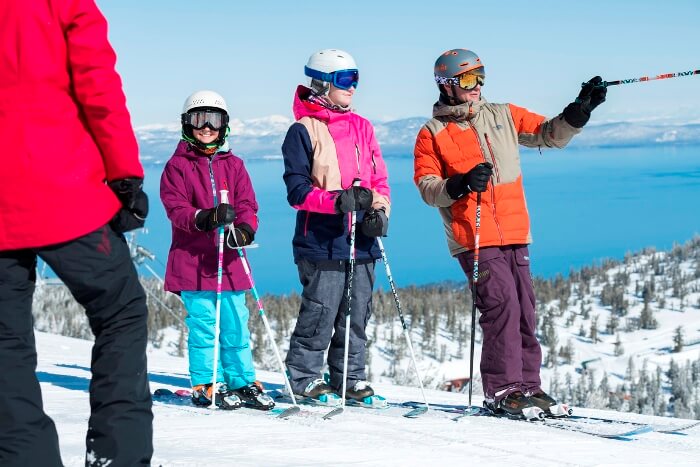 Lake Tahoe is the Jewel of the Sierra mountain range and there are many accommodations choices. You decide where to stay and the experience you want to have. The decision is yours!
Check out Lake Tahoe on Instagram