Lake Tahoe is such fun playground for outdoor activities for families or solo adventurous people. You may ask: why's that? Well, although I am a bit biased about California's South Lake Tahoe, it is ranked #3 on the list of "Best Small Towns to Visit in the USA." So, if you're planning to make the most of your trip to the Sierras, make sure to visit South Lake Tahoe! We've always had the best times there, and here I'm sharing our South Lake Tahoe Itinerary for you to take full advantage of your time in one of our favorite towns.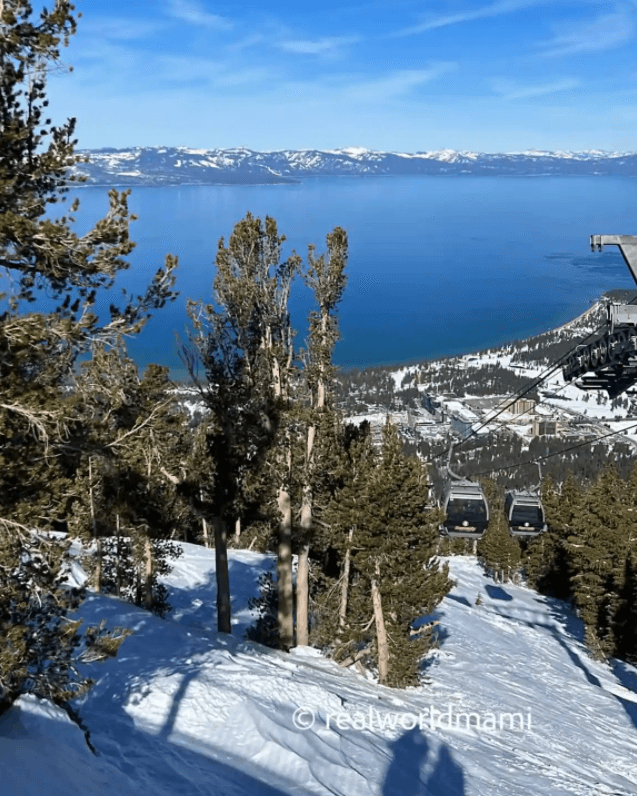 I know that when traveling with family, planning is crucial to make the best of your time in new places. Lake Tahoe it is such a fun playground during the winter and summer in California. We are not locals to the region, but live 5 hours away, and visit at least once a year. That's why I feel comfortable sharing what I know about this area.
Our trip to South Lake Tahoe during the winter was huge fun! We found so much snow, and as you might guess living in California we feel lucky to find so much fresh powder.
If you're planning a trip to the snow with the family at South Lake Tahoe and don't know where to start, I can help you with that!
What is South Lake Tahoe known for?
I have visited Lake Tahoe over the years and South Lake Tahoe is a place I keep going back to. This is because it has so much to offer for all ages.
The whole Lake Tahoe area has so many places with stunning beauty, it is just wonderful.
In the summer, you would want to visit Meyers, Stateline, Zephyr Cove, Glenbrook, Emerald Bay, and Markleeville at the very least.
In the winter, there are numerous ski resorts ringing the lake, but at South Lake Tahoe specifically you'll find the world famous Heavenly Ski Resort.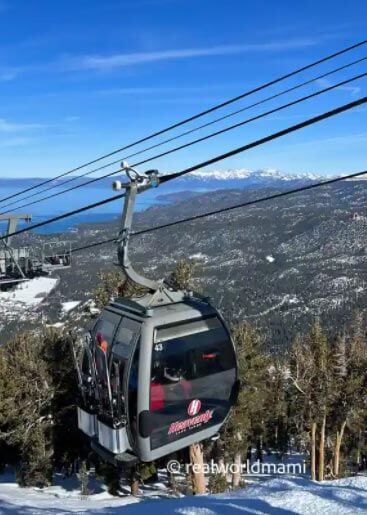 The town of South Lake Tahoe is so close to Nevada – it actually bumps up right against the state line – which makes it the perfect playground for any age!
Itinerary – What to do in South Lake Tahoe?
I partnered with SouthLakeTahoe.com for this trip and I am sharing this itinerary for a perfect weekend in South Lake Tahoe. Here you can see the places we visited and everything that I found:
What to do in South Lake Tahoe: Itinerary Day 1
Arrive and explore Heavenly Village. Try the different restaurants, cafes, shops, and bars…and consider taking a spin around the ice rink.
The first day, after you arrive and if you have enough energy, I recommend that you to find a place to eat! Before you even pull into town, you might want to make a dinner reservation, especially if you're coming on a Friday, Saturday, or Sunday night. When people come off the slopes, they're usually ravenous and if you don't have a reservation you may have to wait 1-2 hours (or more!) to get a table at the more popular South Take Tahoe restaurants.
Ice Skating at Heavenly Village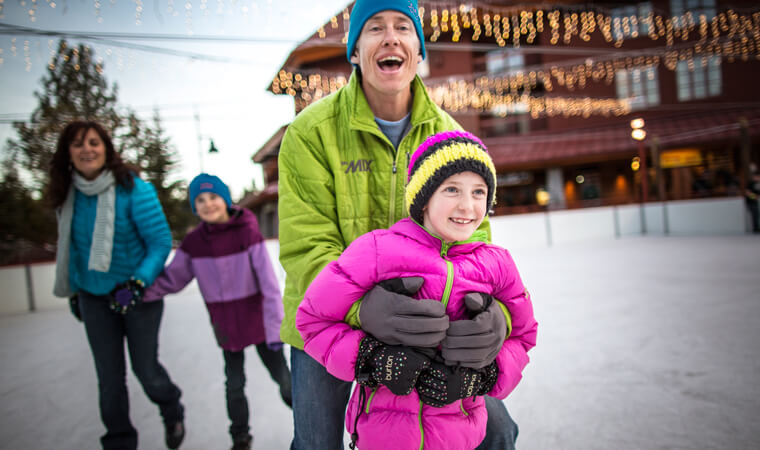 Heavenly Village is such a fun and energetic place where people love to hang out after a long and fun day on the mountain. Stop by the ice skating rink, even if you just want to people watch. It isn't very large and can get kind of crowded at times. It is open the full winter season until April.
Cost:
$20 adults – $15 children 4-12
$5 off when you bring your own skates
Find more info about the ice skating rink here.
There are also shows at The Loft, and first run feature films at the Heavenly Village Cinema.
What to do in South Lake Tahoe: Itinerary Day 2
The next day, we grabbed breakfast early at our hotel, the Lake Tahoe Resort Hotel (where every room is a suite, and breakfast is included!). After that, we walked to the village to pick up our ski and snowboard gear at Heavenly rentals. There was already a line when we arrived, but there was enough people to help, and we were done picking up our equipment in about 30 minutes or so, from start to finish. The staff is friendly and helpful, and really take the time to make sure all your gear fits well. Many of them speak Spanish which was great for me. They are primarily young people that come from a school program during the winter.
Picking up your rental gear
When you rent at Heavenly rentals, they can even deliver your equipment right to your hotel or condo. If you arrive a day early, you can pick up your equipment after 3 pm and you won't be charged for getting it the day before your rental is supposed to start. Also, if you change your mind, you can change skis to snowboards and vice versa.
Cost for a family of 4: For a family of four, the rental equipment will run a total of $270 including boots and helmets. For more information, click here.
Take the Gondola at Heavenly Village
How cool is that there's a ski resort with the gondola that takes you right from the base of the mountain into town?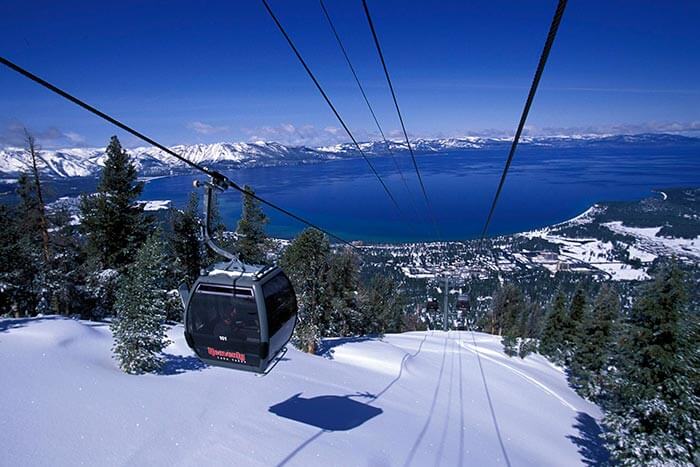 Even if you're not skiing, and even in the summer time, you can still enjoy a gondola ride – it is spectacular!
On the way up, you can stop at the observation deck (it doesn't stop on your way down) to have a sweeping view of the lake and mountains, it is breathtaking!
Looking at the Sierra Nevada ringing Lake Tahoe is just amazing!! But bear in mind, if you get off at the observation deck, it may be some time before you can get back on the gondola to continue up the mountain if it's super busy and all the cars are full.
The operator at the deck told us we might have to wait an hour when we got off to take some pictures, but we got lucky and they'd sent up an empty car with a trash bin and some boxes and no people…they pulled all that stuff out and we hopped right on!
I should also mention, there's Cafe Blue at the observation deck that is open at high season, and restrooms too, so you can get comfortable and stay awhile. 
Gondola cost peak prices – Adult: $89. Teen/Senior: $59. Child (5 – 12 yrs.): $47. Find more here.
Ski or snowboard at Heavenly Ski Resort
Next stop is the base of the mountain. At the top gondola stop you will find lockers for backpacks and such. Once you're all set, just walk down the stairs or take the elevator to get onto the snow. There's a big map with all the lifts and runs on it. The bunny slopes and magic carpet are right there, along with two other lifts.
When we went, I didn't realize that it was "ski week" for many Bay Area schools. Even though it was a busy weekend, it didn't feel too crazy, and actually it was fun to be around a bunch of people again.
At Heavenly, did you know you can ski/snowboard across two states? Yes, Nevada and California! How cool is that?
We had a great time here. Okay I admit it, I stayed on the bunny slopes with my youngest boy while my husband and son went on the more challenging runs higher up the mountain.
For beginners, there are areas called 1st and 2nd runs, and then the magic carpet area with 2 runs, one at each side. Next, there is an actual bunny slope ski lift for all those that are learning to get ready for more challenging runs.
Current Heavenly lift tickets prices can be found here.
The sweet part is that the bunny slopes are so big (for a beginner) that I didn't mind spending hours there with my boy. We had a blast! So did my husband and older son, traipsing over the rest of the resort. Yeah, I'm a bit jealous that they could run down the beautiful mountain with those gorgeous lake views, but I will do it one day…I will be back.
Grab lunch on the mountain: there are several lodges and cafes where you can get a variety of surprisingly decent food. However the line can be long and the food ain't cheap, with pizza, chili, soups and burgers ranging from $10 to $20. That's where those lockers may come in handy, to bring your own food and beverages.
On the mountain we didn't have super great cell phone reception so it might be a good idea to bring a walkie-talkie to stay In contact. I saw some people doing this and I thought what a great idea.
Make sure to leave the mountain before 4 PM. You should know that if you plan to take the gondola down, on a busy weekend the line can be long but it actually moves pretty quickly. I'd recommend planning to get into the gondola no later than 3:30 if you hate standing in lines.
Grab dinner at the Heavenly Village
After a fun day on the mountain, if you still have energy, I suggest you explore Heavenly Village at night!
I recommend you have a reservation or get on the waiting list for the restaurants as soon as you can and then go and explore, or grab a snack to go while waiting for your table. It can take some time to get on the list if you visit in high season.
The Village is full with shops, boutiques, a grocery store, ice cream shop, bars and cafes, cinema, and there's even an ice skating rink. It's really a beautiful, fun, and festive atmosphere.
Another option is to order food to your hotel or if your hotel has restaurant, go there. I like the idea of eating at the hotel and using the hot tub to relax the muscles, but we forgot our swimming suits! Don't you make this mistake too.
What to do in South Lake Tahoe: Itinerary Day 3
Go Tubing
We went tubing at Adventure Mountain and had a blast. Remember, I am not the best skier so this is much more my jam.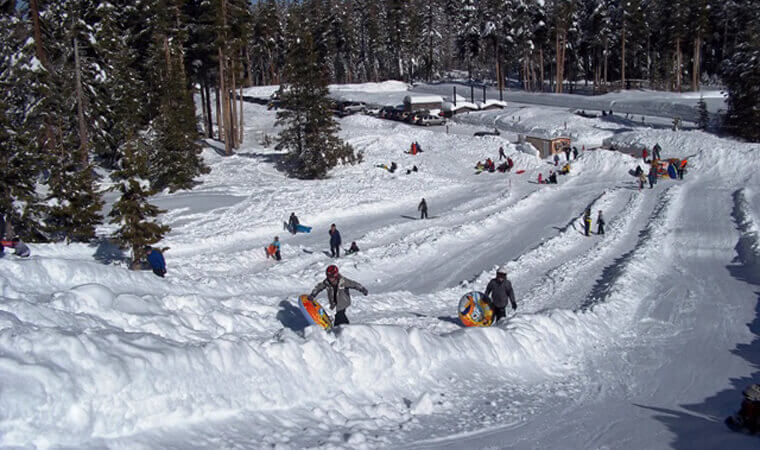 We had a blast here! It is open from 9 am to 3: 30 pm. On Sunday morning, we checked out of our hotel and headed to play at Adventure Mountain, right off Highway 50 on our way home.
This place is located just 15-20 minutes from South Tahoe. The best deal is to bring your own sled and/or tube and just pay $40 per car per parking and you can enjoy at your leisure. They also have a little snack shack there with pizza, hot dogs, coffee, cocoa, and Gatorade.
Many people more ready than us brought their own sleds and snow tube even floats that amazingly still work to slide in the snow. We even saw a couple of inflatable unicorns sliding down the hill.
You can rent a sled there for $25 or snow tubes for $35. Plus, there are several hills of differing heights to choose from. I would recommend the snow tubes for long rides and sled for short ones.
The sleds are plastic and can break, and if you break them, you have to pay for them, so be careful!
We spent a couple hours sledding and tubing. The snow was so good that we were able to build a snow man and get into an epic snowball fight.
Where to stay in South Lake Tahoe:
There are many different places to stay, but we stayed at the South Lake Tahoe Resort Hotel, located quite near Heavenly Village. This property has a wonderful proximity (about a 1 block walk) to Heavenly Village which was bustling with activity, shops, restaurants, and even an ice skating rink.
One thing about the South Lake Tahoe Resort Hotel is that it is built right up against the California /Nevada border. So if you literally just cross the street, you're in Nevada and they have several hotel/casinos, like Harrah's, Harvey's, and the Hard Rock. No question that South Take Tahoe has entertainment for all ages and lifestyles!
After driving a few hours we were happy to settle into the hotel, where every room is a suite and we felt really comfortable. The interior of the hotel is basically a huge atrium and boys loved the glass elevator with a view.
While we absolutely loved our hotel, there are many more to choose from…too many to list really, but here's a few I can suggest:
This boutique hotel is located across from the Heavenly Village and short 5 minute walk to the lake. Located 4143 Cedar Ave, South Lake Tahoe CA 96150
It is located on the main boulevard, and during the summer they have complimentary bicycles, movies and more. It also offer Karaoke contests, BBQ's, themed dinners and other fun events.
This is a beach and lakefront resort located a mile from Heavenly, where every hotel room and condo features lake and mountain views. Every condo offers a living area with wood burning fireplace, a fully equipped kitchen, and lake views from your private balcony or patio.
The Landing Lake Tahoe Resort & Spa
You'll love the secluded feeling at the edge of their Semi Private Beach with public (but not free) access on the shores of South Lake Tahoe along with easy access to the excitement of Heavenly Village.
This lodge is nestled among the pines, located in 1261 Ski Run Blvd, South Lake Tahoe, California – right on the way to Heavenly Resort. There are 14 cozy cabin-style rooms, each with a unique theme, decor and gas fireplace.
Where to eat
Izabella Italian food: this great restaurant is located down the street from Heavenly Village, and the food was delicious. We didn't find a long waiting list, and the food was delicious and service was impeccable. It wasn't the cheapest pasta place you'll find but not too hard on the wallet. We ordered spaghetti a la Bolognese, cheese eggplant, pasta Alfredo and salad. You can find more information about it here.
Fire and Ice: It is located within the Heavenly Village. The food is a Mongolian-style bbq where you choose your ingredients, and the chef cooks up your creation in front of you. Located in 4100 Lake Tahoe Blvd, South Lake Tahoe, CA 96150. You can find more information about it here.
Base Camp Pizza: located at heavenly Village, has nice ambiance and live music. It has indoor and outdoor seating. It's usually busy but with good service. Find the menu here.
Azul Latin Kitchen: they also have indoor and outdoor service, plus you can order online for takeout. If you want to eat there I recommend to go in person and ask for a table in advance. One day we needed to wait one hour and another two hours. They offer Mexican and Latin food, but you can also get chicken wings, burritos, quesadillas, cucumber salad, fish tacos and churros. We didn't eat there this time we visited, but we've been there before and enjoyed the food. Find more info on it here.
The Naked Fish: we heard and read that that the sushi here is delicious and a must-try. It is located at 3940 Lake Tahoe Blvd, a few blocks down from Heavenly Village. Unfortunately when we visited there was a two hour waiting list. D'oh! We'll be sure to hit it up next time. Find more here.
Cold Stone Creamery for dessert: grab dessert here. It is located in Heavenly Village at 1001 Heavenly Village Way Suite 24, South Lake Tahoe, CA 96150. Find more here.
Other activities around:
I didn't included this in our weekend South Lake Tahoe Itinerary but walking down the street at from Heavenly Village, we found an axe throwing joint! I have never tried it, and had we not been so exhausted from our day on the mountain, we surely would have. It's on the list!
If you'd rather save money buying groceries instead of dining out, there is the Village Shopping Center where you find a grocery market and some other less-expensive options like Subway, Starbucks, and Jamba Juice.
There are several places at the village where you can find other winter activities different besides skiing and snowboarding that you can book…like horse-drawn sleigh carriage rides through the snow!
I hope you have found all of this information be be helpful! And I know you'll have an amazing time on your trip to South Lake Tahoe!
Written by Rocio Llontop and originally appeared on realworldmami.com