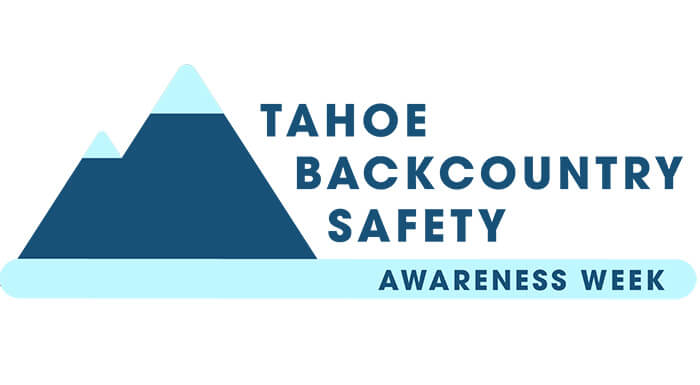 Building on the success of last year's inaugural Tahoe Backcountry Safety Awareness Week, Take Care Tahoe has convened partners from around the Tahoe Basin and beyond to lead free virtual and in-person educational sessions focused on backcountry safety December 13-18, 2021.
With themed events scheduled over the course of six days, participants will learn about everything from why training matters and how to prepare, to how to use safety equipment, backcountry etiquette, and much more. Superstar professional athletes Michelle Parker, Jeremy Jones, Elyse Saugstad, and Claire Hewitt-Demeyer will be featured in the week's events.
"More and more people are venturing into the backcountry every year in Tahoe. Unfortunately, some do so without proper education, putting themselves and others at risk," said Lauren Levi, Take Care Tahoe program manager. "When you head into the backcountry, you're traveling into unpatrolled, uncontrolled areas. To do this safely, every detail matters. Education is key. That's why we've brought together these partners to participate in Tahoe Backcountry Safety Awareness Week. Whether you're new to the backcountry or someone who has extensive experience, you're sure to learn something new. Some of this information could save your life."
Each day's content is centered around a theme for participants to become a more knowledgeable backcountry traveler, beginning with "Welcome to the New Backcountry" on December 13. Participants will learn about the current state of the backcountry, the associated risks, and how to get started. Throughout the week, other themes will include "Preparing for the Backcountry," "Be a Friend in the Backcountry," "Motors in the Backcountry," "Backcountry Safety Summit," and "Give Back and Get Together." Content will be provided by the Sierra Avalanche Center, Blackbird Mountain Guides, Golden State Guiding, Alpenglow Expeditions, the Tahoe Backcountry Alliance, Lake Tahoe Snowmobilers, public agencies, and other nonprofits.
Days five and six feature in-person events where participants can connect with other backcountry users. Alpenglow Expeditions will host a Backcountry Safety Summit at Palisades Tahoe from 6:00 p.m. – 9:00 p.m. on Friday, December 17 that will feature a discussion hosted by Dave Nettle with professional skiers and riders Michelle Parker, Jeremy Jones, and Elyse Saugstad, along with members of Tahoe Nordic Search and Rescue. Beer and wine will be poured by Sierra Nevada and Revelshine with proceeds benefiting Sierra Avalanche Center. Attendees will also have the opportunity to take advantage of discounts for Alpenglow Expeditions' backcountry courses.
On Saturday, December 18, the Town of Truckee will host a Trail Trash Cleanup at Glacier Way in Truckee, and afterward, a Beacon Hunt will be offered by Tahoe Mountain Sports at the Alder Creek Adventure Center in Tahoe Donner. Lake Tahoe Snowmobilers will also be hosting a Beacon Park at Mount Rose.
Throughout the week there will be opportunities to win free spots in AIARE Avalanche courses from Alpenglow Expeditions and Golden State Guiding, and free gear from Mountain Hardware. Blackbird Mountain Guides is also hosting a BIPOC Avalanche Scholarship to help make backcountry riding more accessible to underrepresented communities.
Learn more at www.takecaretahoe.org.
The most important tool in your belt for backcountry adventure is to get educated. While not a substitute for a true avalanche clinic, use this event to start warming up the brain. To learn more about this event AND to register for the free Athlete Summit, visit www.takecaretahoe.org/backcountry and complete the sign-up section.