As the largest alpine lake in the United States, and the second deepest after Crater Lake in Oregon, Lake Tahoe attracts visitors from all over the world to explore her seemingly impossible crystal clear waters. In fact, in 2018, the average clarity of the lake climbed to an astounding 70.9 feet (and clarity is still increasing, shout out to Keep Tahoe Blue!). To truly experience the breathtaking beauty of Big Blue's electric waters, there's no better place to start than with a Lake Tahoe boat rental. Showing is better than telling, and seeing IS believing. The grandeur of Lake Tahoe is easier to comprehend when you're smack-dab-in-the-middle, trust us.
Lake Tahoe Boat Rentals, Watersport Rentals, Parasailing & More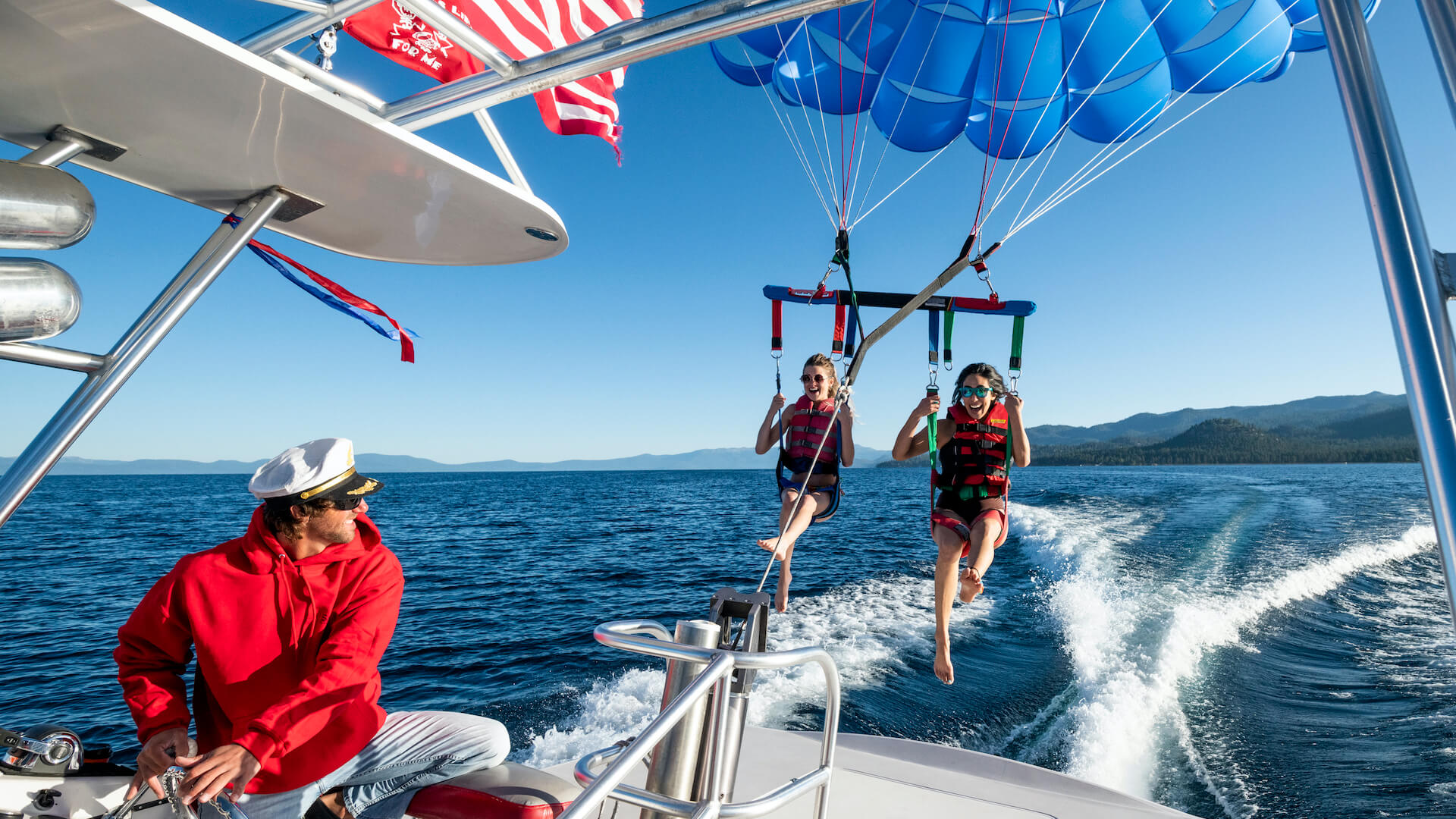 So, where to start? Well, a quick reminder that Tahoe doesn't just offer boat rentals. Watersports at the lake are a hometown favorite, so most places offer a variety of different on-the-water adventure options. Just about any kind of small watercraft you can think of can be rented for Lake Tahoe. And honestly, that shouldn't be too big of a surprise. Lake Tahoe attracts visitors from all over the world all season long to her mesmerizing waters—from scuba diving to deep sea fishing and everything in between.
Some of the best Tahoe boat rentals can be found on the South Shore, and Tahoe water ski schools offer lessons for those looking to expand their watersport horizons. Check out Birkholm's Water Ski School, Borges Water Ski and Wakeboard School, and Lake Tahoe Water Ski School, before hopping on your newly rented boat and exploring Big Blue shore to shore.
Seriously Epic South Lake Tahoe Boat Rentals
Fallen Leaf Marina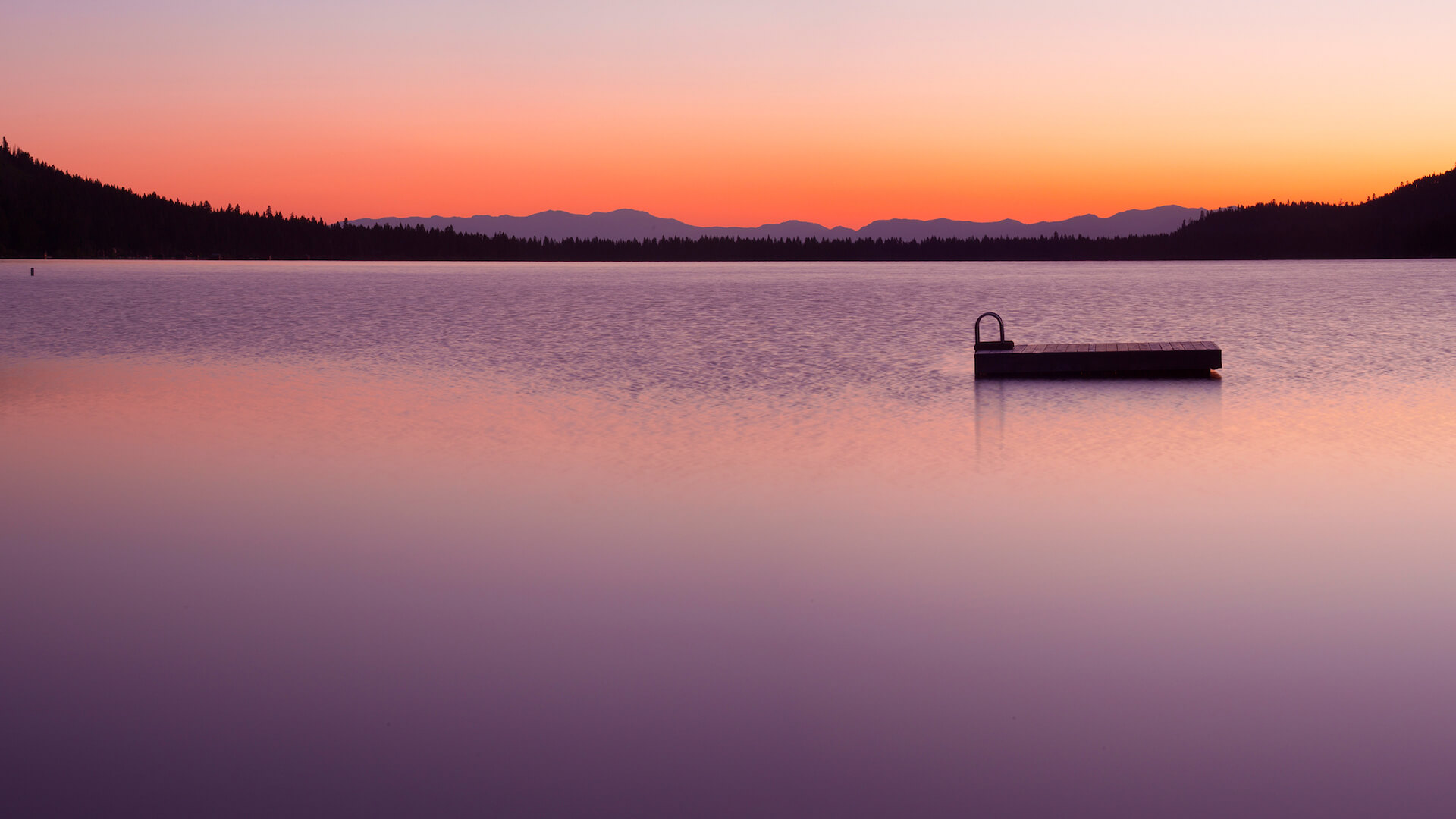 Whether you're a South Lake regular or it's your first time in this mountain paradise, paying a visit to Fallen Leaf Marina is always a good idea. Fallen Leaf Lake is absolutely breathtaking and a short drive from Lake Tahoe's South Shore. The marina offers seasonal, monthly, weekly, and daily mooring with rental boats like outboards (not exceeding 15hp), kayaks, pontoon boats, fuel, launching (if you have your own vessel), a small public beach and even boat washing. There are also a few awesome hiking trails in Lake Tahoe, too, after you've gotten a grip on your sea legs.
South Lake Tahoe Boat Rentals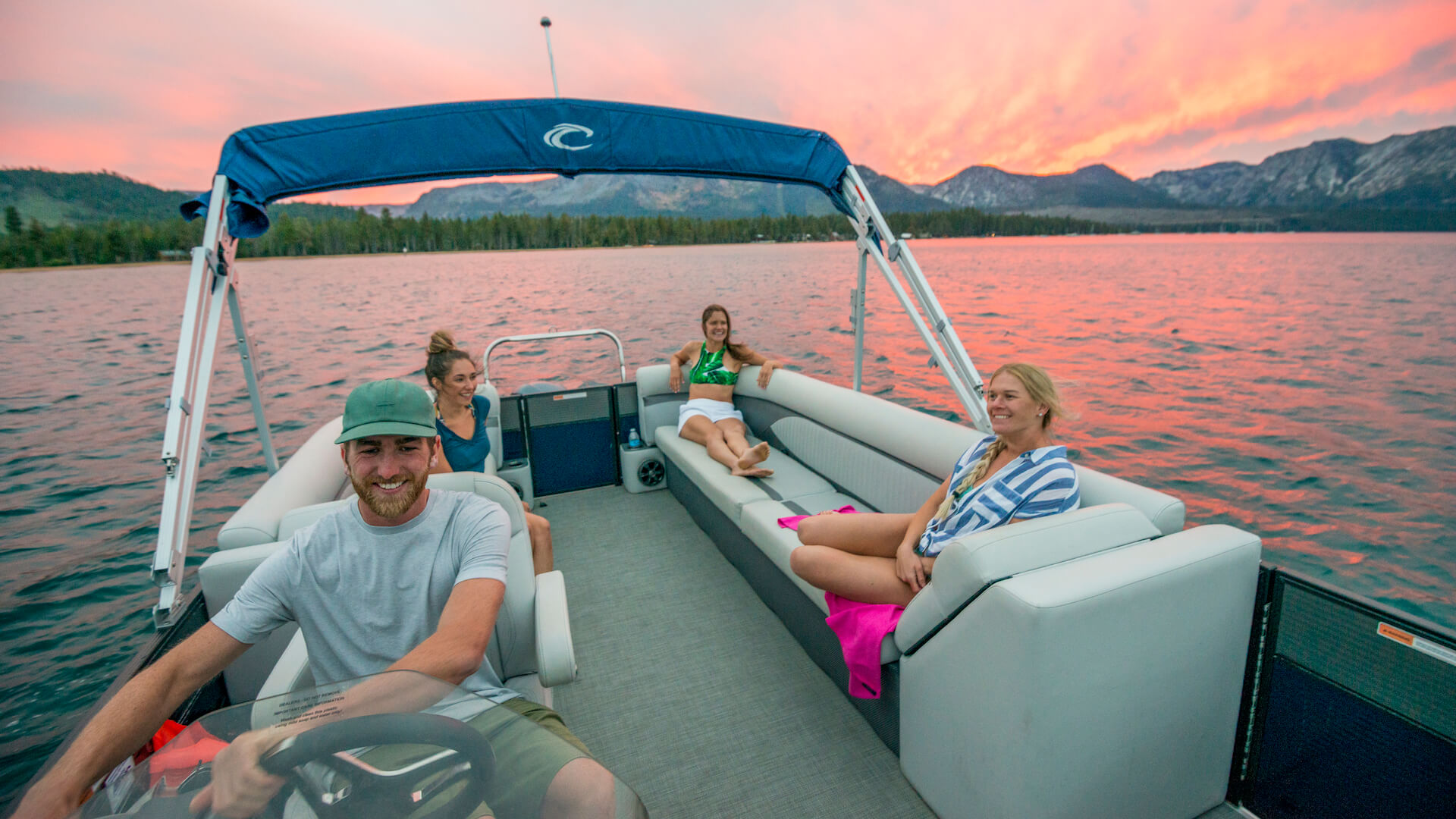 If you're chomping at the bit to dip into Lake Tahoe's waters, hit up Camp Richardson's Historic Resort & Marina, first. This year-round destination resort serves up just about everything outdoor recreation could offer in Lake Tahoe, spring, summer, winter, and fall. Camp Richardson boasts full amenities—and camping includes a full-service marina with some of the best South Lake Tahoe boat rentals available. With a lakeside restaurant, stocked general store, a mountain sports center, a tasty ice-cream parlor and much more, Camp Richardson has everything you could possibly need on your Tahoe vacation, all within a short walk.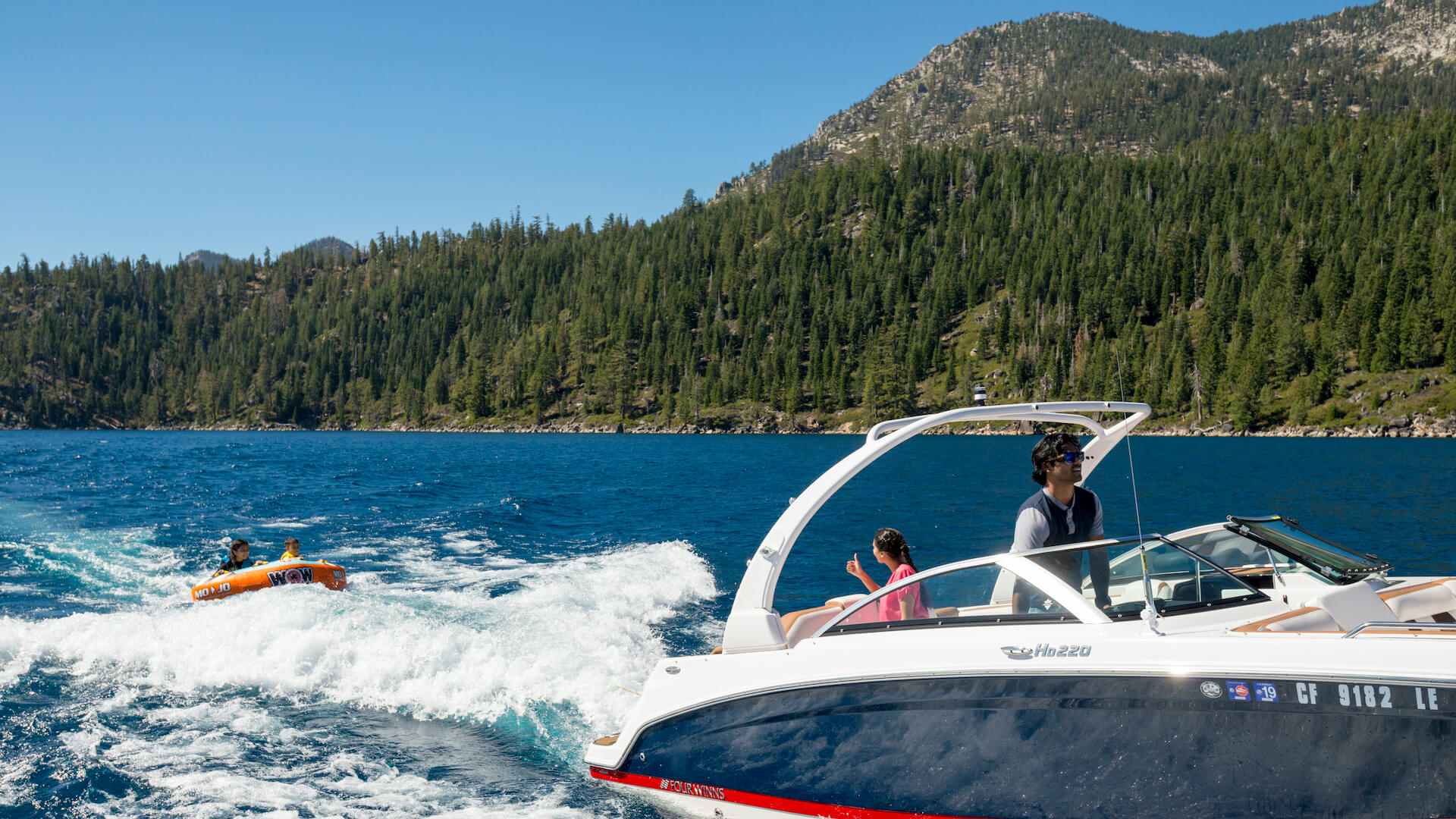 Another great spot for Tahoe boat rentals is at Lakeside Marina. As one of two protected marinas in South Lake Tahoe, with slips available to the public and the closest marina to the casino corridor (a 5-minute walk from Harvey's Resort), this full-service facility lets you tie up overnight or all season long! With floating docks that make it easy to get in and out of your boat, they also have top of the line equipment like power boats (up to 27 feet), both single and double kayaks, paddle boats, paddleboards, and jet skis available for rent, Lakeside Marina offers one-of-a-kind experiences on the South Shore you won't soon forget. Not interested in renting or bringing your own boat down to the lake? Don't sweat it. Take the South Shore water taxi to Camp Richardson. The shuttle leaves Lakeside Marina every other hour. Once you get back to home base, make sure to check out Lakeside Beach and Lakeside Beach Grill, you won't regret it.
Tahoe Boat Rentals Off Highway 50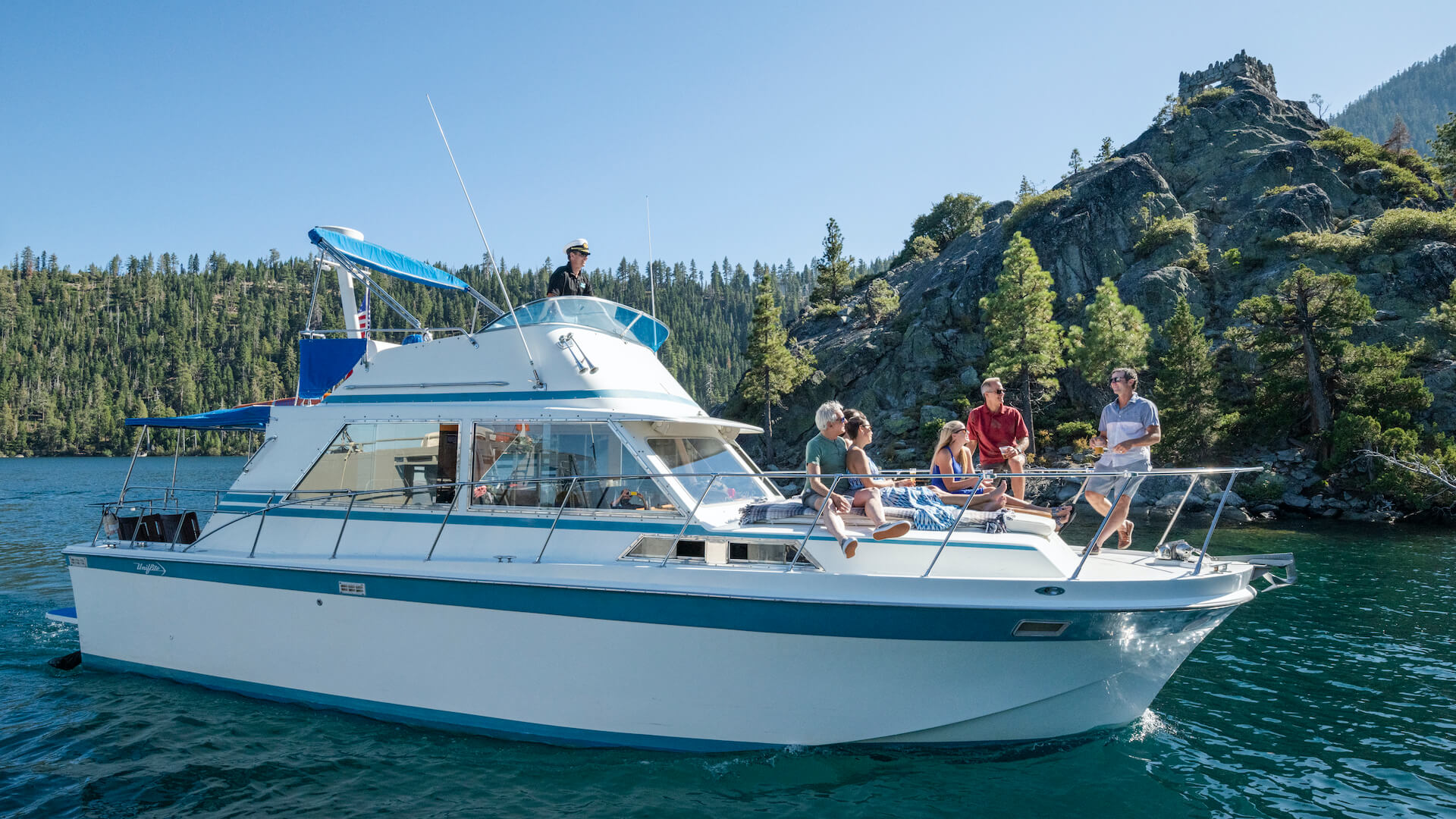 Want to shake it up a bit? We knew it. Tahoe Keys Marina is where you'll find wetsuits, wakeboards, water skis, and even sailboats if you're up for it. For those looking for an adrenaline rush, head to Timber Cove Marina or the Marina at Zephyr Cove. Offering parasailing, Tahoe Thunder High-Speed Boat Rides, Windsong Sailing Yacht Tours, jet ski rentals, boat rentals and miles of sandy beaches, you'll experience the entirety of the lake in just about every way possible.
Last, but certainly not least, you shouldn't leave the South Shore without stopping by Ski Run Marina. Awarded as the Best of Tahoe in Marinas in 2015 (and still going!), Ski Run Marina is a family destination offering a variety of retail stores, souvenirs, and is home to the famous Riva Grill, Artemis Lakefront Cafe and the best place to book a Tahoe cruise. Ski Run Marina is the hub for South Lake Tahoe activities and one of the best places to enjoy some true "Tahoe Time."
From Lake Tahoe Cruises to Boat Inspections and Launching areas, we're here to make sure your South Lake getaway the best it can be from the deck of your new home for the day, week or even month!
Tahoe Boating Safety
What to Expect for the 2022 Boating Season
Among the improvements we are making to the watercraft inspection process this year is an optional appointment system that will be available for a small convenience fee. Each inspection station will offer appointments in addition to the normal drop-in service. The appointment system will be available at www.tahoeboatinspections.com. Please show up to your appointment Clean, Drained, and Dry.
We also updated inspection fees making minimal changes to maintain high standards of customer service. Inspections and decontaminations for non-motorized watercraft are available for free at all stations. Inspections are not required as long as the paddle craft is Clean, Drained, and Dry. Only Visa and Mastercard are accepted at the inspection stations.
Check out the Tahoe Boating App.
Lake Tahoe Boat Rentals
Check out Boating Lake Tahoe on Instagram