Action Water Sports and Getting Out, On, and In Lake Tahoe
You came to Lake Tahoe to enjoy Lake Tahoe and all the water sports it has to offer. So how do you get out and explore those beautiful, blue waters? Don't worry, you have options, lots of options, discovering North America's second deepest lake this summer is easier than ever.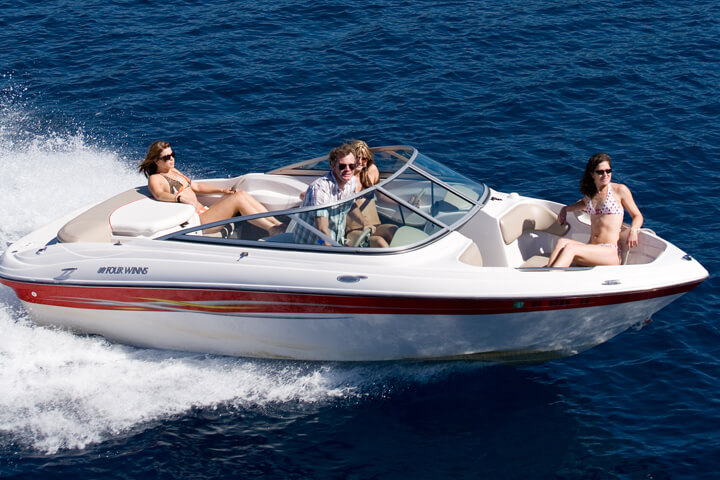 Gentlemen, start your engines
If motors are your preferred mode of transportation Lake Tahoe has the marina for you. Boat and Jet Ski rentals are fun action water sports and they are available at multiple locations across the South Shore. Lakeside, Camp Richardson, Timber Cove, Tahoe Sports, and Round Hill Pines marinas all offer a full line of power boats and jet skis for full and half day rentals along with knowledgeable staff and Tahoe expertise to get you out on the water quickly and enjoying the water sports of your choice.
Launch spots
If you are bringing your own boat, remember to first stop off at one of the mandatory Tahoe Boat Inspection locations to make sure your boat isn't carrying "hitchhikers." The inspectors are keeping Tahoe's pristine waters safe from invasive species. All trailered watercraft must have an intact Tahoe inspection seal to launch. On South Shore, there are two inspection stations, one in Meyers near the intersection of Highways 89 and U.S. Highway 50, and one at Spooner Summit near the intersection of Highway 28 and U.S. Highway 50.
Once you are sporting the seal of approval head over to one of the public or private boat launches to set sail. Public launches are available at El Dorado Beach, also known at Lakeview Commons, and Cave Rock. Sand Harbor on the lake's East Shore also has a public boat launch. Private facilities include Lakeside Marina and Tahoe Keys Marina.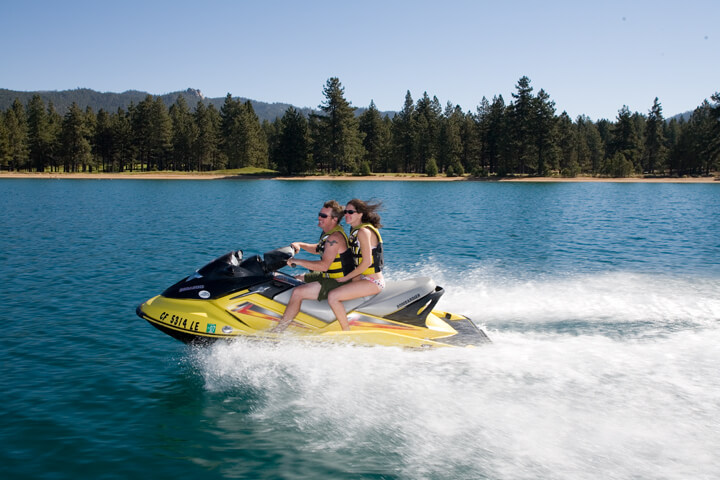 Tying up on Big Blue
You're here, the boat is on the water, and you never want to leave. So where do you park your boat? Action Watersports of Tahoe offers buoy rentals for the day, week, or entire season at several marinas across South Shore. Zephyr Cove Resort also offers short-term buoy rentals for guests, and Tahoe Keys Marina offers slip rentals.
If a ride on the lake and dinner is on the menu sailors have several spots for a lakeside repast. Boaters can tie up at Camp Richardson and enjoy a meal at the Beacon Bar and Grill, or its sister resort across the lake at Round Hill Pines and enjoy an al fresco snack at the Beach Grill. Lakeside Marina is within walking distance of Heavenly Village and the casinos, and Timbercove Marina offers a restaurant "on the water" sitting on the 900-foot pier. Ski Run Marina offers a water taxi from the moorings until 9 p.m. and is home to both the Riva Grill and Artemis Mediterranean Grill.
Paddling around
It's easy to understand why Lake Tahoe has long been a mecca for people seeking action water sports, including paddle boarding and kayaking. There is no better way to appreciate the crystal clear clarity of the lake then gliding along smoothly under your own power. Early mornings in the summer are usually best for the most glass-like conditions. It's best to stay close to the shore and out of the boat traffic found in the middle of the lake and wear a life jacket. Look for calm days, the wind can make paddle boarding a challenge especially for beginners. Some of the best spots for exploring are Cave Rock, which offers a chance to study the iconic rock formation from the water; El Dorado Beach, home of Race the Lake of the Sky, rentals, and lessons are available through South Tahoe Standup Paddle here; and Camp Richardson, a great spot to rent and start off on the Lake Tahoe Water Trail and explore some of the hidden coves around Emerald Bay.
'A three-hour tour '– Cruising the lake
Board the M.S. Dixie II at Zephyr Cove and set sail for Emerald Bay and hear about Lake Tahoe's history as you cross the lake on the authentic paddle wheeler, or for a faster trip try Camp Richardson's Rum Runner cruise, which operates daily in the summer, to Emerald Bay and get a close up look at Tahoe's west shore. For a more thrilling trip ride above and behind the boat parasailing and get the bird's eye view of Lake Tahoe. You and friend can soar up together.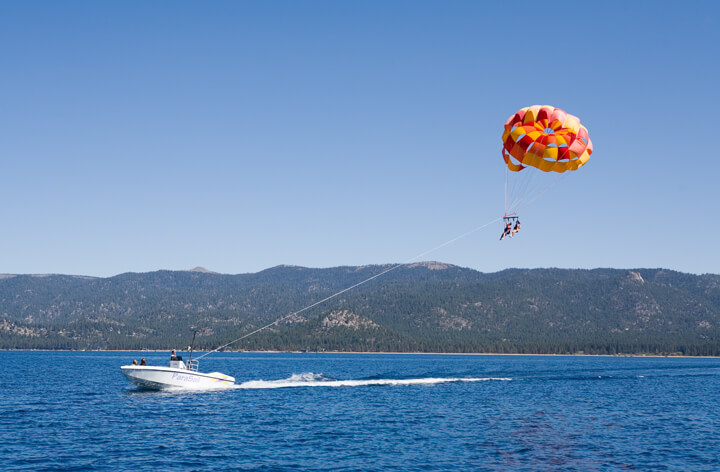 Just keep swimming
Then there is the most tried and true method of enjoying Lake Tahoe – taking a dip. Lake Tahoe has an abundance of swimming beaches to stake your beach umbrella on. The lake is lined with great spots and the Tahoe Beaches App lists them all. For families with young children, Camp Richardson's roped swimming area is a popular choice.
Safety first – tips for a safe, enjoyable trip
Bring a friend, and never swim alone. Tell a friend or file a "float plan" before boating or paddling. There really is safety in numbers.
Lake Tahoe can be very cold just under a warmer surface. Be prepared and know the dangers of cold water. Cold-water shock is an involuntary gasp reflex caused by sudden immersion in cold water. Know your swimming limitations and always wear a life jacket when boating or paddling.
Before heading out on the lake check the weather report. Sudden high gusting winds can capsize small craft. If a long dark wind line appears on the water head toward a sheltering harbor.
By boat, paddle, or fin Lake Tahoe is one of nature's best water parks!
Check out Action Water Sports at Tahoe on Instagram