Sand Harbor Lake Tahoe Nevada State Park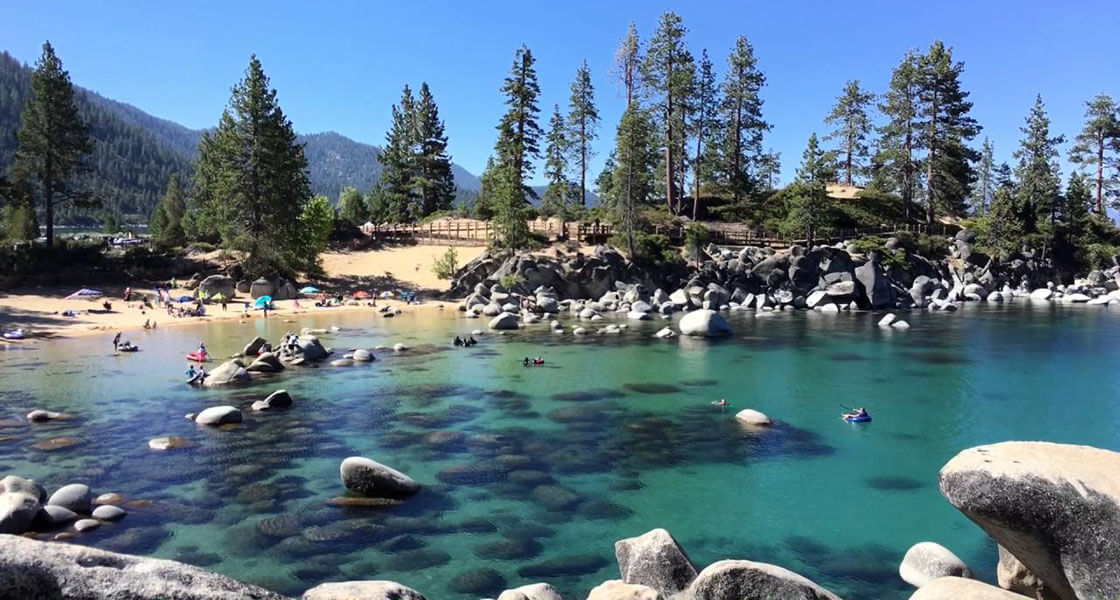 Sand Harbor State Park
For the 2023 summer season parking opens at 7:00 am. $15 per vehicle charge to park. Parking fills up quick. You can also walk, bike and be dropped off via alternate transportation. Reservations are planned to be implemented in the fall.
Sand Harbor Beach is a popular tourist destination located on the northeastern shore of Lake Tahoe in Nevada, USA. The beach is known for its crystal-clear waters, soft sand, and stunning views of the surrounding mountains. Here are some of the things to know about Sand Harbor Beach:
Activities:
Sand Harbor Beach offers a variety of activities for visitors to enjoy, including swimming, kayaking, paddleboarding, and fishing. There are also several hiking trails nearby, including the Sand Harbor Overlook Trail, which provides panoramic views of the lake.
Facilities:
The beach has several facilities for visitors, including picnic areas, barbecue grills, restrooms, and a concession stand. There is also a visitor center where you can learn more about the history and geology of the area.
Parking:
There is a large parking lot at Sand Harbor Beach, but it can fill up quickly, especially on weekends and holidays. There is a fee for parking, which is used to maintain the facilities at the beach.
Events:
Sand Harbor Beach is known for hosting several events throughout the year, including the Lake Tahoe Shakespeare Festival, which takes place every summer. The festival features performances of Shakespearean plays in an outdoor amphitheater with the lake as the backdrop.
Scenic views:
Sand Harbor Beach is renowned for its scenic beauty, and it's a popular spot for photographers and nature enthusiasts. The crystal-clear waters of the lake and the towering mountains in the background make for stunning views.
Overall, Sand Harbor Beach is a must-visit destination for anyone traveling to Lake Tahoe. Whether you want to relax on the beach, explore the hiking trails, or attend an event, there is something for everyone to enjoy at this beautiful location.
The Main Beach is 2,500 feet long and is popular for swimming and sunbathing and a wide variety of beach activities. There is also a small launch corridor for non-motorized watercraft at the south end (look for the buoys).
Divers Cove, popular with SCUBA divers and recreational beach users alike, is a smaller, more protected area just below the Visitor Center and near the Group Area. The Boat Beach is the long stretch of sand on either side of the Sand Harbor Boat Launch Facility.
Aligning with COVID-19 restrictions, Sand Harbor State Park will close when the parking lot reaches 50% capacity, and vehicles will not be allowed to enter the park until it reopens, which is usually around 5 p.m.
– Please be advised that walk-ins and parking along Hwy 28 near Sand Harbor State Park are prohibited.
– Pets are not allowed except for the off-season, October 15 through April 15. Pet owners should bring their own poop bags.
– No hard bottomed watercraft are allowed at Divers Cove.
– No barbecues are allowed on the beaches.
– No glass containers are allowed on the beaches.
– Personal music must be kept at a level that does not disturb other beach users.
– Please be aware of the dangers related to cold-water drownings, especially during windy and wavy conditions.
– Self-pay is necessary if the booth is closed. Please use the credit card friendly automatic self-pay machine.
– The Park has a Beach Patrol Program for your safety Memorial weekend through Labor Day. We encourage visitors to use the new East Shore Express to enter the Park.  You may enter via the new East Shore Trail.
– Please also be aware that during the busiest summer months, usually July and August, the Park may fill and have to close between 10 and 11am. Get here early. Transit users will still be allowed in after this time.
– Please contact the Park at (775) 831-0494, or visit www.park.nv.gov, with any additional questions.
Beach Features:
Accessibility
Barbeques
Boat Access/Ramps
Boat Inspections
Dogs Allowed with Restrictions
Fishing Nearby
Food Concessions
Group Facilities
Paddleboard/Kayak Rentals
Parking/Day-use Fee
Personal Watercraft (Jet Ski) Rentals
Picnic Tables
Public Bathrooms
Public Transit Nearby
Shade Available
Showers
Volleyball Courts
KEEP IT CLEAN: Lake Tahoe is recognized as an Outstanding Natural Resource Water. Please, join your fellow beachgoers in protecting this special place! Begin by being an example to others:
Dispose of trash properly or pack it out.
Never feed birds, squirrels or any other wildlife.
Campfires are NEVER allowed on Tahoe beaches.
VEGETATION: Protect Tahoe plants! Keep outside signed or fenced protected habitat.
SWIM and BOAT SMART: Very cold water, sudden storms and unexpected waves deserve respect. Be alert!
PET OWNERS: Pets are permitted only on dog-friendly beaches. Use a bag to pick up after your pet, and use a leash. Protect your pet's privilege to share the beach!
BOATERS: Aquatic invasive species are a very serious threat – completely clean, drain and dry your boat before launching it at Tahoe.
FISHING: Any person over 16 years old must have a valid California or Nevada sport fishing license. Visit one of the many Lake Tahoe fishing sites to learn more about fishing and the special regulations that are enforced at Tahoe.
Sand Harbor Lake Tahoe Nevada State Park
Hwy 28, Incline Village, NV 89451