Add Lake Tahoe to Your Mountain Biking Bucket List
If there was a list of historic mountain bike sites that every hardtail and full-suspension rider needs to visit at least once in their life, Lake Tahoe should be near the top of the list. No, mountain biking wasn't invented here, but it's safe to say Lake Tahoe and the people that call it home helped shape the sport, bikes, and culture into what we know (and love) today.
For Lake Tahoe mountain biking pioneer, Gary Bell, it all started in 1978 while tracking-down some two-wheel fun in the Sierras. "I always liked being out in the mountains," Bell said. "I wanted to be able to go further and just have fun on some trails." The allure of the mountains drove Bell to help set the pace for Tahoe's mountain biking roots and open Sierra Ski and Cycle Works in 1980.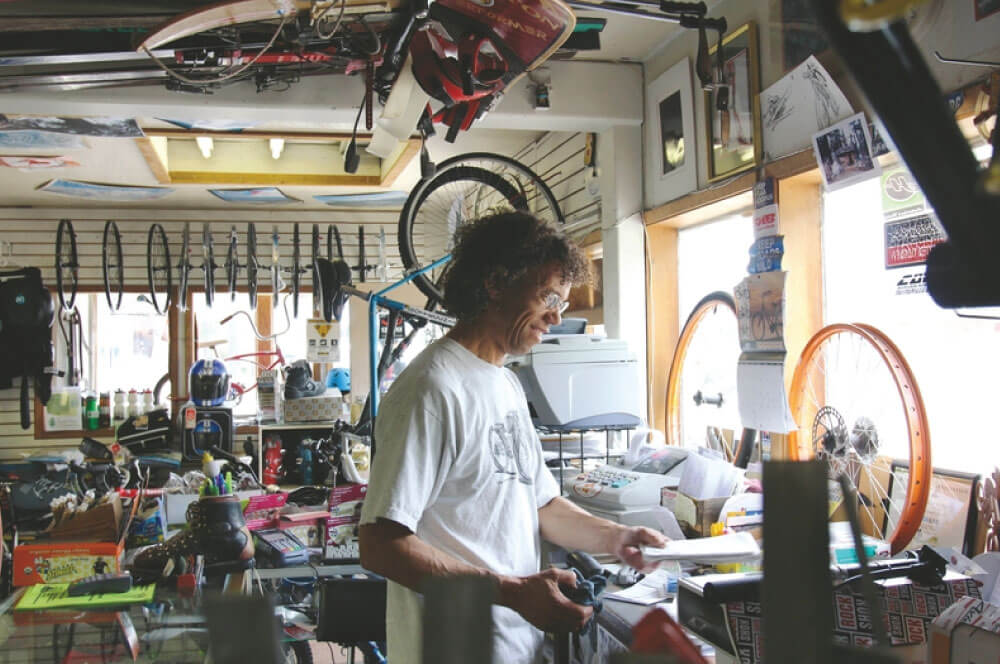 The development of early mountain biking in nearby Marin County hadn't gone unnoticed as Bell soon began transforming old steel-frame bicycles into custom "klunkers" complete with motorcycle handlebars, drum brakes, and balloon tires to help him navigate Tahoe's rugged and primitive trail system. At the same time another Tahoe local, Max Jones, was busy building trails, including the legendary Flume Trail to the north.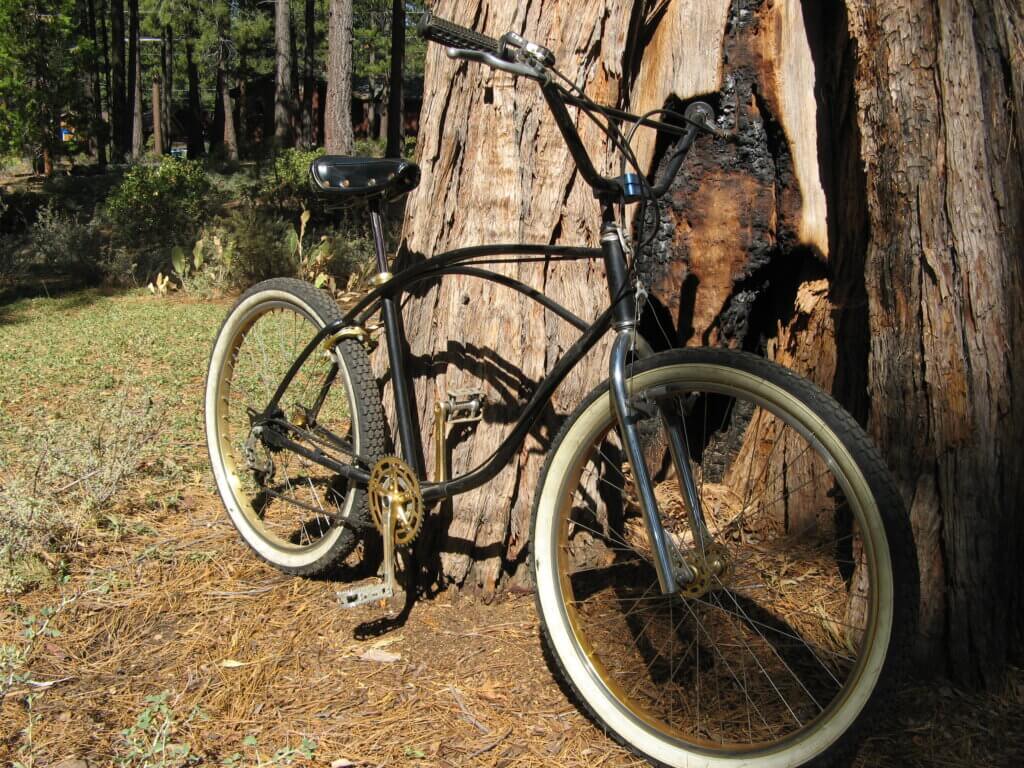 In the early days, Lake Tahoe had fewer trails as well as people using them. Most of today's established rides had yet to be blazed or were being used for different reasons. An area favorite, the smooth-rolling Powerline Bike Trail, was originally a jeep trail that has since narrowed down to superb single-track.
The epic Mr. Toad's Wild Ride wasn't completely connected either. It took the work of Gary and a handful of friends to bring together a myriad of existing trails into the endurance testing experience it is today (on bikes with little or no suspension). "Of all the trails around Lake Tahoe, I think Mr. Toad's Wild Ride has kept the original feel more than others." Bell said. He credited respectful riding etiquette for helping to retain the original character.
"There's a chance that parts of Mr. Toad's Wild Ride could get too gnarly for you. Instead of trying to make an easier way down on your own, we like to see people just walk their bikes down and not make new trails," Bell said. Besides staying on existing trails, following simple mountain bike etiquette like giving right-of-way to uphill riders, not littering, and riding under control can go a long way toward making everyone's outdoor experience a little more enjoyable. Bell practices what he preaches, having been one of the founders of the Tahoe Area Mountain Biking Association (TAMBA) in 1988.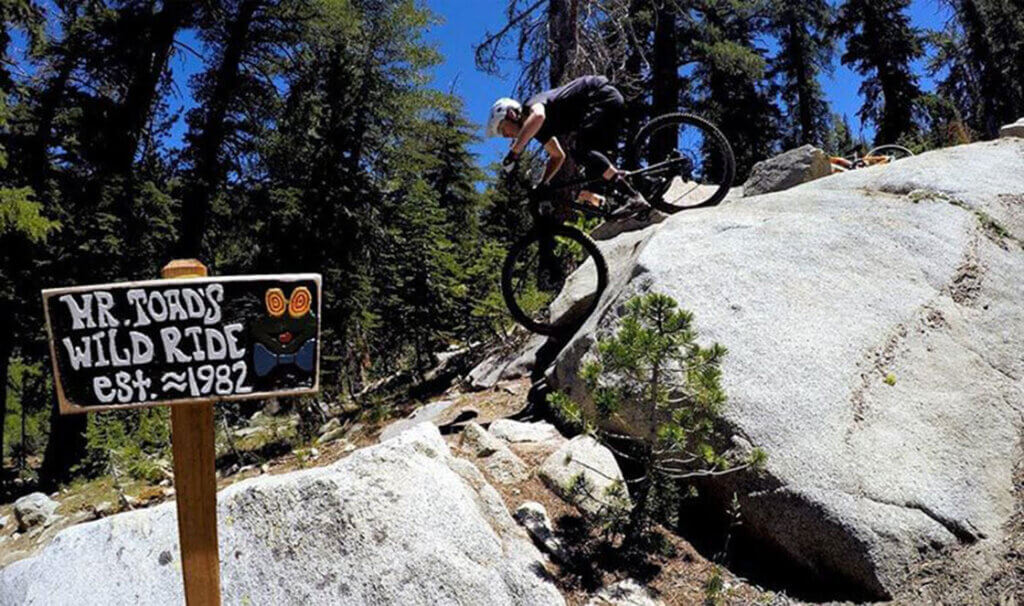 Lake Tahoe as a World Class Biking Destination
Today, bikers visiting Lake Tahoe can still ride the same trails Gary and Max did but also have dozens of others to explore thanks in-part to Gary Bell's continuing advocacy for mountain biking in the area. The efforts made by TAMBA in recent years has also helped expand and preserve more area trails, securing Lake Tahoe as a world class mountain biking destination.
Lake Tahoe's unique and positive cycling culture extends far beyond the trails and into the surrounding streets with Lake Tahoe recently recognized as a Bike Friendly Community. Cyclists of all types can enjoy miles of family-friendly bike paths, knowledgeable shops, and locals that share the same pedal-powered passion.
For the road cyclist, the famed loop around Lake Tahoe is 72 miles of unforgettable scenery with deep blue water, Douglas Fir groves, and breathtaking views the entire way. For the hardcore rider, the annual Tour de Tahoe is a chance to test yourself against some of the area's best.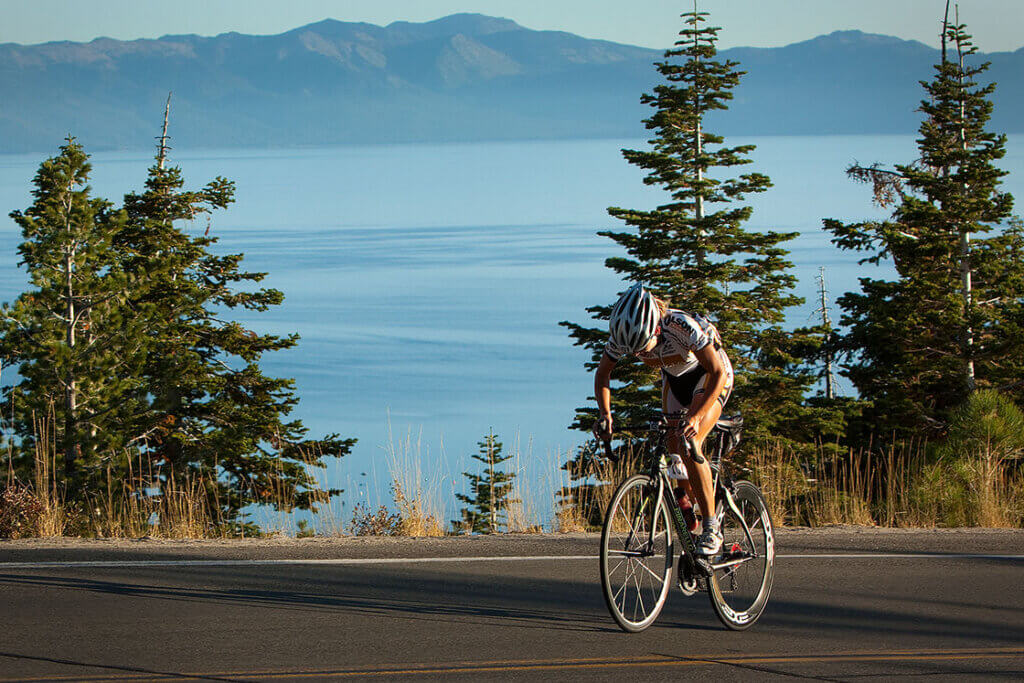 If you're ready to get out and ride but don't know where to start, check out our four favorite trails to ride. Can't bring your own bike, no problem! Lake Tahoe has plenty of bike rental options to choose from.
Check out Mountain Biking Lake Tahoe on Instagram: