An early start to spring means that many of the Lake Tahoe mountain bike trails are melting out faster than they typically do. So last weekend was a perfect time to do some recon on the Flume Trail, one of Tahoe's mountain biking gems that also happens to be one of my favorite rides.
The Flume Trail sits on the east shore of Lake Tahoe, in Lake Tahoe Nevada State Park.  The trail, ranging between 7000 and 8000 feet in elevation, boast some truly amazing panoramas of the lake and the surrounding mountains.  While not a super technical trail, it should be noted that the Flume does have some exposure and crosses a few steep sections.  But the views are definitely worth it! Not a mountain biker? The Flume is also open to hikers.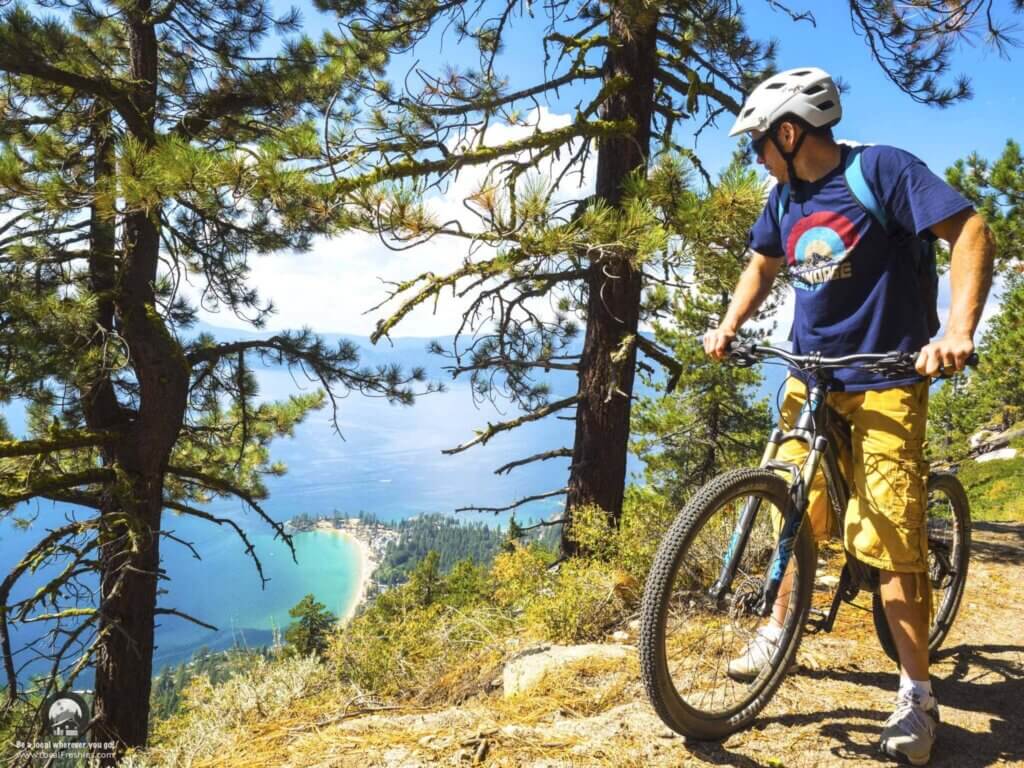 There are a couple of ways to access the Flume Trail, and the surrounding trail network, which includes sections of the Tahoe Rim Trail, means that you can include it in a longer ride.  Most people start from Lake Tahoe Nevada State Park, taking the trail out to Marlette Lake and along the singletrack that overlooks the lake.  They either ride it one way, descending via Tunnel Creek Road and catching a shuttle back, or do it as an out and back ride, retracing their tracks.   My friend and I opted for something totally different.  We instead climbed up Tunnel Creek Road, and then rode the Flume around Marlette Lake to the Marlette Creek Trail, a super fun 2.7 mile descent back to the car.
I've been on this trail countless times, and I continue to be awed by the scenery, and continue to force friends to stop while I take yet another photo. It's that spectacular.
So if you're looking for some advice from a local, trust me on this – if there's one trail you mountain bike or hike on your Lake Tahoe vacation, make it the Flume.
If You Go
The Flume Trail is snow-free, though the neighboring sections of the Tahoe Rim Trail do still have snow. Shuttles, bike rentals, maps and trail information are available from Flume Trail Mountain Bikes. It is recommended that mountain bikers carry water, snacks, a bike pump and spare tube, bike repair kit, first aid and sunblock, along with a camera to capture the views. And wear a helmet, naturally.
For general Tahoe area mountain bike trail maps and the latest trail conditions, be sure to visit the Tahoe Area Mountain Biking Association's website.
Jenn Gleckman, who moved to Lake Tahoe in 1999, is a tourism marketer for local agency Strategic Marketing Group.  She admits to spending as much time as possible playing outside, ideally on her skis or mountain bike. This blog first appeared on Musings from the Mountain and is reprinted here with permission.
Check out Biking Lake Tahoe on Instagram