Did you know mountain biking started in California? Yup! As the sport gained popularity in the late 70's, these rowdy individuals began to descend upon Lake Tahoe. While the original "pedal pushers" rode iron steeds weighing in at close to fifty pounds with little to no shocks, we're now very fortunate that the technology has made the sport more welcoming AND enjoyable. If you're looking to turn up the volume in the adrenaline category, consider trying one of these Lake Tahoe mountain bike trails.
Powerline – First Timer's Perfect Intro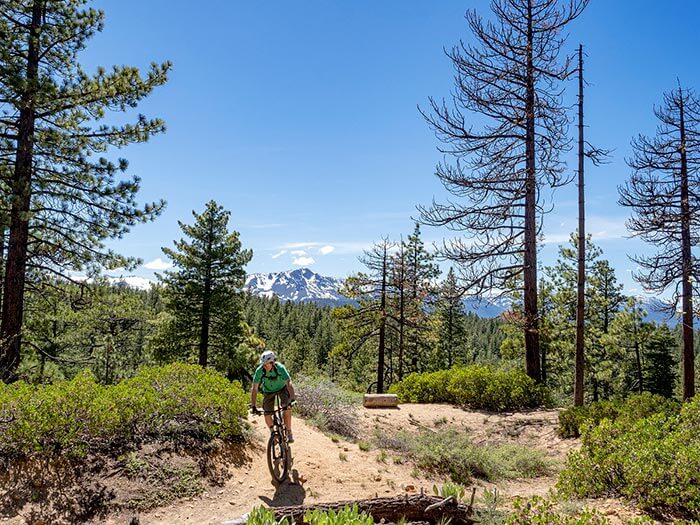 Distance: 12 miles (out & back)
Elevation Gain: 700 feet
When picking your first trail to try, there's a few things to consider: Is it easy to navigate? Smooth for the most part? Great scenic views? Powerline checks all these boxes and then some. Starting off of Ski Run Boulevard, it parallels Pioneer Trail, winding through a well maintained pine forest. With some easy banked turns, a few gradual climbs, and two seasonal stream crossings, it gives beginners a taste of what to expect if you get into mountain biking. Top it off with views of Mt. Tallac, and you got yourself a fun day.
Sidewinder / Corral – Switchbacks & Banked Turns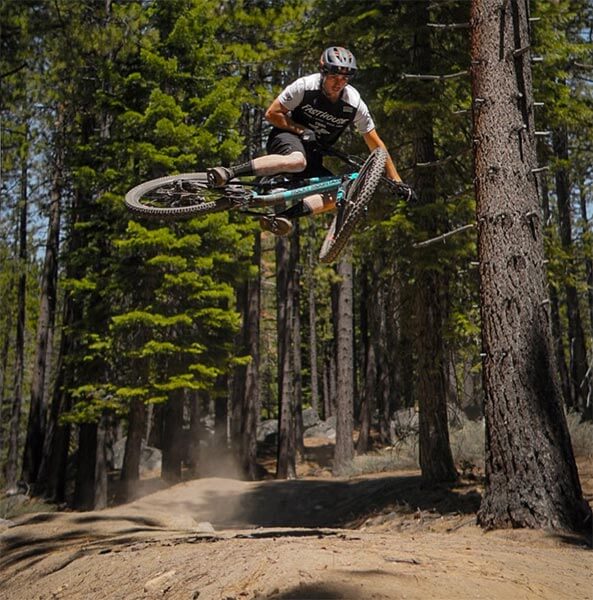 Distance: Varies
Elevation Gain: Varies (up to 1,300 feet)
For those with a bit more experience in the saddle and wanting a true introduction to mountain biking on the south shore, head over to the Corral trail network. You'll find an assortment of singletrack routes to sink your teeth into like Corral, Sidewinder, and Incense Cedar. If you want to make it an even longer ride, pedal to the top of Armstrong Pass which then means a whopping decent of more than 2,000 vertical feet.
Angora Ridge Trail – Nature and Vista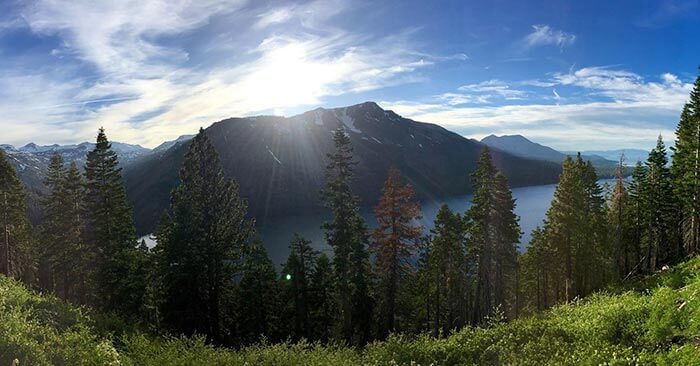 Distance: 2.4 miles (out & back)
Elevation Gain: 570 feet
As most visitors flock to Emerald Bay or hike up Mt. Tallac, a less frequented area is the Angora Ridge region and a trail that was put in back in 2017 thanks in partnership between the USFS, TAMBA, and many volunteers. Following the Angora Ridgeline, formed during the last glacial period, this path offers up amazing views of Fallen Leaf, Mt. Tallac, and Desolation Wilderness set amongst the conifers in a quiet setting. While it has an elevation gain of around 500 feet, due to the rocky nature of the soil, the "downhill" segment will keep you alert and can make you feel like you're pedaling both ways.
Saxon Creek – THE Tahoe MTB Trail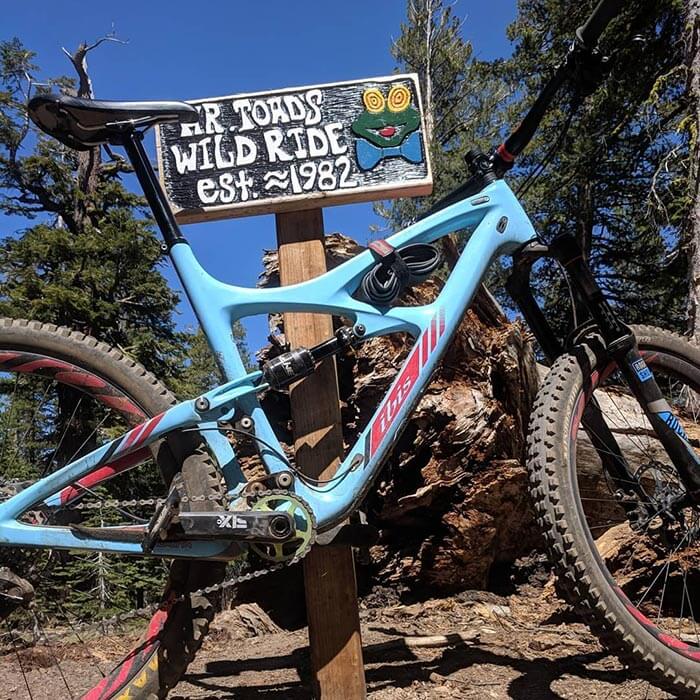 Distance: Varies (9 miles downhill)
Elevation Descent: 2,300 feet
We couldn't have a list of mountain biking trails without listing the trail that other trails measure up against. Aptly named "Mr. Toad's Wild Ride", this expert & mostly downhill route can be accessed via a Luther Pass shuttle or done as a larger loop from Armstrong Pass. Once you get to it… you better be geared up because it's going to throw everything at you like an extreme theme park. Words cannot give it justice. Pictures cannot visualize it. Try it if you dare. And remember, there's no shame to walk the "crazy stuff" because it's better to survive and ride again tomorrow then end up in injured & stuck indoors.
Our Lake Tahoe Mountain Bike Trail guide showcases a taste of everything from the easy to the extreme. For more information on mountain biking in the region or to help the local community expand the trail network, visit the Tahoe Area Mountain Biking Association (TAMBA) page. Don't own a mountain bike? No problem! Check out our bike rental page to get geared up and on your way into the mountains.
Lake Tahoe Mountain Bike Trail Guide from LocalFreshies.com
Check out Mountain Biking at Lake Tahoe on Instagram