Your campsite is set, firewood is stacked, and your bikes are ready to roll. Now you're wondering where you can ride bikes so the whole family can join.
There are a number of family friendly biking options in Lake Tahoe:
Anderson's Bike Rentals starts at the beginning of the Pope-Baldwin Bike Path. There are miles of safe, paved trails perfect for the family of all ages. The path is dotted with beaches. As you bike, you can enjoy a picnic in the sand at Pope or Baldwin Beach. Ride the bike path into Camp Richardson and stop at the restaurant with the best calamari and Rum Runners in town, The Beacon, or treat the kids to their daily vacation ice cream cone at the Camp Richardson Ice Cream Parlor.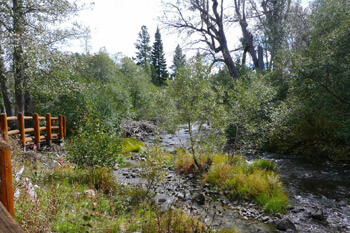 Continue on the path to the Taylor Creek Visitor Center, home of the Taylor Creek Stream Profile Center where you and the family can take a break from biking and learn about local conservation and stream life. A 180 degree curved diorama illustrates life above and below the water next to an aquarium-like display of diverted river.
Starting at Parks and Recreation parking lot, head down Rufus Allen Blvd and cross over onto the city bike path. Heading west, you can safely roll through the newly updated Lakeview Commons park and boat ramp. Continue onto Lakeview Ave, which has a wide bike path, which will take you to Reagan Beach and let the kids take a break from pedaling on the playground with a gorgeous view. Return the same direction to the starting place or head just a little bit farther down Hwy 50 past Rufus Allen Blvd to stop for an ice cream cone at Aloha Ice Cream and Desert Spa and a peak into the Pirate Store.
Looking to get a bit dirtier? The Moraine Trail is an easy 1-3 mile out and back trail that circumnavigates the Eastern side of Fallen Leaf Lake. Take Hwy 89 to Fallen Leaf Lake Rd. Continue down Fallen Leaf Lake Rd past the Campground turn off by about a 1/4 mile. There is a large flat pull-out for parking where the trail begins. Word of warning: there is a short staircase that you will have to help the little guys haul their bikes up, but the view of Mt. Tallac on the edge of the lake is worth the effort!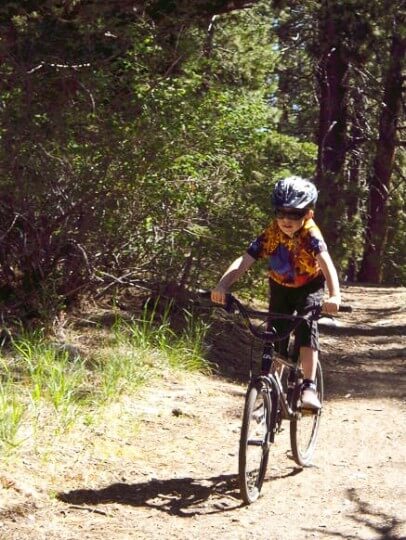 Rabe Meadows/Lam Watah Nature Trail begins at the intersection of Hwy 50 and Kahle Blvd in Stateline. The trail winds through Rabe Meadows and eventually ends at Nevada Beach. You can explore numerous side trails to small streams and rock outcroppings, all while learning along the way about the early Washoe Tribe families that settled here.
Another great and longer trail option is Powerlines Trail, which offers up to 7 miles of out and back dirt adventure. It's rolling hills and wide track make it a fun adventure suitable for beginning mountain bikers of all ages. You can find directions and trail conditions on Powerlines and other mountain bike trails in the Tahoe Area on the Tahoe Area Mountain Biking Association's website.
Biking Lake Tahoe on Instagram