Bust out the snow pants and mittens. Sledding in South Lake Tahoe is a fun way for the whole family to experience winter at the lake up close, while taking in the incredible scenery and distinct mountain-town atmosphere.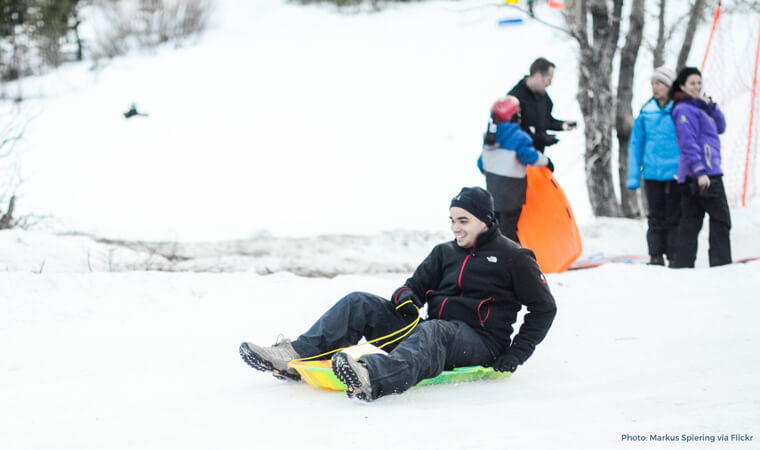 Sledding in South Lake Tahoe at a Resort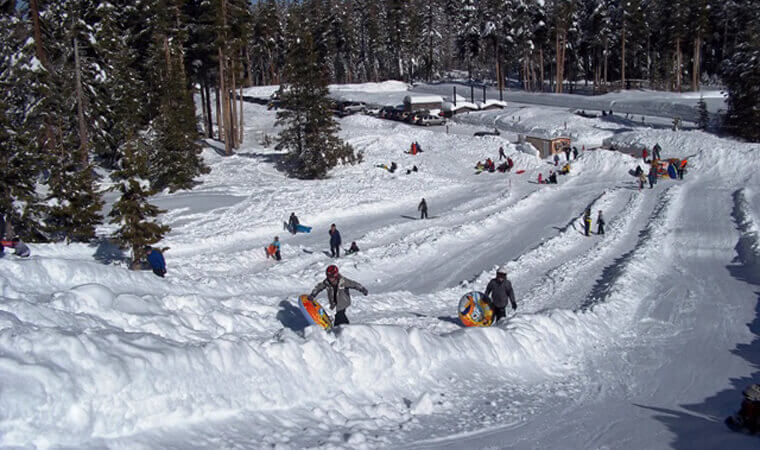 Instead of wasting precious time finding a sled, try renting one from the convenient snow parks in South Lake Tahoe. They may cost a few bucks, but spots like Adventure Mountain at the top of Echo Summit are definitely worth the expense to find a good hill and quality sled.
More interested in watching? Snag a spot in the lodge and really make a day of it while the kids slide down time-tested slopes. Along with Adventure Mountain, you can also check out Hansen's Resort, which is located right on Ski Run Boulevard in South Lake Tahoe.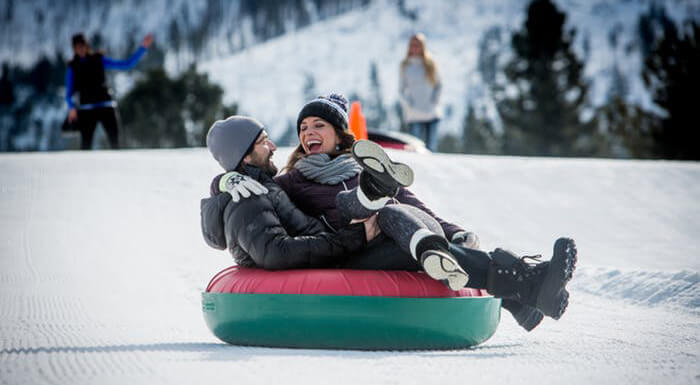 Looking to create the ultimate winter-time experience for the entire family? Well, for those that want to try their hand at snowmobiling along with hillside tubing, Tahoe Snowmobile is perfect for you. Located next to Bally's Lake Tahoe (formerly MontBleu), you can experience it all without having to drive anywhere.
Find all your sledding and tubing options here.
Find Your Own Spot To Go Sledding in Lake Tahoe
Ready to venture away from the resorts? Lake Tahoe's incredible public lands are the perfect place to find your own path, just be sure to pack out what you pack in and leave no sled behind.
Sawmill Pond: Sawmill Pond is a popular family destination year-round in Lake Tahoe. At the Y, rather than turning to go onto Highway 50, just keep going on Lake Tahoe Boulevard and you'll eventually come to Sawmill Pond on your left. There's a small parking lot and a very gradual hill you can sled down. It's a great sledding spot for young kids. If you've got daredevils looking for an adrenaline rush, you may want to try another sledding spot.
Kahle Park: This is a great spot to sled and carries with it the advantage of being in a wide-open public park. Driving from California and into Nevada, Kahle Park will be on your right just after you pass Lakeside Casino. There are also indoor facilities at Kahle Community Center if you need to warm up, and from Kahle Park you get to enjoy some views of Lake Tahoe.
Durable Sleds Only Please
Broken plastic sleds break into tiny toxic pieces which contaminate the environment in a process that scientists call "gross". Help Tahoe break up with plastic by purchasing a good, durable sled, and be sure to bring 100% of it back to wherever you are staying.
For the next-level visitor looking to minimize their impact, we recommend renting a sled from one of our local retail partners:
Related Articles
Check out Sledding in Tahoe on Instagram