It's All Downhill From Here – Tips On Snowboarding & Skiing For Beginners In Tahoe
By: Alex Silgalis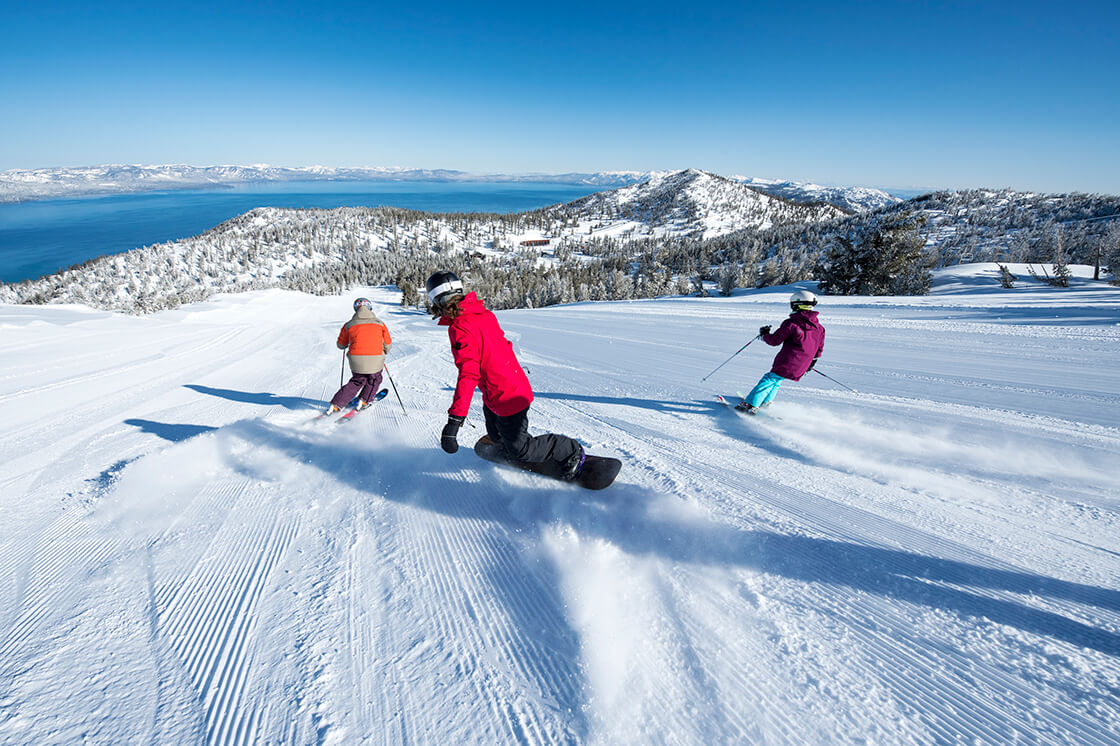 We're all in a rut. We let fear block our way to trying something new. Something bigger. Something marvelous. This winter get out of your comfort zone and try skiing or snowboarding this season. You'll meet new friends. Get outside. And most of all, create memories that will last a lifetime.
Rent Don't Buy For Your First Time
Yes, the X-Games look fun, and you picture yourself as the next Shaun White. A new snowboard or pair of skis can cost anywhere from $500 to $1000. Rather, rent the latest gear from a local shop. For a full run-down of all the shops in Tahoe and what they offer, head over to our Tahoe Ski Rentals section.
Hot Tip: Borrow Clothing Where Possible
We get it. You want to look good on the slopes, but out of all things for snowboarding & skiing for beginners in Tahoe, this is where you should be frugal. Borrow a friend's jacket, an uncle's pair of goggles, or ski pants from an older sibling. I remember that all my first ski clothing was from my Uncle, and you know what? It worked just fine!
What To Buy
The rule of what to buy versus borrow is simple: If it touches your skin, it might be a good idea to buy. That means the base layer which includes thermals and ski socks. If you want to learn more about what is a base layer and what to look for in clothing, head over to the Local Freshies article: Helmets, Mitts, Boots & Ski Suits – Equipment For Skiing & Snowboarding.
Say 'NO!' To Your Friends & Get Lessons
Out of anything on this list to spend money on it's lessons. While your best friend says they can teach you, the reality is they'll probably give you a few words of encouragement and leave you flailing about like a dead fish on a beginner slope. This is why most people give up on the sport. Skip the hassle and reduce the stress on your relationships. Sign yourself up for ski school. In fact, if you're up here for a few days, think about doing a multi-day package. You'll save yourself from pain and learn faster!
Beginner Areas At Lake Tahoe Resorts
Now that we got the basics of what you need to do, where should you go skiing or snowboarding if you're a beginner in Tahoe? Everywhere! ALL the ski resorts have dedicated areas specifically for beginners.
Heavenly Mountain Resort – Great Views While Learning
At over 4,800 skiable acres, there's A LOT of terrain within Heavenly Mountain Resort. For beginners depending on where you're staying, each access point has some terrain specifically geared towards you. If staying within the casino corridor, you can hop the gondola and gain access to the Big Easy Chair and Tamarack Lodge. You'll be rewarded with great views of Lake Tahoe as you learn how to ski/snowboard. Another great beginner area is near California Lodge. Similar concept, you take the Gun Barrel Express or scenic Tramway to the higher elevation green zone called Patsy's. You'll still get the incredible views of the lake and a gentle slope to get some turns in.
Kirkwood – Take In The Sierra
It is true that Kirkwood is a powder hounds dream. Big snows and steep slopes, but it's also home to some incredible beginner skiing terrain. The mountain's topography naturally divides the area by skill level. Beginners will want to keep towards the bottom of the mountain and head to the Timber Creek Area. The chairlift provides access to wide open groomed runs to learn on. To spice it up, there's even a gentle gully called Squirrel Ridge that snakes its way down all the way to bottom.
Sierra-at-Tahoe – Great Deals & Fun Vibe
Tucked away just west of Echo Summit, this mountain compared to the other two Lake Tahoe resorts has the most relaxed vibe. In addition, Sierra-at-Tahoe really goes all out to cater to beginners with their insane package deals like the Adult Learn To Ride 3-Pak. You can enjoy three days of mountain access, group lessons, and rental equipment for only $99 / day! Similar to Kirkwood, the beginner area has its own lift providing access to the wide open groomer called Broadway. The best part? Once you're ready to test your mettle, you can ride the big chair to the top and try out the easy cruisin' run know as Sugar n' Spice.
Tip: If you do take Sugar n' Spice, be aware that as a snowbank appears to the left, stay to the middle or right. Hot shots like to bomb this section and may shoot out of the trees.
As Dr. Seuss proclaimed, "Oh the places you'll go! There is fun to be done!" In summary, you might be sore after it all, but you'll come home with stories to tell and memories that will last a lifetime.
Ski/Snowboard Lake Tahoe on Instagram