Travelers serve as Stewards in South Lake Tahoe
Nature's beauty and wildness are hallmarks of the South Lake Tahoe experience. At the destination's heart, Lake Tahoe—one mile deep, 22 miles long, and 12 miles wide—is a national treasure. Around its shore, more than 2.4 million acres of preserved land protect the animals and plants that make this area even more magical. There's space for hiking, swimming, skiing, sledding, climbing, diving, birding, stargazing, relaxing, contemplating, and getting away from the daily grind.
South Lake Tahoe is a natural fit for visitors who want to practice sustainable travel, the idea of environmentally protecting places. Several groups in the area have made it easy and rewarding to do so. They help make sure these natural resources survive for future visitors.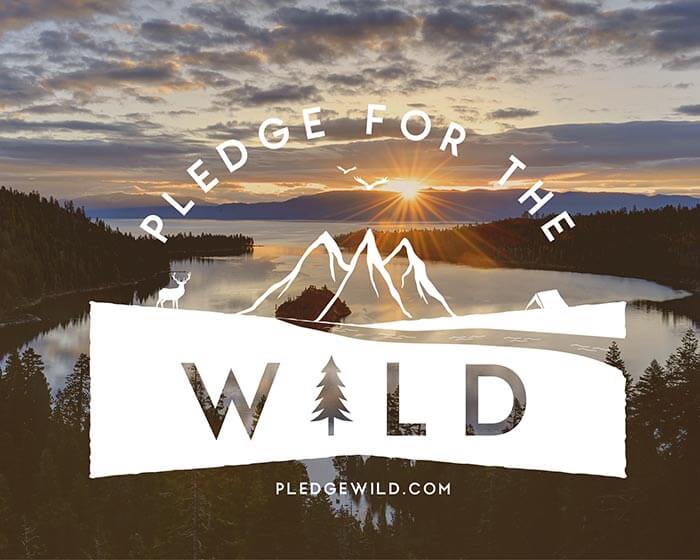 Pledge for the Wild invites visitors to donate a recommended $1 for each hour they spend in wild places like South Lake Tahoe. Just text WILD4TAHOE to 44321 to contribute to the Tahoe Fund, which pays for dozens of improvement, preservation, and educational projects that benefit regional wild spaces, from federal forests to state parks. Donations through Pledge for the Wild go to the Tahoe Fund's Environmental Venture Trust, which seeds innovative projects in their early stages. Consider helping the effort while visiting the spectacular scenery and recreation of Emerald Bay, Sugar Pine Point, and D.L. Bliss state parks; the Eldorado, Tahoe, and Stanislaus national forests; and many other places.

Kind Traveler makes supporting natural preservation as easy as booking a room. Add a $10 donation each night of your stay and qualify for special room rates and perks. Edgewood Tahoe offers a dining credit, discounts at the Edgewood Spa, a complimentary glass of wine or cocktail, and a welcome gift. Hard Rock Hotel & Casino Lake Tahoe rewards Kind Traveler donors with food and beverage credit, a casino play voucher, and room upgrades when available. People booking through Kind Traveler can choose a charity to donate to from a list of groups worldwide. The two hotels suggest Take Care Tahoe, a campaign that asks visitors and residents alike to keep South Lake Tahoe beautiful.
Take Care Tahoe offers lots of ideas on how to protect this popular year-round vacation spot. Below are a few helpful tips. For a more, visit takecaretahoe.org.
Don't abandon shared-use sleds. Instead, give them a home at designated Sled Corrals. Broken ones can be disposed of there, too.

Even a little bit of litter becomes a big deal. Keep it out of the lake, waterways, beaches, and trails. Pack everything out and put trash in the proper bins.

Obey restrictions of no wakes within 600 feet of the shoreline. That reduces whatever trash accidentally slips into the lake from washing ashore.

Tahoe has great-tasting water. Pick up a souvenir reusable container and fill it frequently with tap water to avoid single-use plastic bottles.

Keep nasty stuff from getting washed into waterways. Pick up pet waste. Clean watercraft, bicycles, ATVs, and other recreational vehicles at a place that can contain fluids and sediment.

Keep wildlife wild. Secure food and food waste so animal residents don't get used to eating human food.

Aquatic invasive species are unwelcome visitors. They can take over and affect the local ecology. Clean, drain, and dry watercraft, life jackets, and anything else before putting them in the water.
Insider Tip
Visiting during less-crowded midweek days or the quieter spring or fall seasons is a win for everyone. It takes the pressure off trash collection, public transportation, and other systems. It makes for a nicer, quieter commune with nature, too.
Check out Take Care Tahoe on Instagram: