Winter may be the most exciting time to visit Lake Tahoe. By now, the city has fully transformed from a lake town into a snowy paradise that many locals dream of year-round. Cold weather and snowy conditions may limit people in obvious ways – no more hot beach days or early morning swims in the lake – but what the snow unlocks for people here far outweighs what is lost to warm weather seasons. Winter here combines beautiful stillness with passionate energy, filled with enough fire pits, food, shopping, skiing, and entertainment to keep everyone warm and happy.
Making memories during winter in South Lake Tahoe comes as easily and naturally as the snow falls. From wonderful winter walks and smooth skiing to delicious fire-side food, there is room for everyone to be happy this winter, in this city which makes it look so good.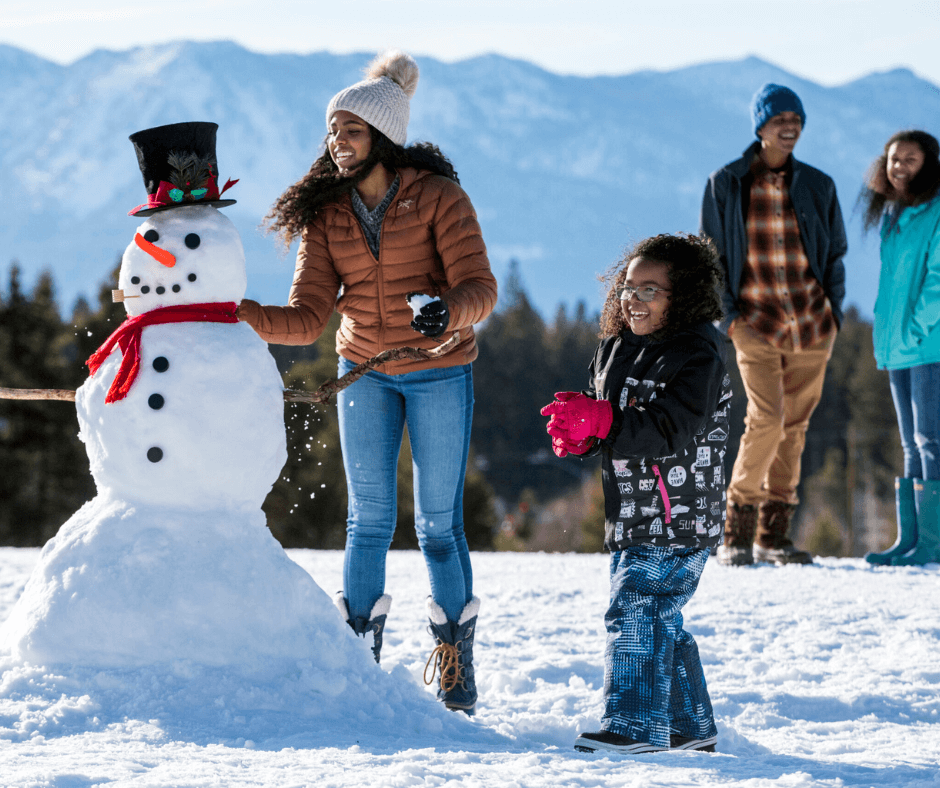 Day One
Welcome to South Lake Tahoe!
Your drive into town requires full attention. As you go up and down winding roads and begin cruising through amazing landscapes, it will feel like you're starring in a new stylish car commercial. Although a swim in the lake isn't as easy as it was a few months ago, the beauty and power emanating from the water is still palpable. The lake works all year round, fueling the city with its natural wonder, like a beating heart reminding you that everything here is lake-centric. As you roll into town, take in the deep blue water, towering trees, crisp, cool air, and snowy mountain tops.
Choosing the right place to stay is an important part of any memorable trip. Fortunately, lodging options in South Lake Tahoe are numerous and can match any style. Looking for a rustic cabin in the mountains? Or perhaps a luxury resort close to the beach? No matter the place you're looking for, we've got you covered.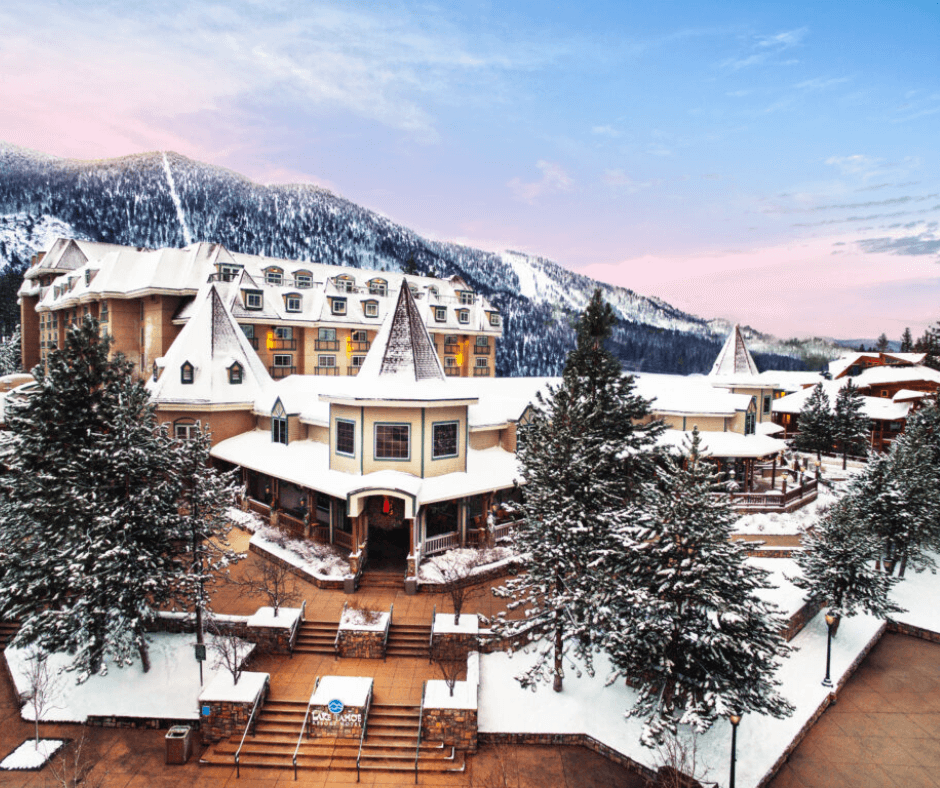 If you have come to ski, then you are probably anxious to get up on the mountain! Bundle up, plan your first couple of runs, and enjoy some of the best snow you will find anywhere. Once you've spent some good hours finding your favorite couple of runs, it may be time for a coffee and food break at one of the many mountainside lodges you can easily find while on the mountains here. Check your watches, and make sure you know which direction to go towards come closing time. If you had a good active day on the mountain, then you have surely worked up an epic appetite.
Whether you reserve a fine dining option or have a fire-side burger and beer, the food in South Lake Tahoe will perfectly complement whichever activity you have accomplished that day. And when dinner is over, if you aren't worn out from your action-packed day, our downtown scene is full of after-hours entertainment. Choose between one of the casinos in town for late-night gaming, food, and music.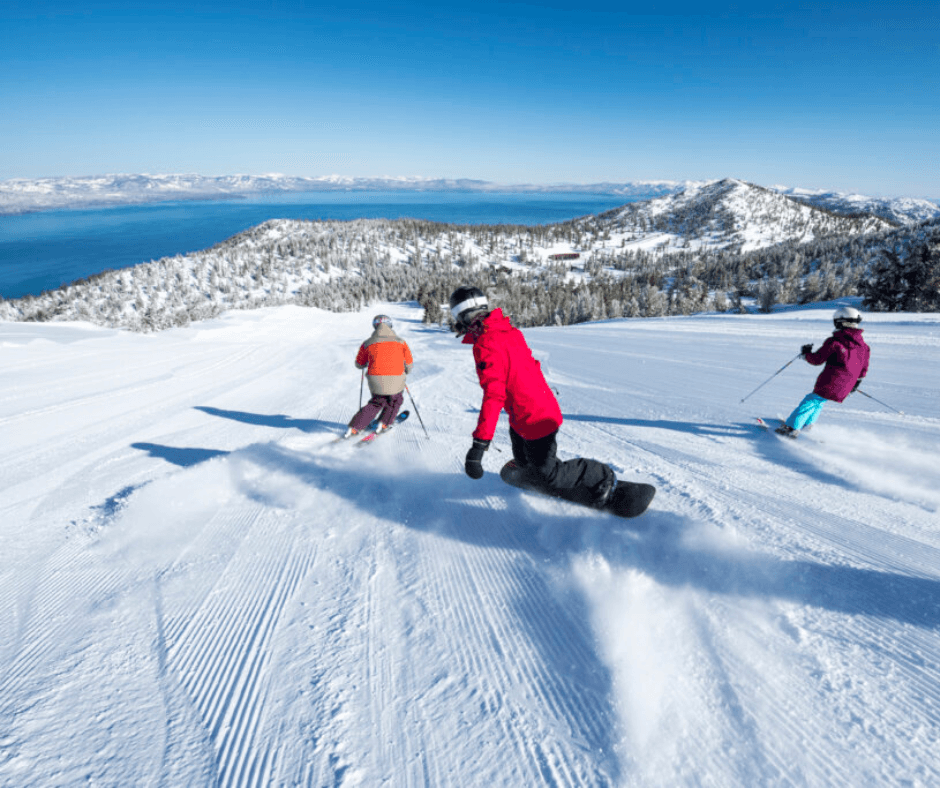 Day Two
Good morning! Getting a good breakfast is vital in fueling an exciting winter day here. Fill up at Red Hut Cafe with their biscuits and gravy, or maybe a fluffy omelet with fresh fixings of your choosing. In the mood for a bagel? Stop by Tahoe Bagel Company for (possibly) the best bagel you'll ever eat.
It's time to get back on the mountain! By now, you can't wait to rediscover your favorite runs from the day before and are equally excited to find new ones. Try to be the first one out, or enjoy a ski day at a more leisurely pace.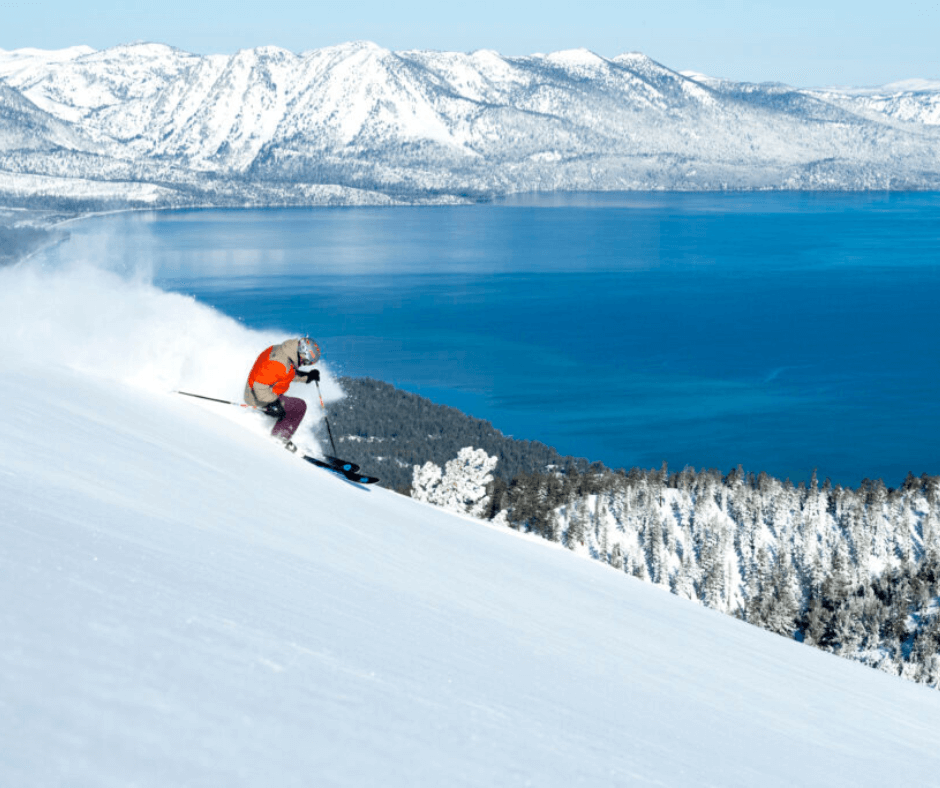 And if skiing is not your thing today, you can easily meet your daily quota for outdoor activities in many other fun ways. Try your hand at snowmobiling, ice skating, or axe-throwing next to Heavenly Village, and visit the shops you haven't seen yet afterward. If you're looking for a scenic walk with just you and the gorgeous outdoors, explore the vast local hiking options to see what suits you best. Certain trails may be more treacherous than others depending on the snow on the ground, but regardless, a perfect nature walk is always accessible.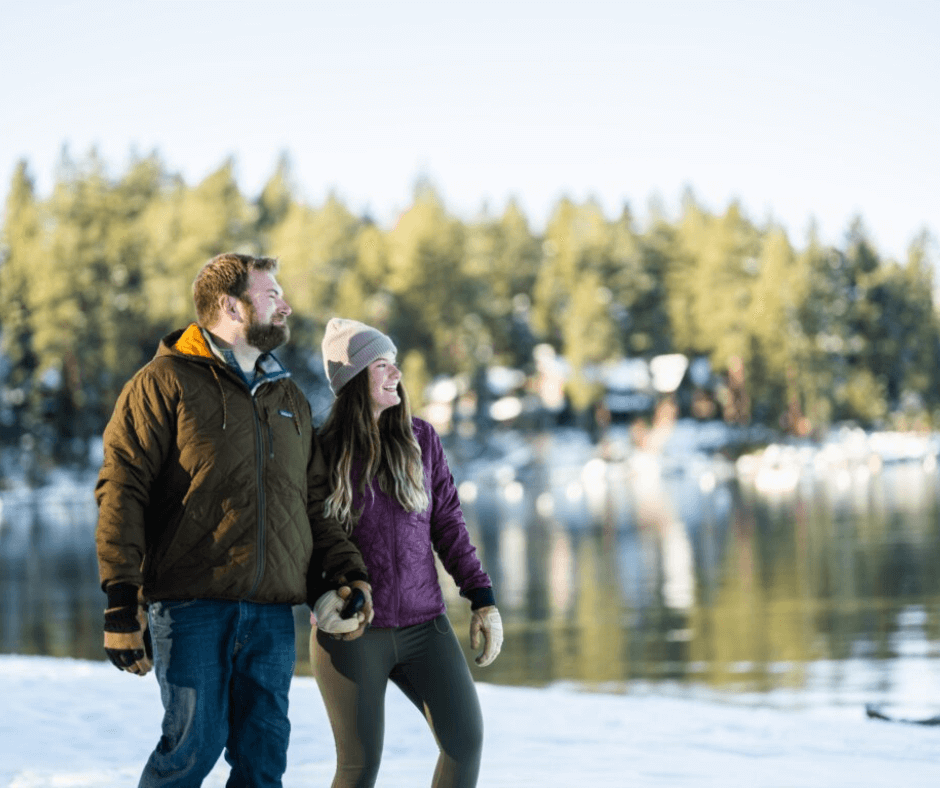 After more snowy action, whether having skied or not, it will be time for some food. Enjoy a good bite with a beer at the local beer garden, Hangar, where beer and food can be paired with heaters and a private tent to help keep you warm while you stay outside under the lovely pines. ​​
Want to get out of the trees and onto the lake for a meal? South Lake Tahoe offers a variety of lake view dining options to let you get right into the heart of your getaway. Towering windows at Edgewood Restaurant frame Tahoe's picture-perfect vistas while tables frame enticing cuisine. Romantic views are elevated, literally, at the Chart House Lake View Restaurant. High on the mountain separating Lake Tahoe from the Carson Valley, the Chart House's immaculate view of Lake Tahoe and the mountains can only be matched by the sumptuous steaks and seafood dishes you are sure to find.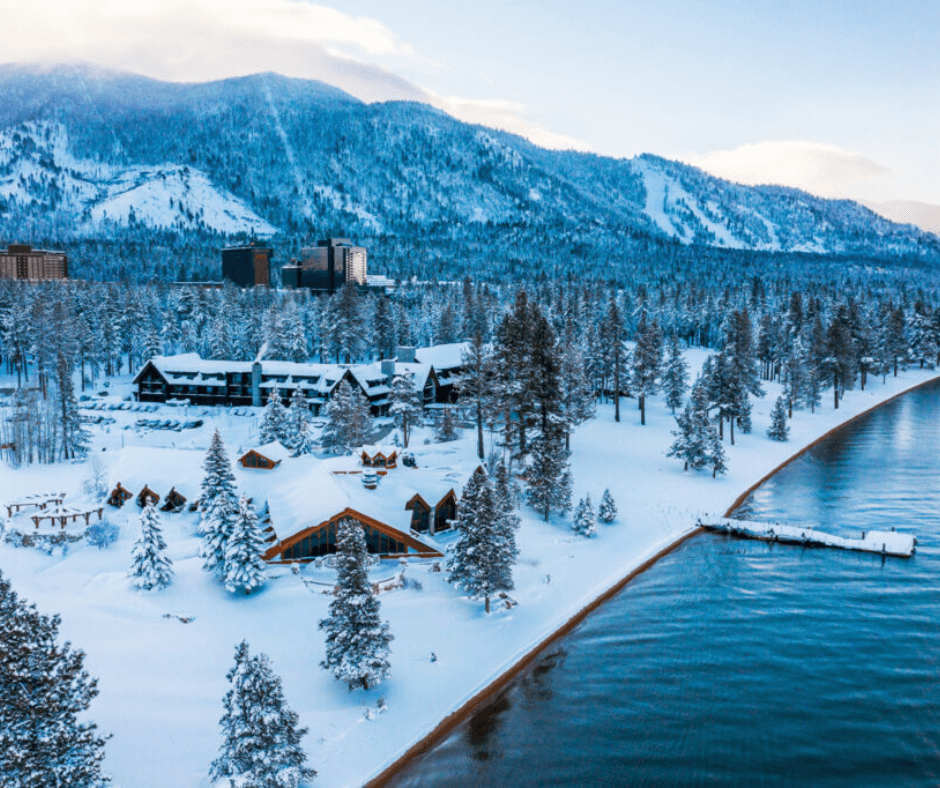 No trip to Lake Tahoe is truly complete without being at the lake, and getting the chance to feel the water. It will be too cold for a swim, but as your last day is winding down, there is still plenty of daylight for a trip to one of Tahoe's many beaches for a walk with a hypnotizing view. Catching a beachside sunset is a true year-round activity, even if that beach has some pretty white snow on it. After you've found your beach, and are mentally preparing to leave this beautiful place, be sure to give yourself one more moment of stillness. Sit by a fire pit, stay in the moment, and find yourself smiling as you breathe in this incredible mountain air.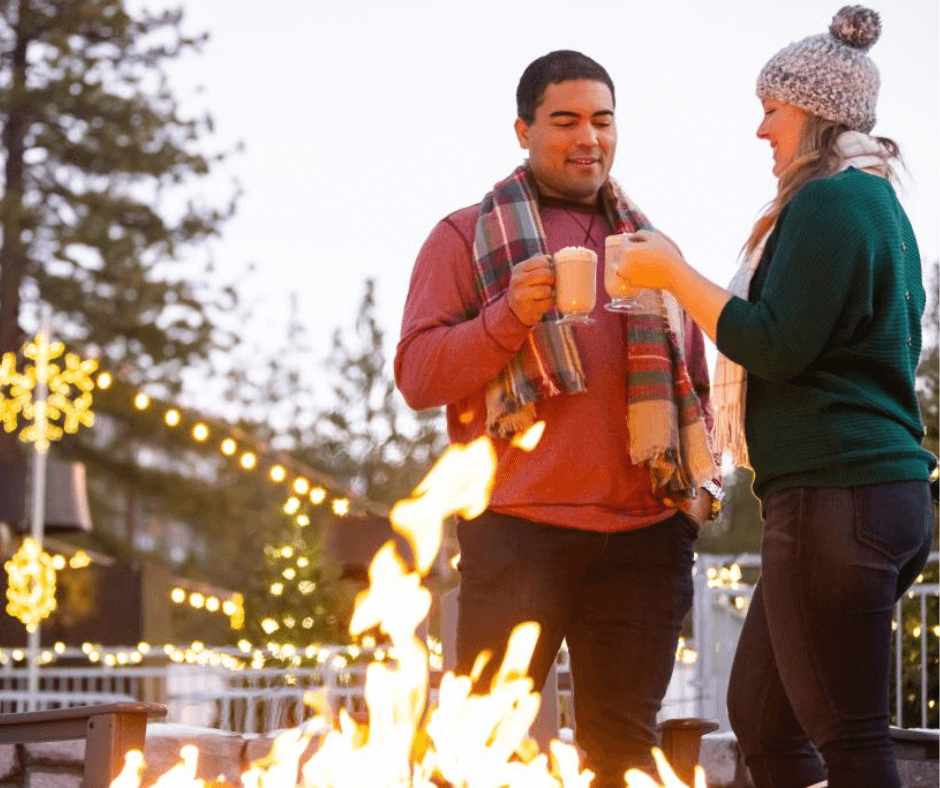 Ready to extend your trip? You've only scratched the surface of all that there is to do and see during winter around Lake Tahoe's south shore, and there's plenty more to discover and re-discover!
Share your trip with us by using the hashtag #VisitLakeTahoe