You can of course, explore the wintry landscape around Lake Tahoe by snowshoeing or cross-country skiing. But did you know that you can see the sights as well via snowmobile? In fact, Lake Tahoe offers a variety of options from machine-groomed tracks to a full-on guided adventure. It's the perfect activity for the entire family to enjoy! Here's a glimpse into some of the fun you can have of the motorized variety.
Guided Tour Up To 9,000 Feet Above Sea Level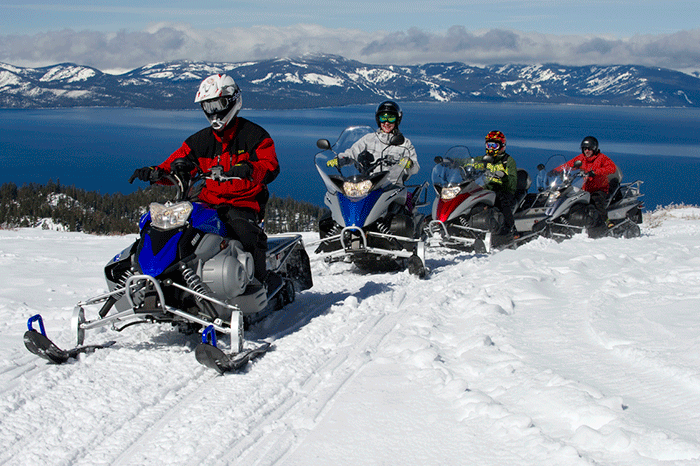 Venture off the beaten path by taking a guided tour from the Zephyr Cove Snowmobile center. Departing from the Zephyr Cove Resort, you'll cruise through mountain meadows, slowly gaining elevation to 9,000 feet above sea level. The two-hour tour provides panoramic views of Lake Tahoe's cobalt blue waters that very few others get a chance to see. Over the course of the guided tour, you'll also get glimpses of the high desert Carson Valley floor.
Race Around A Track
Do you got the need? The need for speed? If you don't have a lot of time or just want to try out the activity, then Tahoe Snowmobiles is perfect for you. They offer the chance to rent a snowmobile for 30 minutes & race it around one of their three separate tracks conveniently located in and around the Lake Tahoe region:
Stateline (next to the casinos)
Lake Tahoe Golf Course (at the intersection of Elks Club and Highway 50)
Explore The High Sierra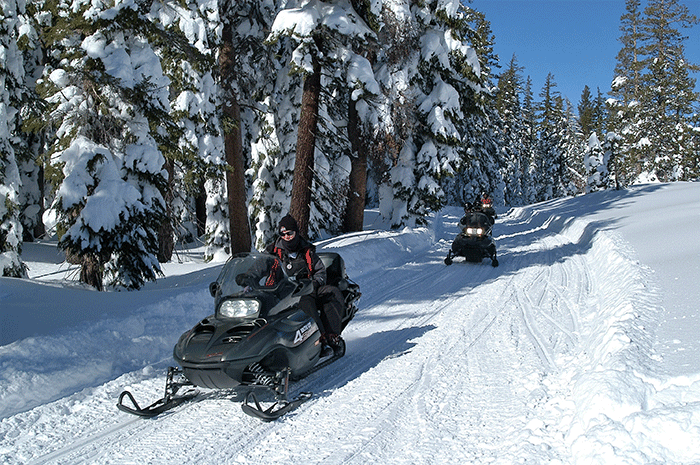 About 20 miles outside of South Lake Tahoe & not too far from the resort of Kirkwood is a place called Hope Valley. If you saddle up with Lake Tahoe Adventure company, you have a few different options. The Valley Tour, which takes about an hour, is a great option for first-timers & those that want to see views of the crest of the Sierra Nevada Mountains. The two-hour summit tour, which is the most popular, takes visitors through Hope Valley & past historic cabins built by the first settlers.
For The "Slednecks"
For those that have their own snowmobiles, Hope Valley is where it's at. Much of the area is open to snowmobiling including ungroomed routes to Willow Creek (8.5 miles) & Tamarack Lake (1 mile). And for those wanting groomed routes, be sure to check out Blue Lakes (11.5 miles) & Forestdale (3.5 miles). All of these can be accessed from the Hope Valley Sno-Park.
From beginners to passionate snowmobile enthusiasts that own their own sleds, Lake Tahoe is a great option for all. With hundreds of miles of trails & spectacular scenery, snowmobiling in Lake Tahoe makes our area one of California's premiere winter destinations.
Check out Snowmobiling Tahoe on Instagram