Some of the most idyllic memories are created while visiting South Lake Tahoe. Hundreds of days of sunshine annually and bountiful entertainment both inside and out have long enticed guests to this awe-inspiring natural spectacle to unwind and make their dreams a reality.
Especially romantic reveries.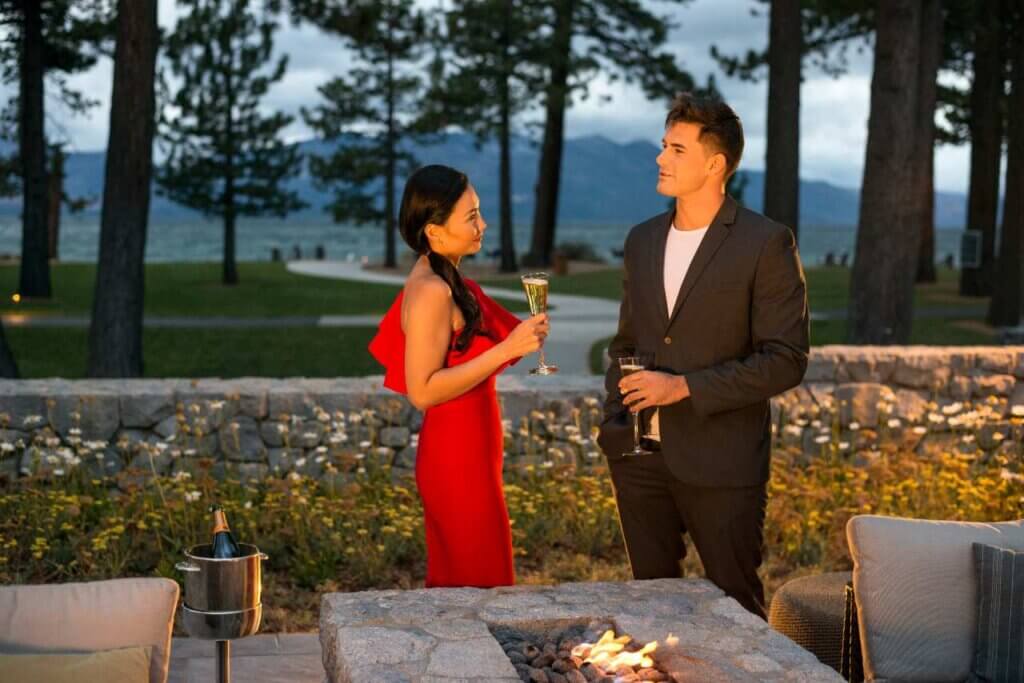 Couples can easily make two magical summer days amidst South Lake Tahoe's mystique. Inclusive of all, Tahoe is incredibly welcoming to the LGBTQ+ community, and invites anyone in love, or perhaps duos seeking to find those depths, to discover inspiration on the banks of its otherworldly waters.
Perhaps you'll even find depths of your relationship rivaling the depths of the lake you behold…
Day One
You've arrived!
Holding hands, breath taken away as you crest the Sierra summit to reveal one of the world's most exquisite bodies of water, you drive into South Lake.
On Tahoe's south side, a bevy of accommodations await. Want a rustic cabin stay? Check. Wiling away your days in beachfront luxury? Got you. Called by the casino action? Take your pick. Bringing your furry, four-legged family? No problem.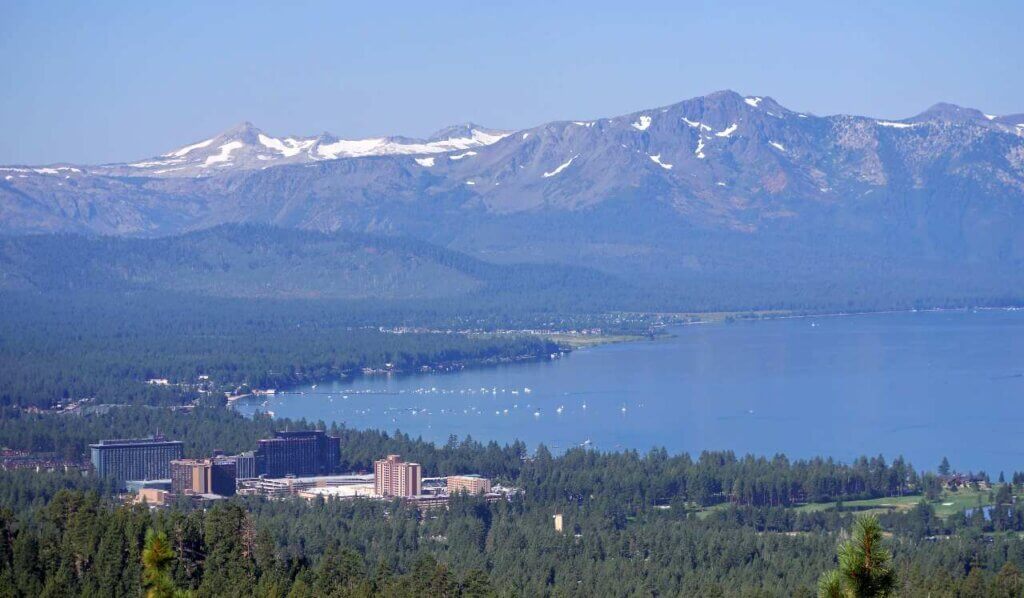 You'll surely find the perfect place to stay for your Tahoe adventure in South Lake.
Once checked in, it's time to fuel up and plan.
Try heading to The Beacon Bar and Grill at Camp Richardson, and pick the locals' brains on fun activities over their signature Rum Runner cocktail and some snacks while beachside. Once sated, rent jet-skis, kayaks or even an entire motorboat from the Camp Richardson Marina, mere steps away from The Beacon.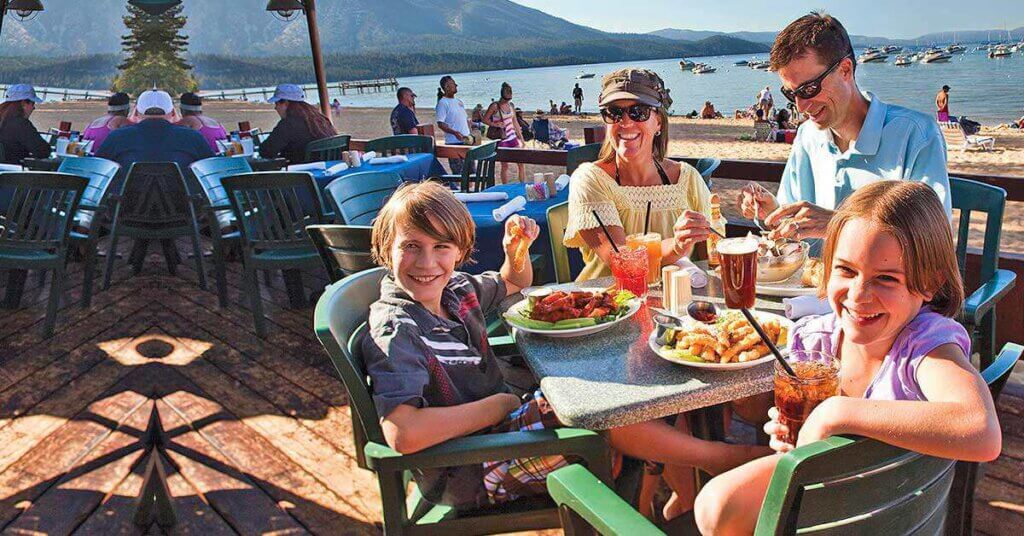 If you're not feeling up to navigating, let the captain of the Rum Runner Yacht do it for you. He takes groups on a cruise to extraordinary Emerald Bay twice a day each summer, letting guests sip on their adult or non-alcoholic beverages sans stress.
Ahh, yes, breathe. Now you're letting the Tahoe vibes kick in.
However, all that beauty works up a hearty appetite. It's dinnertime.
Now you've both got lake fever and want to soak up all the time you can on its shores.
Fear not: if there's an abundance of anything aside from Mother Nature's glory here, it's lakeside dining options.
First night, try Jimmy's at The Landing for a truly romantic dining experience. Cozy up in a private dining alcove and get hypnotized by the flames of your own personal firepit. Order a bottle from their 1,500-bottle wine vault while pondering which sumptuous gourmet menu items to order.
Dine on a decadent dessert together before letting the stars lead you to your next destination.
Hyper-modern, uber-chic, Opal Ultra Lounge inside Bally's Lake Tahoe offers an electrifying end to your first ideal day. Let their local or national DJs bring you to your feet—though their bottle service offers some epic people-watching from the comfort of your booth also—and dance into the wee hours.
Day Two
Rise and shine, the outdoors await!
South Lake Tahoe has an abundance of ethereal beaches and heart-pumping hikes to choose from. If you prefer two-wheeled adventures, mountain and road biking is world-class here, as well. Bring your own, or rent from any of the local shops.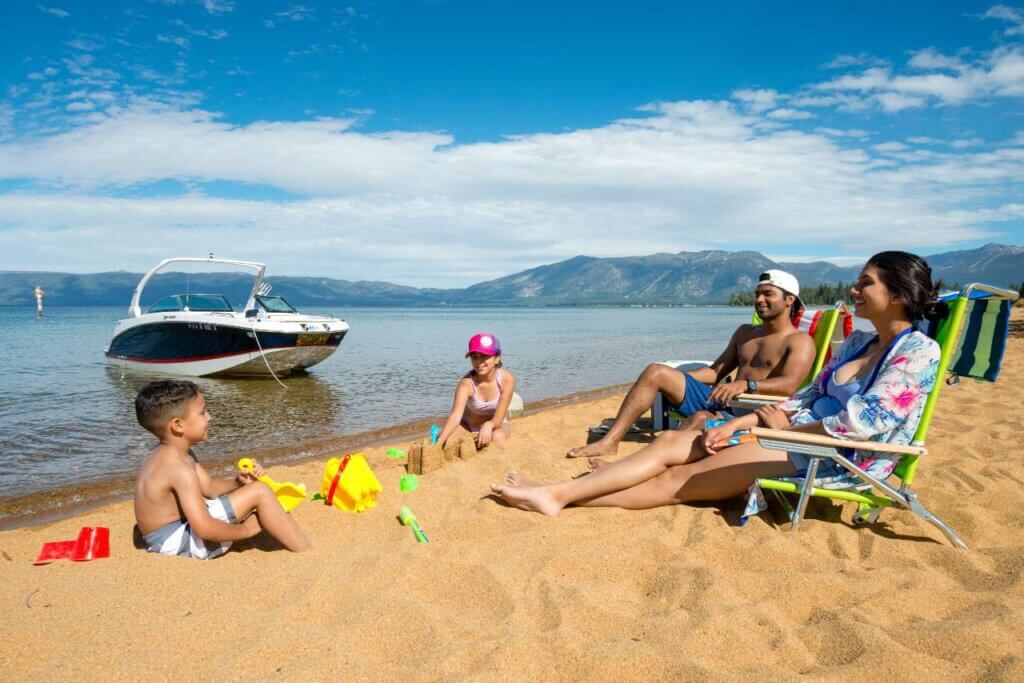 Before embarking on your second day, grab coffee, tea and a hearty breakfast at Tahoe fave the Red Hut Café Kingsbury. It's decked out inside with Tahoe nostalgia and makes you feel like you stepped into an old-time diner. Go big, because that's what we do in Tahoe, with one of their heaping, appetite-busting breakfasts, like the protein-rich Don's Special, or a plate of pancakes, French toast or waffles.
Filled up, it's time for your first outdoor excursion of the day.
But which hike to choose?
"Oh, we'll just have to come back longer next time", you say to your partner, who vehemently nods in agreement.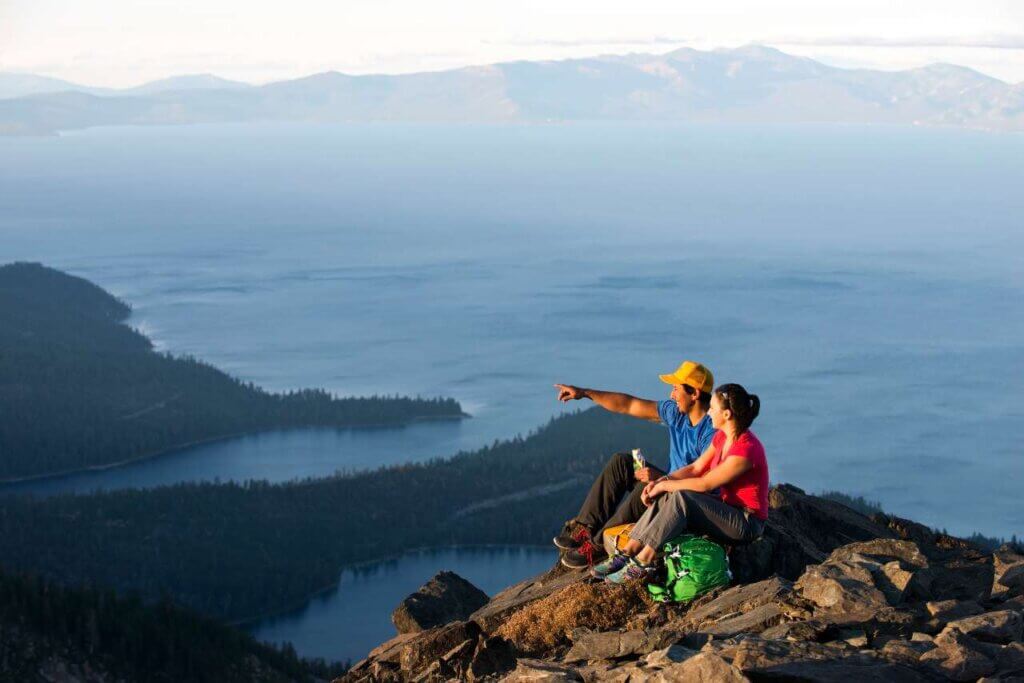 The Fallen Leaf Lake hike is great for beginner-to-intermediate hikers, in just a few miles offering views of the smaller alpine lake and its stunning flora and fauna.
But climbing Mt. Tallac seems like it could be exhilarating, you think. The trail challenges hikers with substantial elevation changes over the five-mile ascent to the Tahoe basin's tallest peak, at 9,738-feet elevation.
But it's your last day. This trip, at least… No need to show off.
Overhearing so many others talk about the mesmerizing hike to Emerald Bay, you've decided to tackle it yourselves. There's a reason it's one of the most photographed places in the world.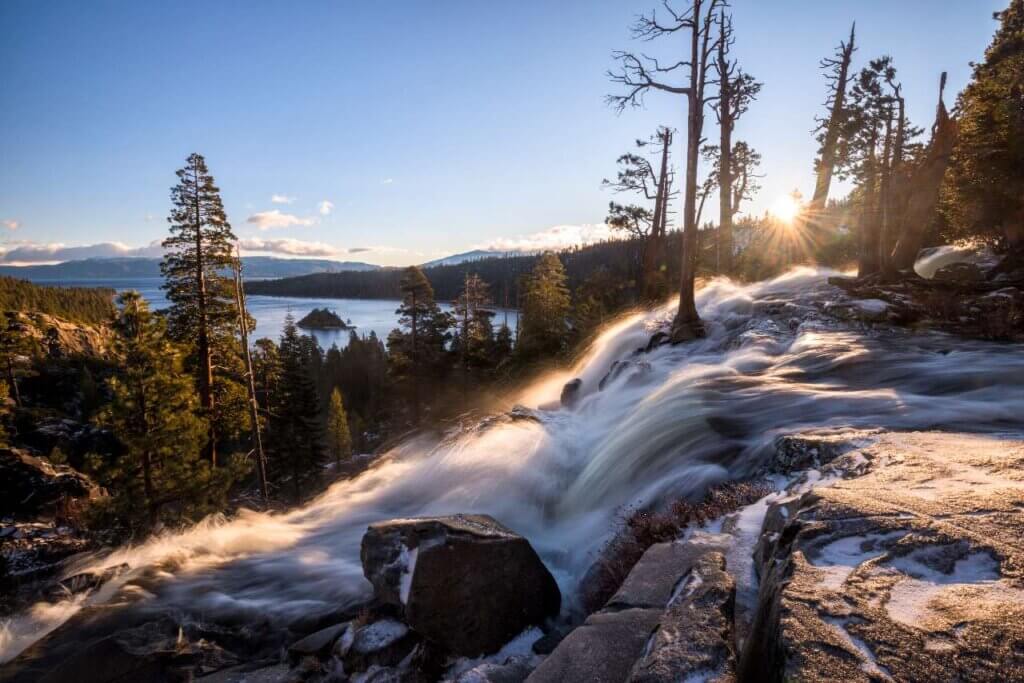 Allotting time for the just-over-five-mile-roundtrip hike, elevation gains of just 500 feet seem more suited for a full and action-packed day.
Begin by taking the Rubicon Trail from Emerald Bay State Park. Gaze over expansive views of Tahoe's gorgeous waters, even seeing to the bottom because of its world-renowned clarity. Check out Vikingsholm, an historic estate built in Scandinavian style by a remarkable woman on the banks of Emerald Bay.
You made it! Now to sort through those pics. Sigh. Everything was just so…photographable.
Off to the beach for some cooling down. But first, lunch. And a cold, local microbrew sure sounds mouthwatering. So, Cold Water Brewery and Grill it is.
Pair their crave-inducing pub or comfort foods with any of their exceptional handcrafted beers, all while taking in views from the outdoor patio.
Lounging sounds fabulous now, doesn't it? Beach time!
If you brought your pooch, Nevada Beach is "fur" you (bad pun totally intended). A half-mile of sand invites beachgoers to play with their furry pals, or simply sit and enjoy some R&R. Or try the slightly rockier but equally exquisite Kiva Beach, also dog friendly.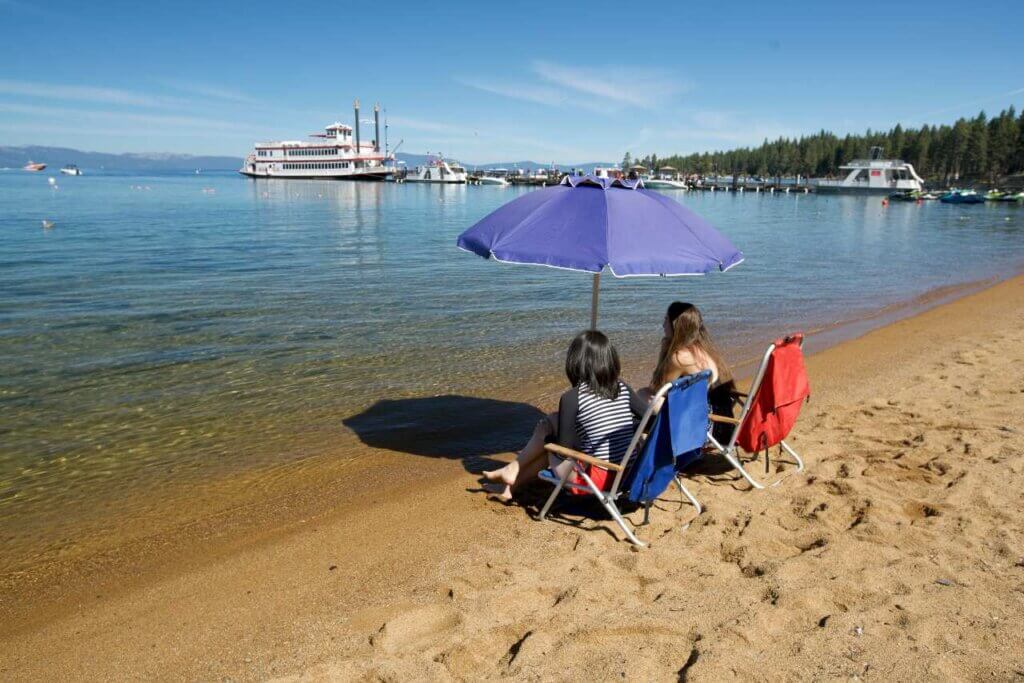 If you're looking for a bit more action, journey to Zephyr Cove on the east side of South Lake. From here, you can parasail, paddleboard, jet ski or play volleyball on their vast beach. And if you missed being on the water for your first day, now's your chance.
The M.S. Dixie takes you on a waterborne journey into eye-popping Emerald Bay by paddlewheel boat. Take an afternoon cruise or try and tear your eyes away from the sunset on its decks later.
Well, the day is winding down, but those brews you tasted at Cold Water piqued your interest in trying more local libations.
Luckily, with the crystalline waters of Tahoe inspiring them, brewers abound 'round here. Download the South Tahoe Beer Trail Map for a concise guide to finding your newest favorite frothy beverage.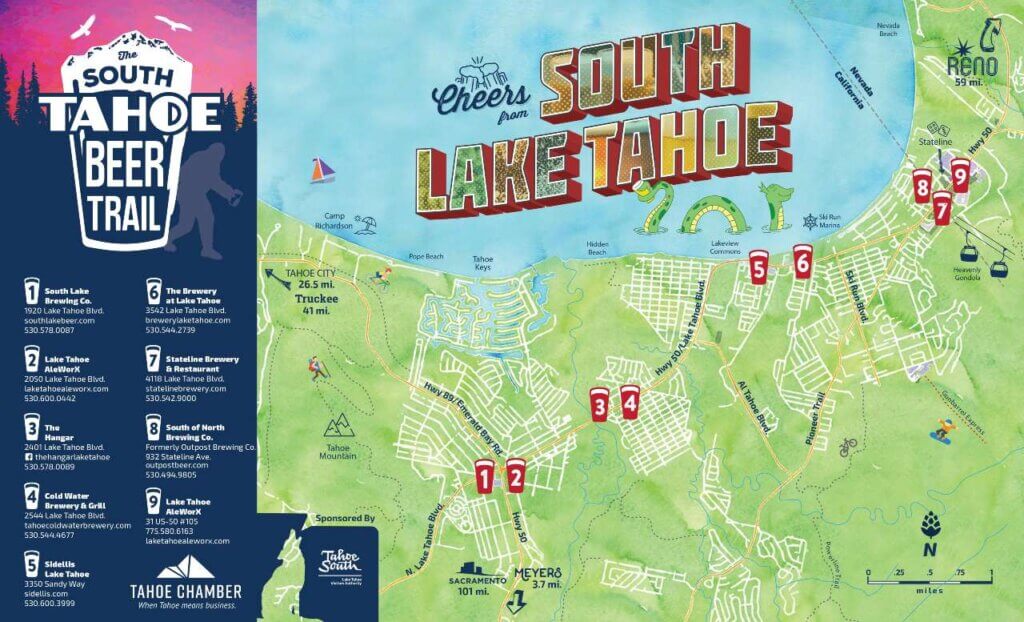 Looking for a more intimate setting and a superb craft cocktail? The Loft features some unusually delicious options to try while imbibing in their moody, mysterious interior seating—fitting for a place also serving up sides of live theatre and magic.
After two full, exciting and romantic days in South Lake Tahoe, you're already planning your previously discussed return.
There's just too much you didn't get to savor quite yet. But oh, those two days were the perfect start to a lifelong love, between both you two, and Tahoe.