Strap in and open up a whole new way to experience Lake Tahoe.
I kick myself for not getting into snowshoeing years earlier, as it has given me countless hours of unrivaled pleasure and the opportunity to get active at a moment's notice.
What I love best about snowshoeing is that you don't need trails or passes. And best of all, once you have the shoes, it's free! Solitude and incredible views are yours for only a little effort. If you can walk, you can snowshoe, and if you're too young to walk, you can travel in mom or dad's pack!
Ever since I purchased my Tubbs Venture snowshoes, a mid-range shoe, I've enjoyed the freedom to go where I want in the backcountry, or even closer to home. This particular shoe offers easy entry and even easier release, but many other brands and models do as well.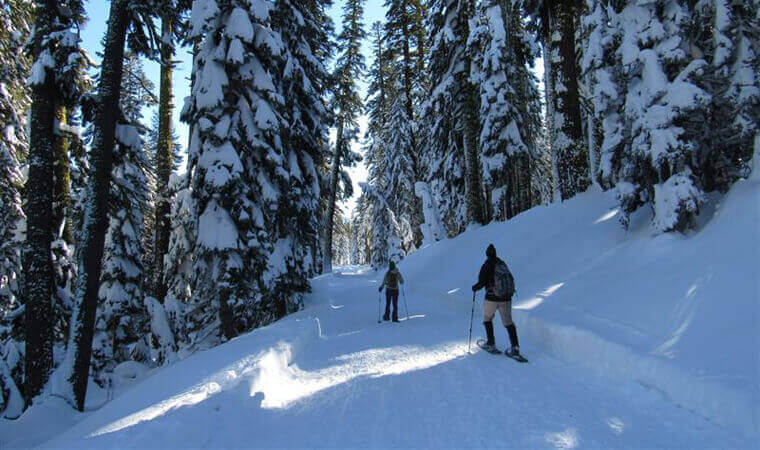 Soon everyone in the family had a pair of snowshoes. We even picked up a used pair for my son at the Camp Richardson Mountain Sports Center. Most local rental shops offer great deals near the end of the season.
You might want to visit style and purchase guides online for more info on specialized snowshoes and gear. You can find backcountry snowshoes, touring shoes, shoes made for jogging, and many other options, but a basic recreational shoe is a good bet for most people.
As with mountain bikes, you tend to get what you pay for. Pay special attention to the quality and design of the supporting cross brace—the strap or metal bar that supports the forward crampon under the sole of your shoe.
Fortunately, equipment reviews are available online.
While I've rarely found poles useful, some people like them, either for stability, striding, or simply for bracing on hills. They can help with balance and hill traction in some cases, but it's a matter of personal preference.
A GPS is highly advised, as is a cell phone and water bottle. Don't forget to mark the location of your car or starting point!
To keep the snow from clumping on the metal claws, spray their undersides with Pam or any generic vegetable non-stick spray. It's a simple step that can vastly improve the experience.
I advise carrying a rolled up strip of duct tape in your coat: four or five feet of tightly rolled or folded tape takes almost no space and can repair a broken shoe long enough to make it back to the car. Bonus: If you do carry poles, it's easy enough to wrap the tape around your pole for quick access.
The beauty of snowshoeing is that you can go almost anywhere—wherever you can legally and safely park, or even out your back door.
Another approach is to look at a Google or Yahoo map of the area, pick out a relatively open area, and go explore (as long as it's not private land). Some favorites are the "powerline" area off Pioneer Trail, the shoreline areas, and any of the stream meadow areas.
Snowshoeing can offer an intense workout. It can also be easy and relaxing—it's all about the conditions and terrain.
If you're looking for a less strenuous outing, go when the snow is firmer and pick an area relatively free of hills. To push a little more, just point your shoes up any rise you come across along the way. Snowshoeing in 12-16 inches of powder will work you harder than you've been worked in a while; add in some hills and you will feel it in all kinds of ways tomorrow.
A few years back, we discovered the amazing experience of the Full Moon Snowshoe, which is worth planning. You will experience the beauty of Tahoe in a completely different way that you may find hard to put into words. A quiet, crystal clear night under the moon and stars will produce moments of sheer awe as you roam the meadows or hills with your family and friends.
So, whether it's night or day, when the slopes are too crowded or you're just looking for a different type of adventure, strap on the shoes and see what the basin has to offer.