Famous Lake Tahoe is a place where people come to relax, rejuvenate, and breathe in fresh mountain air. Locals are passionate about preserving the lake, and a good number participate in water activities that reduce their carbon footprint while keeping them fit, including stand-up paddleboarding, kayaking, sailing, and diving. Here are some fun ways to join these locals on the water.
Underwater exploration
Seasoned scuba divers may take advantage of one of the newer, more exciting experiences at one of America's most photographed landmarks by way of the Emerald Bay Maritime Heritage Trail. Underwater aficionados can now more easily navigate their way to the sunken Historic Barge Dive Site and swim to the Hard Chine Skiff and naturally preserved wooden boats that give visitors a glimpse of Lake Tahoe's rich maritime history. A waterproof interpretive map, available for purchase at the Lake Tahoe visitors center and other area businesses, shows divers how to access these sites. You can also print the map from the for California State Parks (parks.ca.gov/?page_id=29931) or Sierra State Parks Foundation (sierrastateparks.org/emerald-bay-state-park) website.
A window into the deep
For a different nightlife scene, join Clearly Tahoe for a late-night stargazing tour via kayak. In clear-bottomed crafts, paddlers can gaze into the depths of Lake Tahoe, which are further illuminated by LED lights outlining the boat, as knowledgeable guides share information about the lake. Equipped with a blanket, life jacket, and snacks, participants are comfortable as they paddle out into the calm waters of the Tahoe Keys to observe the fish and underwater plants below and the thousands of stars high above in the unpolluted night sky. Clearly Tahoe also has morning excursions and ecotours available in the summer months.
Above-water views
There's nothing like peacefully floating above Lake Tahoe and taking in sweeping views while being guided by a powerboat, and Tahoe Sports knows how to safely and easily get you up to that incredible vantage point via a parasailing experience. Based at Ski Run Marina, Tahoe Sports' US Coast Guard-certified vessels smoothly pull you along as you rise to heights ranging from 200 to 800 feet above the lake. Parasailing trips are offered daily from early May through early October, weather permitting. For those not quite keen on soaring above the lake, Tahoe Sports provides other water toys such as powerboats, kayaks, stand-up paddleboards, pedal boats, and even a party boat that can be chartered for when you want to bring everyone together for an intimate gathering on Lake Tahoe.
A classic cruise
Feel the cool, crisp air on your face as you drift through the deep blue waters of Lake Tahoe on a two-hour voyage to the famed Emerald Bay. Based out of Zephyr Cove, the 500-passenger M.S. Dixie II paddlewheeler offers a one-of-a-kind Lake Tahoe experience reminiscent of a Mississippi riverboat. Known as the largest climate-controlled cruise ship in Lake Tahoe, the M.S. Dixie II offers daily daytime two-hour scenic cruises year-round. Dinner cruises and private charter trips are also available.
Deep-water dive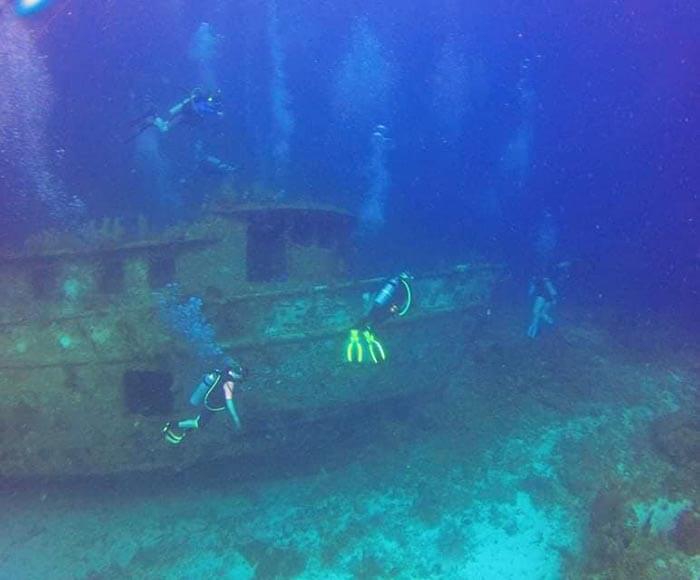 Curious as to what lies at the bottom of Big Blue? Go out with the Tahoe Dive Center to explore the depths of the lake, where mackerel, crawdads, gigantic granite boulders, and probably a few cellphones and sets of car keys lurk. This PADI five-star facility ensures safety by providing the tools you need to breathe properly and have fun while taking in the sights of Tahoe's underworld. An introductory scuba diving course lets first-timers get comfortable. If you have more time to spend, go for the full certification, which includes dives in Lake Tahoe and additional training at the Carson Valley Swim Center.
A reel adventure
The thrill of catching fish on Lake Tahoe creates memories that last a lifetime, and Tahoe Sport Fishing Co. can help make it a reality. Holding a spot on the Tahoe Daily Tribune "Best of Tahoe" list for more than a decade, Tahoe Sport's captains are knowledgeable in jigging, drifting, and trolling in the hot spots on the lake, where people have had luck catching kokanee salmon, three- to seven-pound mackinaw, brown trout, and rainbow trout. Anglers of all ages and abilities are welcome; people ages 16 and older must have a California or Nevada fishing license. A one-day California fishing license can be purchased at Tahoe Sport Fishing Co.'s office on Ski Run Boulevard before your charter.
Set sail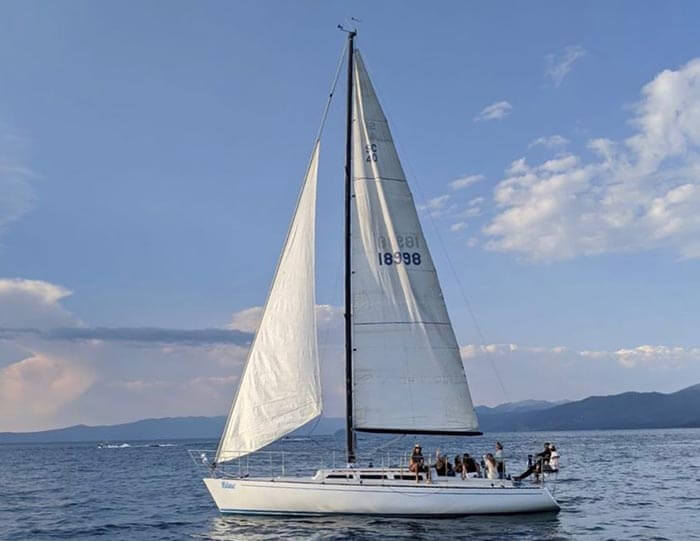 Spending a few days at Lake Tahoe and want to pick up a new low-impact water-based skill? Ready to set sail? Sail Tahoe Blue offers a sailing experience unlike any other on Lake Tahoe. Choose from a variety of public cruises and private charters, including scenic shoreline tours to Emerald Bay. Soak up the high altitude sun on an afternoon cruise, or watch the alpenglow settle over Mt. Tallac for a sunset sail, all with a glass in hand.
Insider tip
Locals especially love getting out on Lake Tahoe in the spring (April/May), when the air temperatures are starting to warm up, and in the fall (September/October), when the water is calm and still warm enough for a dip and there are more open parking spots. No matter the time of year, remember to always wear a personal flotation device when exploring the lake.
Beach hop & paddle Along the Lake Tahoe Water Trail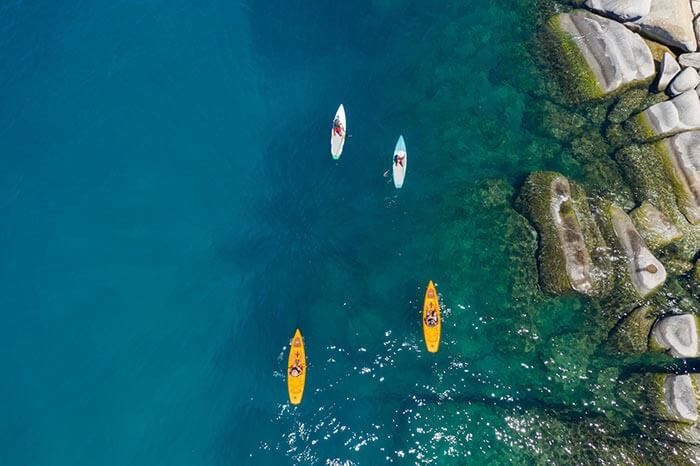 To get some serious sun, water, and exercise, consider taking your time and hitting up all of Lake Tahoe's beaches on a kayak or stand-up paddleboard day-trip along the Lake Tahoe Water Trail.
From the southeast, begin at Cave Rock on the Nevada side and head southwest toward Kiva Beach (13.7 miles for the full trip). At Zephyr Cove Resort and Campground, stop for a meal or cocktail. Continue on to Round Hill Pines Beach Resort for some sandy beach time. Next, Nevada Beach offers access to long stretches of golden sand, as well as restrooms and a campground. Continue past the Timber Cove Marina to El Dorado Beach, located in the heart of the South Shore, with numerous dining options. Keep paddling west past Regan Beach and the Tahoe Keys toward Pope Beach, Camp Richardson, and Kiva Beach. On this stretch, paddlers can often spy native wildlife in Tahoe's wetland sanctuaries.
Another option is the 9.9-mile Emerald Bay route from Kiva Beach to D.L. Bliss State Park. Get a peek of the wetlands between Kiva Beach and Baldwin Beach, and then paddle your way into Emerald Bay to get views of Fannette Island and Vikingsholm Castle. Continue north to D.L. Bliss, a popular rock-jumping area, and stretch your legs on a short hike along Rubicon Point while looking for an osprey or a bald eagle.
Check out Lake Tahoe Water Ways on Instagram: