I had no trouble rolling into South Lake Tahoe, California and adapting to the city's mellow pace. From the moment the valet whisked my car away at the Lake Tahoe Resort Hotel, I was within walking distance to the lake, hiking, live music, dining, and great entertainment.
This article was created in partnership with South Lake Tahoe, California. All photos by Emily Sierra Photography.
South Lake by day
Lake Tahoe blows my mind. It's so massive, so blue, and so darn beautiful. My wishlist of activities on the lake ran long, but I honed in on those lending themselves well to a relaxing vacation.
Emerald Bay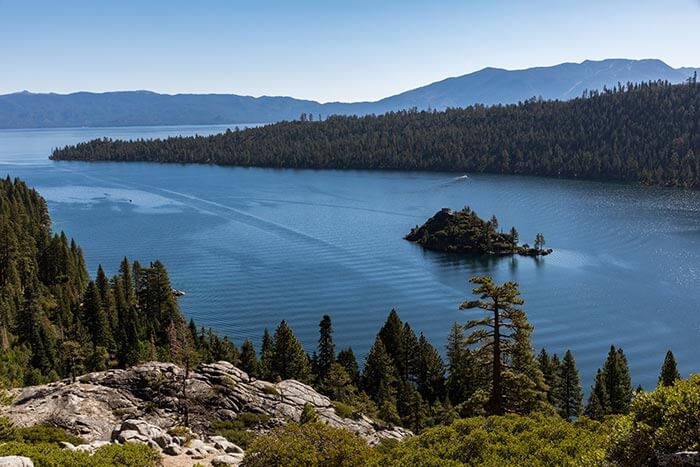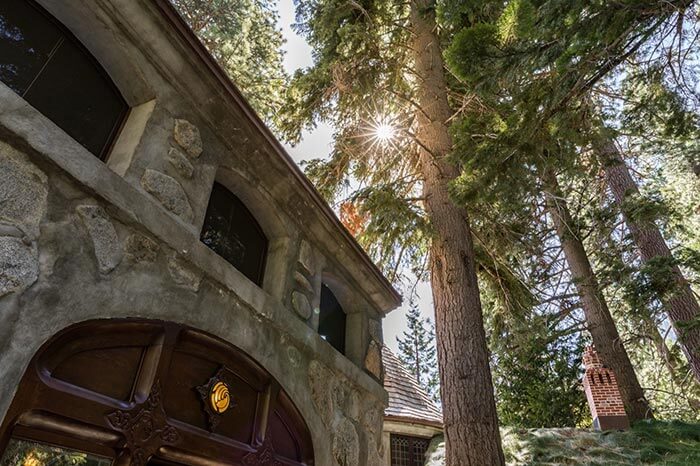 Leaving South Lake Tahoe, we drove through the forest and wound up hairpin turns on Emerald Bay Road. Our first glimpse into Emerald Bay was breathtaking. Small boats and kayaks below zipped around Fannette Island (the only island on Lake Tahoe!). We eventually parked and moseyed down the short trail to Vikingsholm Castle, a mansion inspired by Scandinavian architecture with incredible lakeside views. Gazing through the ornate entryway toward Fannette Island, we imagined what it would have been like to have tea parties out there as Lora Josephine Knight had done back in the day. Restoration and preservation continue on the property, and I can't wait to return when the wildflowers are blooming on the rooftops! With a bit more time, we would have definitely rented a kayak and paddled out to the island for a bit more exploration.
Beaches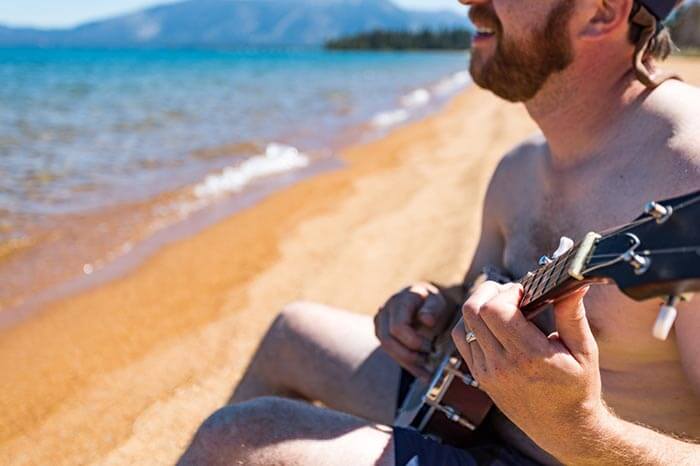 Gentle sloping beaches abound in South Lake Tahoe. If it weren't for the towering mountains on all sides of the lake, I would certainly feel that we were on a beach in the Caribbean with the white sands and clear, blue waters. By late summer, the waters of Lake Tahoe warm to incredibly comfortable swimming temperature.
Van Sickle Bi-State Park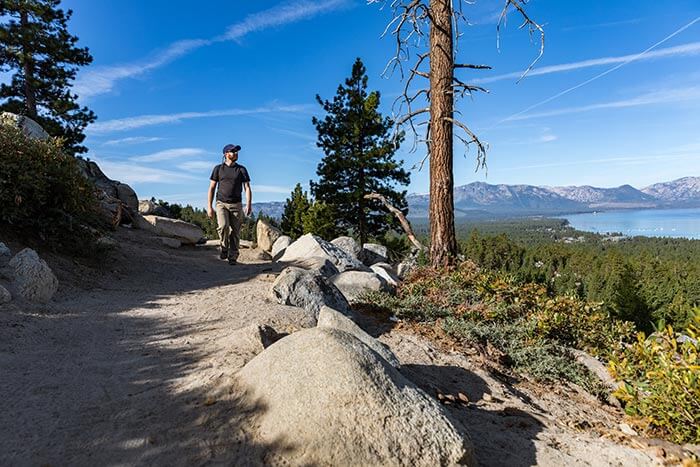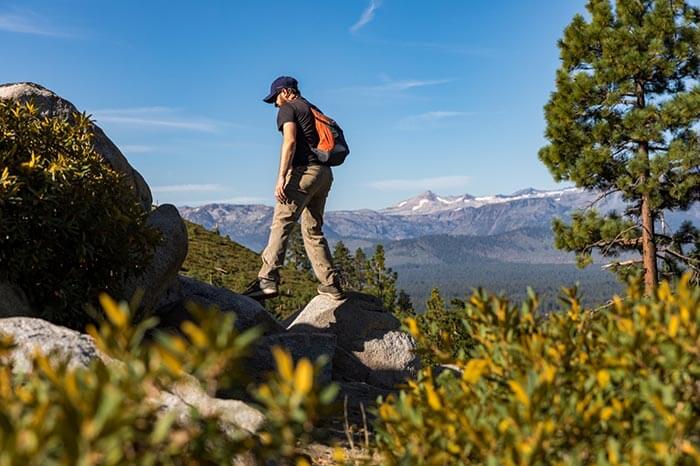 Reaching the trails at Van Sickle Bi-State Park is an easy walk from downtown South Lake Tahoe. We got out early in the morning, and only passed a handful of mountain bikers and fellow hikers on the trail. A hot air balloon rose from the lake, and blue jays hopped around the bushes on the trail. Hiking toward the Tahoe Rim Trail offered some of the best views on Lake Tahoe and such a serene escape.
South Lake by night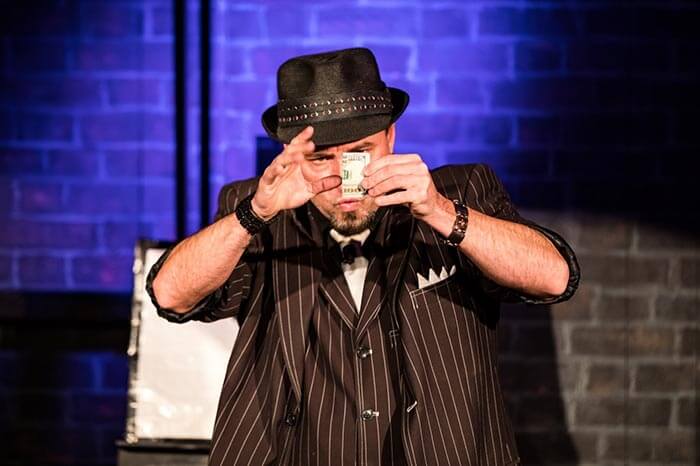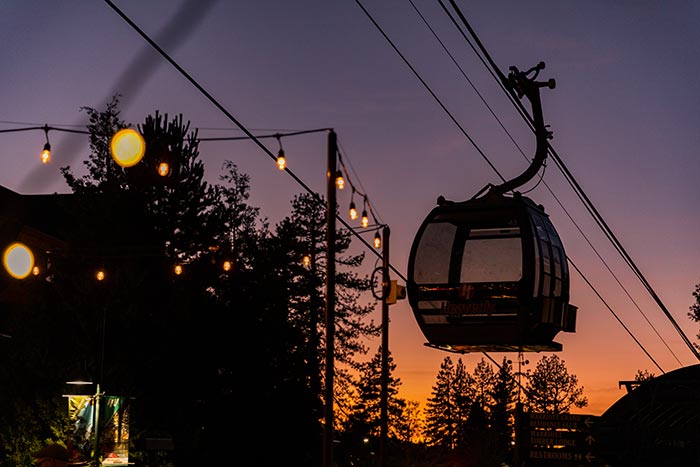 Heavenly Village kept our mellow beach vibe rolling. We wandered in and out of shops and stopped to enjoy live music at multiple outdoor venues in the village. I couldn't help but notice all of the advertisements for Magic Fusion at the Loft Theater, so we finally gave in and bought our tickets for the nine-o-clock show. Having never attended a magic show previously, I was curious and excited but honestly had many doubts. To say I was proven wrong is a total understatement. On the contrary, I was completely blown away! There was a great balance of humor, crowd banter, and mind-boggling magic. After the show, we sipped creative cocktails at the lounge, crafted by an award-winning mixologist. The nightlife ended there for us that evening but certainly doesn't have to for other night owls. South Lake Tahoe can certainly keep the party going until the wee hours of the morning!
Our stay in South Lake Tahoe left us feeling rejuvenated and ready for more California adventures!
Check out Lake Tahoe on Instagram